Commuters Will Face Nightmare for Months
Only rubble remains at the junction of the 5 and 14 freeways following the 1994 Northridge earthquake.
(Jonathan Alcorn / For The Times)
The interchange of the 14 and 5 freeways, where LAPD Officer Clarence Wayne Dean died. Dean, 46, had left his Lancaster home after the quake struck. Driving south on the 14 in the dark, he rounded a bend on the transition road and plunged 30 feet from the roadway, which had collapsed in the quake.
(Los Angeles Times)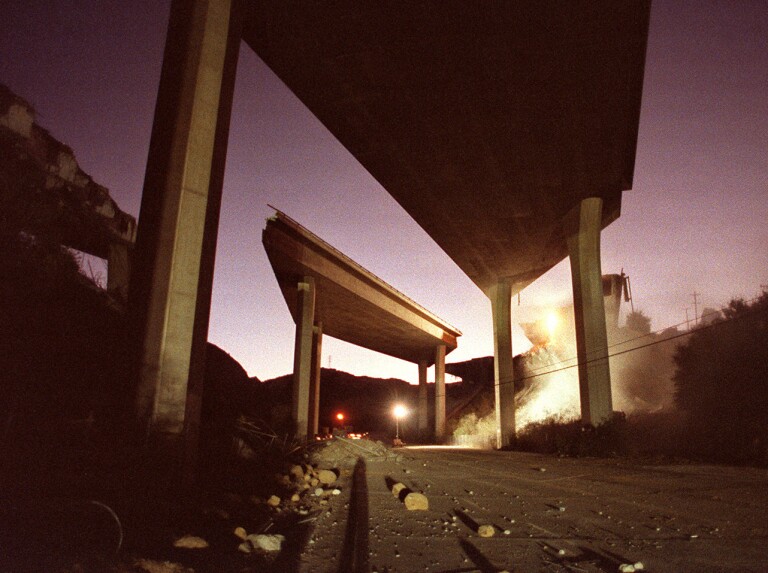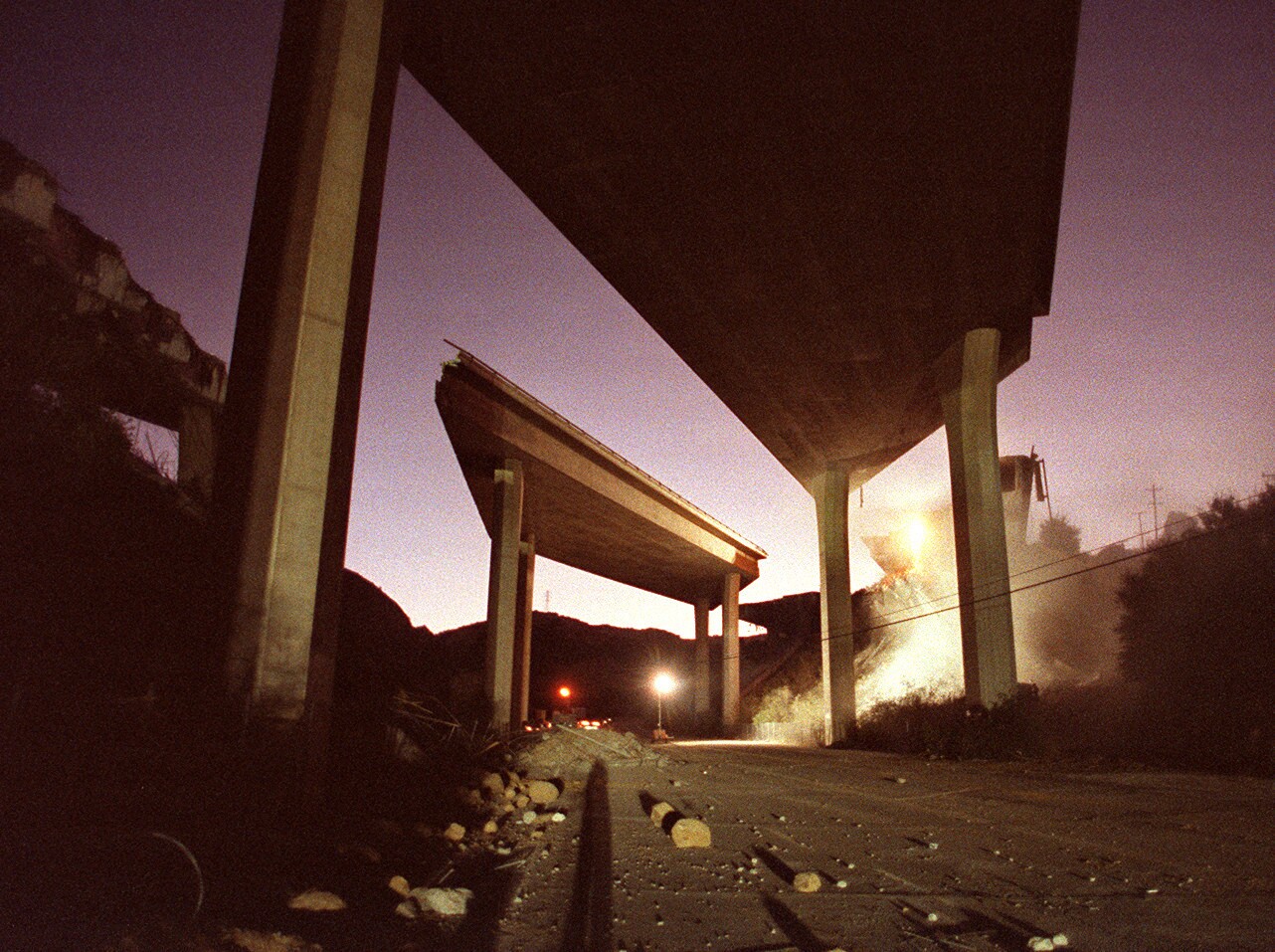 Before dawn, repairs begin on the collapsed 5 Freeway.
(Los Angeles Times)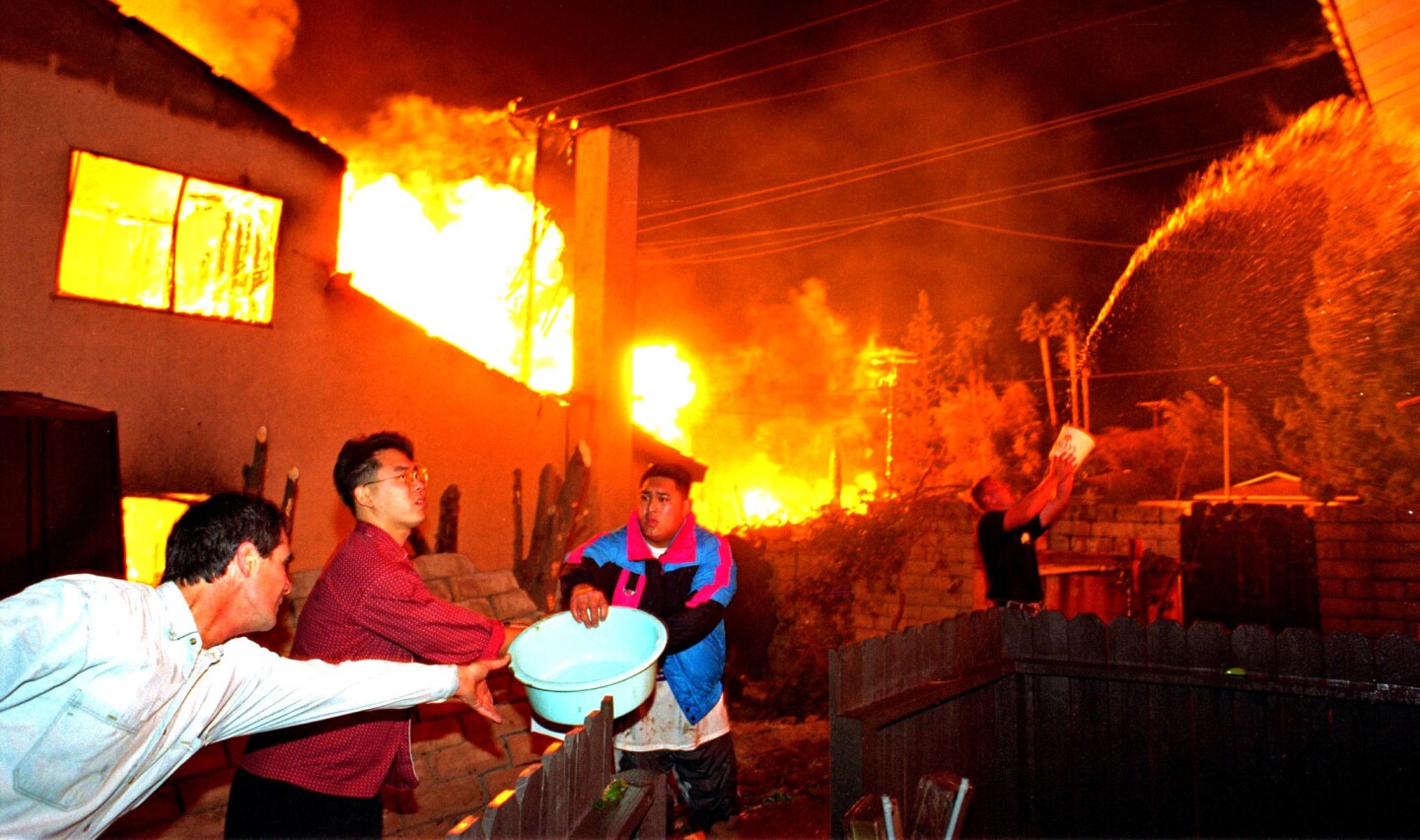 Neighbors use a bucket brigade to fight a fire in the 11700 block of Balboa Boulevard in Granada Hills.
(Los Angeles Times)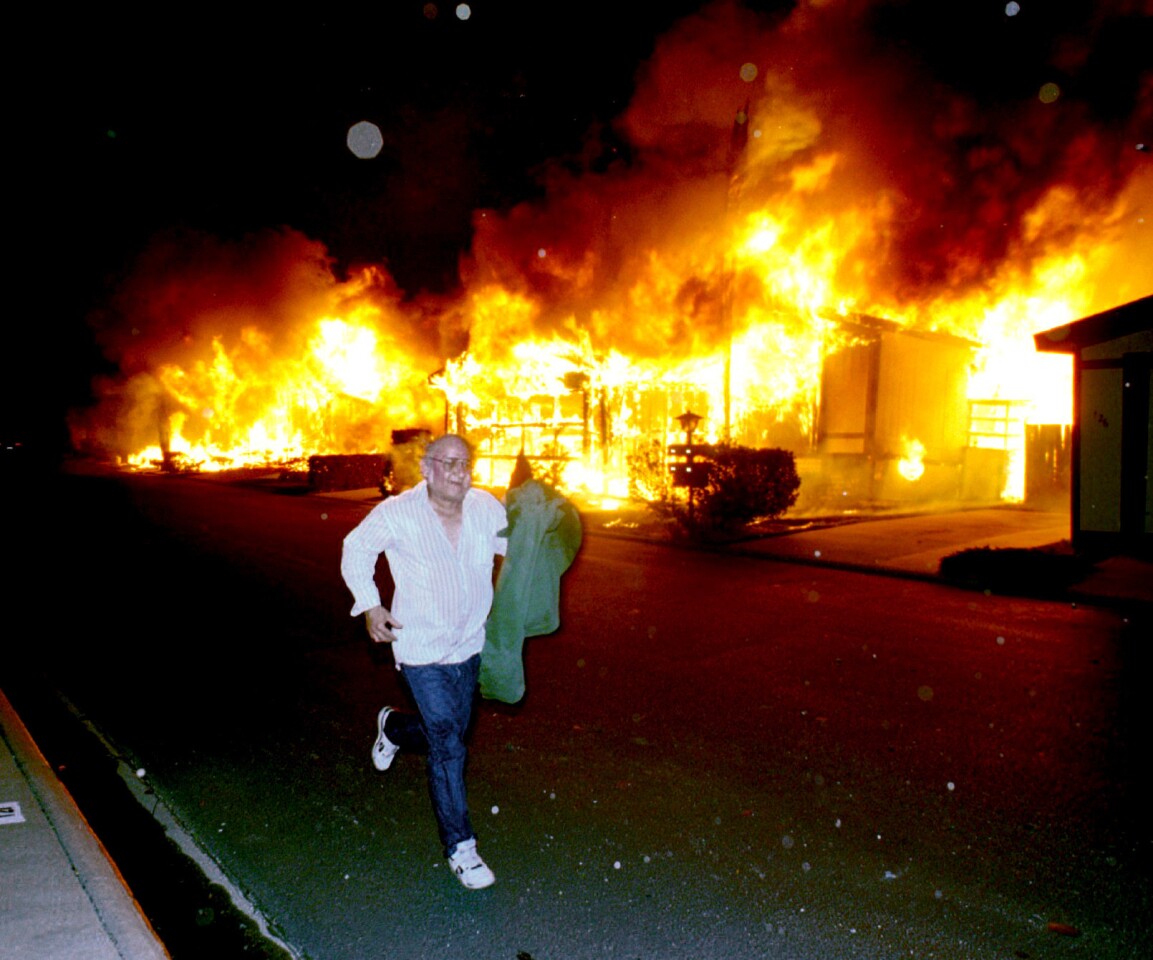 Sylmar resident Brian Demetz flees from his burning home.
(Los Angeles Times)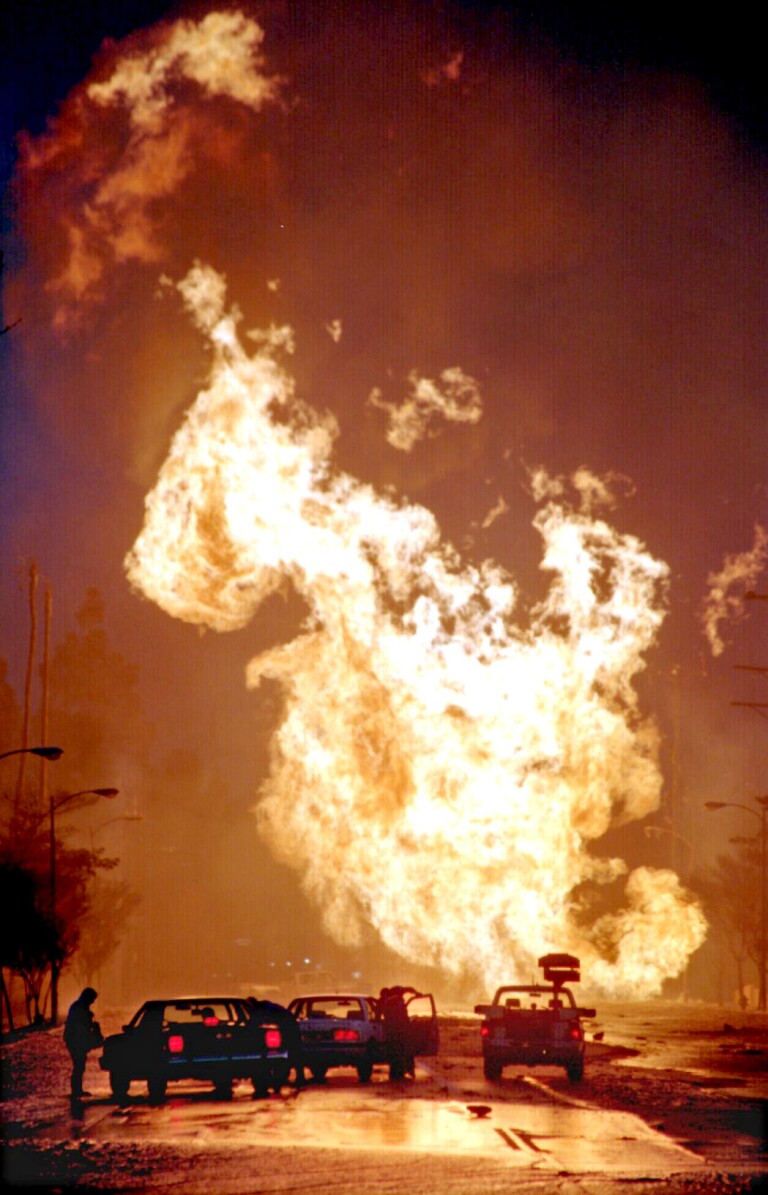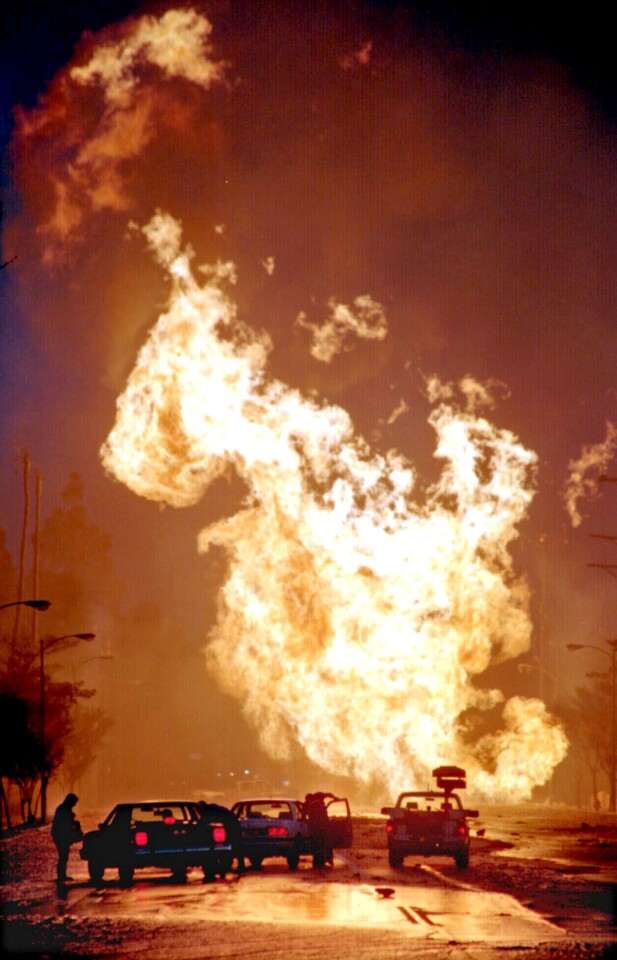 Cars are dwarfed by a wall of flames that was created when a natural gas line ruptured in the earthquake.
(Jonathan Alcorn / For The Los Angeles Times)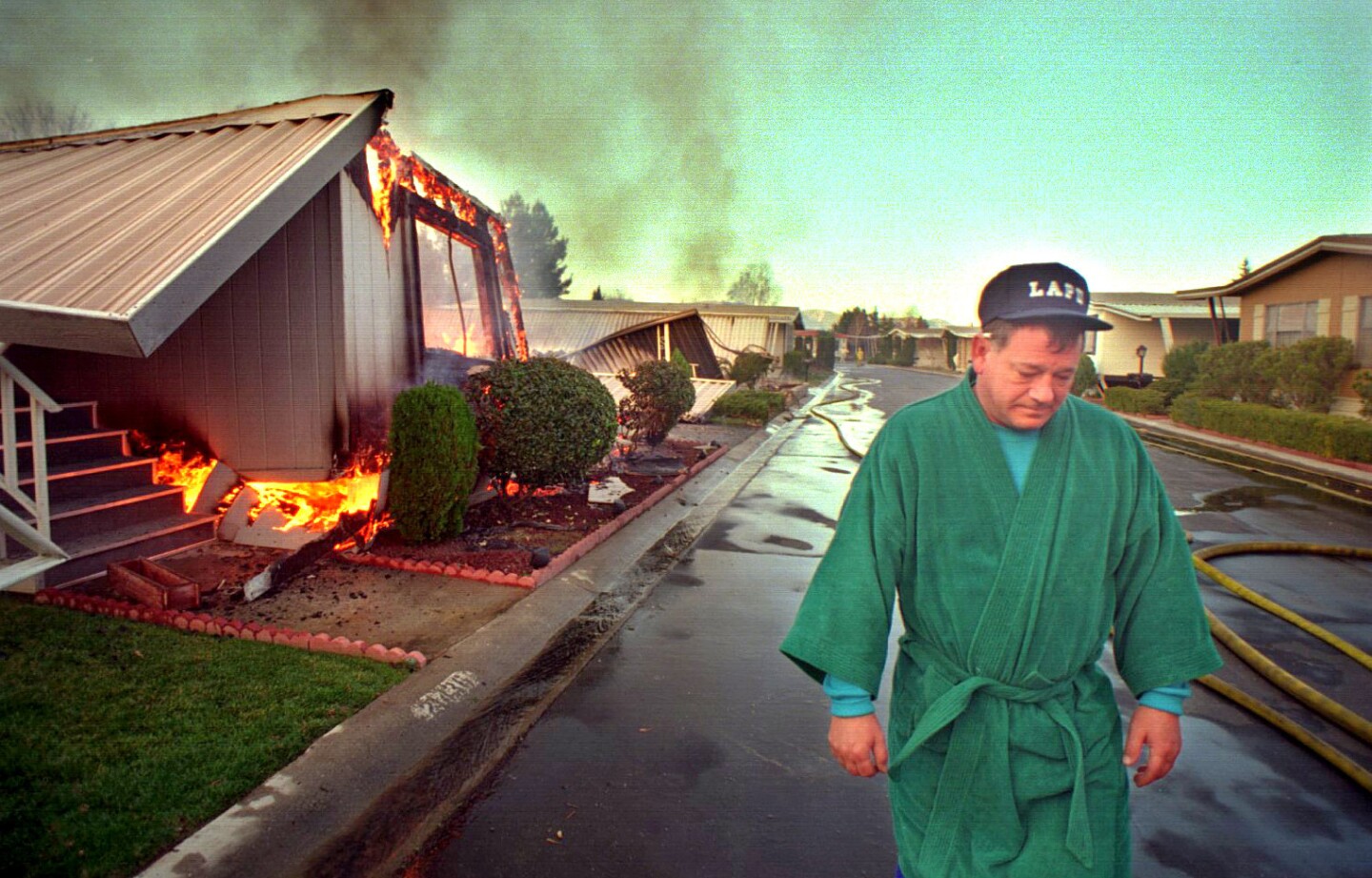 Michael Evans walks through a mobile home park in Santa Clarita. His residence was among those that burned.
(Los Angeles Times)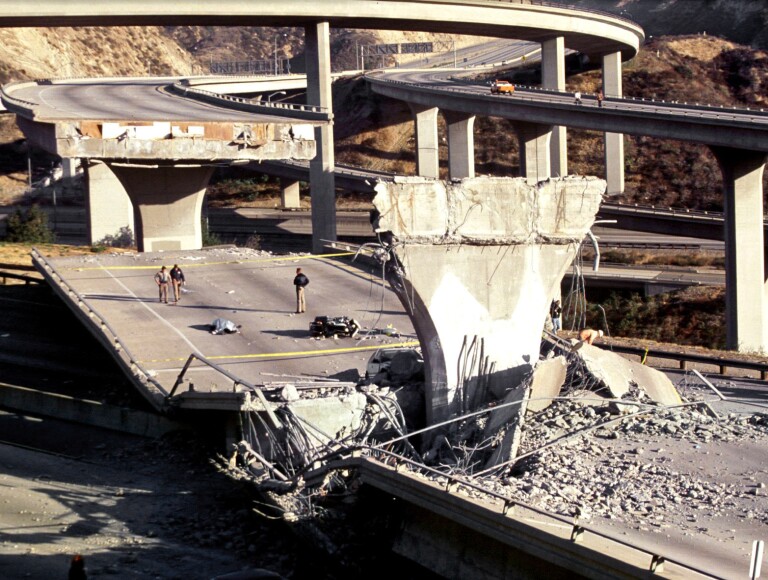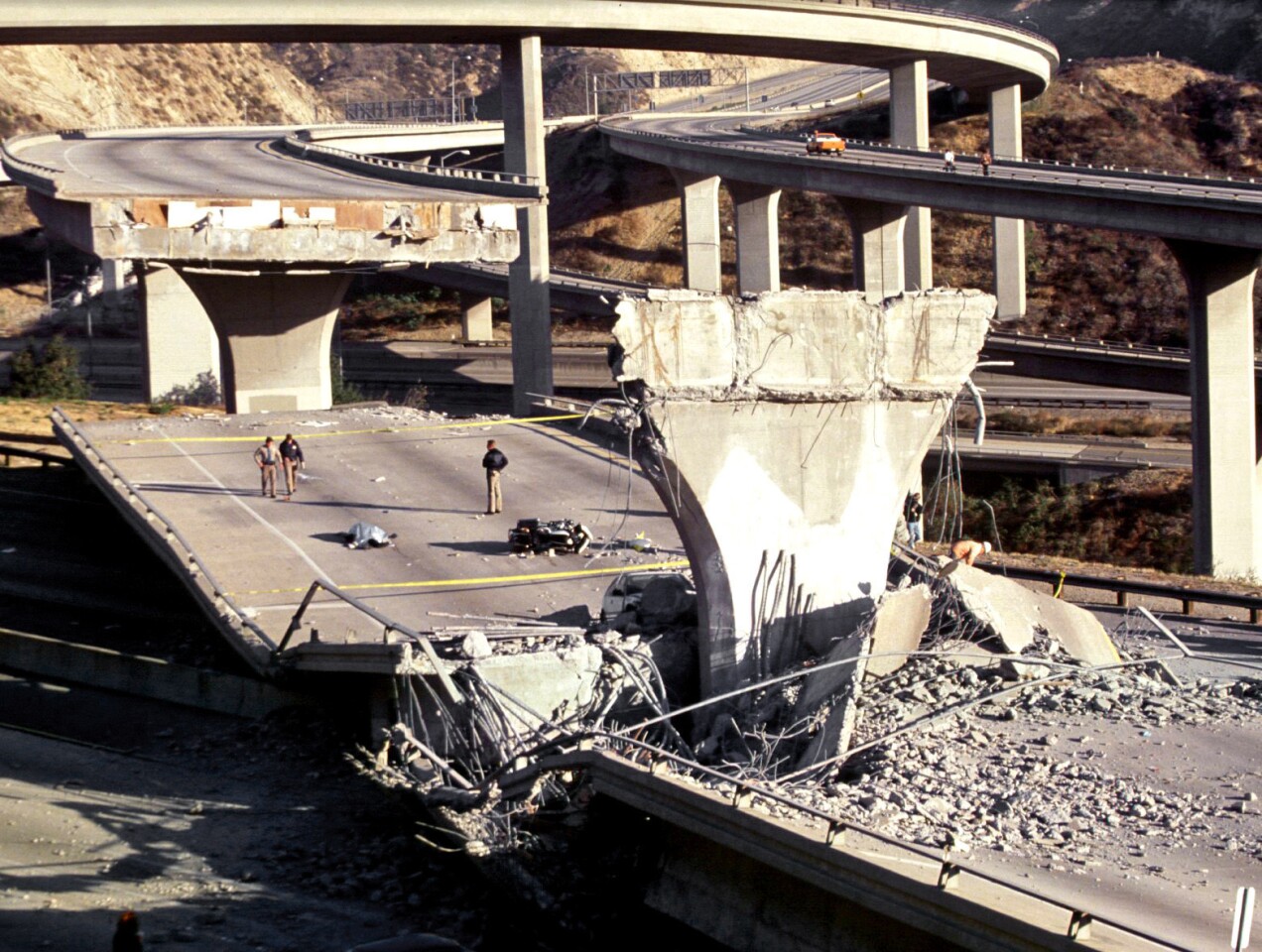 The body of Los Angeles Police Officer Clarence Wayne Dean lies near his motorcycle, which plunged off the 14 Freeway overpass that collapsed onto the 5 Freeway during the earthquake.
(Jonathan Alcorn / For the Los Angeles Times)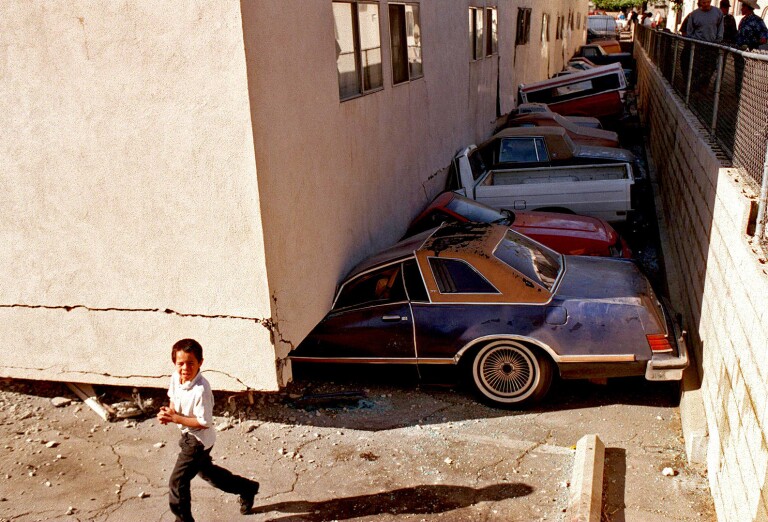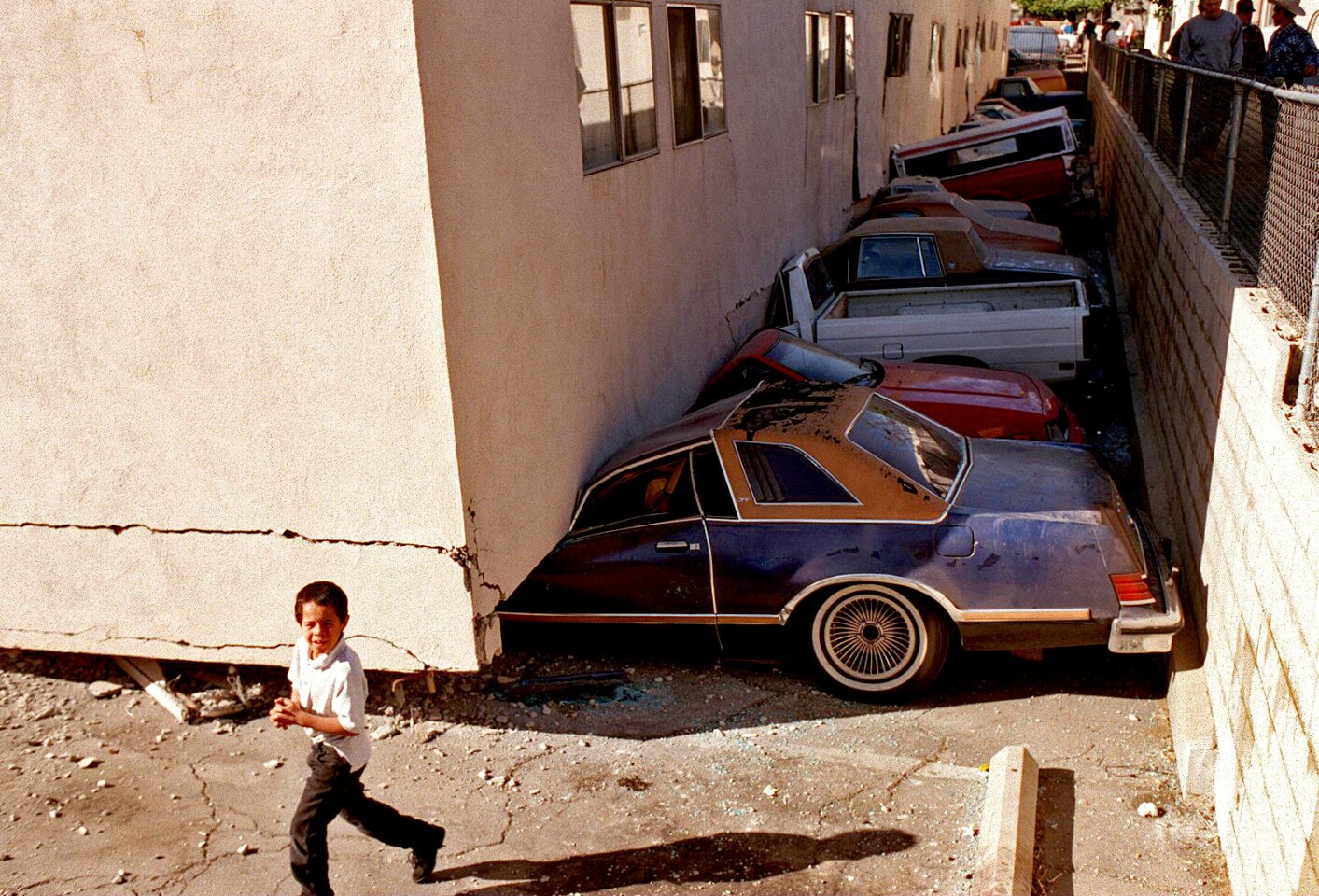 A row of cars is crushed beneath a collapsed apartment building in Canoga Park.
(Los Angeles Times)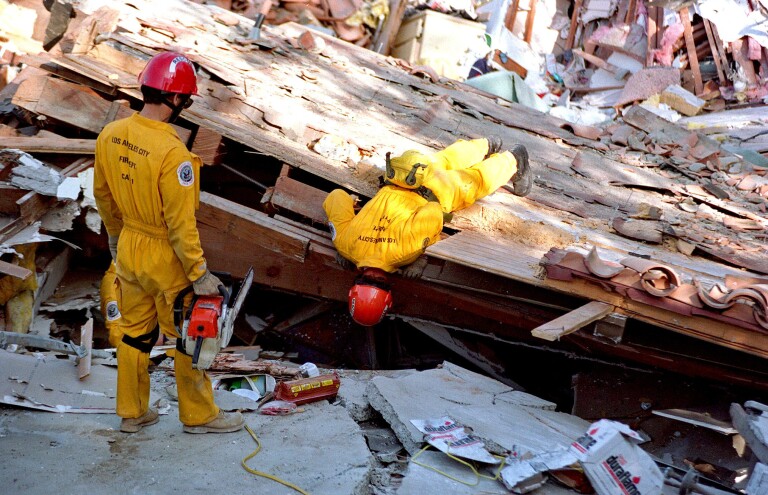 Rescue workers peer into the wreckage of a Studio City house that slid down a hill and collapsed in the earthquake.
(Los Angeles Times)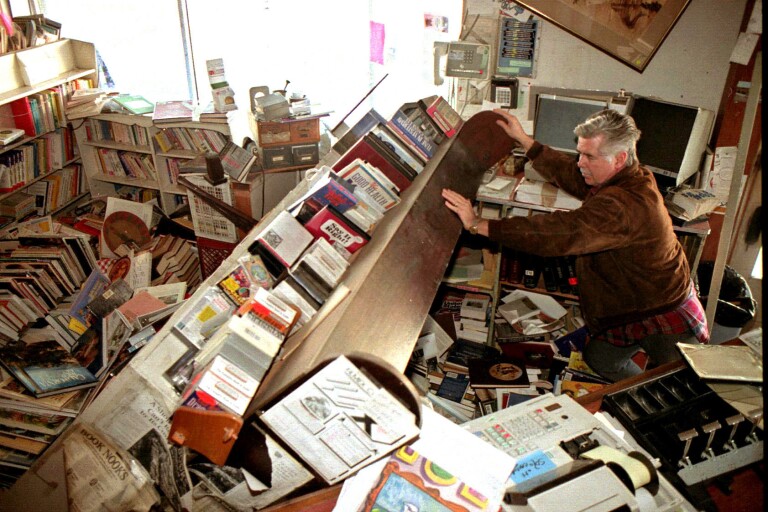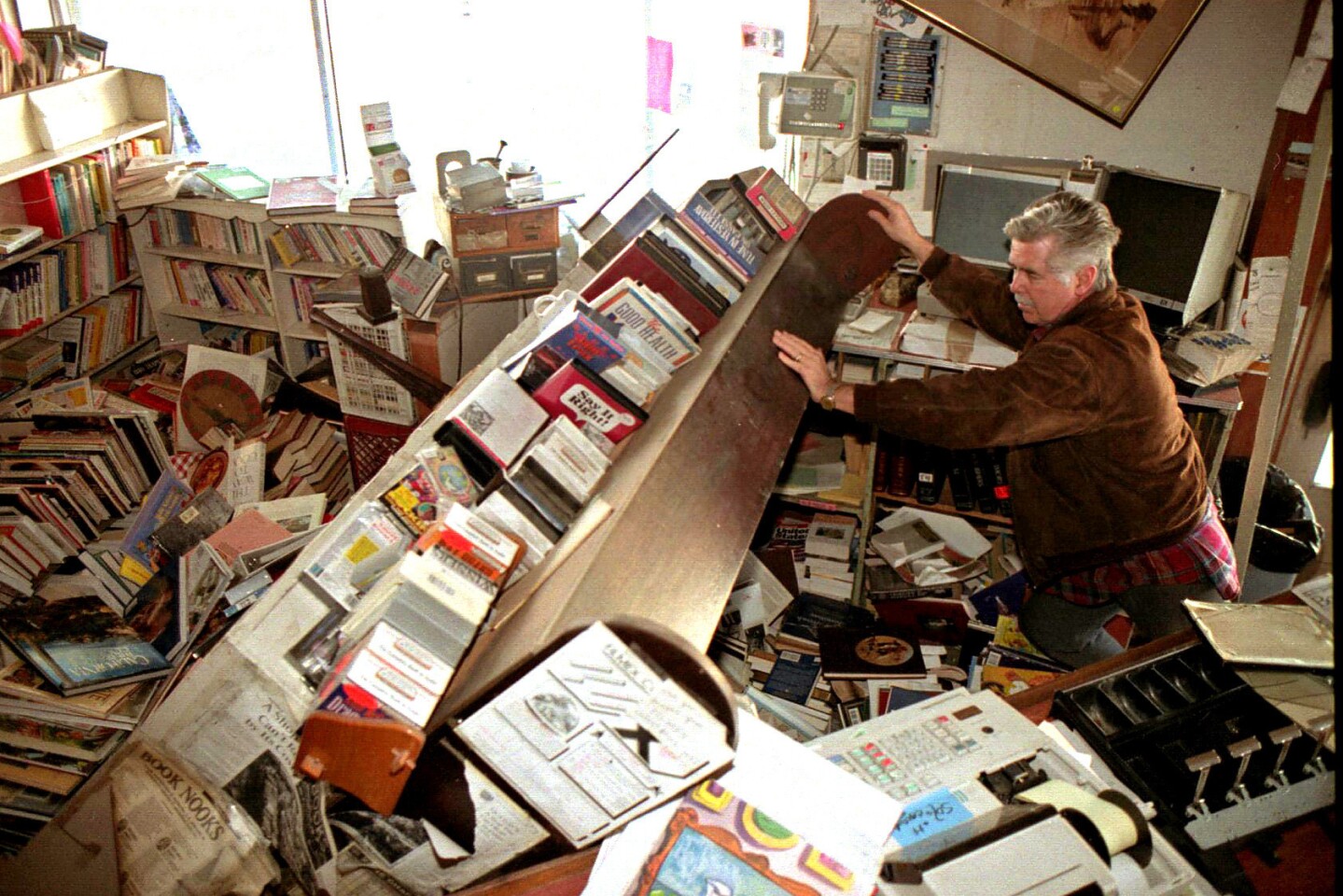 Dave Dutton found chaos at his Dutton's Books in North Hollywood.
(Julie Markes / For the Los Angeles Times)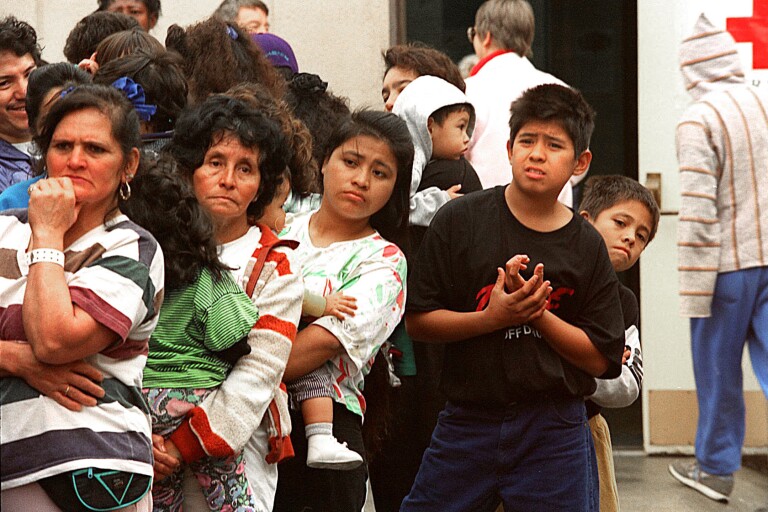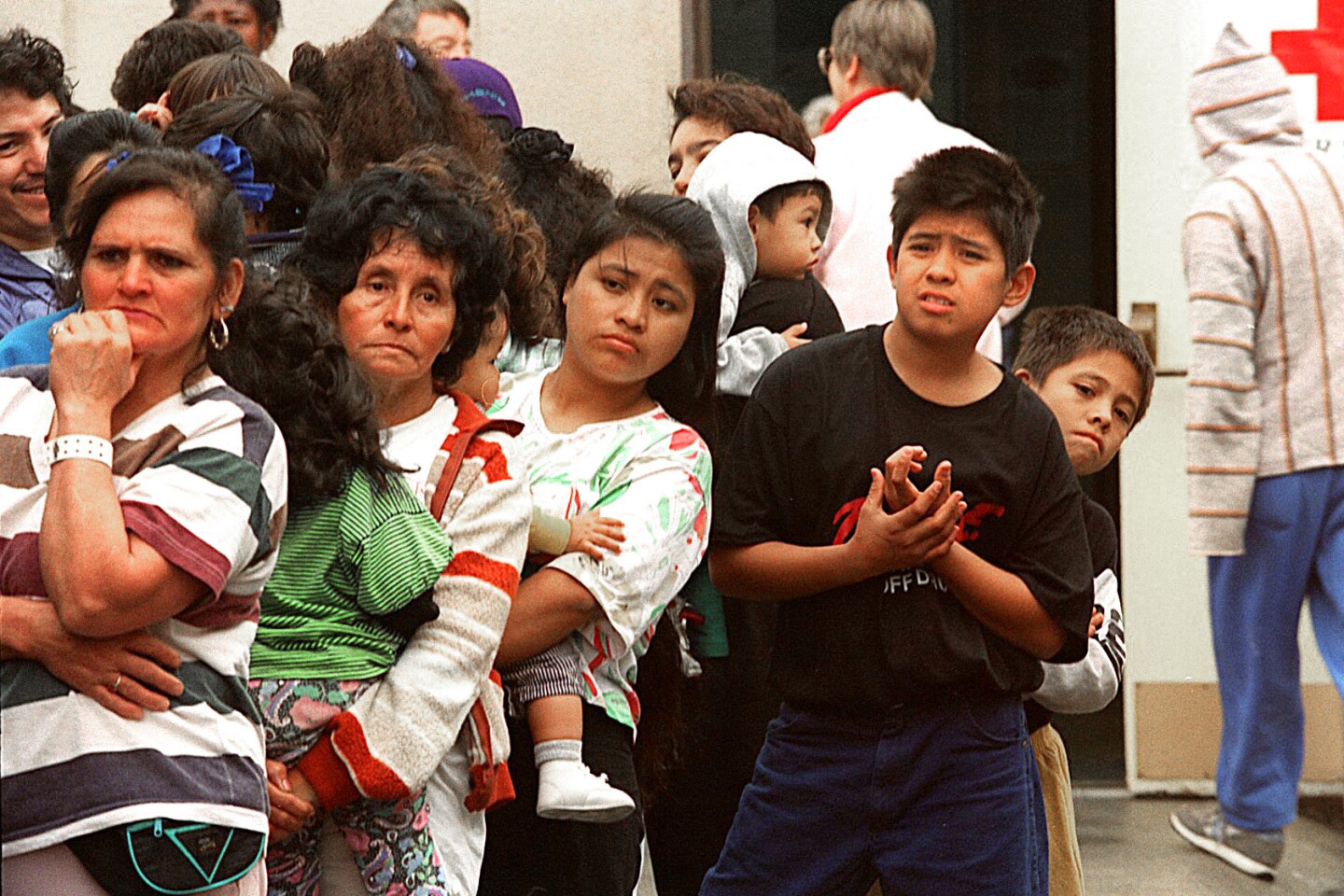 People stand in line at a Canoga Park High School shelter to pick up children's sweat suits donated by a sporting goods manufacturer.
(David Bohrer / For the Los Angeles Times)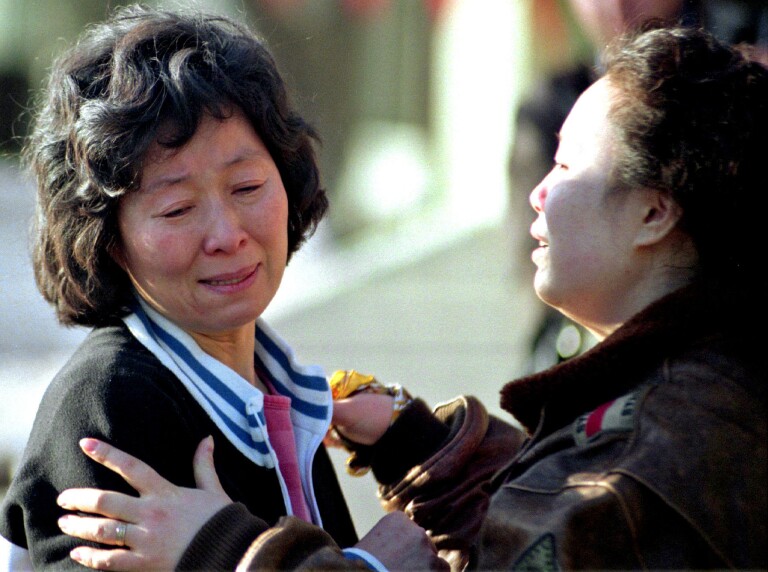 A mother's face reflects her grief on learning that her 14-year-old son had been found dead in a closet in their Northridge apartment.
(Los Angeles Times)
L.A. Mayor Richard Riordan, left, Gov. Pete Wilson and President Clinton listen on the 118 Freeway as Caltrans engineer Andrew Ponzi explains the extent of the damage to L.A. freeways.
(Los Angeles Times)
Jessica Hernandez, 7, clutches her teddy bear outside the makeshift shelter where her family and other residents of a Van Nuys apartment complex are living because they are afraid of return to their homes.
(Al Seib / Los Angeles Times)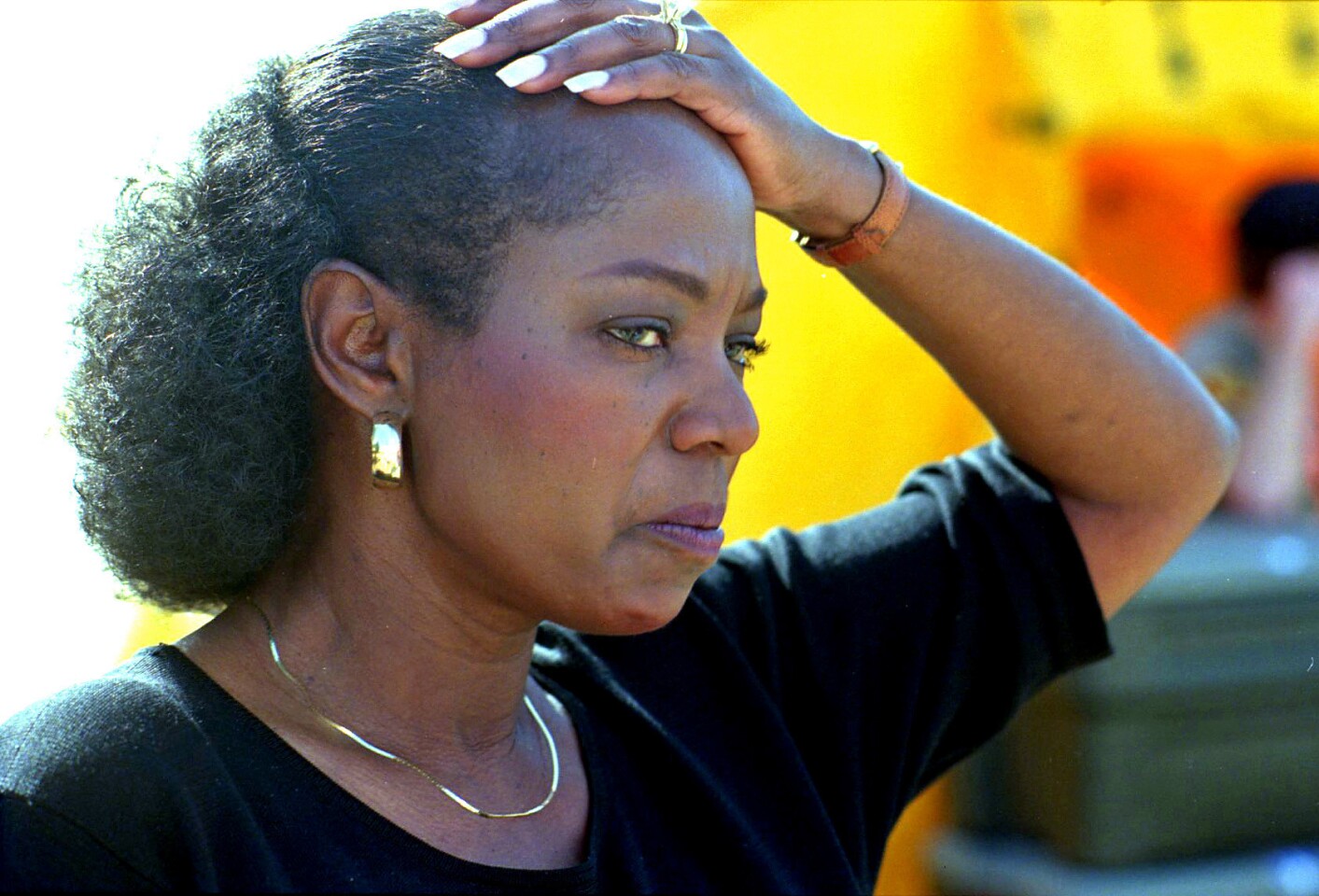 Cal State Northridge President Blenda J. Wilson said: "The moment of returning to the campus and seeing the parking structure demolished ... was the most terrifying moment of my life."
(Los Angeles Times)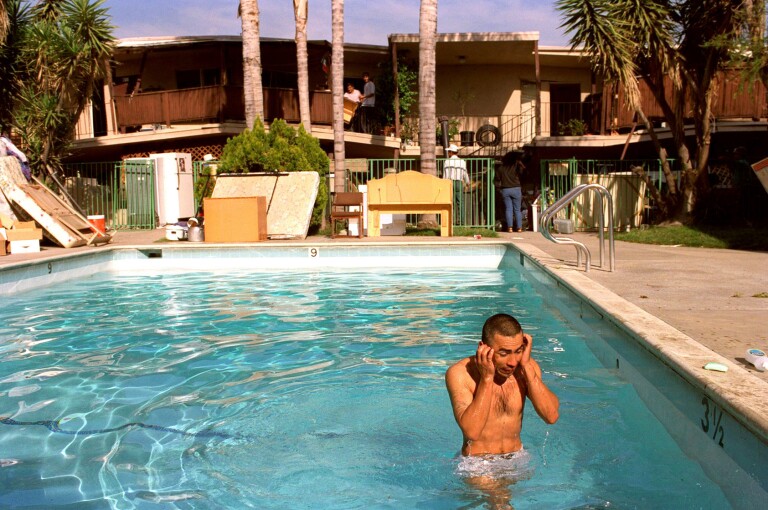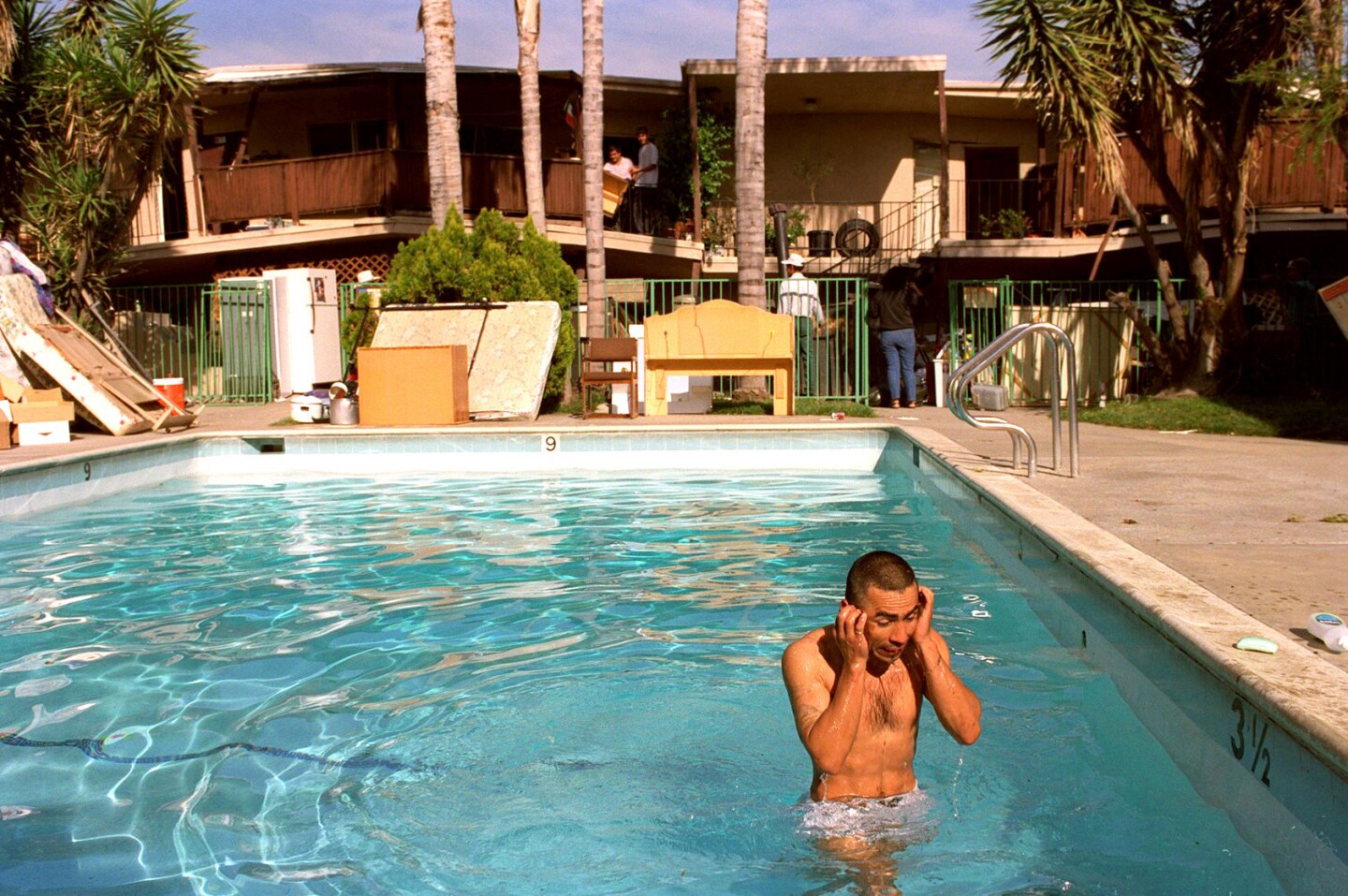 Unable to bathe since his Canoga Park apartment was condemned, Jose Aguilar rinses off in a pool.
(Ricardo DeAratanha / Los Angeles Times)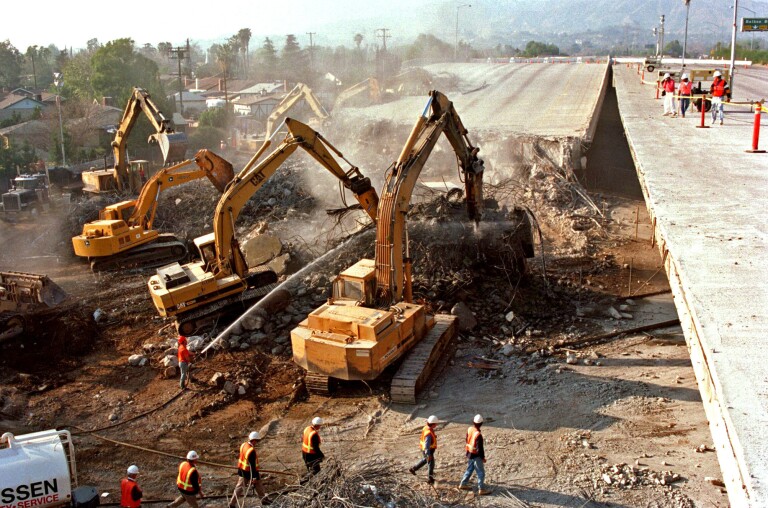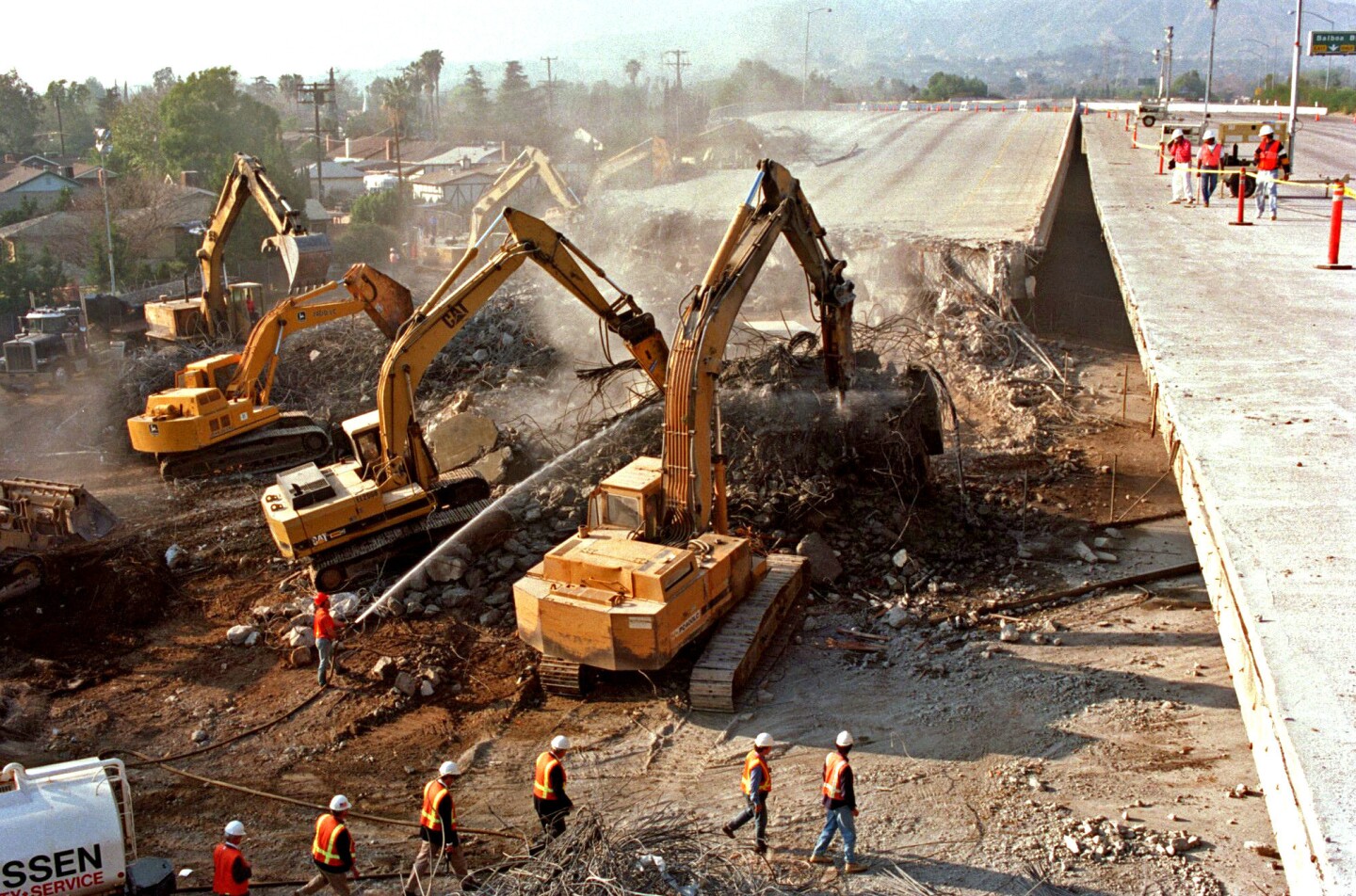 Heavy-equipment operators remove pieces of the 118 Freeway's eastbound lanes.
(Los Angeles Times)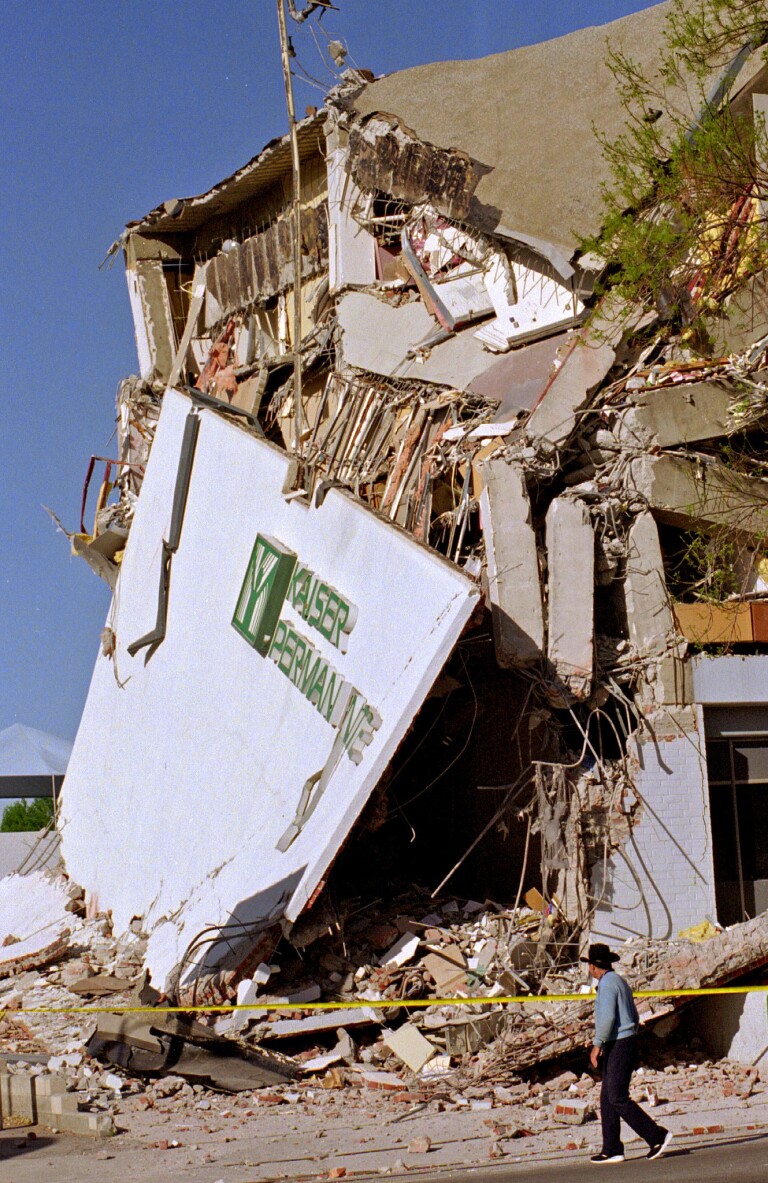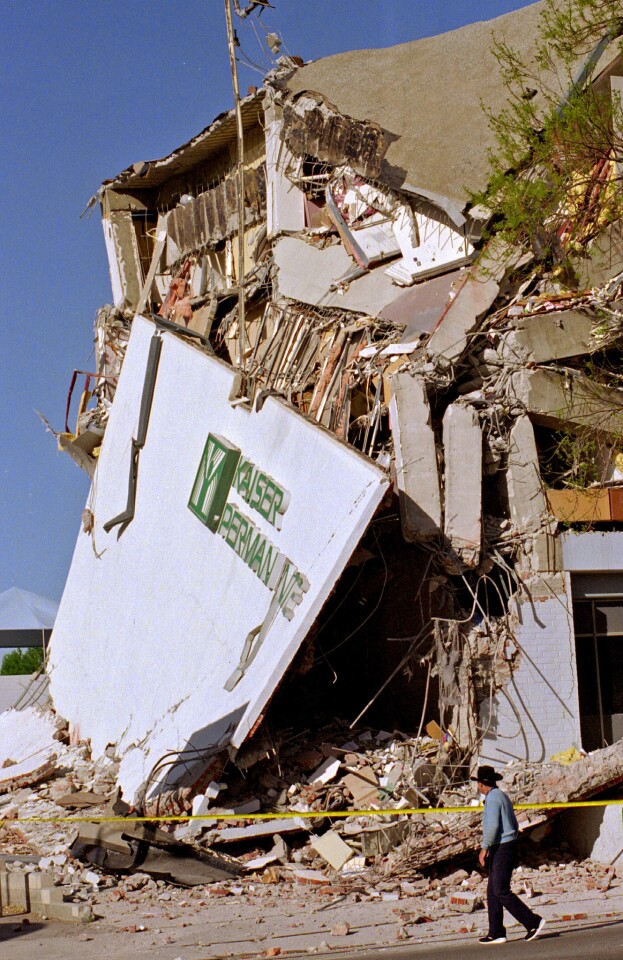 Both ends of this medical administration building collapsed, and the second floor pancaked.
(Ricardo DeArantha / Los Angeles Times)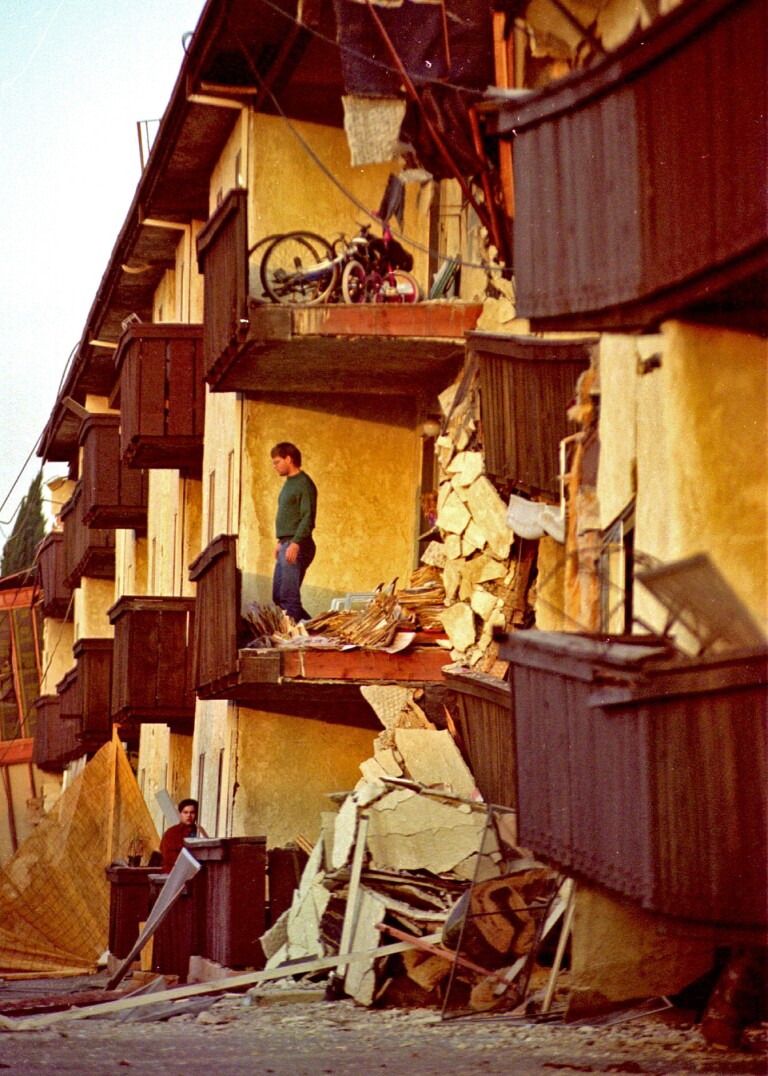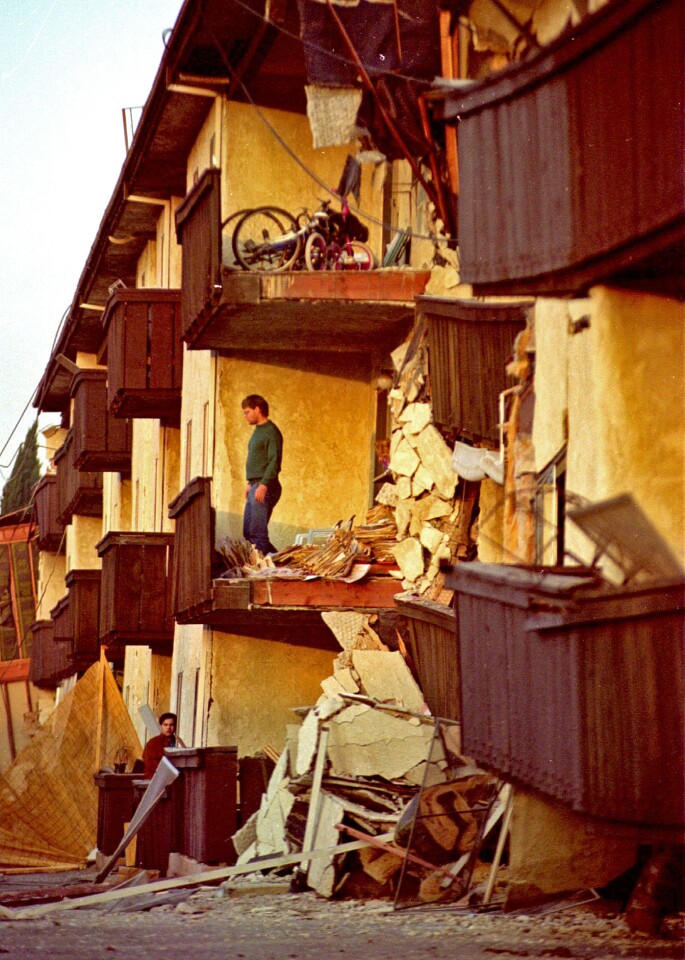 A man stares out to the street from his wall-less home at the devastated Northridge Meadows apartments.
(Joel P. Lugavere / Los Angeles Times)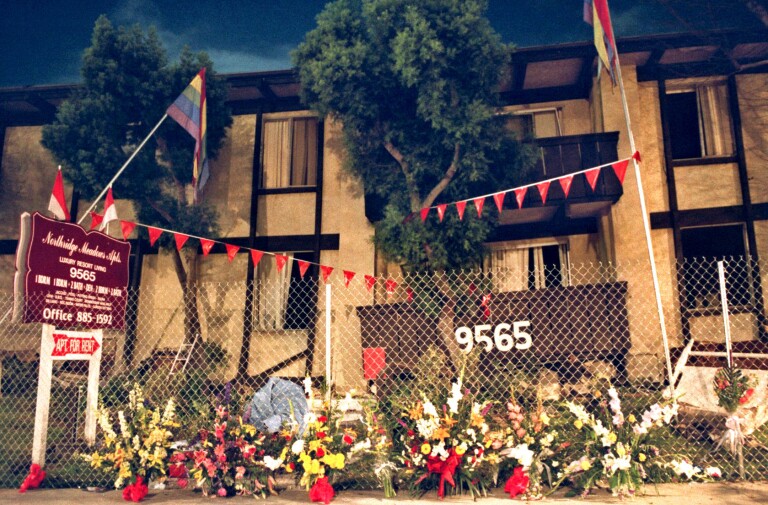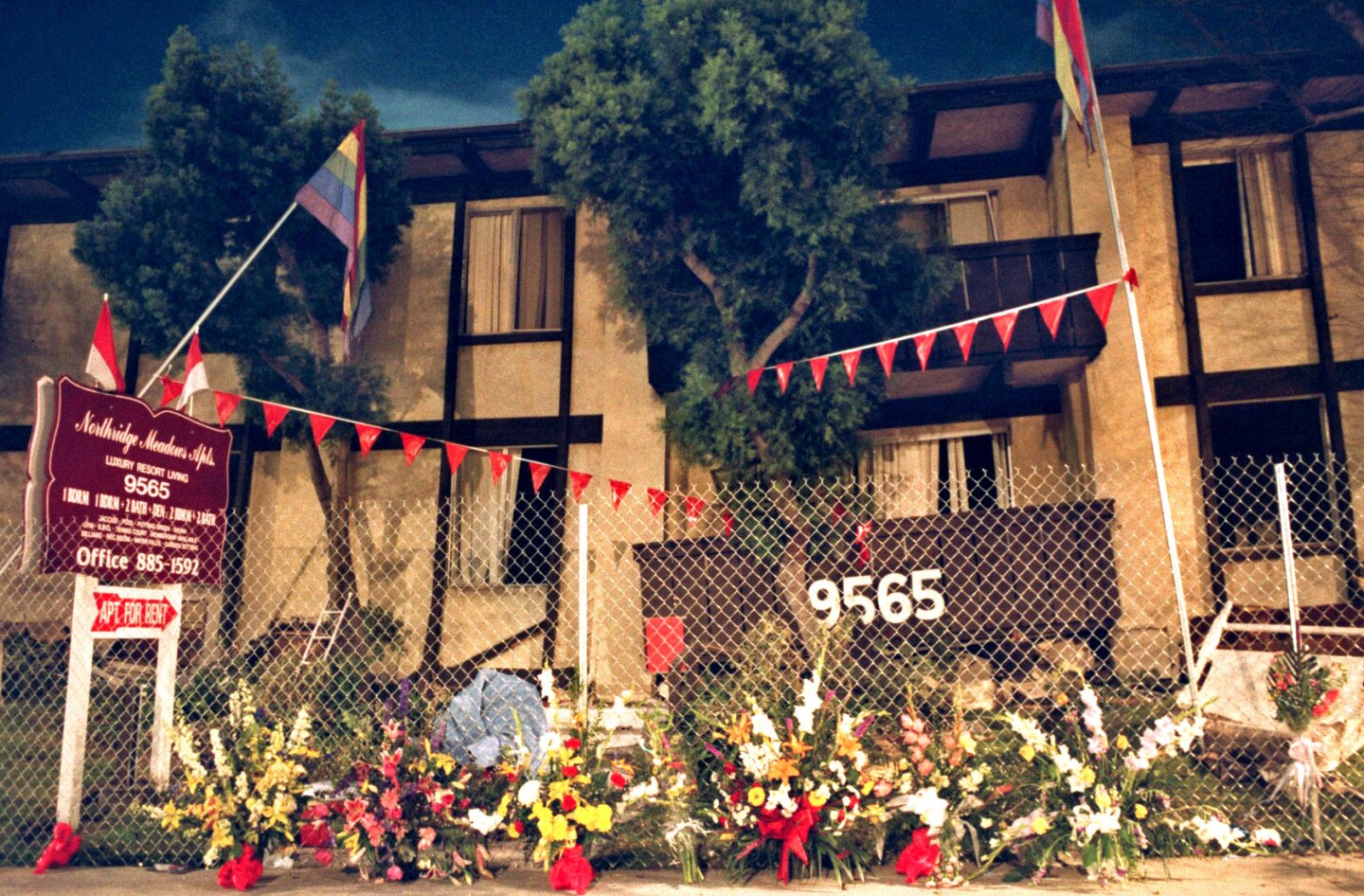 Flowers line a fence at the Northridge Meadows apartment complex a week after the quake.
(Julie Markes / For the Los Angeles Times)
Times Staff Writers
The 10-second earthquake that rocked Southern California early Monday will create a commuting nightmare for months to come, officials said.
Portions of one local highway and six freeways--including the Golden State and the Santa Monica--were closed after the quake flattened overpasses and buckled swaths of asphalt. The two major routes out of the Santa Clarita Valley were severely damaged, virtually isolating the area.
Caltrans officials said they are uncertain how long the roads will remain closed. But they estimated that some sections will be shut for 12 to 18 months, including a stretch of the Santa Monica Freeway, the nation's busiest highway. That closure will force the detour of about 300,000 cars a day.
"We've got some major problems--people are going to be using city streets for a period of time," said Ken Nelson, a deputy district director of the local Caltrans office. "It is certainly not going to be business as usual. . . . People are going to have to use alternative modes of transportation for a long time."
Do not drive today, officials advised, unless you must. For those with no alternative, allow extra time for your commute, take a detailed map and listen to the radio because aftershocks may cause more closures.
Monday's earthquake collapsed a bridge on the Golden State Freeway near Sylmar and ruptured a part of the Antelope Valley Freeway (California 14)--the main roads between Los Angeles and the Santa Clarita Valley, a suburb of about 130,000 people. Many, if not most of the residents of this growing area on the edge of the desert work in Los Angeles.
The major route now linking the two communities is four-lane Sierra Highway. The California Highway Patrol began escorting motorists along a five-mile stretch of the road Monday afternoon, between the Old Road and San Fernando Road. That service will continue until congestion is alleviated, said CHP Sgt. Ernie Garcia.
"This valley, in a disaster, is isolated--all 130,000 of us," said Gail Fox, spokeswoman for the city of Santa Clarita. "And what will happen with commuters? I don't even want to think about that. There's all of our commuters, plus the others from the 150,000 people living in the Antelope Valley."
Los Angeles Mayor Richard Riordan asked City Councilman Richard Alatorre, chairman of the Metropolitan Transportation Authority, to seek ways to add extra bus lines to help move commuters around the closed freeways. But no decisions were made about this proposal by Monday evening.
Riordan said the closure of the Golden State Freeway poses special problems because there are no reasonable alternate routes. He said one possibility is to permit commuters to park their cars on the collapsed freeway and walk to nearby buses that could ferry them to Los Angeles.
"We might need to borrow buses from other jurisdictions," Riordan said.
Across Los Angeles, motorists braced for what they feared could be a staggering commute.
"It's going to be tough," said Jeff Peltola, a Valencia resident and mechanical engineer for the Los Angeles Department of Water and Power. "I'm sure if I leave at 5:30 a.m. it will be easier, but it's going to be tough coming home too."
Brent White said his usual commute is 45 minutes each way between Santa Clarita and his job as a computer programmer in Woodland Hills. If driving during rush hour is too taxing, White said he might take more dramatic steps.
"Maybe I'll talk to my boss and work a staggered shift, come in at noon, work until 8 or 9 in the evening," he said. "That actually is a possibility."
While White does not consider public transportation an option, it will be for many others.
With only a few exceptions in areas nearest the quake epicenter, MTA bus service was not disrupted Monday--and is expected to run on its full schedule today. On the 22-mile Blue Line, between Long Beach to Downtown Los Angeles, service was slowed or halted for about six hours. Full service, at 12-minute intervals, was restored by midmorning Monday.
But Amtrak and Metrolink trains, the above-ground commuter lines that feed into Union Station, were canceled Monday. Pending inspection of about 300 miles of track, Metrolink and Amtrak trains may resume regular service this morning.
Metrolink plans to operate its Santa Clarita line, which runs between Santa Clarita and Union Station via Burbank and Glendale, as well as its San Juan Capistrano-Los Angeles trains. Spokesman Peter Hildago, however, said officials do not plan today to run trains to Chatsworth, Simi Valley and Moorpark.
Metrolink will add cars to the Santa Clarita line, Hidalgo said, and will honor transit passes from Antelope Valley and Santa Clarita bus lines, at least until Friday.
Officials with the Los Angeles Department of Transportation and the CHP devised several recommended detours for beleaguered commuters:
* The Santa Monica Freeway (I-10) is closed between Centinela Avenue and La Brea Avenue because three overpasses crumbled, causing enormous slabs to move. Westbound traffic should head north at La Brea to Pico Boulevard, and west to Sepulveda Boulevard to reach the San Diego Freeway--or continue west on Pico to Centinela to return to the Santa Monica Freeway. Also, Washington Boulevard and Adams Boulevard may be used as alternate detour routes.
Eastbound traffic will be diverted at Centinela, directed east on Pico to La Brea to return to the Santa Monica Freeway.
* The Golden State Freeway (I-5) is closed between Lyons Avenue and Roxford Street. Southbound traffic will be diverted at Lyons, directed east to San Fernando Road, south to Sierra Highway, under the I-5 and California 14 interchange, south on San Fernando Road and Sepulveda Boulevard to return to Golden State at Roxford Street.
Northbound traffic will be diverted at Roxford, routed east to San Fernando Road, north to Sierra Highway, west to Lyons to return to Golden State Freeway.
* The Simi Valley Freeway (California 118) is closed between Tampa Avenue and the Foothill Freeway. Eastbound traffic will be diverted at Tampa Avenue, directed south to Devonshire Street, south on Arleta Avenue, east on Van Nuys Boulevard to return to the Foothill Freeway.
Westbound traffic will use Van Nuys Boulevard, north on Arleta Avenue, west on Devonshire Street, continue to Hayvenhurst Avenue, north to the Simi Valley Freeway.
Here's a list of other closures:
* The northbound San Diego Freeway is closed at Devonshire because of freeway buckling. Southbound lanes are closed at Rinaldi Street.
* The southbound Antelope Valley Freeway is closed at San Fernando Road (before the I-5 interchange) because of structural damage.
---
For reporting and exclusive analysis from bureau chief John Myers, get our California Politics newsletter.
You may occasionally receive promotional content from the Los Angeles Times.