Parenting in the tech ages: A Common Sense guide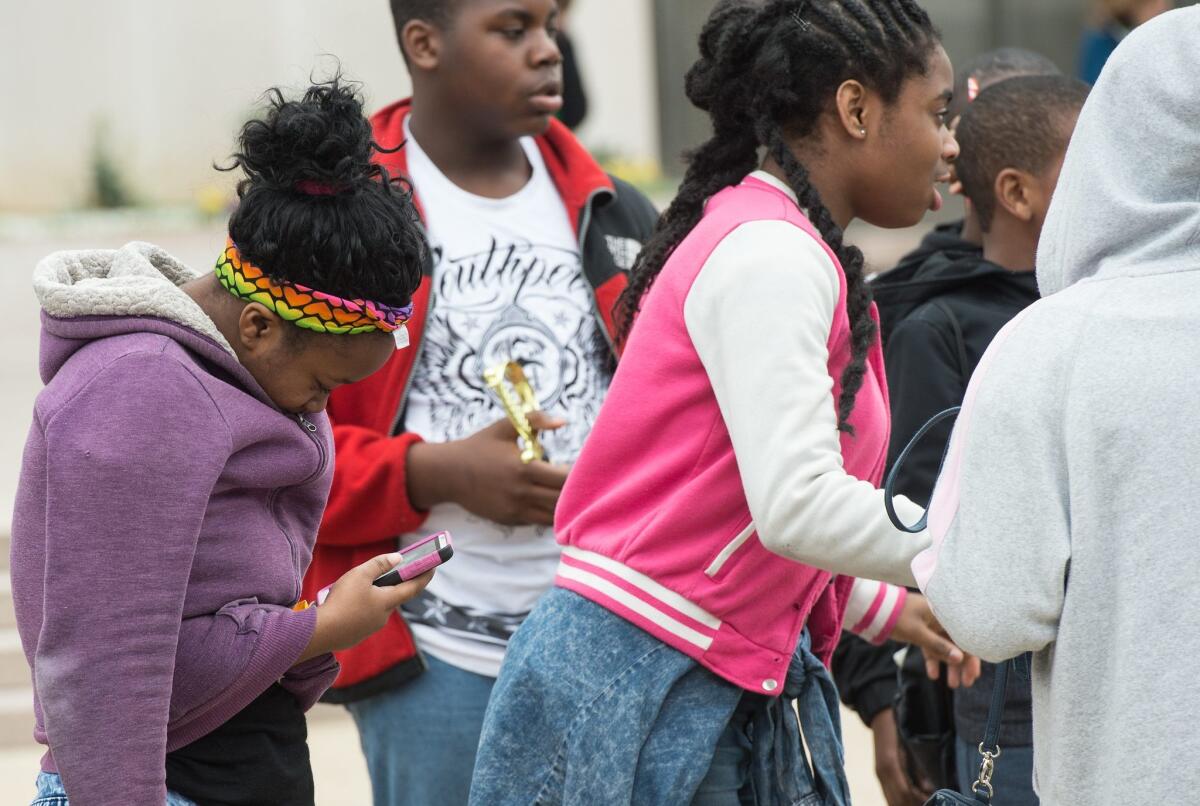 Let's face it, in many corners these days, where there are tweens and teens, there are often screens.
"Our world is changing and kids are spending a lot of time with media -- and they are doing it in a variety of ways on many platforms," said James P. Steyer, founder and chief executive of Common Sense Media, a nonprofit organization that focuses on helping families promote safe technology and media for children.
On Tuesday, the group released a report saying that teenagers use an average of nine hours of entertainment media a day and that tweens use an average of six hours a day, outside of homework. The study highlights the myriad ways 8- to 18-year-olds are using media and found that race, class and gender all play a role in how kids are likely to consume media.
The Times' new education initiative to inform parents, educators and students across California >>
While some curse the pervasiveness and the occasional intrusion of technology in our lives -- and in our children's -- these devices can be powerful, convenient and effective tools for education, communication and work as well as entertainment.
So, in the same way that we train our kids what it means to eat a balanced diet to nourish their bodies, we need to help them understand how to consume a balanced media diet -- what's best to use and when it's time to stop. Here are some of Steyer's suggestions for creating more healthy media-consumption habits for our families:
Set limits on screens of all sizes

Devices are a huge part of screen time and kids need support in establishing balance and setting limits. Depending on your family, these rules can be as simple as "no phones at the dinner table" or "no texting after 9 p.m."

Encourage kids to be creative, responsible consumers, not just passive users

Media can be incredibly productive, educational and empowering. Helping younger kids find great content and have access to quality books, complex movies, challenging games, and safe apps and websites fosters a positive relationship with media.

Help kids understand the impact of multitasking

Our research shows multitasking tweens and teens think that it has no impact on the quality of their homework. As parents, we know that helping kids stay focused will only strengthen interpersonal skills and school performance. Encourage them to manage one task at a time, shutting down social media while working online for homework or engaging in conversation.

Talk the talk, walk the walk

Parents need to lead by example by putting their own devices away during family time. Parent role modeling shows kids the behavior and values that you want in your home. Kids will be more open and willing participants when the house rules don't just apply them.
We'd love to hear from you as well. How are you managing screen time and media consumption for your kids? Share your tips -- and trials -- in the comments below or tweet us at
@latimes
.
Going through the growing pains of parenthood? Join me on the journey: @mmaltaisla
MORE EDUCATION NEWS:
Teens spend an average of 9 hours a day with media, survey finds
Even young children are tech savvy, some using mobile devices before age 1
Magnet schools: How to navigate one of L.A.'s most complex mazes
Sign up for Essential California for news, features and recommendations from the L.A. Times and beyond in your inbox six days a week.
You may occasionally receive promotional content from the Los Angeles Times.