UC shelves tuition increase for now, in hopes of getting more state funding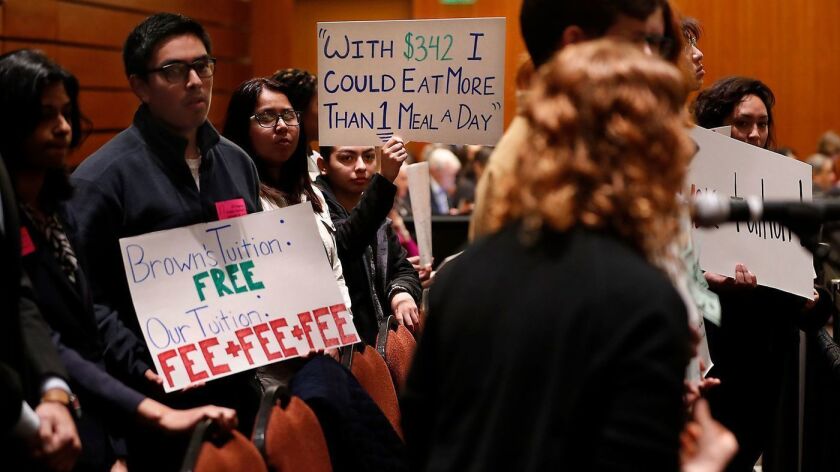 University of California regents will not vote on a tuition increase next month, shelving the plan for now in hopes that state lawmakers will come through with more funding.
"Raising tuition is always a last resort and one we take very seriously," UC President Janet Napolitano said Thursday in a statement. "We will continue to advocate with our students who are doing a tremendous job of educating legislators about the necessity of adequately funding the university to ensure UC remains a world-class institution and engine of economic growth for our state."
Last week, Cal State Chancellor Timothy P. White said the 23-campus system no longer would consider a plan to raise tuition for the 2018-19 academic year. But unlike Cal State, UC officials have not taken a tuition increase off the table entirely.
"We don't know what will happen," said George Kieffer, chairman of the UC Board of Regents. "But we have been getting a good deal of reinforcement and support from many members of the Legislature and are hopeful there will be full funding of the university. The better course at this time is to continuing lobbying and advocacy efforts."
UC hopes for more funding have been buoyed by reports that state general fund revenues are $3.3 billion larger than projected when Gov. Jerry Brown released his budget proposal in January.
In January, UC regents delayed action until May on a proposal to increase tuition by $342, which would bring state residents' costs to $12,972 for 2018-19. If ultimately approved, it would be the second consecutive increase after six years without a tuition hike. The base tuition rose $282 in the current academic year.
Financial aid would cover the higher costs for more than half of the UC's California students, officials say.
In March, the regents approved a $978 increase in supplemental tuition for nonresident students, bringing their total for the next academic year to $28,992.
UC students, faculty, administrators, alumni and regents launched a unified effort to lobby for an additional $140 million from the state: $70 million to stave off a tuition increase, $10 million to add more California students, $25 million to ease overcrowding and $35 million as a one-time payment to catch up on maintenance of classrooms, labs and other facilities.
They argue that the need for extra money is exacerbated by Brown's proposal to reduce the 4% increase he has given to UC in recent years to 3% for next year.
Brown has been an outspoken opponent of tuition increases at UC and Cal State. He has said that the university systems' leaders should find ways to cut spending rather than look for ways to get more money.
H.D. Palmer, the state finance department spokesman, said Brown has not decided whether to increase money for UC and Cal State in his revised budget in May. But he said the administration has made it clear for nearly a year that any tuition increase could have an "adverse effect" on funding for the university systems.
Negotiations over the state budget are likely to continue until the Legislature's June 15 deadline for passage.
In recent months, UC students have swarmed Sacramento to plead for more state funding at budget hearings and in individual meetings. Thousands have joined phone-banking and letter-writing campaigns, said Varsha Sarveshwar, a Berkeley sophomore who is leading the student association's "Fund the UC" campaign.
Sarveshwar said many legislators have been supportive, but others have dismissed student stories about overcrowding in classrooms, study spaces and housing.
"The University of California has stepped up by taking the tuition hike off the table. Students have stepped up by tirelessly advocating for increased funding in the state Capitol. Now, it's time for the Legislature to step up and fully fund our budget request," Sarveshwar said in a text. "For years, state budgets have put students last — and now, there's just no excuse for doing that again."
The delay in a tuition vote may irk UC campus chancellors, who say the uncertainty will keep them in the dark about how much money they'll have to hire faculty and add classes, and won't give them the chance to let families know the cost of attendance as students make enrollment decisions. The deadline to accept admission offers is May 1 for freshmen and June 1 for transfer students.
Chancellors have outlined the pressing need for more money to accommodate demands to enroll more California students and maintain the quality of the nation's top public research university system.
UC Berkeley Chancellor Carol Christ, for instance, told regents in January that the campus had added 4,700 more students since 2013-14 but has not received enough money to cover the costs of educating them. As a result, she said, the average size of lower-division engineering and computer science classes has gone from 65 in 2011-12 to 227 in 2016-17.
She also said Berkeley's $700-million backlog of much-needed maintenance is affecting its stature as the nation's top public research university. The campus recently lost its bid to recruit one of the world's leading chemists, she said, because it could not afford to renovate a laboratory to meet his needs.
UC budget officials have told regents that billions of dollars more are needed not just for maintenance but also for new classrooms, dorms and labs, salary increases and to cover escalating pension and health costs. UC spending per student has dropped by 31% since 2000 because state funding has not risen to fully cover the additional 90,000 students enrolled since then.
---
The stories shaping California
Get up to speed with our Essential California newsletter, sent six days a week.
You may occasionally receive promotional content from the Los Angeles Times.