Under pressure, UC regents delay vote to raise tuition and fees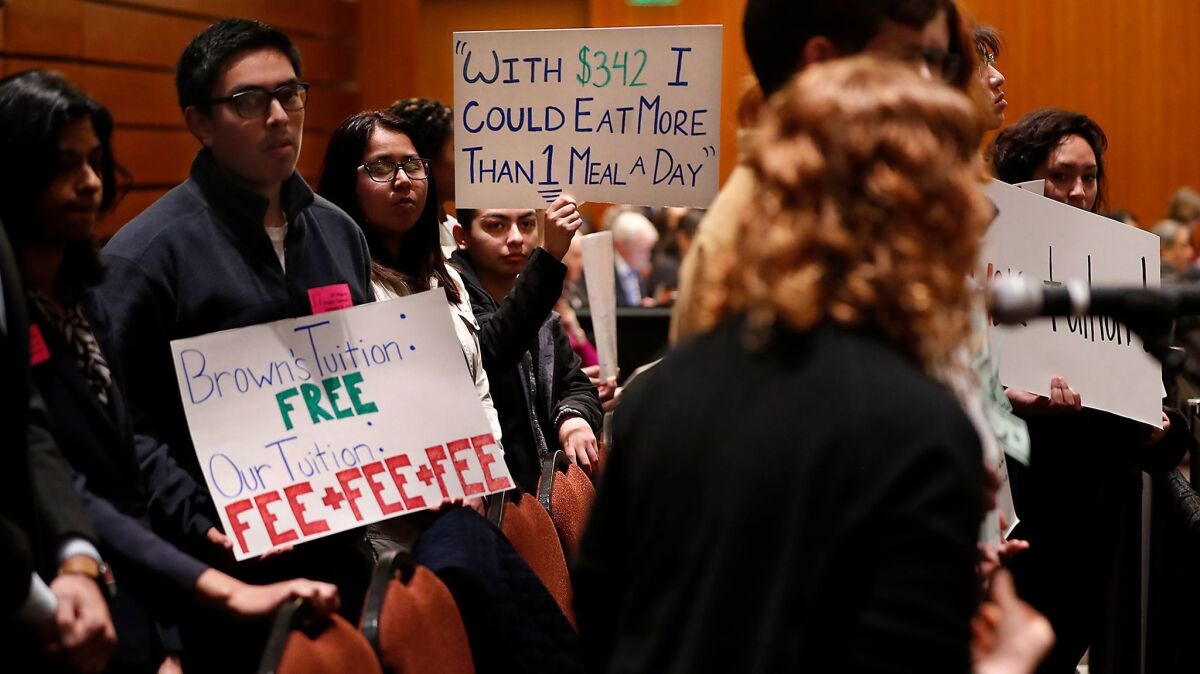 Reporting from San Francisco —
They circulated petitions, shared their stories of hardship and pressed the University of California regents to delay a controversial vote to raise their tuition and fees.
In the end, UC students pulled off a stunning victory when the regents voted Wednesday to put off a decision until May in order to allow time to step up pressure on the Legislature to increase state funding for the public university system.
"This is an important win for both students and the university," said Devon Graves, a UCLA graduate student and student regent-designate.
A tuition increase seemed inevitable because UC officials said the governor's proposed funding was inadequate. But a full-court press by students and a minority of regents gained steam when Gov. Jerry Brown sent board members a letter Wednesday urging them to reject the hike "outright."
"Economic expansions do not last forever and the future is uncertain," he wrote. "More work is needed now to reduce the university's costs to insure that students and families have access to an affordable, quality education."
UC Berkeley Chancellor Carol T. Christ told regents that the delay they approved would cause hardships. She would not be able to hire faculty, set up courses needed for students registering in March or let families know the cost of attendance next year as they make enrollment decisions.
"It makes really impossible strategic and wise financial planning," she said.
UC officials are proposing an increase of $342 for students, which would bring state residents' costs to $12,972 for 2018-19. Nonresident students would pay an additional $978 in supplemental tuition to bring their total to $28,992. It would be the second consecutive increase after a six-year freeze on tuition hikes.
UC officials say increased financial aid would cover the higher costs for more than half of the system's 180,000 California resident undergraduates who already pay no tuition.
At the regents meeting at UC San Francisco, the 90-minute-plus debate on the proposed hike grew heated at times. When Regents Eloy Ortiz Oakley and John A. Pérez said UC officials needed to address a lack of trust by the public and legislators, Regent Richard Blum retorted, "I never heard more nonsense in my life."
Blum then turned on Lt. Gov. Gavin Newsom, an ex-officio regent, and complained that while he opposed tuition hikes, he did not lobby Sacramento for more money.
Newsom replied: "You are picking on me. Here's what I'm going to do: Not take the bait." He later said that regents' mistrust of each other was a "festering wound" causing bigger problems than uneasy relations with Sacramento.
Regents said they expect to work with students and UC administrators to lobby Sacramento for more money between now and May. (They will vote on raising tuition for nonresident students in March.)
Pérez said that, in order to make their case, UC officials must be transparent about finances and also consider cuts and other ways to raise money.
Earlier, two chancellors described how a relative decline in funding over the years had caused hardships on their campuses. The state has increased UC funding by $1.2 billion since 2012. But UC officials contend that the money available per student from state contributions, tuition and fees, and general university funds has declined by about $11,000, or 31.2%, in constant dollars since 2000. Over that time, UC has seen its costs grow because of increased financial aid, pension payments and the record addition of 90,000 more students.
Christ told regents that Berkeley had added 4,700 more students since 2013-14 but has not received enough money to cover the costs of educating them. As a result, she said, the average size of lower-division engineering and computer science classes has swelled from 65 in 2011-12 to 227 last year.
She also said Berkeley's $700-million backlog of deferred maintenance is affecting its stature as the nation's top public research university. The campus failed to recruit one of the world's leading chemists, she said, because it could not afford to renovate the laboratory to meet his needs.
Students were loud in their opposition to the proposed hike. About two dozen stood up at the regents meeting, holding signs saying "Fund our future" and "UC U suck."
Sarah Abdeshahian, a UC Berkeley political science and economics major, criticized regents for increasing tuition by more than 300% in the last 15 years. The 10-campus UC system, she said, was founded 150 years ago on the "revolutionary idea that college should be available for all."
"The UC is not accessible," she said. "A vote for this tuition hike is a vote for exclusion, privatization of our public institution and further basic-needs insecurity."
Victoria Solkovits, a UCLA student in political science and human biology, said she receives no financial aid because her family is classified as middle-income, but she struggles to make ends meet. Her parents — one retired, the other a Los Angeles Unified teacher — are still paying off college loans for her older brother. Those expenses, she said, are not counted in federal financial aid forms.
The University of California Student Assn. gave regents a petition signed by more than 2,500 students statewide asking them to delay the vote and pursue alternative funding sources.
Student regent Paul Monge said "unprecedented coordination" between students and sympathetic regents and legislators helped them pull off their win.
"It was a mix of political savvy and luck," he said.
Twitter: @TeresaWatanabe
---
UPDATES:
8:35 p.m.: This article was updated with additional details of the regents meeting and protests, and with quotes from regents, university chancellors and students.
This article was originally published at 5 p.m.
---
The stories shaping California
Get up to speed with our Essential California newsletter, sent six days a week.
You may occasionally receive promotional content from the Los Angeles Times.