Freed from regulations by Trump administration, state education board unveils the 'California Way'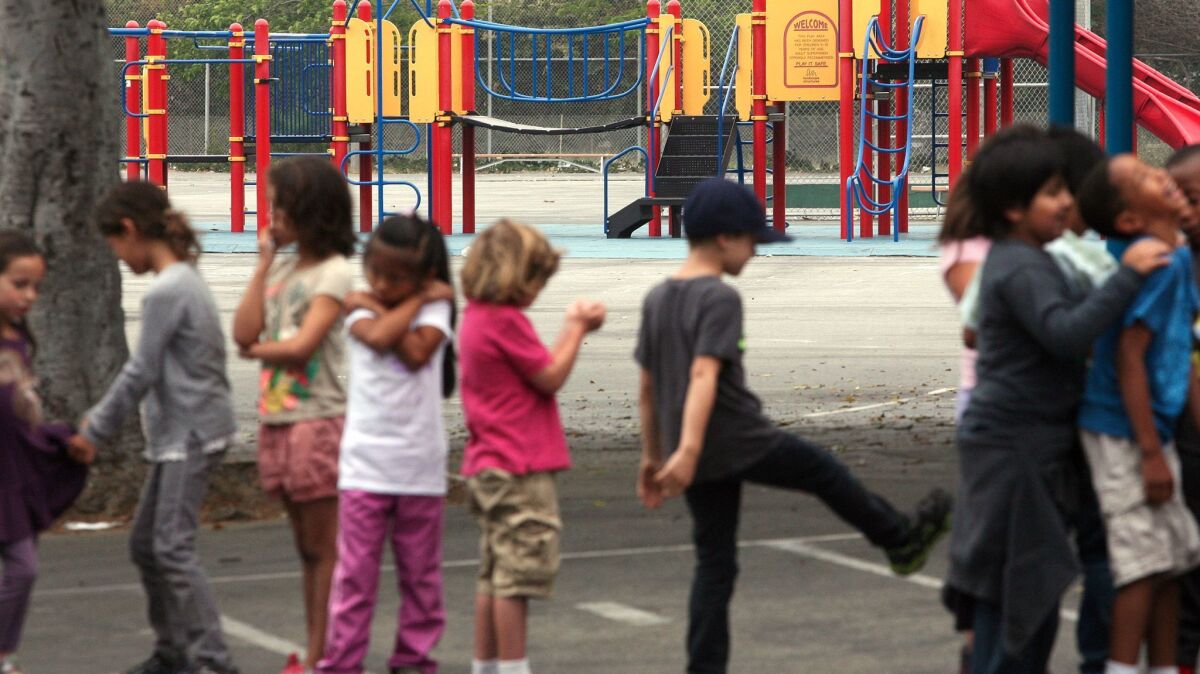 Patricia Rucker started tearing up, and the room fell silent.
"I've been a member of this board for six years," she said Wednesday at a meeting of the California State Board of Education. "But I've been an African American woman for far longer."
The charged moment came during a presentation of a draft plan called "The California Way" on how the state plans to satisfy the relatively loose requirements of the Every Student Succeeds Act, the Obama-era replacement for the earlier No Child Left Behind Act.
Where No Child used a stringent system to reward and punish schools for their performance on test scores, ESSA, as it's known, gives states much more leeway in deciding how to hold schools and districts accountable for their students' progress.
With the Trump administration in office — and an Education secretary who insists that states and school districts do much of the decision-making — states will get even more freedom than they had expected. Trump in March signed a bill that trashed Obama's ESSA rules.
Both Rucker and fellow board member Feliza Ortiz-Licon suggested that if the state failed to make firm commitments to progress anyway, some students would continue to be shortchanged.
The performance gap between students of different races, said Ortiz-Licon, is a California problem, not a question of complying with federal policy. "These are California students that are not performing in California schools, and it happens to be the same students over and over again," she said.
She and Rucker took the board to task for talking around the achievement gap, which they view as the central problem in California's schools. Rucker said she sees students who look like her constantly failing, and suggested that the board's discussion focused on schools that serve the privileged.
"There's nothing wrong with public education if you happen to live in an affluent community. We're having the wrong conversation," she said, as several people observing the meeting applauded.
The state board wrote in the introduction to its draft plan that Trump has provided "maximum flexibility" for the state to create its own policies for managing about $2.6 billion in federal money. The plan, the board wrote, "has been written to meet, not exceed, federal requirements."
Mike Kirst, the board's president, said the draft is intentionally thin because any language would require entering into a contract with the federal government. "There are things we can do … that we don't have to sign a contract with the federal government about," he said.
Like Rucker and Ortiz-Licon, some advocates complained that the draft does not propose doing much to promote equity.
"California really needs to step up and demonstrate that the state is going to be that civil rights backstop and it's going to be embedded in this plan," said Samantha Tran, senior managing director of education policy for Children Now, a group that lobbies and organizes activists on behalf of children's rights.
At bare minimum, ESSA requires that states identify the lowest performing 5% of their high-poverty schools, as well as high schools with persistently low graduation rates, and help them improve.
But the draft is vague on interventions and largely relies on measures in the California School Dashboard — the new school ratings tool — to set goals for school performance. The online system gives schools colors, ranging from red (worst) to blue (best) in various categories, including suspensions, graduation and English and math test scores. It takes in both current status and progress.
A Times analysis found that the dashboard grades schools on a generous curve. Tran said its ratings lack nuance.
"I don't understand the theory of change here and how it's supposed to get schools back on track," said Carrie Hahnel, deputy director of research and policy at the Education Trust-West, an Oakland-based advocacy group focused on educational equity. "I expect there would be a plan for action in at least the most egregious cases of failure."
According to Deputy Supt. Keric Ashley, the state could use one of several methods to identify the schools. It could either weight the different measurement categories equally, or it could give more emphasis to specific categories, or it could cull through the schools whose ratings are all red in one area, then another, until the poorest performing 5% are determined.
Implicit in the draft's starting point — that it doesn't need to strictly comply with ESSA's requirements or exceed them — is the premise that federal funding for education is so proportionally small that it's not always worth the trouble. But Rucker and Ortiz-Licon both argued that federal money matters more in the state's neediest schools.
The board voted in the end to move the plan forward with a few revisions. An updated version is expected to be released for public comment on May 22.
---
Life is stressful. Our weekly mental wellness newsletter can help.
You may occasionally receive promotional content from the Los Angeles Times.