L.A. County report on special education sees 'crisis'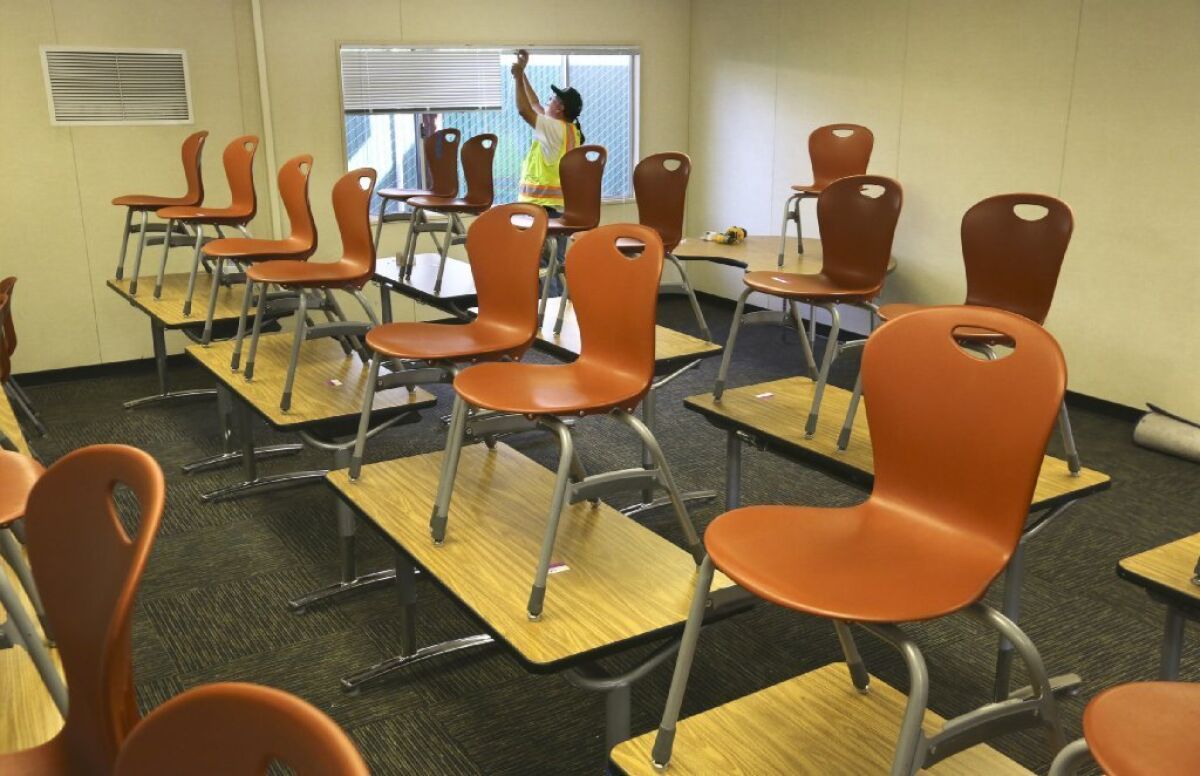 Some students with disabilities in Los Angeles County are getting shortchanged by the bureaucracy that is supposed to ensure they receive a good education, according to a consultant's report discussed on Tuesday.
Los Angeles County's Office of Education's Division of Special Education "has reached a point of crisis by almost every measure," the education consulting firm Cross & Joftus concluded in its study. "No vision for how—or whether—LACOE will support districts in improving outcomes for students with disabilities has been communicated."
In California, counties often help school districts countywide serve students with disabilities. The state adopted this approach decades ago, in part to tap economies of scale in using specialized instructors and purchasing special equipment, such as feeding tubes.
The county Office of Education is a regional agency that helps support 80 districts in L.A. County. Its superintendent and board of education are appointed by county supervisors.
Districts work with the agency to decide which students with disabilities to place in these classrooms, based in part on schools' resources. There are 900 students with disabilities in county-run classrooms on 39 public school campuses in 25 districts. More than 2,500 students from those districts receive services including speech therapy and adapted physical education through the county.
The county office's special education division commissioned the report for about $141,000 in January of last year and received it in May. The consultants said they interviewed 165 staff members, observed 32 classrooms and surveyed district special education directors.
County education office board members say they first saw the report in November, when it was presented at a meeting. On Tuesday, its author, Alice Parker, presented her findings to the agency's board.
Districts that housed the county office of education's programs, she said, often fail to ensure that students' education is up to snuff, noting a dearth of good teaching materials and poor quality of instruction.
The report also concluded that the county-supervised district facilities often lack clear billing procedures, violate lease agreements and sometimes provide such excessive staff support that students don't have a chance to learn independently.
Nine of the ten special education classrooms the consultants observed require "no thinking," the report said.
The report recommended developing a plan for how the county would improve education for special need students and advised restructuring the program.
The model of using the county to share responsibility with districts fell out of favor in recent years as districts sought to regain control of tax money and instructional continuity.
In 2011-12, the county education office's special education programs received almost $84 million in state tax revenue. The projection for 2014-15 was $38 million.
In 2012-13, the county programs had 772 teachers on the payroll. In 2014-15, there were 408.
Supt. Arturo Delgado, who presides over the agency, said in an interview that the report was "administrative" and "supposed to be used internally … not as a public discussion." He said he disagreed with some of its characterizations but agreed that there are major problems in special education.
Since the report's release to the board, Delgado said the county has begun addressing the structural recommendations. In February, the agency hired career educator Mark Nguyen to take over as the director of special education.
Speaking at Tuesday's meeting, board member Gabrielle Holt said the report reflected ongoing concerns about the state of special education. She blamed the decline in district money and students on the system itself.
"We fell short in meeting the needs of our most vulnerable students," she said. "That resulted in the loss of those students."
You can reach Joy Resmovits on Twitter @Joy_Resmovits and by email at joy.resmovits@LATimes.com.
---
The stories shaping California
Get up to speed with our Essential California newsletter, sent six days a week.
You may occasionally receive promotional content from the Los Angeles Times.