17 file for open L.A. school board seat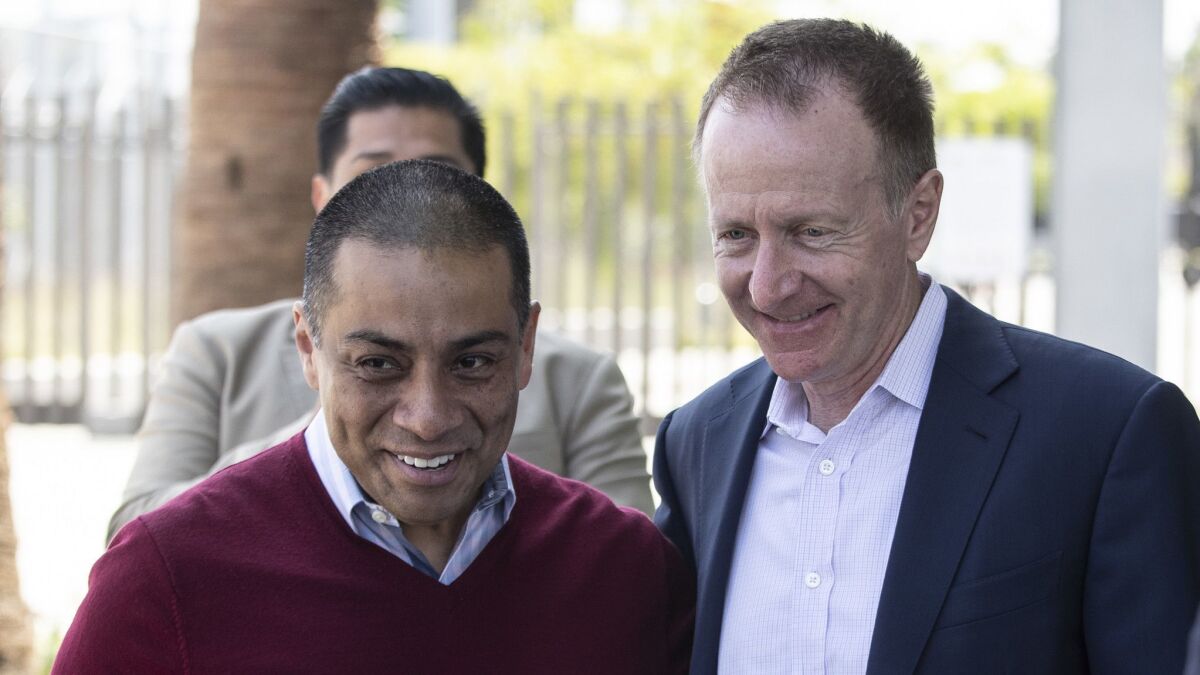 Voters could have 17 candidates to choose from in a special election to fill a Los Angeles school board seat that has been vacant for nearly four months.
The winner of the March election will have an important role to play on a Board of Education that has been split on some important votes.
Tuesday marked the filing deadline for candidates, but it's not the end of the process to get on the ballot.
Candidates have through Dec. 5 to file nominating petitions with signatures from voters they would represent. Candidates can submit 1,000 valid signatures or pay a fee of $300 and submit 500 valid signatures.
There's likely to be serious money raised — for two or perhaps three of the candidates. As in other recent L.A. school board races, campaign spending is likely to be dominated by supporters of charters schools, who've spent the most, and the teachers union, which also has spent plenty.
But with so many candidates, it's also possible that the big spenders could wait for the primary to shake out the field, and then focus their main resources on a May runoff pitting the top two finishers against each other.
The previous board member, Ref Rodriguez, resigned July 23, the day he pleaded guilty to one felony and three misdemeanors for political money laundering.
The L.A. Unified School District is divided into seven board member districts. The open seat, District 5, makes an arc over downtown Los Angeles and then zigzags to the cities of southeast Los Angeles County.
The candidates make for an eclectic mix, both geographically and in terms of their backgrounds.
The best-known may be Jackie Goldberg, a former school board member who also served on the L.A. City Council and in the state Legislature. The teachers union and other supporters lobbied unsuccessfully for a majority of the remaining board members to appoint Goldberg to the seat. In the coming election, the union's endorsement of Goldberg is not automatic.
Other candidates also could have claims on the union's loyalty, including former board member Bennett Kayser, who lost to Rodriguez in 2015. Candidates who list themselves as teachers or professors include Erika Alvarez, Salvador "Chamba" Sanchez, Scott Cody, James C. O'Gabhann III, Ana Cubas and Fidencio Joel Gallardo.
Gallardo also is the mayor of Bell, and he's joined on the ballot by Bell City Councilman Nestor Enrique Valencia. Huntington Park City Councilwoman Graciela Grace Ortiz, an L.A. Unified counselor, also has thrown in her hat. Candidate Cynthia Gonzalez is an L.A. Unified principal.
Hopefuls who could vie for the pro-charter endorsement would include Allison Greenwood Bajracharya, a senior executive at the Camino Nuevo charter group, and Cubas, who ran unsuccessfully for L.A. City Council in 2013 and currently works in public affairs.
Heather Repenning served L.A. Mayor Eric Garcetti on the board of the Department of Public Works and snagged his potentially important endorsement.
Parents in the race include Justine Gonzalez, who also describes herself as a human rights advocate, and Rocio Rivas, a neighborhood activist who led protests pressuring Rodriguez to resign.
Rounding out the field is Eduardo Cisneros, who lists himself as a nonprofit division director, and David Valdez, an L.A. County arts commissioner.
Before his resignation, Rodriguez was part of the board's first majority elected with major support from charter backers. His vote was crucial in shaping policies more friendly to charter schools and to the selection of Supt. Austin Beutner, who took office in May.
Charters are public schools that operate independent of the local school system, frequently competing with it for students and the state and federal funds that come with them.
Rodriguez's departure could have led in the short term to a board less friendly toward charters and more sympathetic toward employee unions, but no defining issues have recently emerged along that dividing line. The entire board opposes a potential teachers strike. And Beutner has maintained majority support, even without Rodriguez.
Twitter: @howardblume
---
The stories shaping California
Get up to speed with our Essential California newsletter, sent six days a week.
You may occasionally receive promotional content from the Los Angeles Times.