Recent shootings can make going to school seem scary, but there are ways to help kids cope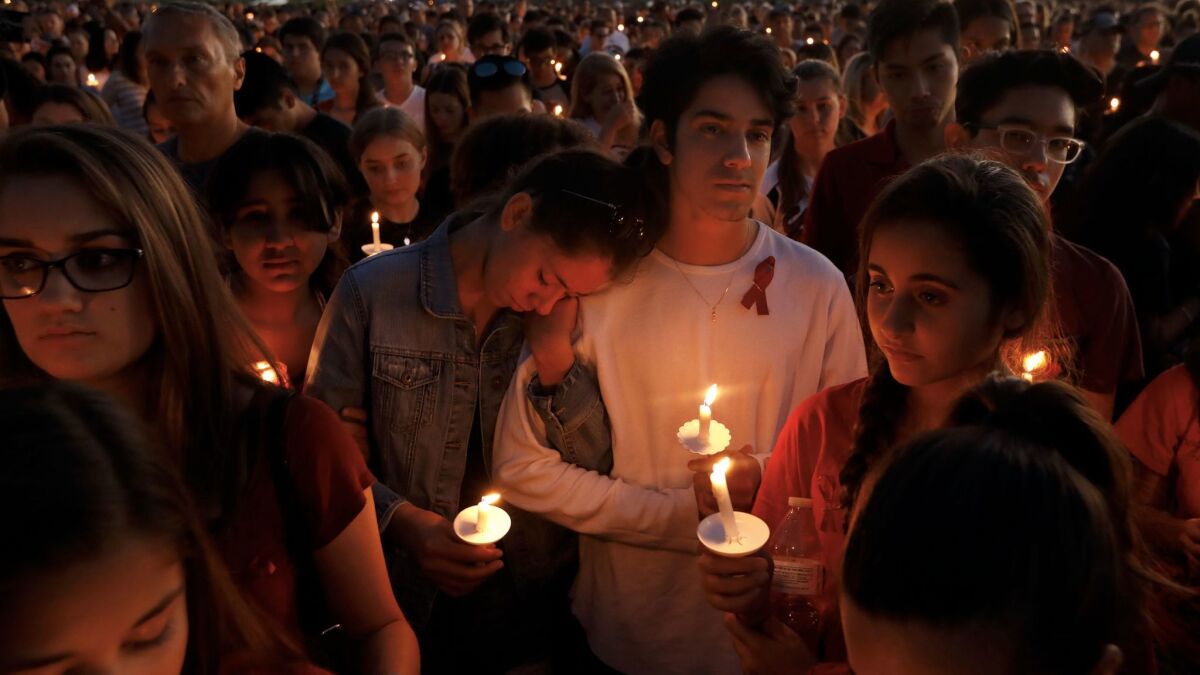 Alysia Evans' son was 4 in 2013, when a man went on a shooting rampage in Santa Monica, killing five people before officers killed him. Her son was in preschool a few blocks from Santa Monica College, where the attack came to an end.
The preschool was placed on lockdown that day, and everyone there was safe, but "it's the first panic attack I've had in my life," said Evans, an attorney who lives on the Westside.
Two weeks ago, she was driving to work when she heard on the radio that there had been a shooting at an L.A. middle school. At first, she thought incorrectly that it might be the school where her daughter is in the sixth grade.
"I had to pull over, I was crying so hard," Evans said.
On Thursday, the day after a shooter killed 17 people at a Florida high school, Evans' son, now in fourth grade, said he was sick and didn't want to go to school.
The prevalence of school shootings — the latest at Marjory Stoneman Douglas High School in Parkland, Fla. — helped drive Evans to become an activist in a group called Moms Demand Action for Gun Sense in America.
"I'm angry, and I want it to stop, she said.
As for her son, Evans knew he wasn't really so sick. Under normal circumstances, she wouldn't have let him stay home. But these weren't normal circumstances.
"In light of what happened [Wednesday] and then the shooting two weeks ago … if they feel like they don't want to go to school, I'm going to respect that," she said.
'Mom, it was very disturbing'
Evelyn Macias' family was heading out to celebrate Valentine's Day on Wednesday evening when her 17-year-old daughter, Julia, brought up the Florida shooting.
Macias had hoped the Valentine's Day outing would be festive, she said. "It's about love, it's about friendship, it's about family."
Instead, her daughter, a senior at Cleveland Humanities Magnet, talked about videos from the Florida campus that she'd seen on social media.
"Mom, it was very disturbing," Julia said, starting to cry. "As long as I can remember, this has been the norm for me growing up."
Julia told her family she'd been looking up what to do in a school shooting and had watched videos in which survivors of past attacks offered advice.
"She's kind of informing herself on the internet, but I think it's clear that the district needs to have a broader conversation with parents, really, and with children," Macias said. "She also needs to feel safe in her school environment … because it's supposed to be about learning, not watching your back or trying to find what the nearest exit is."
On Thursday, officials in the Los Angeles Unified School District made it clear that they understood parents' and students' distress. Interim Supt. Vivian Ekchian issued a joint statement with school board president Monica Garcia.
"The heartbreaking images of children fleeing from gunfire in our schools is becoming an all too familiar sight," they said. "Having recently been through a shooting incident in L.A. Unified, we understand the anxiety of uncertainty and the horror of the violence affecting our children, families and school communities."
The statement called for students and staff to report suspicious behavior if they see it. But the district hasn't given teachers specific directives on how to talk to their kids about the latest shooting, said Pia Escudero, the district's school mental health director.
'Children may be numb. They may be hypersensitive ...'
Escudero, however, offered her own suggestions for school staff and parents.
It's important, she said, to maintain routines after a traumatic event, but also to be flexible about making the day lighter on instruction if students need it.
Adults should ask children if they know whom they can talk to at school or at home "if there's something at school that's troubling you, if there's another student that may have said something that's concerning," Escudero said. "The children that don't have someone to go to, the children that are feeling alienated … we look for those opportunities to teach them, to link them to resources."
Even though the latest shooting happened across the country, Escudero said, many L.A. Unified students have experienced trauma, and seeing images or news stories could trigger responses.
"Children may be numb. They may be hypersensitive and vigilant to their environment," she said.
Escudero also urged parents to talk to their children and validate their feelings, perhaps letting them know that sometimes they feel overwhelmed and sad. They should listen to their children but be in control of the conversation, and talk about about healing in healthful ways — eating together and talking at dinner, limiting TV time, exercising, having normal sleep schedules, she said.
If that's not enough to soothe, families should seek out mental health help, Escudero said. One way to do so is through the district's mental health clinics.
On its website, , the National Assn. of School Psychologists also offers tips on age-appropriate conversations about traumatic events, emphasizing that the youngest children "need brief, simple information that should be balanced with reassurances that their school and homes are safe and that adults are there to protect them."
As for reassuring anxious parents, there is less advice available for that.
"They're both at school right now and I'm walking around just waiting for something else to happen. And that's sad," Gen Levy, a mother of two and gym owner in Sherman Oaks, said of her children on Thursday. Her older son, 7, knows that sometimes people make very bad decisions and hurt others, and that's why he has to practice lockdowns at school, she said.
But she's afraid that a classmate will tell him about the Florida shooting, so she and his father are planning to sit down with him this weekend. They're still debating how to bring it up.
"There's a fine line between educating your kid and just provoking this crazy sense of anxiety," she said. "Nothing feels safe anymore."
The stories shaping California
Get up to speed with our Essential California newsletter, sent six days a week.
You may occasionally receive promotional content from the Los Angeles Times.