After a school shooting, advice on how to help children cope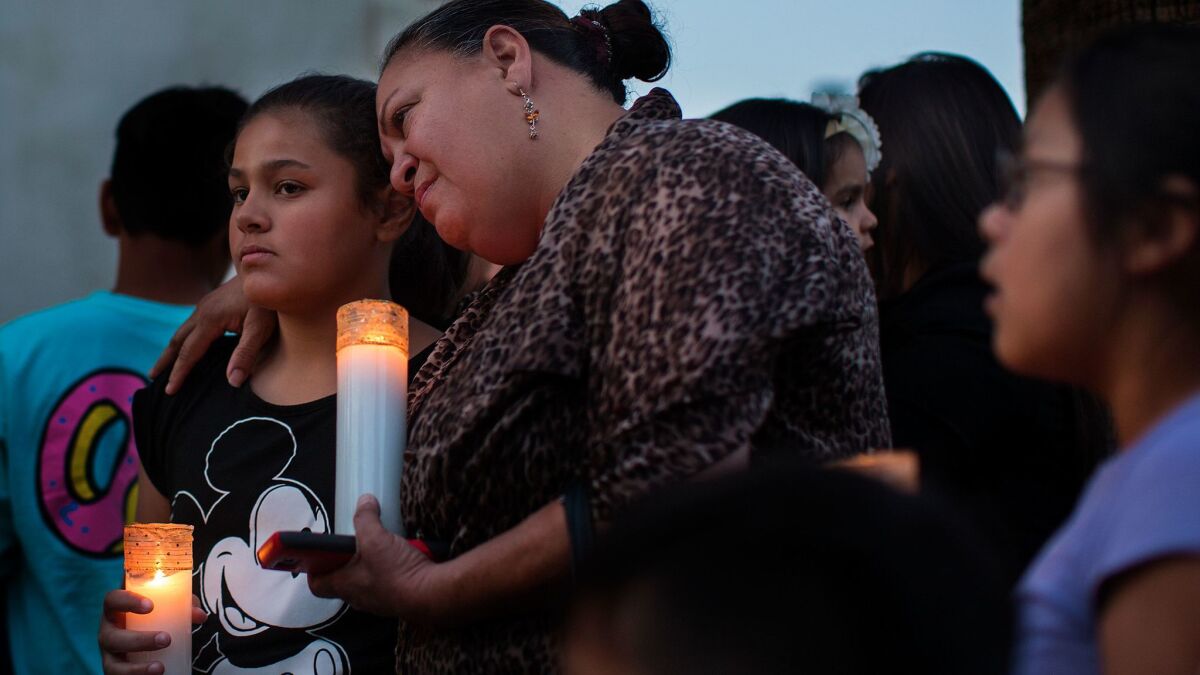 North Park Elementary School in San Bernardino was closed on Tuesday, the day after a man walked into a special education classroom and killed his wife, an 8-year-old student and then himself.
In the meantime, the children in that classroom and school and in surrounding schools — as well as their parents and teachers — have to cope with what they experienced Monday.
Counselors will be available for North Park students, parents and staff Tuesday and Wednesday at Del Vallejo Middle School, said Maria Garcia, spokeswoman for the San Bernardino City Unified School District.
"We're going to make sure that they have counseling available as well as referrals to local agencies that might be able to assist," she said.
The district's superintendent, Dale Marsden, also asked parents to try to return to regular routines.
"Please work with your young child to keep things as normal as possible. Be willing to listen to their story, and be willing to listen to their story multiple times," Marsden said during a press conference Monday afternoon. "Reassure them that the danger that they faced has passed and also continue to model for them healthy ways to cope with what they're feeling. Children, as we know, model the behaviors of the adults around them."
That is in line with the advice that child trauma experts in San Bernardino shared in December 2015 after students were on lockdown during the shooting rampage that killed 14.
It can be helpful for parents to let children who experience a trauma like this know that whatever they're feeling is normal, and to ask them what makes them feel safe, said Jonathan Vickburg, a school trauma therapist in L.A.
Even those who just heard about the shooting from others may need help, said Brett Nelson, a Cal State San Bernardino professor and coordinator of a school psychology program.
"A lot of people don't want to deal with emotionally latent situations," he said. "Absolutely ask them how they're feeling and support them and empathize."
Parents also should ask their children whether they know what their school's plan is for emergencies like this one, Nelson said.
The National Assn. of School Psychologists has guidelines for explaining violent events to children of different ages. It's important, the experts say, to use age-appropriate language, and to answer questions without adding to confusion.
From the NASP tip sheet:
"Early elementary school children need brief, simple information that should be balanced with reassurances that their school and homes are safe and that adults are there to protect them."
"Upper elementary and early middle school children will be more vocal in asking questions about whether they truly are safe and what is being done at their school. They may need assistance separating reality from fantasy. Discuss efforts of school and community leaders to provide safe schools."
"Upper middle school and high school students will have strong and varying opinions about the causes of violence in schools and society…. Emphasize the role that students have in maintaining safe schools by following school safety guidelines ... communicating any personal safety concerns to school administrators, and accessing support for emotional needs.
To read the article in Spanish, click here
Reach Sonali Kohli at Sonali.Kohli@latimes.com or on Twitter @Sonali_Kohli.
---
The stories shaping California
Get up to speed with our Essential California newsletter, sent six days a week.
You may occasionally receive promotional content from the Los Angeles Times.