UC Merced chancellor, who brought big ambitions to the small campus, to step down
Reporting from Merced —
Eight years ago, Dorothy Leland was getting ready to retire from the presidency of Georgia College & State University when she received an intriguing headhunter's call.
Are you interested in potentially heading UC Merced — the University of California's newest, smallest and most diverse campus?
Leland was familiar with the Central Valley's rural geography, having grown up in Fillmore, a Southern California agricultural town famous for its orange groves. She felt a kinship with the students, many of whom shared her background as the child of a Mexican immigrant and the first in her family to attend college. And she would get to lead efforts to build the university, then just 6 years old, essentially from scratch.
The lure was irresistible. She took the chancellor job. And now, after boosting the size and reputation of what's been seen as the UC campus of last resort, Leland is stepping down.
"This is a good time. It seemed right," Leland told The Times. "We're on the map now."
UC President Janet Napolitano said Leland's announcement Monday was "bittersweet news."
"Under Chancellor Leland's strong, forward-thinking leadership, Merced triumphed above major growing pains and economic challenges, achieving impressive levels of academic and research distinctions," Napolitano said in a statement.
Leland, 71, will stay on through mid-August and plans to live in the Bay Area, teaching and writing about university leadership. She also hopes to travel, spend time with family and pursue her passion for photography.
But that's months away and Leland still has much to do.
At 10 a.m. on a recent Tuesday, she held her monthly meeting with the student body president. Stacey Ascencio — a senior majoring in political science — asked Leland about more space for the food pantry and multicultural student groups, more attention to student hunger and housing, and more support for sexual assault survivors.
"We're on it," Leland told her. "We're talking about it almost weekly."
After that, the chancellor discussed faculty hiring with Provost Gregg Camfield. When he told her that one-third of 12 new hires were Latino and three-fourths of them were women, including the first female computer science professor, Leland whooped and threw up her hands.
"Yes!" she exclaimed. "It's a breakthrough."
Napolitano has allocated $7 million annually to boost faculty diversity across the 10-campus system. At Merced, about 44% of faculty are women and, excluding international scholars and those of unreported ethnicity, 39% are people of color.
That diversity is on track to expand. Leland hired a graduate dean and increased other support to attract more graduate students — a pipeline for future faculty members. Over the last five years, graduate students have increased by 73%. Among domestic students, more than half are African American, Asian, Latino or American Indian, according to UC data. The campus is nearing the goal Leland set to increase the proportion of graduate students to 10% of the student body, which numbers 8,500.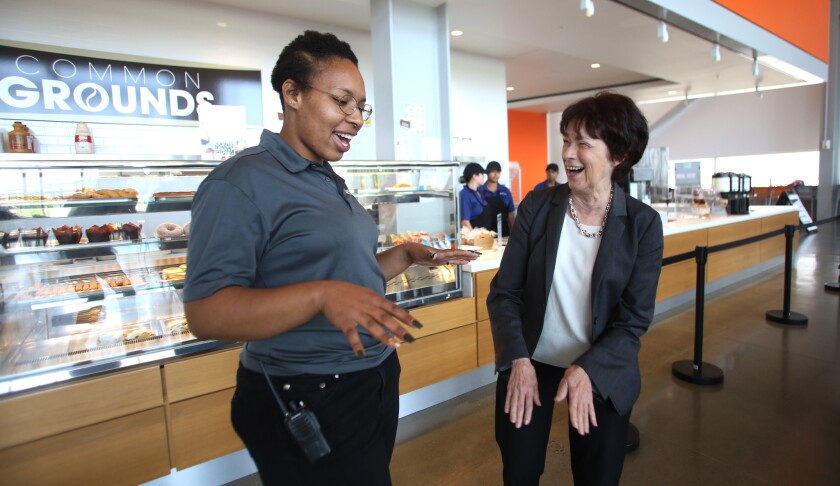 Leland said she's particularly proud of those efforts, along with Merced's rise to a "high" research university in 2016 under the Carnegie Classification — the youngest university to earn that distinction. (The UC system's eight other undergraduate campuses, established decades and even a century earlier, are classified one level up in the highest tier.)
"Our faculty are young," Leland said. "But they're coming from top schools and they're coming for the right reasons: They want to serve this region and they want to serve our students."
Nearly three-fourths of UC Merced students are the first in their families to attend college, two-thirds are low-income and a majority are underrepresented minorities. The campus incorporates intensive academic support for them in classes, summer programs and residential communities. The six-year graduation rate of 64% is the lowest among UC campuses but U.S. News & World Report last year ranked Merced No. 2 nationally in surpassing expected outcomes among universities with demographically similar students.
Leland sees herself in many of her students. Her father was an auto mechanic and her mother was a Mexican immigrant who ironed clothes. Leland was a good student but struggled with standardized tests. A high school counselor told her she wasn't cut out for college.
"You wanna make a bet?" she thought.
She earned her undergraduate and graduate degrees at Purdue University, where she specialized in American studies and philosophy. But she never forgot her early struggles at college — feeling like an impostor who was flummoxed by syllabi and the writings of Hegel.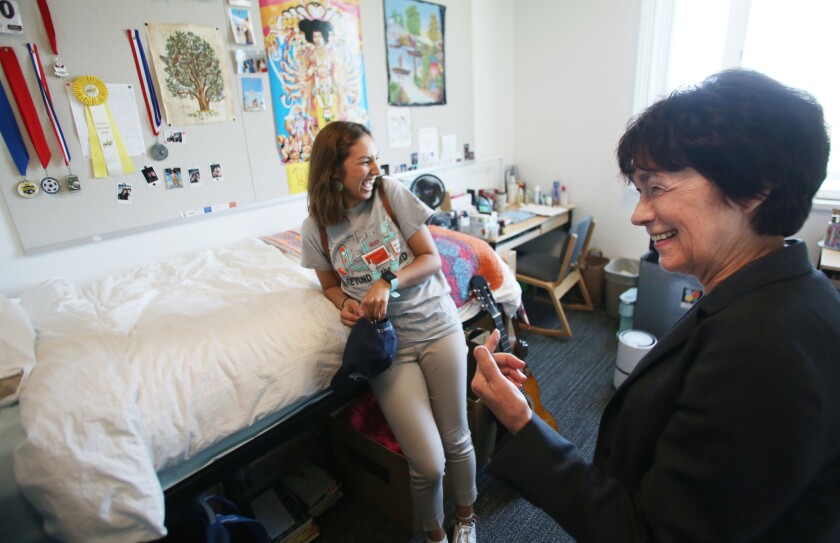 Her experiences have helped her connect to students such as Gabriella Gustafsson, a first-generation freshman majoring in biology. Gustafsson said she was intimidated by the large classes and unsure where to find support. Leland reached out, she said, helping her find opportunities for internships, lobbying trips to Sacramento and campus meetings with UC regents.
Not that Leland has escaped controversy. Student protesters confronted her with "Chancellor Supports Hate" signs when Leland, citing freedom of speech, refused to act against controversial speakers and students. Some say she is not easily accessible, especially since she moved her office off campus.
Many students also wanted a standalone multicultural center. Leland said failing to provide it is one of her regrets but the cost was too high. The campus recently made space in the library building for a multicultural center, along with dedicated areas for black and LGBTQ students.
Despite those dust-ups, Ascencio said Leland has moved to deliver on the top student desire: more space.
"We want growth, we want expansion so UC Merced can be a campus that people talk about and not be dismissed," Ascencio said.
Leland said she immediately saw the space crunch after starting her job in July 2011. Classes were overcrowded. Students were studying in hallways. The dorms were too small to house all freshmen.
But laying down infrastructure for just one residence hall on a campus surrounded by grasslands, irrigation ditches and protected vernal pools would have been prohibitively expensive, Leland said.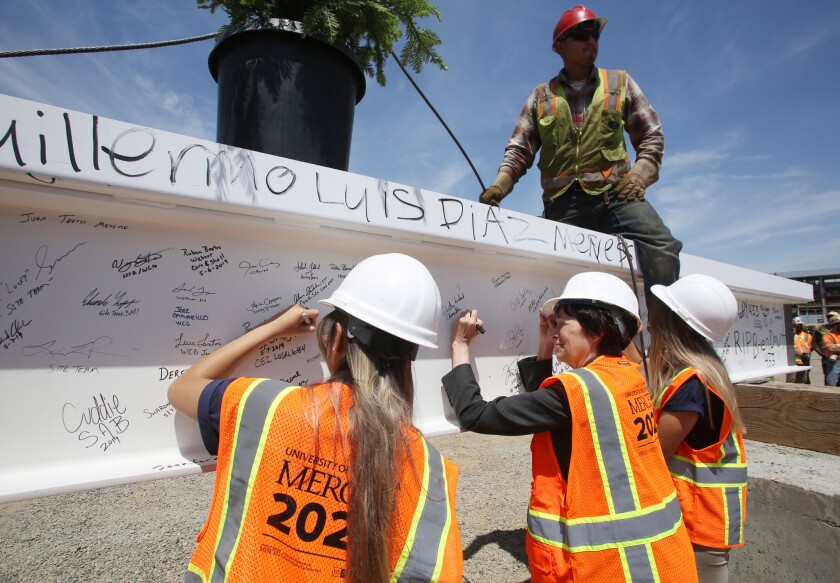 So she thought big. In 2015, she and her team persuaded the UC regents to spread those costs around in a $1.3-billion project that includes four new dorms, research labs, a dining hall, conference center, health and enrollment centers, a pool and athletic fields. The project, on track for completion next year, will allow the campus to grow to more than 10,000 students and guarantee housing for two years.
In a pioneering arrangement, UC Merced contracted with one master developer to plan, design, build and, for 35 years, maintain the facilities. Leland said the plan gives the developer, Plenary Properties Merced, an incentive to build quality buildings.
The project, which has won numerous awards, is "on time, under budget with no litigation," Leland said.
Last week, Leland donned a hard hat and visited the construction site. Flourishing a black Sharpie, she signed a structural beam as the crowd snapped photos.
An enormous crane hoisted the beam and placed it into the building's steel skeleton. It was the last beam of the last building of the project, the nation's largest higher education expansion and a symbol of the small university's big ambitions.
Leland looked into the sky and smiled.
Twitter: @TeresaWatanabe
---
For reporting and exclusive analysis from bureau chief John Myers, get our California Politics newsletter.
You may occasionally receive promotional content from the Los Angeles Times.