David Geffen gives $100 million to build a school for the children of UCLA staff and others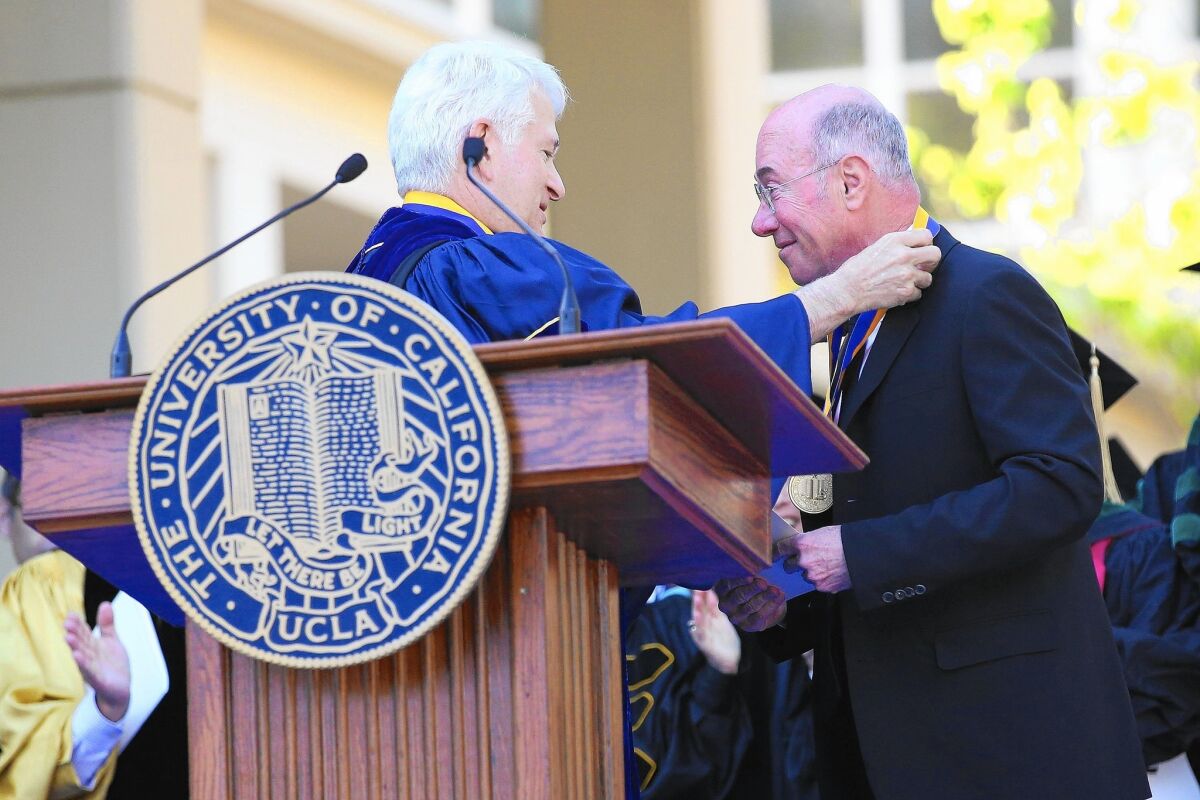 Entertainment industry billionaire David Geffen, who previously gave $300 million to support UCLA's medical school, is donating $100 million to establish a private middle and high school on the Westwood campus partly for the children of faculty and staff.
Geffen and UCLA Chancellor Gene Block described the new school in part as a recruiting and retention tool for faculty and scientists who may be worried about the cost of living in Los Angeles and the education system here. For younger students, the long-established UCLA Lab School enrolls many children of faculty in pre-kindergarten through the 6th grade, but its graduates then must go to public or private schools elsewhere.
UCLA has "not been able to attract certain talent because of the costs of educating their children," Geffen said in a telephone interview.
See the most-read stories this hour >>
He said he particularly wanted the UCLA medical school, which bears his name, "to be competitive with Harvard and Johns Hopkins and the very best in the world. And the truth is that this is part of what it takes. It's an expensive neighborhood." He declined to discuss his views on public education in Los Angeles.
The new college prep school, to be named the Geffen Academy, is expected to open for the 2017-18 school year with about 125 students in the sixth and ninth grades and then grow to about 600 students in the sixth through 12th grades. Half will be children of UCLA employees; the others can come from the wider Los Angeles community. A $25-million endowment will provide financial aid to about 40% of the student body and help support the school's operations, officials said.
The independent school is to be located initially in an existing UCLA building at the southwest edge of Westwood Village at Kinross and Veteran avenues, now used partly as a graduate student recreation center. A new building may be built on that property later.
The Geffen gift provides for $70 million for renovation, construction and start-up costs. And a $5-million fund will allow UCLA's Graduate School of Education and Information Studies to link the new school, its research and programs with public schools around the city with which UCLA now has ties.
"I think it will be a good thing for the community, a good thing for the university, and will give scholarships to more students who could never afford to go to a school like this," said Geffen, 72, a college dropout who went on to become one of the nation's most successful music and film producers.
Geffen, with a fortune estimated by Forbes magazine to be $7 billion, added that he aims to give away all his money before he dies.
Block said Geffen's "incredibly generous" gift will establish a school where UCLA's education faculty will be able to test and put into practice helpful learning and teaching methods for middle and high school students. The school will be able to use campus museums, labs and athletic facilities, and students could probably take some UCLA classes.
"This is a significant need, and not just UCLA's need," Block said. "The ability to design ideal learning environments will be invaluable for the entire community."
Block said he suspected that UCLA lost some strong faculty candidates in recruiting wars because of their worries about the cost of housing in Los Angeles, even though faculty members are offered some mortgage assistance and other aid. Concerns about public schools and the cost of private schools also deter candidates, he said.
"It's part of the mix. It's got to be a factor" in decisions of whether to accept a UCLA job, he said.
Many details about the school remain to be decided, including tuition and admissions criteria, according to UCLA education school dean Marcelo Suarez-Orozco. The goal is an economically and ethnically diverse student body reflecting the city, he said.
Tuition at the campus UCLA Lab School is $18,715 a year after kindergarten, and about 40% of the 450 students enrolled receive some financial assistance. About a third of those 450 are children of UCLA faculty, staff and students. In a separate option, a special agreement with the Los Angeles Unified School District allows children of UCLA professors and other employees to attend several well-regarded public schools in and near Westwood, no matter where they live.
Geffen, who has no children, said many friends, including Jeffrey Katzenberg, one of his partners in the DreamWorks SKG movie studio, were very pleased with the education their children received at the UCLA Lab School.
Geffen said he thought it was important to extend that opportunity into higher grades. UCLA officials note, however, that the two schools will be separate and that there will be no guarantee that Lab students can continue into upper grades at the Geffen Academy, and no special consideration for Geffen Academy graduates to be admitted into UCLA.
Los Angeles Board of Education President Steve Zimmer said he had mixed feelings about the Geffen gift. "My first thought is that I would rather have this be [an] LAUSD public school, but I don't have any doubts about UCLA's School of Education's commitment to improving public schools in the most impoverished and vulnerable communities," Zimmer said. He cited UCLA faculty's work at the UCLA Community School, a public K-12 school that is part of the Robert F. Kennedy complex in the Wilshire district.
Zimmer said he hoped that Geffen would focus on helping public education when he donates money in the future: "My door is wide open in terms of what I feel are some amazing philanthropic opportunities in LAUSD."
Brooklyn-born Geffen began his career as a mailroom worker at the William Morris Agency in Manhattan and later managed or recorded such star musicians as Laura Nyro; Crosby, Stills, Nash and Young; the Eagles; and Joni Mitchell. His record labels included Asylum Records and Geffen Records. He formed DreamWorks SKG in 1994 with Katzenberg and director Steven Spielberg.
Geffen's philanthropy around the country is strong in medicine, the arts, education and film-industry-related causes. In 2001, he gave $200 million to the UCLA medical school and followed up in 2012 with $100 million for medical student scholarships. This year, he gave $100 million to renovate Avery Fisher Hall in New York's Lincoln Center; the auditorium now is David Geffen Hall. In 2013, he donated $25 million to the Academy of Motion Picture Arts and Sciences' planned film museum in Los Angeles.
UCLA is in the midst of a campaign to raise $4.2 billion in donations by 2019, its centennial year. Geffen's donation brings that total so far to about $2.2 billion.
Twitter: @larrygordonlat
ALSO:
Huge Sierra snowstorm pays off for winter resorts
Young women are living with Mom and Dad as if it's 1940
Disney's Bob Iger is on the ball with Carson's NFL stadium project
The stories shaping California
Get up to speed with our Essential California newsletter, sent six days a week.
You may occasionally receive promotional content from the Los Angeles Times.