Disney's Bob Iger is on the ball with Carson's NFL stadium project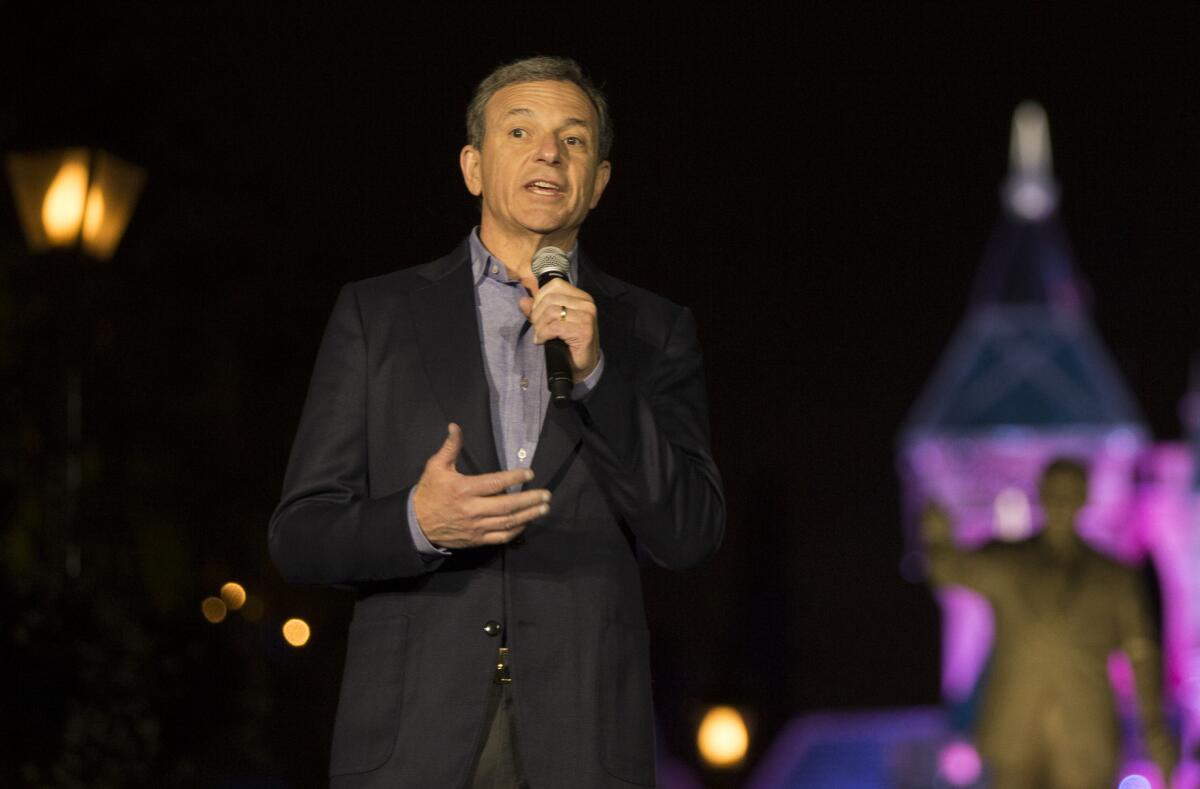 In the pitched battle to return the National Football League to Los Angeles, the proposed stadium in Carson seemed to face a difficult path.
The $1.7-billion project backed by the San Diego Chargers and Oakland Raiders would be built on top of a former landfill and its planning lagged behind a rival proposal in Inglewood. But on Wednesday, Carson made a bold move to elevate its standing in the stadium competition.
The Chargers and Raiders appointed Disney Chairman and CEO Robert Iger to oversee their effort should the owners choose the Carson project over the Inglewood stadium backed by St. Louis Rams owner Stan Kroenke.
Iger heads one of the most successful entertainment companies in the world. Disney also owns ESPN, a television partner with the NFL.
Carmen Policy, a former NFL executive who now serves as executive director of Carson Holdings, the joint venture between the Chargers and Raiders, called the addition of Iger a "game-changer.
"We now have the kind of leadership and expertise that should calm any concerns about any NFL teams going into L.A. and getting off on the right foot and pursuing the right course," Policy said. "Who could we get to better guarantee fan experience than the man who runs 'the happiest place on earth?'"
Iger would be chairman of Carson Holdings and would continue to serve as chairman and CEO of Disney under the terms of his contract.
The NFL held committee meetings at league headquarters Wednesday and at least one owner questioned the impact of the hiring.
"Smart guy, very capable. But I don't know how he relates to football," New York Jets owner Woody Johnson said.
It will take three-quarters of the 32 team owners to approve any relocation to L.A.
Johnson and San Francisco 49ers owner Jed York wouldn't guarantee that owners would vote on relocation in January. Johnson shrugged and said "could be" when asked if it might happen at the league's annual owners meetings in March.
The Iger move was viewed by some as window dressing for a project that isn't expected to be ready until 2018.
In Inglewood, the stadium design is complete and developers are securing permits to begin construction should it be approved by owners.
Inglewood Mayor James T. Butts Jr. commended Iger's experience, but remained confident his city's stadium project is best positioned to quickly deliver a venue.
"No other project has progressed beyond a graphical representation of what their project might look like," Butts said. "By every realistic performance benchmark, I feel Inglewood's project stands alone."
While the Carson backers were touting Iger's involvement, the Inglewood developers were digesting a preliminary report they received this week from the Federal Aviation Administration that said their stadium could interfere with radar at Los Angeles International Airport. The 27-page document suggested various remedies, among them moving the stadium, significantly reducing its height, or coating parts of the structure in a radar-absorbing material.
Inglewood developers characterized the report as an expected part of the process, and not a significant obstacle that would derail the stadium plan.
Several owners have privately decided which of the two projects they intend to support. Carolina Panthers owner Jerry Richardson, a member of the Los Angeles committee, told reporters Wednesday that he supports the Carson plan.
The uncommitted owners are now being lobbied behind the scenes by the two camps, each of which likely has the requisite nine votes to block the other.
Members of the Los Angeles, stadium and finance committees heard presentations from St. Louis, San Diego and Oakland. Last month, the NFL staged town hall meetings in those cities to allow fans to voice their questions and concerns to league executives.
Among the representatives in attendance Wednesday on behalf of their home markets were San Diego Mayor Kevin Faulconer, Oakland Mayor Libby Schaaf, and Missouri Gov. Jay Nixon.
"The owners got to hear directly from us the strong commitment, the political commitment, the community commitment to get this done in San Diego," said Faulconer, who urged the owners to give the city until June, when it would have an initiative for $350 million in public financing on the ballot. The city is proposing a new venue in Mission Valley on the site of the current Qualcomm Stadium.
"Everybody in that room was fully engaged. We talked about timing on an environmental impact report, timing on city and county actions, and I talked a lot about the momentum we have here in San Diego and my commitment as mayor."
Schaaf and three other Oakland representatives left league headquarters without commenting.
Still, the talk in New York revolved around Iger.
The addition of Iger "says very strongly that an NFL return to the Los Angeles market is incredibly attractive," said Eric Grubman, an NFL executive vice president and the league's point man on L.A.
"When a man of his stature, capability and talent is drawn to this, it really says something."
Sam Farmer reported from New York and Nathan Fenno from Los Angeles.
Times staff writer Richard Winton contributed to this report.
Get our high school sports newsletter
Prep Rally is devoted to the SoCal high school sports experience, bringing you scores, stories and a behind-the-scenes look at what makes prep sports so popular.
You may occasionally receive promotional content from the Los Angeles Times.