What time should school start? No earlier than 8:30 a.m., lawmaker proposes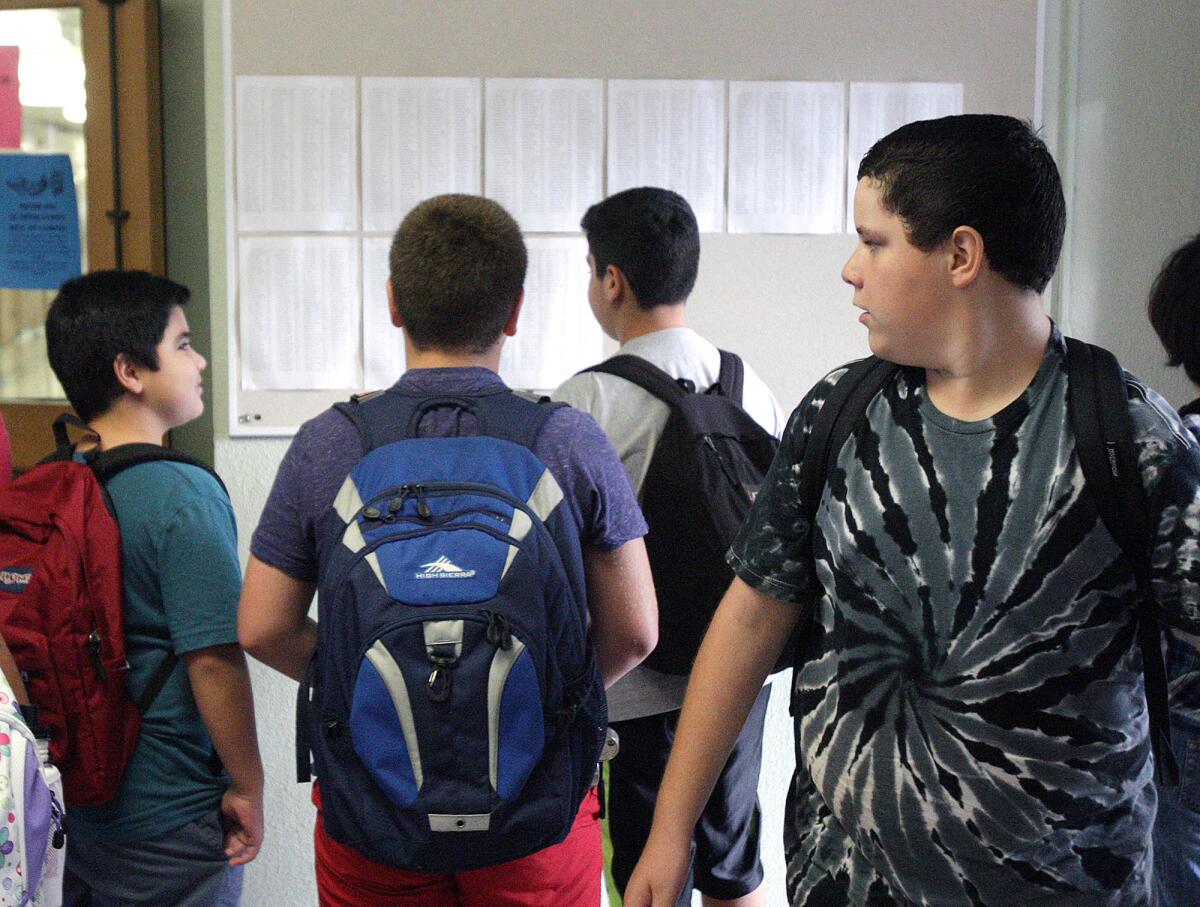 Local teens may catch a few more Zs during the school week under a bill that state Sen. Anthony Portantino (D-La Cañada Flintridge) introduced this week.
Senate Bill 328 would require middle and high schools across California to start the school day no earlier than 8:30 a.m.
In his bill introduction, Portantino cited the American Academy of Pediatrics' policy statement released in 2014 advising school districts to start the day no earlier than 8:30 a.m.
Districts that have adopted the policy have reported improved attendance rates, state exam and college admission scores, and grade-point averages, according to the academy.
Research has also shown that students who start classes later are involved in fewer disciplinary measures and car accidents.
"I wanted to put an evidence-based, sound public policy discussion on the table," Portantino said by phone. "The educators I've talked to have all been supportive."
Because school districts coordinate with one another to schedule extracurricular activities and sports games, one district can't set classes back without others doing the same, which gave Portantino another reason to introduce the bill.
"I think it's important to have a statewide conversation on the issue," he said.
Los Angeles Unified schools set their schedules individually, according to district policy. Currently, only 11 schools start at or after 8:30 a.m. The district has plans to begin what it's calling a "late-start pilot" that would let more schools start later next year.
L.A. Unified doesn't have a formal position on the bill yet, said Pedro Salcido, director of government affairs. "There are school sites that already implement this," he said, "but it happens through a process that is informed by parents and the needs of staff and many other factors."
While the Los Angeles Unified school board has discussed the school calendar extensively, start times haven't really come up, said board member Scott Schmerelson.
Schmerelson thinks starting school later is a good idea. "Students are still asleep in first period, and they need time to wake up," he said.
But he also said he thought the bill would be too complicated to implement, given that students of different ages probably would start at different times, and "it would be hard for parents who have to drop kids off," he said.
Other Los Angeles-area districts have taken an interest in pushing back the start of the school day.
Shortly after the American Academy of Pediatrics endorsed a later start time, Burbank parent Melinda Froelich requested in 2014 that the school board look into making a change in Burbank's secondary schools.
School board members were not opposed to the idea at the time, but start times remained the same, spurring Froelich to return to the school board in 2015 to again, said Burbank Unified Supt. Matt Hill.
In response, school officials surveyed parents, employees and community members, but the results were mixed.
Some respondents were concerned about pushing sports games and after-school activities back, while some working parents said the current schedule worked better for them.
Sign up for Essential California for news, features and recommendations from the L.A. Times and beyond in your inbox six days a week.
You may occasionally receive promotional content from the Los Angeles Times.