Everything you need to know about the Porter Ranch school relocation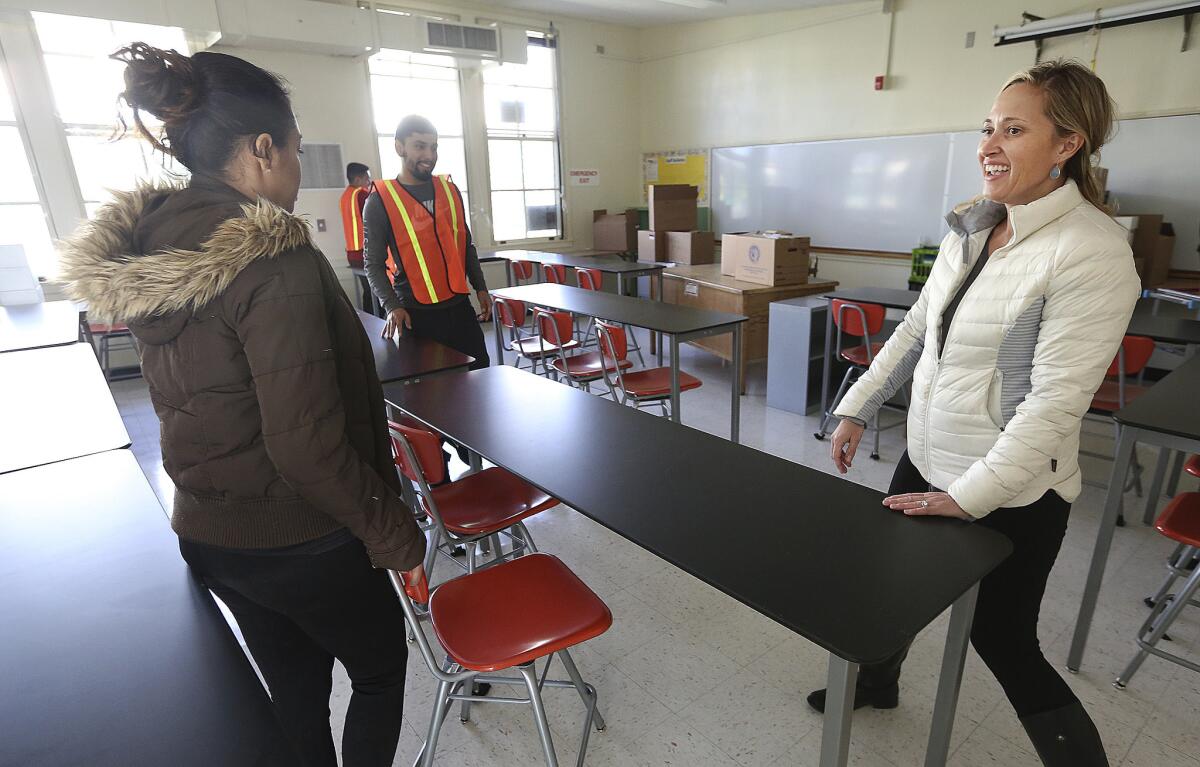 Over winter break, the Los Angeles Unified School District spent three weeks setting up two new campuses for schools in Porter Ranch in the San Fernando Valley after the school board decided to relocate the students of Castlebay Lane Charter Elementary and Porter Ranch Community School in December.
Here are some things you should know about the relocation process and what it means for your family.
See more of our top stories on Facebook >>
Why are my children switching campuses in January?
A gas well in Aliso Canyon has been leaking for more than 70 days. Residents have reported fumes, and parents have said their children have developed headaches, nausea and nosebleeds. Over 2,800 families have worked with the utility behind the leak, Southern California Gas, to find new housing.
Now, their schools are moving.
Where will the students be going?
The students from Castlebay Lane Charter School will move to Sunny Brae Elementary School in Winnetka, and students from Porter Ranch Community School will be learning at Northridge Middle School.
How will they be getting there?
The district is offering more than 10 buses from Porter Ranch Community School and seven from Castlebay Lane to transport students to the new schools. Parents were required to fill out a transportation request form to make sure their child would have a seat.
Here are the bus times:
Buses will leave from Castlebay at 7:50 a.m. and return at 3:45 p.m.
Buses will leave Porter Ranch Community School at 7:15 a.m. and return at 3:40 p.m.
A late bus will leave both Northridge and Sunny Brae at 4:30 p.m. and return to the Porter Ranch schools at 5 p.m.
Parents who have relocated outside the area don't have school bus options to get them to the pickup and drop-off points, but the gas company will pay for mileage reimbursement.
When do they start?
While most of LAUSD comes back to school on Monday, the district is calling Monday a "pupil-free" day at the new homes of Porter Ranch and Castlebay Lane. Teachers will be able to set up their new classrooms, and parents can scope out the new locations in the afternoon.
At 1:30 p.m., Porter Ranch at Northridge will hold a tour for parents, followed by a 2:30 meeting. At Castlebay Lane at Sunny Brae, there will be a 3 p.m. informational meeting followed by a 4 p.m. tour.
The first day back to school for students at these two schools will be Tuesday, Jan. 12.
How are the new campuses designed?
LAUSD spent the last three weeks building what are essentially annexes to the existing campuses. At Northridge, there is a separate entrance, and the school has its own basketball court. PRCS elementary school students will use the new portable buildings added for the relocation — which LAUSD calls "bungalows" — while middle school students will learn in empty classrooms in the main campus building.
Sunny Brae also has portable buildings, but the campus is described as more open and integrated. Castlebay Lane students will share a playground with their host school.
This is what the temporary locations will look like:
What should students wear?
The same rules around clothing will continue, according to LAUSD. For example, students at Porter Ranch Community School should continue abiding by the guidelines the school has set, including no skirts or shorts above the knee.
Will their teachers be following them?
For the most part, yes. At least one science teacher at Porter Ranch Community was transferred because of health issues and won't be continuing at the Northridge campus. Overall, staffing is expected to be "quite stable," according to Vivian Ekchian, the LAUSD district superintendent responsible for Porter Ranch, though she declined to provide specific numbers.
See the most-read stories this hour >>
How about school supplies?
LAUSD is striving for continuity in learning environments, so over the past few weeks, crews have been hauling desks, supplies, boxes and other tools from the old campuses to the new ones. The elementary classrooms in the Northridge campus, for example, have the same room numbers and the same furniture — down to the students' names taped onto their desks.
But some things will be different. One Porter Ranch science teacher accustomed to a gleaming lab supplied with gas lines and sinks recently checked out her new classroom and learned that she won't have those same resources.
What about after-school programs?
Check with your schools for more details.
L.A. Unified has made space available for existing after-school programs, Ekchian said. The programs will continue if the schools want them to — and there will be late buses for students who attend.
What if I have more questions?
The LAUSD website has an FAQ sheet and a landing page for relocation information.
Porter Ranch Community School has a Facebook post answering a number of questions.
How is the Porter Ranch leak affecting you? Please help us share the story of the leak's effects on your community by telling us about your experience.
Times staff writer Sonali Kohli contributed to this report.
Reach Joy Resmovits on Twitter @Joy_Resmovits or by email at joy.resmovits@latimes.com.
MORE ON PORTER RANCH
Claims in Porter Ranch gas leak could cost utility billions of dollars
'My entire family is sick' -- residents describe how the leak has affected their lives
Officials and gas company agree on plan to burn off some methane afflicting Porter Ranch
Sign up for Essential California for news, features and recommendations from the L.A. Times and beyond in your inbox six days a week.
You may occasionally receive promotional content from the Los Angeles Times.