Steve Lopez interview: Parting thoughts on LAUSD from Supt. Ramon Cortines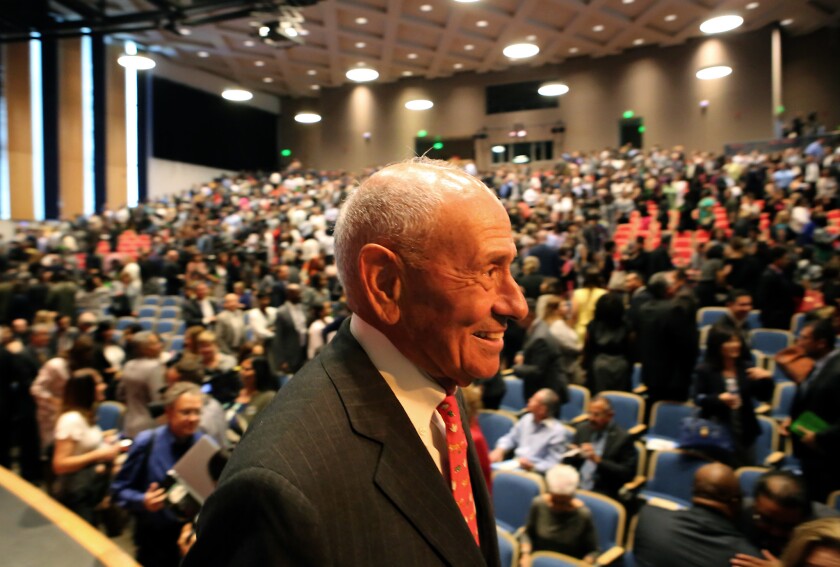 Join Los Angeles Times columnist Steve Lopez for a conversation with outgoing Los Angeles Unified School District Supt. Ramon C. Cortines. We'll cover the state of local education and address some of your questions about what's next for L.A. schools.
When – Wednesday, Dec. 9, 6 p.m.
Where – Chandler Auditorium, Los Angeles Times
Who – Free and open to the public
How – Space is limited, so reserve your spot today at RSVPEdMatters
Cortines has headed the L.A. Unified School District three times, returning most recently after Supt. John Deasy resigned under pressure in October 2014. Cortines, 83, has stated he plans to retire by the end of 2015.
The next schools chief will oversee the education of 650,000 students. Most are from low-income families; most also fall short of state academic standards. There's also a looming budget deficit and an outside, privately funded plan to rapidly expand the number of students enrolled in charter schools.
What will happen next? What needs to change? Please send your questions for the superintendent to edu@latimes.com or tweet them to @LATEducation with the hashtag #AskCortines.
We hope you will join us for a conversation about some of these crucial education issues on Dec. 9.
UPDATE
3:53 p.m.: This post was changed to reflect that the superintendent will discuss the state of local education and the future of the district.
The Times receives funding for its digital initiative, Education Matters, from the California Endowment, the Wasserman Foundation and the Baxter Family Foundation. The California Community Foundation and United Way of Greater Los Angeles administer grants from the Broad Foundation to support this effort. Under terms of the grants, The Times retains complete control over editorial content. The California Community Foundation provided additional funding for this event.
---
Get breaking news, investigations, analysis and more signature journalism from the Los Angeles Times in your inbox.
You may occasionally receive promotional content from the Los Angeles Times.