Nothing tastes better than a bargain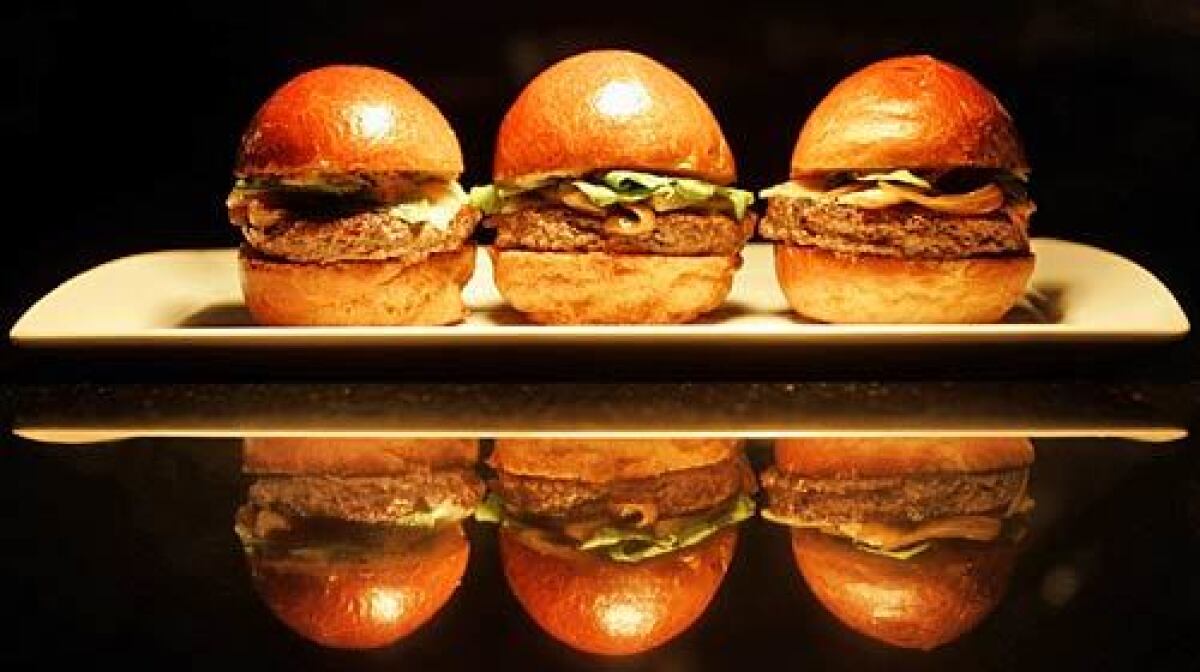 Los Angeles Times Staff Writer
Save money -- eat out.

It might sound counterintuitive, and it flies in the face of advice tossed out by penny-pinching "experts" -- but they don't know what we know: where to find the best dining deals in town.

Who says it's cheaper to eat in? We dare you to try to put together a perfect taco of long-cooked carnitas on a fresh, warm, homemade corn tortilla for $1.25 (oh, and have it ready five or 10 minutes after you decide you want one). Or make a fresh loaf of yeasty sweet honey bread for $1.75 (assuming you're an enthusiastic baker).

Feeding a crowd? Take the whole family out to celebrate a birthday with dinner and live entertainment for $15 per person (if you opted for a movie at that budget, no one would even get popcorn). Looking for a little luxury? Zero in on a French chef's $20 menuspontanée.

Restaurateurs are doing everything they can to keep us eating out -- why fight it? Once again, here's our annual guide to loving your meals and paying the piper with good cheer. Our Food section writers found dozens of delicious deals: terrific lunch specials, hidden wine-list treasures, remarkable prix fixe menus, let's-come-back happy hour offerings, off-night discounts -- and just plain value.

Burgers, tacos and dogs

1. Bowery Burger at the Bowery, $9. Looking for a burger for less than $10 but also want to enjoy it in a sit-down situation with some stylish Hollywood atmosphere? The Bowery on Sunset Boulevard has a juicy, meaty sirloin burger served on a toasted English muffin (which makes for a nice, not-too-bready bun). You can sidle up to the bar or take a seat at the long banquette. Plus they're open for lunch on weekdays as well as late into the night. For $1 more, you can get it with Gruyère, cheddar or blue cheese. The Bowery, 6268 Sunset Blvd., Hollywood, (323) 465-3400; www.theboweryhollywood.com.

2. Trio of beef sliders at Brix@1601, $12. In the South Bay, chef Michael McDonald turns out a trio of perfect beef sliders. Made with a loosely formed patty, these baby burgers are embellished with caramelized onions and nutty molten Gruyère. Three of them lined up in a row, their buns glazed a deep gold, are adorable. And all they need is a glass or two of rouge from sommelier Caitlin Stansbury's intelligent wine list. Brix@1601, 1601 Pacific Coast Highway, Suite 175, Hermosa Beach, (310) 698-0740; www.brix1601.com.

3. Taco Adobe's blackened mahi taco, $3. Stop in the middle of a hot afternoon and relax for a moment in this amusingly converted former IHOP, resplendent in pumpkin-orange paint with lavish curbside landscaping and inside, homey oilcloth-covered tables. The cooking is restrained, discreet even. Treat yourself to a mahi taco -- lovely spiced fish, diced tomatoes and shredded cabbage drizzled with a touch of crema and a few crumbles of cojito and offered on two fragrant corn tortillas with a wedge of lime. Fresh, simple and sustaining. Taco Adobe Southwestern Grill, 1319 N. Main St., Santa Ana,(714) 543-2411.

4. Taco Loco #3's taco de tripas, $1.25. How much happiness can you buy for $1.25? A whole lot, it turns out. At El Taco Loco #3, it'll get you a handmade tortilla taco. There are all of the usual flavors: chewy carne asada and cabeza, crumbly chorizo, crusty carnitas, melting lengua . . . . But the star of the lineup is the tripas. Beef tripe is stewed until it is tender and richly flavored, then just before serving, it's crisped on the griddle for a little crunch. Wrap it in a warm, puffy, freshly made corn tortilla and spoon on a bit of spiky fresh red chile salsa. Honestly, it's better than half the foie gras dishes ever created. And you get to eat it in a veritable Sistine Chapel of taco-shop art. El Taco Loco #3, 1465 Magnolia Ave., Long Beach, (562) 437-6228.

5. Dollar Mondays at the Stand, $1. And then, how much can you buy for $1? On Monday nights, a buck buys you the Stand Dog -- a beef hot dog served steamed or grilled -- normally $3.50, with condiments such as mustard (yellow, deli or hot), ketchup, diced onions or tomatoes. Chips are 50 cents. If you want the Loaded Dog, that's $2.50 (regularly $4.25 ) with toppings such as chili, grilled onions, sauerkraut, or cheddar, Swiss or blue cheese. 17000 Ventura Blvd., Encino, (818) 788-2700; 2000 Avenue of the Stars, Los Angeles ( Century City), (310) 785-0400; 1116 Westwood Blvd., Los Angeles (Westwood Village), (310) 443-0400; 5780 Canoga Ave., Woodland Hills, (818) 710-0400; www.thestandlink.com.

6. Organic veggie burger at Bouchees Bistro, $6. Bouchees Bistro does it all: customizable burgers, Sunday brunch, even local delivery. And while there's no lack of choices of proteins from which to build a burger here (Angus sirloin, turkey tenderloin and ahi tuna are all excellent options), the restaurant's organic veggie burger is the smart choice. The fresh-ground patty is a tasty mix of garbanzo beans, roasted red peppers and seasonal vegetables. Add your choice of toppings such as shiitake mushrooms and green peppercorn "dijonnaise." Strapped for cash? Get it slider-size, a little $2.50 burger that's gone in no more than a few bites. But even the full-size veggie burger doesn't last much longer -- it's just that good. Bouchees Bistro, 515 Long Beach Blvd., Long Beach, (562) 951-8222; bouchees.com.

Entrees at appetizer prices

7. Updated Italian comfort food entrees at Murano Restaurant, Bar & Lounge, $12. Every Tuesday, Murano's new chef, Joe Anguiano, formerly of Providence and New York's Montrachet, fashions a changing nostalgic menu of entrees at appetizer prices. Examples: house-made linguine and Kobe beef meatballs in a melted cherry tomato sauce; house-made penne with spicy Italian sausage, onions and peppers; balsamic marinated portobello and eggplant panini with Laura Chenel goat cheese, roasted peppers and grilled onions (and more). Murano Restaurant, Bar and Lounge, 9010 Melrose Ave., West Hollywood; (310) 246-9118; www.murano9010.com.

8. Homey European dinners at Sabina's, $5.75. Nourishment-per-nickel, this is one of the best deals in town, though it is quirky in a very un-Californian way. Which is to say a generous plate of tiny, crisp cornichons is the vegetable portion of your meal. It's a Romanian thing. As are the terrific chicken schnitzel and an incredible meatball soup that will convert lovers of albondigas to less-familiar Eastern European flavors such as paprika. Pick from beef or chicken stew with mushrooms, paprika chicken or beef with dumplings, stuffed cabbage or bell pepper and a few schnitzels. Your $5.75 buys the named dish, maybe a side of potatoes, salad, a basket of bread and that plate of pickles. Bring your own wine and this no-frills cafe will pour it into plastic tumblers. And expect to take home half your meal, because you may want to save room for crepes ($1.75). But arrive before 7 p.m; shortly thereafter, the couple who serve and cook are busy doing the dishes. Sabina's European Restaurant, 1253 Vine St., Los Angeles, (323) 469-9522.

Treats for two

9. Tower of hors d'oeuvres (for two) at Anisette, $30. Maybe the soaring tower of hors d'oeuvres is trying to reach the high ceiling at chef-partner Alain Giraud's Santa Monica brasserie. It's three levels of sliced breads, charcuterie (dried sausages and house-made terrine accompanied by olives, cornichons and a pot of mustard), nicely ripe cheeses, and a plate of exquisite vegetables fresh from the farmers market (peas, baby carrots, pearl onions), dressed á la grecque. At $15 per person, it makes a grand goûter (afternoon snack). Anisette, 225 Santa Monica Blvd., Santa Monica, (310) 395-3200; www.anisettebrasserie.com.

10. Afghan dumpling dinner for two at Chopan Kebab House, about $20. We'd drive across town for the impossibly seductive flavors of this budget feast that includes an order of ashak (leek dumplings) or their meat-filled cousins, manti. Both platters of dumplings come topped with a rich yogurt sauce swirled with saffron-infused oil and sprinkled with dried mint. Pair either generous $11.95 plate with a $6.95 order of bulani, a thin crusted, spice-infused potato-leek turnover that's a big as the tabletop, with cilantro chutney for dipping. Chopan Kebab House, 8910 Reseda Blvd., Northridge, (818) 885-1616.

Everyday values

11. Bara chirashi bowl at Takumi, $9.50.Bara chirashi is a particularly festive style of chirashi-zushi, which is a bowl of seasoned sushi rice topped with sashimi. Bara chirashi is topped with a mixed dice of sashimi (bara means scattered). Takumi's, served as a lunch special, is chock full of fresh, chopped yellowtail, tuna, salmon, squid, tamago (omelets), radish sprouts and salmon roe, garnished with shiso, wasabi and pickled ginger. It's a great deal for the same fish that the restaurant uses for its premium sushi sets. It comes with miso soup, too. Takumi, 333 E. 2nd St., Los Angeles, (213) 626-1793; www.takumirestaurant.com.

12. Golden beet and baked goat cheese salad at Little Flower Candy Co. Cafe, $10.50. It's a tiny, tiny cafe but the salad is HUGE, the greens are pristine, the beets -- at least a pound of them -- are farmers-market sweet. And they use a well-selected Spanish goat cheese that tastes like a million dollars even before it's seasoned with olive oil, salt and pepper. Little Flower Candy Co. Cafe, 1424 W. Colorado Blvd., Pasadena, (626) 304-4800; littleflowercandyco.com.

13. Octopus ceviche, at Puro Sabor Peruvian Food Restaurant, $13. A huge plate of octopus marinated in lemon and Peruvian spices, with Peruvian corn (two ways: cooked and roasted), halved boiled white and sweet potatoes -- all for $13. The ceviche is tender and perfectly seasoned, not particularly spicy (if you like it hot, ask for a squeeze bottle of the house-made hot sauce), and the roasted corn is amazing, crunchy and intensely flavorful. Order a large glass of chicha morada (purple corn juice) for an extra $1.75. Puro Sabor Peruvian Food Restaurant, 6366 Van Nuys Blvd., Van Nuys, (818) 908-0818.

14. Bun bo Hue at Quan Hy, $7.50. It may seem that Vietnamese cuisine is dominated by its northern dishes such as pho, but among the country's many noodle soups, it's bun bo Hue (from the central city of Hue) that offers the most flavor. Quan Hy's bun bo Hue helped canonize the dish a few years ago, and it's still a standard for those looking for a mild introduction to the soup: chubby rice noodles twirled together with nearly every cut of pork and beef and lighted up by a broth powered by a heavy helping of red chile. Quan Hy, 9727 Bolsa Ave., Westminster, (714) 775-7179.

Lunch specials

15. Three-course prix fixe lunch at Marché Moderne, $20 weekdays; $25 weekends. The drooping dollar isn't exactly encouraging tourism to France this summer. But it certainly makes Marché Moderne at South Coast Plaza in Costa Mesa feel like a spectacular bargain. Especially if you go for lunch and opt for chef-owner Florent Marneau's menu spontanée. That's French for spontaneous, as in he changes the menu every day. His cooking is appealing and modern, and for less than the price of most appetizers in Paris these days, you can have an indulgent lunch. Add the posh setting and his wife Amelia's lovely desserts and it's the closest thing to being in France without the hassle of actually going to the airport. Marché Moderne, South Coast Plaza, 3333 Bristol St., Costa Mesa, (714) 434-7900; www.marchemoderne.net.

16. Nepalese or Tibetan set lunch menu at Tara's Himalayan Cuisine, $4.99. Go vegetarian at this neighborhood spot for the best deal (or add chicken or lamb). The Nepalese version is served in a metal sectional plate, something tasty in each nook: a vegetable curry, steamed rice, dal, raita, salad, pickle -- plus a basket of freshly made nan. The Tibetan set lunch is a generous plate of steamed vegetable momo (dumplings). Tara's Himalayan Cuisine, 10855 Venice Blvd., Los Angeles, (310) 836-9696.

Pick your night

17. Three-course menu at Tracht's, $30. ChefSuzanne Tracht of Tracht's in Long Beach (at the Renaissance Hotel) offers an incentive to come in for dinner on a quieter night: Sunday through Wednesdays from 6 to 10 p.m. there's a three-course tasting menu for $30. To sweeten the deal further, the restaurant offers 25% off a bottle of wine and complimentary valet parking. Tracht is the chef behind Jar in Los Angeles, and at this, her second restaurant, she's got a stylish patio outside, right on Ocean Boulevard. You can't quite see the water, but you can certainly feel the marine breeze. Tracht's, 111 E. Ocean Blvd., Long Beach, (562) 499-2533; www.trachts.com.

18. Seven-course tasting menu at Chichen Itza, $35. On Saturday nights the changing special menu at this modern Yucatecan spot near MacArthur Park may start off with shrimp ceviche, then move to a citrus-jicama salad. Or try the dramatic brazo de reina ("arm of the queen"), an unusual tamale filled with egg and pumpkin seeds and sliced into spirals. There's always a soup, a first course and two mains, possibly fillet of sole steamed in a banana leaf. For dessert, the homemade helado de coco, coconut ice cream, is swoon-worthy -- especially when it sits on top of a slice of panatela cake (pound cake). Chichen Itza, 2501 W. 6th St.; L.A., (213) 380-0051; www.chichenitzarestaurant.com.

19. Old fashioned Sunday pot roast dinner at Tender Greens, $10. Braised in a red-wine mirepoix sauce, a fork-tender Coleman Farms beef short rib "roast" is served on a bed of Yukon gold mashed potatoes. A salad or vegetable comes alongside. Not discounted but a great bargain dessert are the burger-bun-sized strawberry-almond cookies topped with fresh strawberry icing for $1.50 each. Tender Greens, 9523 Culver Blvd., Culver City; (310) 842-8300; www.tendergreensfood.com.

20. Four course prix fixe menu at All' Angelo, $39. The sophisticated West Hollywood Italian boîte may have a reputation as a special occasion place but Monday through Thursday, the everyday prix fixe offers two amazing choices for each menu category. A grilled octopus salad accented with bottarga and celery might start your meal followed by saffron-lamb lasagna, then a fish entrée or braised veal cheeks. Meyer lemon polenta pudding with sabayon sauce could end the meal sweetly. Wine is priced at $6 a glass when chosen from the restaurant's six wines of the week. All' Angelo, 7166 Melrose Ave., Los Angeles, (323) 933-9540; www.allangelo.com.

Brunch bargains

21. Mission Inn's Sunday brunch buffet, $34. The storybook setting of turrets and tiles and the luxuriously bountiful buffet have made this an Inland Empire favorite, especially for large celebratory groups. But anyone driving by (say on the way to or from Palm Springs or Las Vegas) can stop in without reservations and snag a table in the front garden under the arching pepper trees by the gurgling fountain. The carvers work the roasted meats, the waffle chefs work the waffle iron, there's seafood aplenty and desserts beyond measure including warm fruit cobbler. And the not-bad sparkling wine flows. Mission Inn, 3649 Mission Inn Ave., Riverside, (951) 784-0300; www.missioninn.com.

22. Cafe del Rey's three-course Sunday brunch, $38. Choose from six possible first courses (including Dungeness crab cake and chai steel cut oatmeal), 11 second courses (including prime hanger steak and eggs, Manchego scrambled eggs, sashimi seafood salad and wild mushroom fettuccine) and five desserts (say, milk chocolate panna cotta or a trio of house-made sorbets). Did we mention the view of the yachts? And the fine house jazz trio? Cafe del Rey, 4451 Admiralty Way, Marina Del Rey, (310) 823-6395; www.cafedelreymarina.com.

Family parties

23. Mariachi nights at Casa Sanchez, about $15 to $20 per person. The Sanchez family has operated popular restaurants in the borderland between Culver City and Marina del Rey for years, so when their ground-up new restaurant opened earlier this year, it took about five minutes for word to get around that here was a place you could dress up and go out with the family to celebrate a birthday or anniversary without breaking the ATM machine. The spacious dining room features striking wall murals with portraits of mid-20th century Mexican film stars and singers, handsome booths and colonial-style tables and chairs and a stage where Mariachi Internacional Tapatio holds forth Thursdays through Sundays in sets from as early as 5 p.m. on Sundays. The food is festive Mexican (mushroom-stuffed sole served on cilantro with habanero pesto, for example) and entree prices top out at $25 (for rib-eye steak with sides) though most are in the $15 range. Of course, you could add $19 to your bill by ordering the Millionaire Margarita, but that's another story. Casa Sanchez, 4500 S. Centinela Ave., Los Angeles, (310) 397-9999; www.casa-sanchez.com.

24. Weekend afternoon at Casa Don Rolando, about $10 per person. There's live music here on Fridays but maybe the best time to come with the extended family is on a weekend at lunchtime. The cool tiled dining room with its plantation hacienda feeling is comfortable for lingering and gossiping, the food from chef Rolando Gonzalez (formerly of Madre's in Pasadena) is refined versions of favorite Cuban dishes, and the lunch prices are terrific. Entrees such as a meaty, delicious chicken fricassee -- chicken and potatoes braised in a raisin-olive wine sauce -- are served with white rice and black beans and a choice of plantains, yuca or French fries (choose from three preparations of plantains and two of yuca). That Sunday midday dinner is $10. A roasted pork sandwich is $6. Or maybe just get a couple of the fabulous tamales, offered as appetizers at $4 each. Cuban coffee? Yes, indeedy. Café con leche is $4. Casa Don Rolando, 8755 Parthenia Place, North Hills, (818) 920-2272; www.casadonrolando.com.

Wine luxury within reach

25. The Palate markup, $18. At Palate, the new food and wine complex in Glendale, partner and wine director Steve Goldun knows that since there's a wine shop on the premises -- his wine shop -- he's obliged to keep his wine list prices within shouting distance of his retail prices. Well, his constraint is your gain. When you order off the list in the restaurant, you're guaranteed that the price will never be more than $18 over the retail price next door. This can amount, really, to a modest corkage fee. The more you're willing to spend, the more you'll save: the Hitching Post "Highliner" Pinot Noir is a reasonable $55, for example, but the price of Krug Champagne comes in well beneath the stratosphere, at $150 -- so find something to celebrate. Palate Food and Wine, 933 S. Brand Blvd., Glendale, (818) 662-9463; www.palatefoodwine.com.

26. Liters of Grüner Veltliner, $10. Probably the most versatile BYO wine to stick in a sack for all things Asian is Grüner Veltliner, the Austrian grape variety that can tango with the green herbs of Vietnamese dishes, the pungent pickled heat of Korean panchan plates, the spice and the richness of Thai, and the savory intensity of many Chinese dishes. Grüner comes in all price points, and there are a handful on the low end that are not only inexpensive, but they come in liter bottles. So the next time you're heading out for Asian with a crowd of friends, pick up a bottle or two of 2007 from Hofer or der Pollerhof. A liter will set you back about $10. It's like getting 25% more free!

27. Quartinos of wine, prices vary. A number of restaurants -- Enoteca Drago in Beverly Hills, V-vin Wine Bar in Santa Monica, both a href="https://theguide.latimes.com/restaurants/pizzeria-mozza-venue">Mozzas in Los Angeles, Palate in Glendale, and Terroni in Los Angeles among them -- have adopted a nice wrinkle in their by-the-glass programs that makes sharing wine a lot easier, and if you're strategic, more affordable. It's called a quartino, a smallish carafe of wine holding one third of a bottle, perfect for sharing. So if you and your date typically split a bottle of wine with dinner, here are three chances to fall in love, three chances to avoid commitment and, of course, three opportunities to expand horizons. For my part, I like to be tactical: I save a few bucks by choosing an affordable rosé for my first course, move into an economical Dolcetto for the secondi and finish perhaps with a more substantial Montepulciano or Gigondas for whatever is the main event.

28. Nebbiolo from Alba, from $65a bottle. Any self-respecting lover of Italian wine must put Nebbiolos from Barolo and Barbaresco at the top of the country's greatest reds. Those who want to learn about these wines however, will have to pay dearly for the experience -- in a restaurant, you'd be lucky if you can find either for less than $200 a bottle; top producers fetch much more. But Nebbiolo from Alba, Piemonte's spiritual center, costs a fraction of the big guns. Though these wines may not have the structure of great Barolo, they still deliver the wondrous, mysterious essence of the grape. At Il Grano for example, Sal Marino offers the Nebbiolo d'Alba "Valmaggiore" from the great Barbaresco producer Bruno Giacosa, for $65 per bottle; at Valentino, Piero Selvaggio bolsters his world-class selection of Barolo and Barbaresco with several affordable Nebbiolo d'Albas, including several vintages of Cascina Val del Prete's single vineyard, "Vigna di Lino" priced at about $80. Il Grano, 11359 Santa Monica Blvd., (310) 477-7886. Valentino, 3115 Pico Blvd., Santa Monica, (310) 829-4313; www.valentinorestaurantgroup.com.

29. Hidden wine-list bargains at Campanile, from $20. Nestled in the pages of Campanile's wine list are some screaming deals. OK, they may not scream like Screaming Eagle, but would you settle for a glass of rare Altagracia cab from fellow cult producer Araujo, for $20, drawn from a bottle that retails for more than $120? Or an older vintage of Raveneau Chablis, "Vaillons," for less than $100 per bottle? Wine director Jay Perrin simply believes in turning people on. "I get so many great allocations," he says, "I don't see the point in hoarding it. I want people to try things, things they've never had before." Like the glass currently on offer: '02 Chateau d'Yquem Sauternes, the world's most precious dessert wine, for less than $20. "Maybe they've heard about it all their lives," he says. "It's important they get to try it." Campanile, 624 S. La Brea Ave., Los Angeles, (323) 938-1447; www.campanilerestaurant.com.

Happier hours

30. Glasses of intriguing wines and pints of craft beer at BottleRock, $4. Weekdays from 4 to 6:30 p.m., it's "L.A. Rush Hour" at this popular wine bar. Stop by after work or during the Tuesday farmers market on the same street for people watching and choose from a half-dozen reds, an equal number of whites and about four excellent beers on tap. Snacks are discounted too. Ramekins of Marcon almonds or mixed olives are $4. Something called a "pizza finger," kind of an Italian open-faced sandwich, is a mere $3. 3847 Main St., Culver City, (310) 836-9463; www.bottlerock.net.

31. End of evening "Reverse Happy Hour" at Amaranta, $3 to $6 cocktails. Along with a deal on specialty margaritas, piña coladas, Cuba Libres or other drinks from 10 11 p.m. Fridays and Saturdays, the restaurant offers a stylish selection of taco and tamale plates for $7. The latter, loaded with shredded chicken, come swathed in tomatillo sauce or mole poblano. The taco fillings are either a tinga of spiced, shredded chicken, twice-cooked carnitas or pork cochinita pibil roasted in a banana leaf. 6600 Topanga Canyon Blvd., Suite 1029, Canoga Park, (818) 610-3599; www.amarantarestaurant.com.

Takeout and bakeries

32. Flatbreads and turnovers at Old Sassoon Bakery, $.85 to $2. In an otherwise residential strip on Allen Avenue is a row of Armenian shops that will, in way or another, fill your belly. If all you have is the change at the bottom of your purse, Old Sassoon Bakery will take care of you. The ovens here turn out delicious flatbreads smeared with an economy of ingredients that will surprise you upon first bite. A piney green paste tastes of concentrated, earthy thyme; a bright red sauce made of red pepper and sometimes a free hand with Aleppo pepper is arresting. The mainstay, though is laghmajoon, a highly spiced ground beef spread thinner than parchment over an equally wispy crust sometimes referred to as Armenian pizza. Or try the turnovers filled with lemony spinach, parsley and cheese, Armenian sausage, potatoes or olives. Take a bite as you're driving away and by the time you hit the freeway, an entire flatbread is -- poof! -- gone. Old Sassoon Bakery, 1132 N. Allen Ave., Pasadena. (626) 791-3280.

33. Fresh hot pretzels and salt sticks, $1 and 95 cents at Alpine Village Market. Alpine Village Market in Torrance is a mecca for lovers of European-style sausages and pastries. Two of the best treats from the bakery are pretzels and salt sticks, baked fresh daily and best eaten right away. These pretzels put shopping-mall versions to shame at half the price. They're simple, soft, yeasty twists sprinkled with coarse salt; "salt sticks" are embellished with nutty caraway seeds too. Serve them with a pot of mustard for dipping. Alpine Village Market, 833 W. Torrance Blvd., Torrance, (310) 327-2483.

34. Sushi or sashimi bento box meals from Bento Asian Kitchen, $8.95. When you don't want to pony up big bucks for the omakase at your favorite sushi bar, this corner beach-city spot provides a bargain alternative: made-to-order bento boxed meals with a sushi or sashimi entrée. Each of the traveling deals also includes an ultra-fresh California roll, shrimp and vegetable tempura with a small salad, rice, the requisite condiments for each course and inexplicably, a dinner roll. Tempura is packed separately and retains its crunch, a thoughtful touch. Combo sushi plates (minus the tempura) cost $5.95. Bento Asian Kitchen, 1000 Torrance Blvd., Suite B, Redondo Beach; (310) 792-5185.

35. Honey butter bread at MamMoth Bakery, $1.75. The Marukai Pacific Market in Gardena may not be as big as some of its relatives, but it packs in a great food court. And it's there that MamMoth Bakery's honey butter bread waits, each slice a two-by-four-inch brick that's toasted through with the sweet taste of honey. It's great on its own, but even better in the hands of enterprising chefs, a perfect candidate for French toast or a batch of bread pudding. MamMoth Bakery (inside Marukai Pacific Market), 1620 W. Redondo Beach Blvd., Gardena, (310) 538-5594.

Times staff writers Donna Deane, Betty Hallock, Susan LaTempa, Russ Parsons, Amy Scattergood, Tenny Tatusian and S. Irene Virbila contributed to this report. Additional reporting by freelance writers Linda Burum, Miles Clements and Patrick Comiskey.
---
Life is stressful. Our weekly mental wellness newsletter can help.
You may occasionally receive promotional content from the Los Angeles Times.