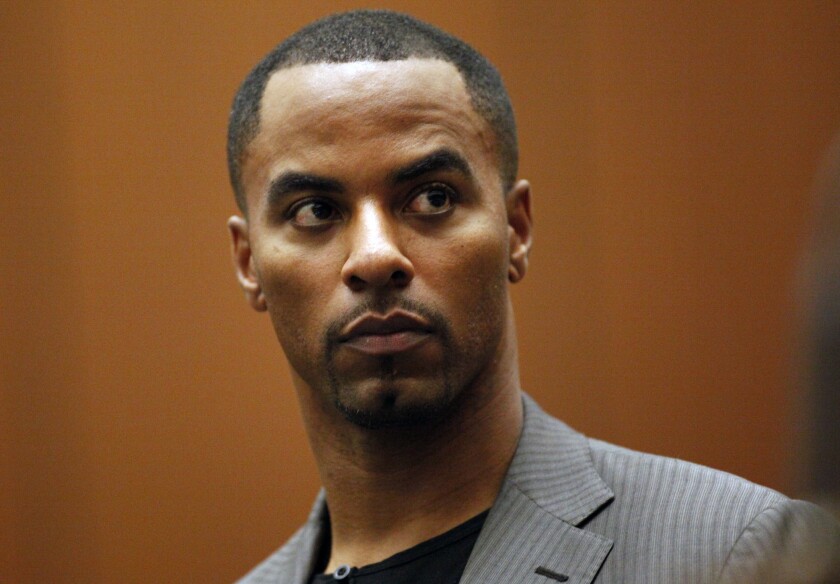 New Orleans police have obtained an arrest warrant for former NFL football player Darren Sharper, who is accused of drugging and sexually assaulting two women in Los Angeles and raping two others in New Orleans.
In addition to Sharper, detectives and investigators with the Orleans Parish district attorney's office obtained an arrest warrant for 26-year-old Eric Nunez, described as an acquaintance of the former football player.
Sharper, who has been suspended as an NFL Network analyst, is now accused of raping at least eight women in four states and committing a sexual battery in Miami.
New Orleans police had previously said they were investigating a rape allegation against Sharper. Now, police say two woman were assaulted by Sharper, both on the night of Sept. 23.
"New information uncovered also indicates that Nunez allegedly raped both women at the same location," department spokesman Remi Braden said in a statement.
Aggravated rape carries a potential prison sentence of hard labor for life in Louisiana, authorities said.
Los Angeles County prosecutors charged Sharper with two counts of rape and five other drug charges in connection with two incidents in October and January. He also is being investigated in cases in Las Vegas; Tempe, Ariz.; and another in New Orleans.
Sharper, 38, who has pleaded not guilty, was ordered last week to surrender his passport, stay in Los Angeles, avoid bars and nightclubs that sell alcohol, and not be alone with any woman he met after Oct. 30. He is free on $1-million bail.
"We look forward to the true facts being revealed in this case and we are hopeful that Mr. Sharper will be fully exonerated before this case is concluded," Blair Berk, one of Sharper's attorneys, previously said.
Court documents show a pattern in the incidents, which occurred between Sept. 22 and Jan. 15.
Victims reported meeting the five-time Pro Bowl player — usually at a nightclub — then going back to his hotel room or home.
Sharper offered the women shots to drink, after which they reported immediately blacking out, according to the records. Many of the women woke up with little or no memory of what happened after the drinks, but believed they had been sexually assaulted, authorities said.
---