A grieving father's final gift to his son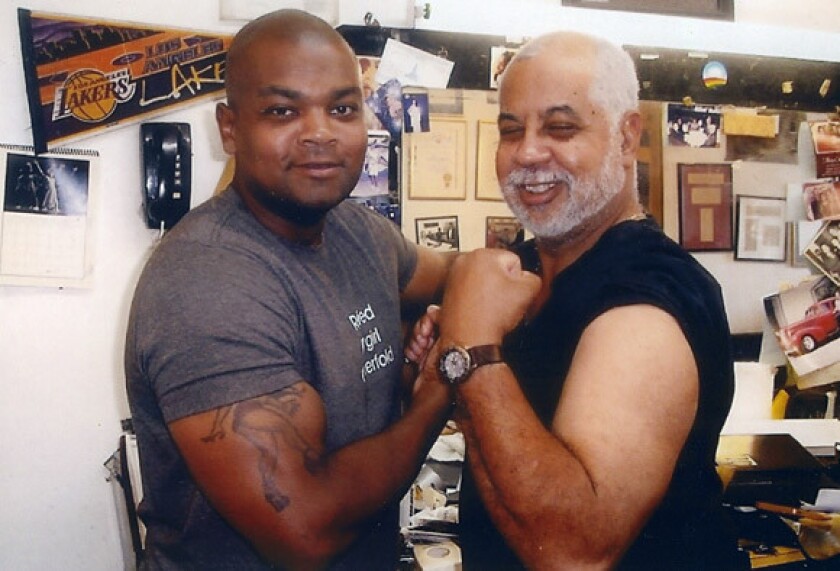 Lawrence Tolliver II, a barber by trade, wasn't sure he could do it at first. But now he thinks he's ready. The tools are in his backpack, and he is preparing to travel to a funeral home on South Crenshaw Boulevard to cut the hair of his deceased son.
He did it for his father back in 2004, and he has done it for close friends, paying tribute with one last cleanup, on the house. But with a son, he's feeling a different kind of pain and loss, the natural order of things undone.
"I wasn't afraid with my father," Mr. Tolliver says. "Him being elderly, it was something I accepted."
But his son, Lawrence Tolliver III, was just 39 when he died March 24 in Houston after a 3 1/2-year fight with brain cancer.
Mr. Tolliver says he found his strength when he went to see his son's body at the Angelus Funeral Home for the first time, after it was flown in from Texas. Mr. Tolliver went with his wife, Bernadette, and his son's wife, Kim.
Mr. Tolliver knew then that if his wife and daughter-in-law lost their composure, he would too. But they had nursed Lawrence III in the final month of his life, and they knew he had accepted his fate with courage and dignity. When they saw the body, they were prepared.
"During the process, you start to grieve in increments," says Kim.
"He looked so peaceful," says Mr. Tolliver, "like he'd reverted back to his old self, out of pain and suffering."
The barber is sitting at his dining room table, minutes before heading back to the funeral home for the haircut. Photos of Lawrence III's life are passed around, documenting how an adorable, smiling little boy grew into the independent and good-humored man he became -- a graduate of Cal State L.A., a U.S. Navy serviceman, a loving husband, a trainee in the Houston police academy.
Lawrence Tolliver III was Mr. Tolliver's son from his first marriage. The marriage ended in divorce, and he had to fight for visitation rights. He married Bernadette and they started a family, and when Lawrence III grew old enough to decide things on his own, he and his dad grew close.
"He'd come by the barbershop regularly, almost every day, and the men in the shop were like big brothers to him," says Mr. Tolliver.
"I look at it as beauty and the beast," Mr. Tolliver says. "His life was beautiful; cancer was the beast.... I want to do my best to make him look beautiful and handsome, so Kim can kiss him goodbye."
The drive along West Adams and South Crenshaw goes quickly. Mr. Tolliver thinks out loud about the son who steered clear of gang activity growing up, worked his way through college and served his country. In January, Mr. Tolliver visited his gravely ill son in Houston, and they both knew they might not see each other again.
"Yeah, but we had a good time," the son said to the father.
Mr. Tolliver walks into the funeral home slowly but steadily, his burden lightened by an appreciation of his son's life, and by his son's last gift. Through the ordeal of the last few years, Mr. and Mrs. Tolliver have developed a deep bond with Kim. Mr. Tolliver says he feels as if he has lost a son and gained a daughter.
A mortuary attendant leads him down a hall and pushes open a door. In a small viewing room, Lawrence Tolliver III lies on a gurney. A blue blanket covers his body; all that's visible is his head.
Mr. Tolliver walks over and takes in his son.
"That's my boy," he says solemnly, proudly, barely past a whisper.
Mr. Tolliver sets down his backpack and brings out a brown towel, his electric shears and a thin black comb. He places a photo -- a lovely shot of Kim and his son together -- on his son's chest. Kim had said she wanted her husband's hair fixed just like it was in the picture.
With a steady hand, the barber begins clipping. If there is a hint of hesitation left, it's not apparent. This last trim is both his duty and his privilege, and Mr. Tolliver applies his craft with full concentration, lifting his son's ear to get at a tough spot.
When he gets around to the right side, Mr. Tolliver has to work with a large, arching scar that creases his son's cranium above the ear. His first tumor was nearly the size of an apple.
The barber finishes the first pass, then pulls a white envelope out of his backpack and drops some locks of hair into it for Kim. He changes clipper blades and goes back again, getting the hair down closer. A mortuary attendant comes in to see if everything's OK and wonders if this is a relative of Mr. Tolliver's, or perhaps a regular customer whose family requested his service.
"He's my first-born son and my namesake," Mr. Tolliver says. "It was cancer. It wasn't anything he did wrong."
Mr. Tolliver takes great pains with the beard. He cranes to make sure everything is just so, his young son handsome as a prince. When he's finished, he takes a soft brush and dusts his son's neck, face and head.
He has two heroes, Mr. Tolliver says. His son, and Martin Luther King Jr., and both died at 39.
The barber packs his things, then pauses over the body. He bends down, gives his son a goodbye kiss on the forehead and heads home to his family.
---
Get breaking news, investigations, analysis and more signature journalism from the Los Angeles Times in your inbox.
You may occasionally receive promotional content from the Los Angeles Times.