Manhattan Beach ponders fishing rules in wake of shark bite incident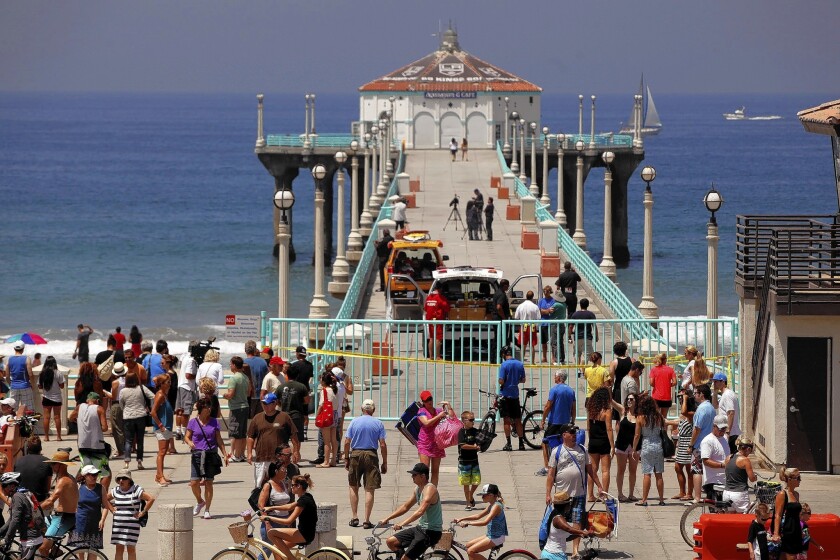 A rare shark encounter off the Manhattan Beach pier during the Fourth of July weekend has ignited a passionate debate over the fragile balance of swimmers, surfers and anglers in local waters.
In the wake of the incident in which a swimmer was bitten, Manhattan Beach temporarily banned fishing on the pier amid concern that a fisherman's bait might have lured the shark closer to shore and agitated the predator as it thrashed on the line for nearly an hour. Some have proposed making the ban permanent, a move many fishermen consider extreme and strongly oppose.
"It's a delicate situation because you have families who want to come down here and teach their kids how to fish, and you have surfers and swimmers around who can get tangled in the fishing lines or hooked sometimes," said Eric Martin, co-director of the Roundhouse Marine Studies Lab and Aquarium at the end of the Manhattan Beach Pier, where anglers are often stationed. As a surfer and ocean swimmer who also manages pier fishing programs for children, Martin says he can see all sides of the issue. "The problem is nobody on any side wants to give an inch."
Manhattan Beach's ban on pier fishing has been extended until September while the city examines the possibility of a permanent ban or other regulations; the issue will be discussed at Tuesday's council meeting. Hermosa Beach, whose pier is just a mile away, is also examining possible changes to fishing on its pier.
"We've never had a problem like this before ... but when you have a major incident like this, we have to look at every aspect," said Manhattan Beach Mayor Pro Tem Wayne Powell. "We just decided to err on the side of caution, be prudent, and stop everything to protect our public."
Some have cast the shark bite as a freak accident, while others have blamed the fishermen's actions for contributing to the encounter. Video of the incident, in which some people on the pier seem to make light of swimmers' close encounters with the shark just before one was bitten, have further annoyed swimmers. The victim's apparent screams can be heard later on the recording, at which point onlookers yelled warnings to surfers below to get out of the water.
"We're being made out to look like we're heartless and careless, and that's just not true," said Jason Hagemann, one of the fishermen who struggled with the shark that day and has defended his actions amid growing anger directed at pier anglers.
Hagemann admits he can be heard laughing early on in the video. "At that point, I had no idea he was bitten," Hagemann told The Times.
State wildlife officials and marine biology experts say juvenile great whites are not known to attack people.
Some have questioned why Hagemann kept an angry shark thrashing at the end of his fishing line for so long.
Missing from the video, Hagemann said, were scenes in which he and his friends tried to warn beachgoers to stay away from the water. By the time the video started, he said, the swimmers were within striking distance of the shark but too far out to be warned. Instead of cutting the fishing line to release the shark, Hagemann said, he and his friends decided to keep the predator on the line in hopes of guiding it away from the crowd.
As soon as he realized the swimmer was bitten, Hagemann said, he ran down the pier and onto the sand to explain to police what had happened.
Still, the incident has angered many in the tight-knit community of surfers and in particular ocean swimmers, who consider the stretch of the Santa Monica Bay near Manhattan Beach a mecca for the sport.
"If those guys knew they had a shark on the line, they should have cut that line immediately and screamed bloody murder," said Lou Caron, an ocean swimmer who left the water minutes before the bite occurred. He thinks Hagemann and his friends should be prosecuted. "We all love the water, and we might get in each other's way sometimes, but nobody goes out of their way to hurt anyone. That was just pure carelessness."
Avner Papouchado, 47, was paddleboarding nearby just before the incident and remembers being struck by the thickness of the fishermen's line — indicating it was made for big-game fishing. "I have nothing against recreational fishing. That's something they should be able to do," he said. "But baiting a shark with big bait, I don't think that's a good idea."
Dozens of locals have posted angry comments directed at Hagemann and the other fishermen, some of them landing on the Facebook page of Martin's Roundhouse Marine Aquarium. Many have vowed to attend Tuesday's meeting to advocate for tougher restrictions on anglers.
Others have posted Hagemann's photo to online forums, calling attention to his online affiliation with other shark-fishing enthusiasts and comments he's made about attempting to lure great whites.
Hagemann admits writing posts in a Facebook group called the "Shark Boyz Shark Fishing Crew," some of which have been removed, that describe fishing for great white sharks and attempting to bring them to pier pilings, which is illegal. He insists the comments were made in jest. "I'm a joker, and unfortunately, I joked about the wrong thing," Hagemann said.
Hagemann said he dragged an 8-foot great white to the Manhattan Beach Pier last year before cutting it loose. But after realizing that what he did was illegal, he never did it again.
As for the Fourth of July incident, officials with the state Department of Fish and Wildlife said they don't believe that Hagemann and his friends intended to hook the great white and don't plan to cite them.
He and other fishermen have defended fishing on the pier, calling it a matter of public access for the anglers, many of whom see fishing as an inexpensive hobby or a way to feed their families.
State wildlife officials say they have "significant concerns" about the city's temporary ban on pier fishing.
"We believe there can be a collective balance for everyone to enjoy the ocean," said spokeswoman Janice Mackey. "We look forward to working with the city to find a solution to their concerns without excluding the fishing community."
Twitter: @cmaiduc
---
The stories shaping California
Get up to speed with our Essential California newsletter, sent six days a week.
You may occasionally receive promotional content from the Los Angeles Times.