L.A. should act quickly to close loopholes in mansionization ordinance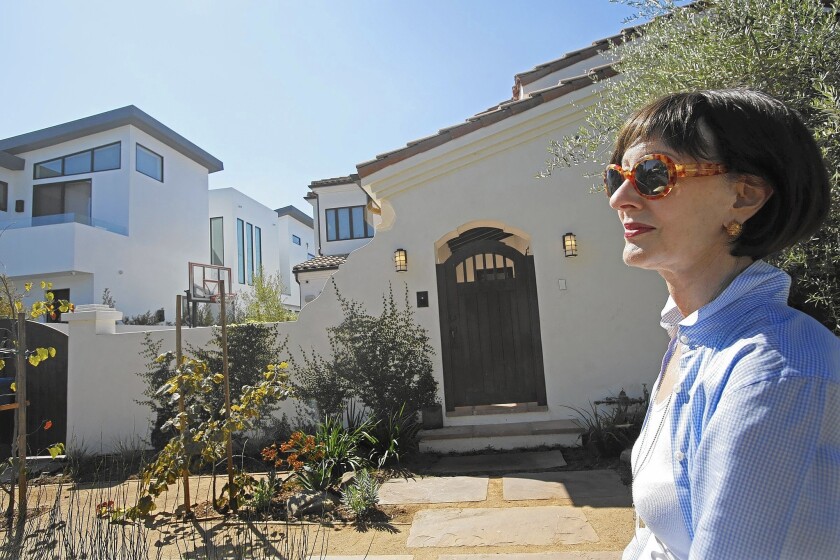 Amy Aquino has lived in one of the bungalows lining a lovely block of Curson Avenue in Hollywood for 23 years, Nancy Halbert has lived in her house across the street for 39 years. Last December, Aquino heard a clatter and looked out to see a bulldozer tearing down the sweet little Craftsman next door to Halbert.
"It was gone in a day," Aquino said.
"When I saw the bulldozer, it was so sad," said Halbert, whose own house was built in 1910. "That was the hardest day."
"We were crying," Aquino said.
Today, in the very spot where the Craftsman sat, a 4,500-square-foot, two-story behemoth is nearing completion.
"People call it a McMansion," said Halbert, a retired nurse who now looks out her kitchen window across a narrow driveway at a solid wall of concrete. "But it looks like a giant cement box to me."
Conversions like this one have been going on for years across Los Angeles, and led to a 2008 mansionization ordinance aimed at reducing their size and protecting neighborhoods. But the ordinance had loopholes, as my colleague Emily Alpert Reyes reported in May, and developers are taking full advantage.
So what's City Hall doing about it?
You'll be shocked to hear that city officials are dragging their feet on a simple, straightforward proposal to close the loopholes.
"It's not moving as fast as I'd like," said Councilman Paul Koretz, who recommended revisions to the ordinance way back in May. He guessed it could take "eight or nine months" before there's any movement.
But by then, angry residents argue, developers will have scooped up many more homes that sit gracefully on modest-sized lots and replaced them with imposing hulks that ignore history and alienate neighbors.
On Aquino's block, residents recently opened their mailboxes to find business cards from a real estate agent offering cash for their houses, presumably for more tear-downs. Around the corner, on Stanley Avenue, another longtime resident has lost sight lines and natural light — not to mention her privacy — in the shadows of a looming edifice nearing completion next door.
It doesn't look like a house so much as a cruise ship, and when the developer saw me taking it all in, he asked what I was up to. I told him the house struck me as demonstrably out of place both in size and appearance.
"I can't tell you what car to drive or what hat to wear," he said, telling me his name was Eddie.
Thanks for that, Eddie. But cities do have the power to impose and enforce zoning regulations. The monstrosity Eddie built is legal, apparently. But one can only hope that houses just like it will be illegal in the very near future.
"It's not about the size of the structure, it's about the size of the structure in relationship to its surroundings," said Shelley Wagers, a homeowner in Beverly Grove, where activists worked for years to get a neighborhood ordinance that knocks McMansions down to size.
She said she and her neighbors are being contacted by homeowners across the city who want advice on how to get their own ordinances. Three such neighborhoods now have protection, said Wagers, but she believes the better strategy would be for the entire city to be governed by the revisions Koretz has proposed.
As it is, Wagers said, a 6,000-square-foot lot can have a 3,000-square-foot house. But attached garages and balconies aren't counted in the square footage, and bonuses for things like recessing 20% of the front of a house make it possible to go way beyond the 3,000 square feet.
"A 4,350-square-foot house is not too big in absolute terms. But it is too big for a 6,000-square-foot lot in an established neighborhood," Wagers said.
Wagers said she's not trying to dictate morality or architectural sameness, nor is she suggesting large families shouldn't have adequate space, although a lot of the spec houses are being bought by singles or couples without children.
I'm not as polite as Wagers, so here's my take:
Whether we're talking about the obscenity of Bel-Air homes as big as 85,000 square feet, or U2 guitarist The Edge insisting on building a rock 'n' roll compound atop a pristine ridge in Malibu, or a 4,500-square-foot shoe box that dwarfs the 100-year-old house next door, wretched excess is on display in the Southland, and humility is on vacation.
"The statement is, 'Look at me in my gigantic home and my Cadillac Escalade and my Lincoln Navigator and all my great stuff,'" said Clark Carlton of Beverly Grove.
Jason Neidleman, another neighbor, said the community is being exploited. Speculators target a desirable neighborhood, build houses that make it less desirable, and walk away with bags of money while longtime residents see property values fall in the shadows of aircraft carriers posing as houses.
Which brings us back to City Hall, and call me a cynic, but you have to wonder if city officials would rather keep the real estate lobby happy than protect neighborhoods from being ravaged.
Councilman Koretz said he's been told the Planning Department doesn't have adequate staffing to deal with his proposed ordinance revisions. Why, because they're too busy approving all those monstrosities?
He also fears there may be a call to delay any action until new building restrictions can be folded into a broader, years-long plan to revamp planning and zoning codes.
But thousands of McMansions could pop up in that time. I don't see why City Hall can't put a rush on ordinance revisions or a temporary moratorium on megahouses.
The city has no greater asset than the pride people have in their own homes and communities. Before the next bulldozer rolls, city officials need to quit dawdling, step up and protect that interest.
---
The stories shaping California
Get up to speed with our Essential California newsletter, sent six days a week.
You may occasionally receive promotional content from the Los Angeles Times.