Mayor sets out to transform L.A. streets through 'urban acupuncture'
Mayor Eric Garcetti hopes to transform major thoroughfares into hubs of neighborhood activity in a process the mayor describes as "urban acupuncture."
(Francine Orr / Los Angeles Times)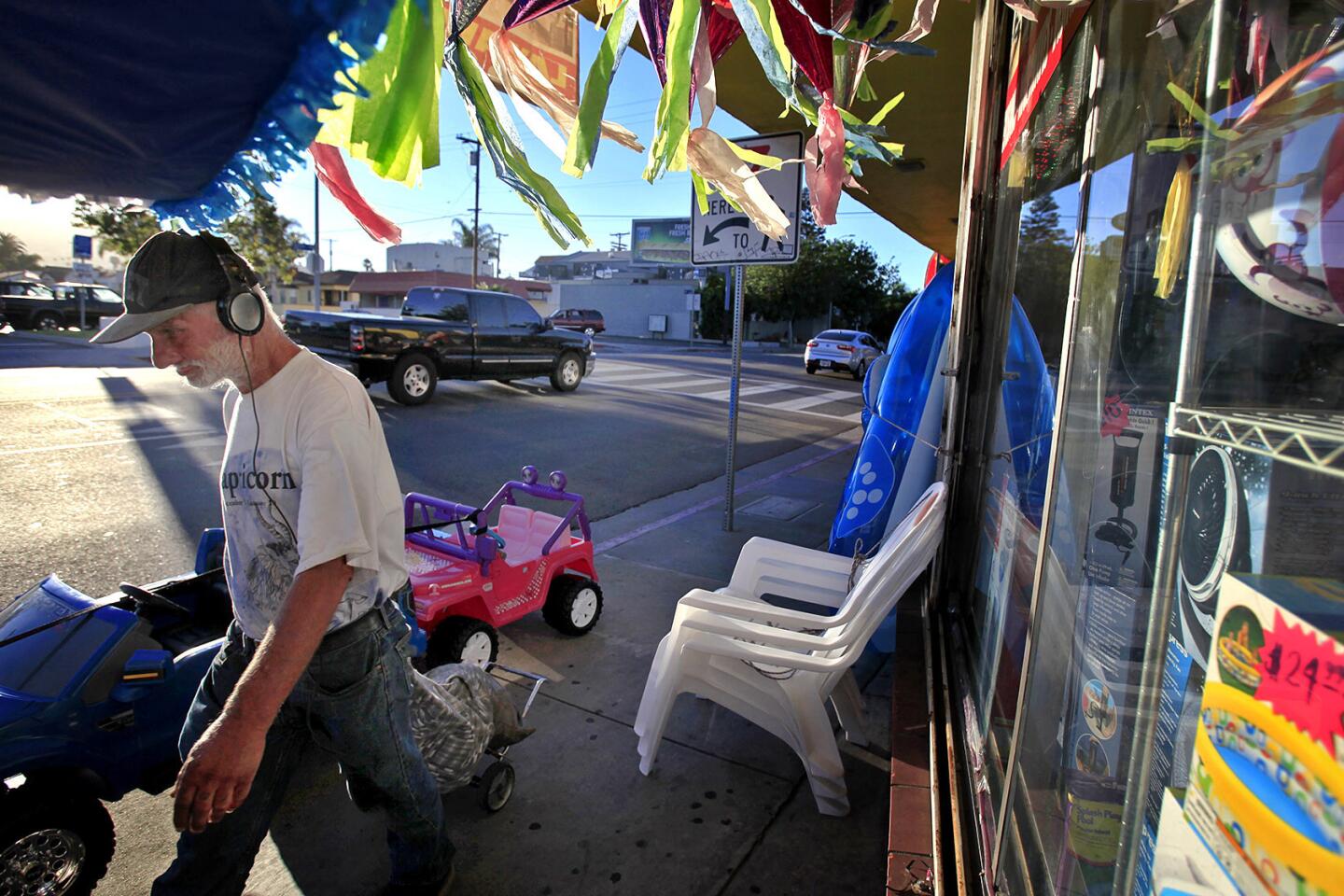 A man walks past Laras Home Shop and Flowers on Gaffey Street.
(Francine Orr / Los Angeles Times)
L.A. plans to add bike racks, plazas, crosswalk upgrades and other amenities aimed at drawing in pedestrians and attracting new businesses.
(Francine Orr / Los Angeles Times)
Anderson Roy, 28, rides his bike past Emilio's Custom Framing on the 5600 block of West Pico Boulevard.
(Francine Orr / Los Angeles Times)
Patrons walk along North Figueroa Street near North Avenue 58. Mayor Eric Garcetti has named the 15 sections of the boulevard that will be part of his Great Streets Program.
(Jabin Botsford / Los Angeles Times)
The mayor hopes that more street side amenities will help reduce traffic along Los Angeles' congested streets.
(Jabin Botsford / Los Angeles Times)
A man walks past the large windows of Paper or Plastik Cafe on West Pico Boulevard. Such street side cafes are part of the mayor's vision to transform the city's thoroughfares.
(Francine Orr / Los Angeles Times)
Mary Gianatasio, 31, enjoys coffee at Paper or Plastik Cafe on West Pico Boulevard.
(Francine Orr / Los Angeles Times)
Tattoo parlors, liquor stores, and fast food along Gaffey Street, in San Pedro. The crowded area is part of Mayor Eric Garcetti's plan to overhaul 15 city streets.
(Francine Orr / Los Angeles Times)
San Pedro's Gaffey Street is no one's idea of a quaint village.
Cars pour off the 110 Freeway, frequently at high speeds. The street's palm trees
provide little shade. The corridor is dominated by businesses catering to the automobile — KFC, Taco Bell and 7-Eleven, among others.
Yet Mayor Eric Garcetti hopes to transform Gaffey and 14 other major thoroughfares into hubs of neighborhood activity. In a process the mayor describes as "urban acupuncture," the city plans to add bike racks, plazas, crosswalk upgrades and other amenities aimed at drawing in pedestrians and attracting new businesses.
Los Angeles is famous for wide and frequently traffic-clogged boulevards that stretch across the landscape, built more for getting people from point A to point B than for fostering street life and a sense of community.
Garcetti's "Great Streets" effort has been met with both excitement and skepticism. Several communities have hailed their selection, but some people in the targeted neighborhoods are dubious their boulevards can be tamed.
"Twenty years ago, a street was a place that moved cars. You moved through it, and there were very few people who conceptualized a street any other way," said Marlon Boarnet, a professor of urban planning at the USC Price School of Public Policy. Now, L.A. is looking to make streets people "would want to go to and spend time at, as opposed to places you just want to move through."
Behind Garcetti's initiative is a hard calculation: Los Angeles lacks the money and the space to add the types of transportation that would significantly reduce traffic congestion, such as widening streets or adding expensive mass transit. So Garcetti is pursuing the reverse strategy: bring enough amenities to a neighborhood so that residents stay closer to home and, quite possibly, avoid using their cars altogether.
That's a tall order for some residents, whose biggest worry is doing anything to make traffic worse.
In San Pedro, many residents — still chafing over the decision to add bicycle lanes on some of the major streets — don't want anything to create more congestion on Gaffey, said Doug Epperhart, former president of the Coastal San Pedro Neighborhood Council.
"Their attitude is, 'Anything that will slow my progress to and from the freeway, I'm not interested in,'" he said.
This is not the first attempt by City Hall to upgrade L.A.'s frequently dingy boulevards, and history shows building a village along a street is easier said than done.
Nearly two decades ago, Mayor Richard Riordan launched the Targeted Neighborhood Initiative, which sent federal money to a dozen business districts, including Sunset Boulevard in Echo Park and Central Avenue in South Los Angeles. Looking to create a Main Street feel, the city added trees, murals and streetlights, and helped business owners spruce up their facades.
The improvements did not always stimulate economic activity, one of the major goals of the program, said Con Howe, the city's Director of Planning from 1992 to 2005. Some neighborhoods, he said, "just had a lot more challenges than others."
Garcetti said he is trying to create conditions favorable to a transformation by targeting locations that already have sparks of new economic activity. He's quick to point to success stories in the council district he represented before becoming mayor.
In Silver Lake, he closed one block adjacent to the Sunset Boulevard business district to car traffic, replacing it with a pedestrian plaza painted with green polka dots. In Atwater Village, Garcetti worked to make Glendale Boulevard — a major route to the 5 Freeway — more welcoming to pedestrians. City crews upgraded crosswalks, extending curbs farther into the street, and added new trees, signs and trash cans.
Though it's hard to know how much of an impact the street improvements had, Garcetti contends they led to the arrival of new restaurants and stores.
L.A.'s commercial thoroughfares were built decades ago, some along now-abandoned trolley lines. As the suburbs grew and the streetcars disappeared, developers began pulling away from the sidewalk, putting businesses behind lots to accommodate cars, said Matt Roth, historian for the Automobile Club of Southern California.
As mini-malls spread across L.A. in the 1970s and 1980s, long stretches of street-facing storefronts became increasingly rare. Some, like parts of Melrose Avenue, Larchmont Boulevard and Robertson Boulevard, retained street life. Many others did not.
In recent years, however, long-quiet sidewalk-oriented districts have taken on new life. In Highland Park, once sleepy York Boulevard has become a magnet for an array of middle- and upper-middle class needs: coffee, comic books, vegan ice cream, and $5 donuts. Abbot Kinney Boulevard in Venice, once favored mainly by locals, is now a regional tourist destination with prices to rival Rodeo Drive.
Backers of the Great Streets program hope to achieve similar success.
Joel Kotkin, a fellow in urban studies at Chapman University, called the mayor's initiative a good idea in principle. But he contends the local economy is the most important factor in improving a streetscape. "Designating a nice couple blocks in the middle of poverty is not a great accomplishment," he said. "If you don't have economic growth, I don't know how you sustain this over time."
Garcetti said there is no cost estimate for the program — or for each street. The mayor plans to reallocate money from existing city agencies and, in some cases, bring in outside funds. For example, Central Avenue is already slated to get $2.6 million from the state and $1.9 million from the federal government.
Several streets selected by Garcetti have already seen plenty of investment. On the Westside, Garcetti picked four blocks of Westwood Boulevard anchored by the Geffen Playhouse on one end and by UCLA's Hammer Museum on the other. In Hollywood, a segment of Hollywood Boulevard chosen by the mayor is already teeming with tourists. In Mid-City, a 10-block stretch of Pico Boulevard has a handful of restaurants that offer the outdoor dining favored by Garcetti.
On Figueroa Street in Highland Park, another corridor selected by Garcetti, check-cashing businesses and pupuserias have been joined by workout places, a record shop, a vintage clothing store and Kitchen Mouse, a storefront restaurant that promises vegan and gluten-free dining options. Customer Elizabeth Brizzi said the area is starting to have the "Silver Lake feel" — a reference to the hip neighborhood once represented by Garcetti.
"In Paris, people walk down from their building and there are a bunch of stores and restaurants right there. People walk everywhere," she said. "And I'm hoping this neighborhood will develop that way, where people can do things without using their car."
In Pacoima, shoppers were less upbeat about the prospects for Van Nuys Boulevard, another street included in the mayor's initiative. The corridor, with its striking murals of Mona Lisa in a sombrero and the actor Danny Trejo, offers many of the basics: a barber shop, a dentist's office, a taco stand and a corner market. Residents suggested several ways to make the street better — a park, some trash cans, more benches and more shade.
"It's nice that everything is close by, but that doesn't mean it's nice," said Alejandra Morales Sanchez, 27, steering her daughter's stroller past a faded couch without cushions.
Van Nuys may seem a world away from Hollywood, Westwood or the other locations targeted by the mayor. But to Garcetti, all of the streets in his program have something in common: They are falling short of their potential.
"These are places that people collectively want to bring back or, for the first time, kind of bring up," he said.
Sign up for Essential California for news, features and recommendations from the L.A. Times and beyond in your inbox six days a week.
You may occasionally receive promotional content from the Los Angeles Times.