Huge beef recall issued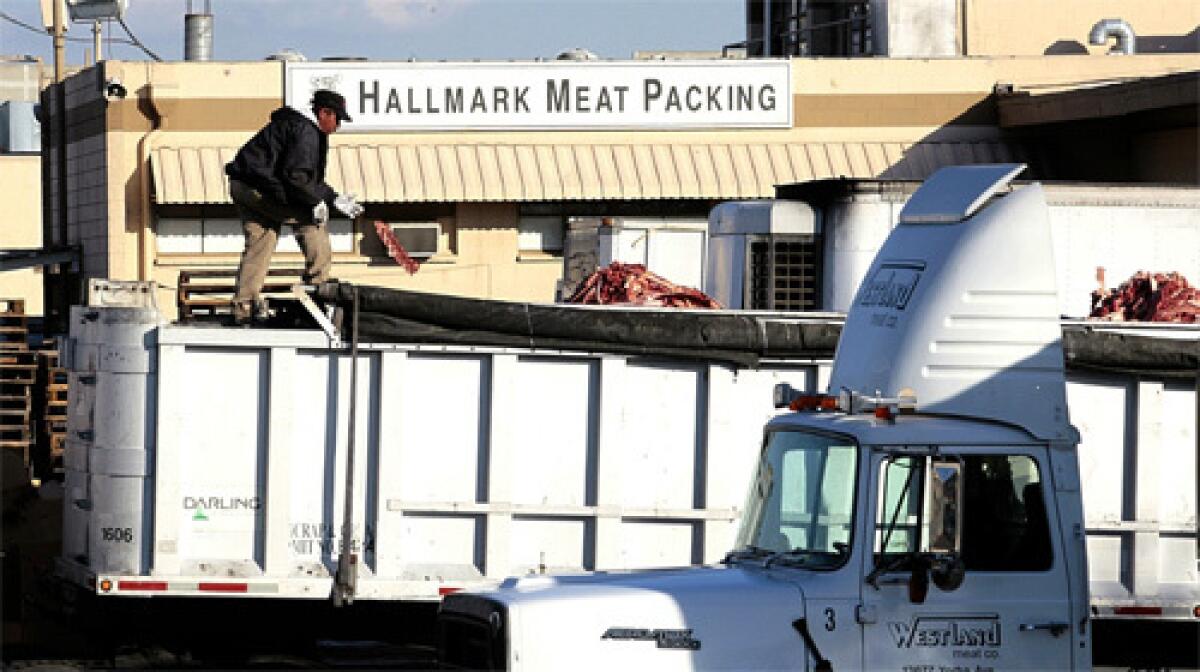 Los Angeles Times Staff Writers
The U.S. Department of Agriculture announced the largest beef recall in its history Sunday, calling for the destruction of 143 million pounds of raw and frozen beef produced by a Chino slaughterhouse that has been accused of inhumane practices.
However, the USDA said the vast majority of the meat involved in the recall -- including 37 million pounds that went mostly to schools -- probably has been eaten already. Officials emphasized that danger to consumers was minimal.
The recall applies to beef slaughtered at the Hallmark/Westland Meat Packing Co. since Feb. 1, 2006. The company has produced no meat since Feb. 4 of this year, when operations were suspended.
The action came nearly three weeks after the Humane Society of the United States released a video showing workers at the plant using forklifts and water hoses, among other methods, to rouse cattle too weak to walk. In addition to issues of animal cruelty, the video raised questions about whether so-called downer cattle were entering the food chain in violation of federal regulations.
Although the Humane Society said at least four non-ambulatory cattle had been slaughtered for food, the USDA had repeatedly said it had no such evidence. On Sunday, federal officials said for the first time that they had evidence such cattle from Hallmark had been processed for food.
Downer cattle are not supposed to be used as meat unless a veterinarian determines that the animal stumbled or fell because of injury -- a broken leg, for instance -- that would not affect the safety of their meat. Cattle weakened by disease are not supposed to enter the food supply, although their risk of harming humans is still fairly low. There is, however, a slightly higher possibility that such cattle are suffering from bovine spongiform encephalopathy, better known as mad cow disease.
The USDA said there was only a remote possibility that the recalled beef from Hallmark could make people sick. Agriculture Secretary Ed Schafer said it was "extremely unlikely" that any cattle processed at the plant were suffering from mad cow disease.
Steve Mendell, president of Hallmark Meat Packing and its distributor, Westland, declined to comment. The company has refused to answer questions about its practices since the Humane Society video surfaced. Mendell released a statement on Feb. 3 that said he was "shocked and horrified" by the video and that the company had a long history of meeting federal safety standards.
The recall was initiated voluntarily by the company, because the federal government does not have the authority to take such action.
Some supermarkets began removing Hallmark meat from their freezer shelves immediately after the USDA's announcement.
Managers at the Costco store in Burbank said they received an urgent e-mail about 3:30 p.m. Sunday, indicating that Westland had at one time been a supplier. It was unclear whether any current stocks had been provided by the plant.
"We're going to pull it just in case," said assistant warehouse manager Roland Prydz. He said the notice involved frozen beef.
Managers at Vons and Ralphs stores in Burbank and the Silverlake-Echo Park area said they did not recognize the company and doubted that it had supplied their stores.
Because Hallmark/Westland suspended operations in early February, it is unlikely that any of its fresh meat is still being sold. "That has a very [short] shelf life and refrigerator life, so the great majority has probably been consumed," Richard Raymond, the USDA's undersecretary for food safety, told reporters.
Hallmark/Westland meat was also sold to restaurant chains, including In-N-Out Burger and Jack in the Box, but both of those companies said they stopped using it early this month after the first reports of problems at the plant.
The amount of beef affected by the recall may be far larger than 143 million pounds because meat from different companies is often mixed as it goes through numerous processors. Such mixing makes it extremely difficult for consumers to know whether meat products came from a particular plant.
At a USDA telephone briefing Sunday for retailers, school districts and food safety experts, a Costco representative raised concerns about beef that gets "commingled," according to Humane Society President Wayne Pacelle, who participated in the conference call. He said the Costco representative estimated that the amount of beef recalled may top a billion pounds.
USDA officials said the whole effect of the recall was difficult to estimate because beef from Hallmark was supplied through a "huge pipeline" that included numerous processors and distributors.
As an example, Bill Sessions of the Agricultural Marketing Service told reporters: "Coarse ground beef . . . goes into further processors, who make end items such as cooked hamburger patties, chili meat, taco meat, that type of thing, that then goes into a distributor and then is distributed to a local school system."
By that time, the food packaging is not likely to carry any indication that a portion of the meat came from a particular plant.
Rep. George Miller (D-Martinez), who has been closely following the Hallmark case, called Sunday for a congressional hearing into the USDA's inspection process. Miller, who last week urged the Government Accountability Office to conduct independent investigations into the matter, said the "severity of this issue for both our nation's schools and consumers" made it necessary for Congress to step in.
One consumer advocate questioned whether the likelihood of danger from the recalled meat was as low as the USDA contended.
Caroline Smith DeWaal, food safety director for the Center for Science in the Public Interest, a Washington-based consumer advocacy and research organization, said federal regulators "really don't know what conditions were making the cattle sick."
So, she said, "it is still possible some of them carried illnesses that pose a risk to the public."
DeWaal said the recall "really underscores the fact that consumers are losing confidence in the ability of the USDA to protect them from unsafe meat."
James O. Reagan, chairman of the Beef Industry Food Safety Council, issued a statement saying he supported the recall. "At the same time," he said, "we can say with confidence that the beef supply is safe." He said there were "multiple interlocking safeguards" in every beef processing plant so that a single lapse would not endanger consumers.
Before Hallmark, the largest meat recall involved Thorn Apple Valley's Forrest City, Ark., processing plant, which recalled 35 million pounds of hot dogs and pork and poultry luncheon products in January 1999 because of possible contamination with the bacteria that causes listeriosis, a dangerous condition that can lead to meningitis, among other potentially fatal diseases.
The USDA estimated that only about 8.4 million pounds of the recalled meat was recovered. However, no illnesses or deaths were reported in connection with consumption of the meat.
In September 2007, Topps Meat Co. recalled 21.7 million pounds of ground beef that may have been contaminated with E. coli bacteria. Thirty-eight people in eight states were found to have E. coli infections matching the strain.
The Hallmark/Westland recall stems from an investigation that began in October 2007 by the Humane Society. An undercover investigator started working for Hallmark wearing a concealed camera to document the plant's handling of animals for six weeks. The group said it chose the plant at random.
In December, the animal rights group turned over video showing treatment of animals at the plant between Oct. 3 and Nov. 14, to the San Bernardino County District Attorney's Office.
At the end of last month, the Humane Society made the video public. One section shows a manager using a paddle to hit a fallen cow in the face and eye in an attempt, authorities said, to urge the animal to its feet to be taken to slaughter.
The video's release led schools nationwide to pull beef from their menus out of concern that they may have received tainted meat from Hallmark, the second largest supplier of ground beef to the National School Lunch Program.
Schools in California were instructed to stop serving all dishes with ground beef, even those not supplied by Hallmark, because the at-risk beef was difficult to identify and isolate.
Within a few days, the Chino-based slaughterhouse fired two employees shown in the video and voluntarily halted operations. On Feb. 4, the USDA announced that it was suspending its routine inspections at the plant, in effect shuttering Hallmark.
At the time, the agency said the decision was based on evidence of inhumane treatment, not any risk to public health. USDA officials said there was no evidence of downer cattle entering the food supply, and expressed confidence in the USDA's inspection system.
Last Friday, San Bernardino County officials filed unprecedented felony and misdemeanor charges alleging animal cruelty against two Hallmark employees.
Police said the employees were using illegal methods in 11 different instances to force cattle to their feet and into the slaughter box.
That practice was banned in 2004, soon after an animal in Washington tested positive for mad cow disease.
The initial ban was temporary, and based on studies indicating that non-ambulatory cattle had a higher occurrence of the disease.
That ruling was finalized in July 2007, permanently prohibiting the use of downer cattle for human food.
mitchell.landsberg@la times.com
Times staff writers Greg Krikorian, Evelyn Larrubia and Carla Rivera contributed to this report.
Sign up for Essential California for news, features and recommendations from the L.A. Times and beyond in your inbox six days a week.
You may occasionally receive promotional content from the Los Angeles Times.