A railroad dinosaur is coming back to life
Benjamin Garza, 9, of Calabasas sits inside the cab of Union Pacific's No. 4014. The train is being converted from burning coal to using fuel oil and is being restored as a traveling museum.
(Gary Friedman / Los Angeles Times)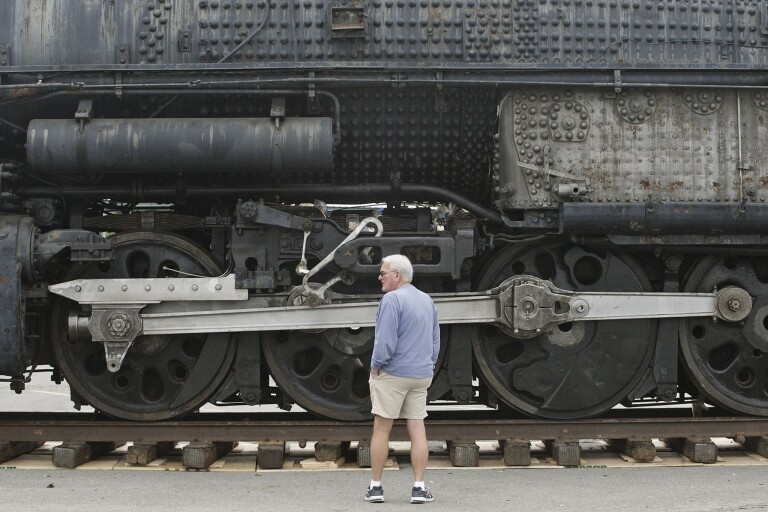 Steve Brown, 69, of Glendora stands next to the Union Pacific's Big Boy No. 4014 at the Fairplex in Pomona.
(Gary Friedman / Los Angeles Times)
It's been sitting around in Pomona for nearly 53 years, but now the beast they call Big Boy is making tracks for Wyoming.
Officially known as Union Pacific steam engine No. 4014, the locomotive has been parked at the RailGiants Train Museum in Pomona since 1962, a displaced piece of the past.
Now Union Pacific has reacquired the behemoth and has begun inching Big Boy No. 4014 toward mainline rail tracks that will take it to Cheyenne, where it will be rebuilt and begin life afresh as a rolling museum on steel wheels.
"It's been sitting here in sort of a railroad Jurassic Park," said Ed Dickens, senior manager of Union Pacific's Heritage Operations. "We're bring T. rex back to life."
Big Boy was built in 1941, one of 25 huge steam engines used to pull 3,600-ton freight trains over the Wasatch Mountains between Ogden, Utah, and Green River, Wyo. After traveling more than 1 million miles, it was retired in 1959, when diesel engines replaced steam. Eventually, Big Boy was handed over to the Railway and Locomotive Historical Society's Southern California chapter, which oversees the RailGiants collection.
To get the old locomotive rolling again, Union Pacific crews are laying 4,500 feet of temporary track so it can cross the Fairplex parking lot and reach a nearby Metrolink line. Once it gets to Colton, it will be shuttled onto Union Pacific tracks and start heading east after being converted from burning coal to using fuel oil.
Moving the engine and restoring it are a huge deal in every sense, according to those involved with the project.
To keep the 600-ton locomotive from crushing the asphalt parking lot, workers are placing layers of plywood beneath 40-foot sections of rails and ties. The 2-ton track panels are moved by forklift and truck and leapfrog ahead of Big Boy as it is slowly towed across the lot by a tractor.
At the Metrolink tracks at the northern edge of the fairgrounds, Big Boy will be pulled by a diesel engine that also bears the old steam engine's original 4014 number. A second diesel engine will be hooked behind the steam engine to serve as a brake.
Dickens declined to speculate on what Big Boy's restoration will cost. But he's confident that Union Pacific has experts who will get it running again.
"These engines are our life," Dickens said. "I have the blueprints for this one on my smartphone."
It will take about five years to refurbish Big Boy in what Dickens calls a "frame-up restoration." After that, it will tour the country on his company's 35,000 miles of track, which connects about 7,000 cities.
Those affiliated with the rail historical society's RailGiants Museum say they are sorry to see Big Boy go. But they will still have eight other locomotives and four cars on outdoor display at the Fairplex, said Rob Shatsnider, chairman of the society's Southern California chapter.
"The whole motive of our chapter is railway preservation," Shatsnider said. "Now, the entire country will see him."
Pomona Mayor Elliott Rothman said he also will miss Big Boy. Twenty years ago, he enjoyed bringing his 6-year-old son Jason to the fairgrounds to sound the engine's horn.
Other young rail fans also come to the fairgrounds to watch the locomotive's slow move out of Pomona. High school student Shelly Hunter, 17, has been a member of the locomotive historical society for four years and has come to the Los Angeles County Fair to admire Big Boy for as long as she can remember.
As Big Boy rolls the over the makeshift rails that will take it to a new life, "I'll be keeping close track," Shelly promised.
---
For reporting and exclusive analysis from bureau chief John Myers, get our California Politics newsletter.
You may occasionally receive promotional content from the Los Angeles Times.