Circuit City liquidation sparks a Black Saturday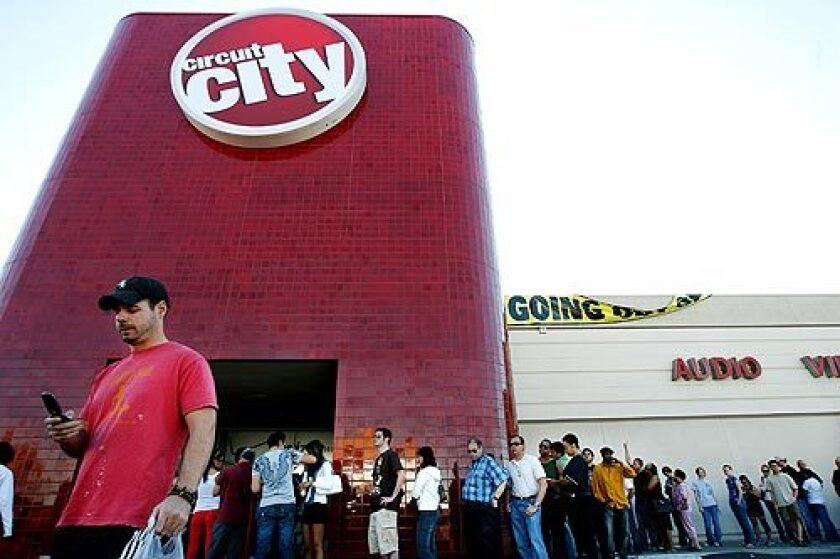 Shoppers eager to grab their share of discounted plasma TVs and Blu-ray DVDs lined up in droves today as Circuit City stores began liquidating their inventory. The bankrupt electronics retailer is shutting down its 567 U.S. stores and laying off 34,000 workers.
By late morning, the line outside the Circuit City in Hollywood was almost 100 people long. Carlos Reyes, 24, and girlfriend Diana Anzora, 22, of Los Angeles, lined up to buy video games and DVDs.
"I prefer Best Buy, and if it wasn't for the liquidation I probably wouldn't have come, especially this early on a Saturday," Reyes said. "We didn't know it was going to be such a big line."
Reyes said they would probably stick to smaller items since all sales are final.
"We don't want to get anything too big," he said. "You don't want to not be able to return an HD or plasma."
Andrew Lobel, 26, had different plans. The screenwriter from Los Feliz -- and first-time Circuit City shopper -- stood in line for 40 minutes for a chance to snag a 46-inch LCD television on sale.
"I'm waiting to trample someone to death," he joked.
The scene outside the store looked very similar to that on Black Friday, Lobel said. A steady stream of customers had been lining up outside since the store opened at 10 a.m., said store director Jesse Alcaraz. A handful of them read books to pass the time. Some called friends to pass on the word about the sale.
Inside, the atmosphere was busy but not hectic, as customers mostly flocked to TVs and browsed bins of marked-down PlayStation and X-Box games. Merchandise was marked 10%, 20% and 30% off.
By 5 p.m., the Circuit City in Glendale was running low on popular merchandise, having sold out some television monitors. Laptop computers were also in high demand, said Miguel Hernandez, Glendale store manager.
Today's sales were up 25% compared with most days, and the store had four times as many customers as normal for a Saturday, Hernandez said.
"We have a long line inside the store," he said. "A few of the other stores are like Black Friday all over again, from what I heard."
The Circuit City stores in Hollywood and Montebello were the busiest in the area, he said.
---
The stories shaping California
Get up to speed with our Essential California newsletter, sent six days a week.
You may occasionally receive promotional content from the Los Angeles Times.