Mountain resorts, rent subsidies and saunas: The benefits of living in Commerce, a city plagued by scandal
A view of City of Commerce camp that has vacation cabins for residents just a quarter-mile from Lake Arrowhead. Camp Commerce has 10 two-story cabins, a lodge, pool, basketball and volleyball courts.
(Irfan Khan / Los Angeles Times)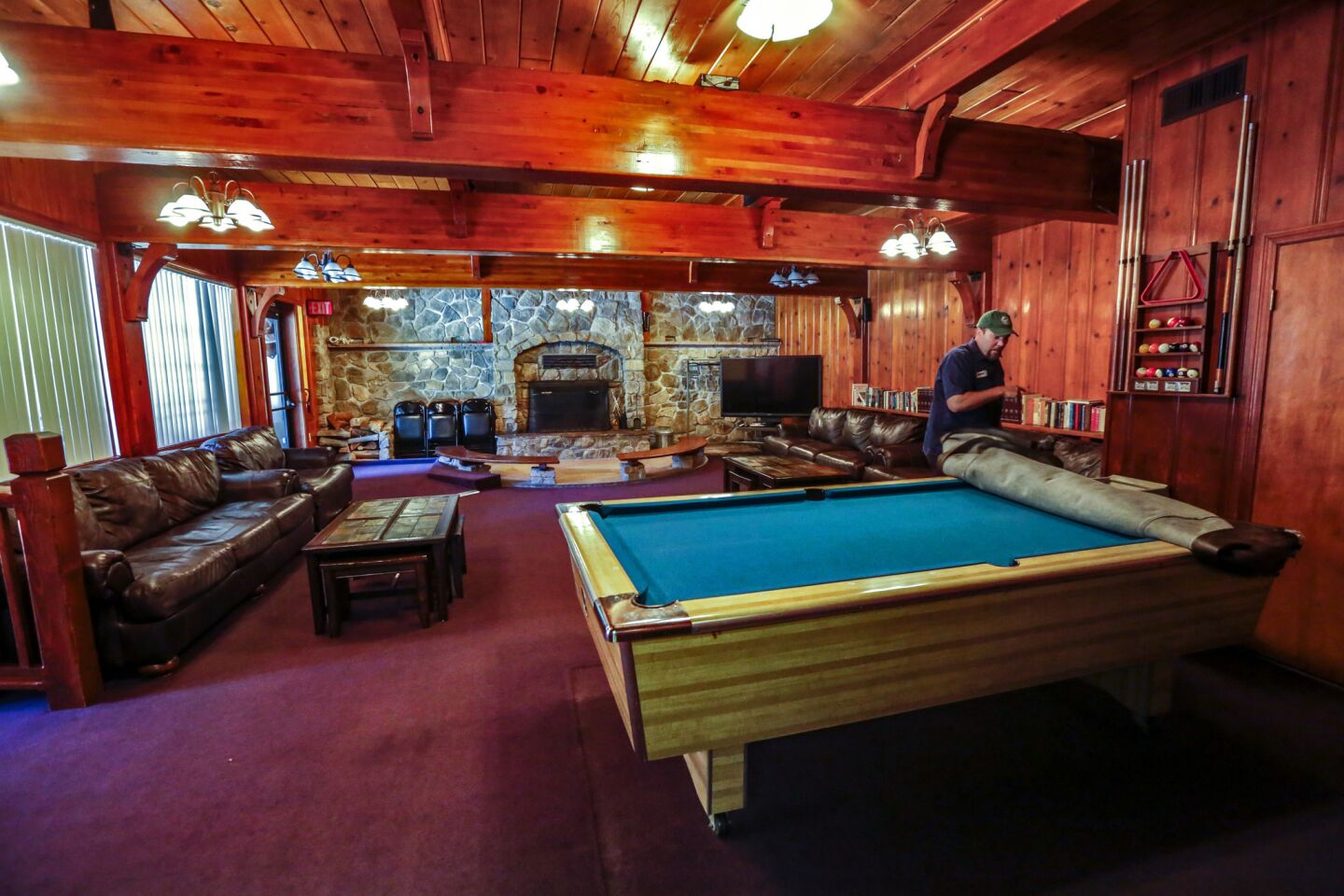 The lodge at Camp Commerce. Weekend camping sessions are $15 a person, and weekday sessions are $25, according to the Commerce website.
(Irfan Khan / Los Angeles Times)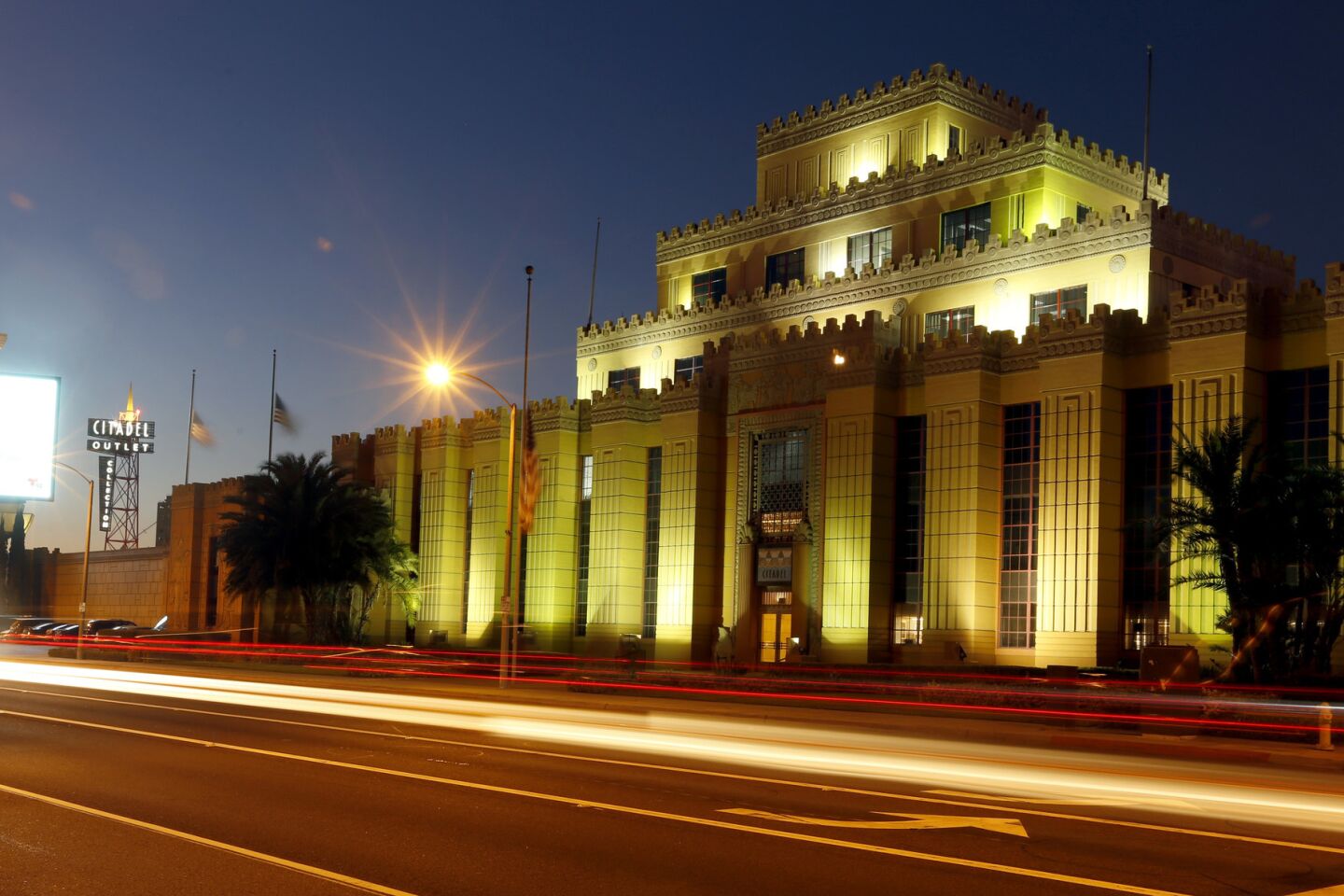 The Citadel Outlets in Commerce. Fueled by hefty tax revenue from the the outlet mall, Commerce Casino and other businesses, the city has long provided services to residents that surrounding communities cannot match.
(Francine Orr / Los Angeles Times)
Children play football at Rosewood Park in the City of Commerce.
(Luis Sinco / Los Angeles Times)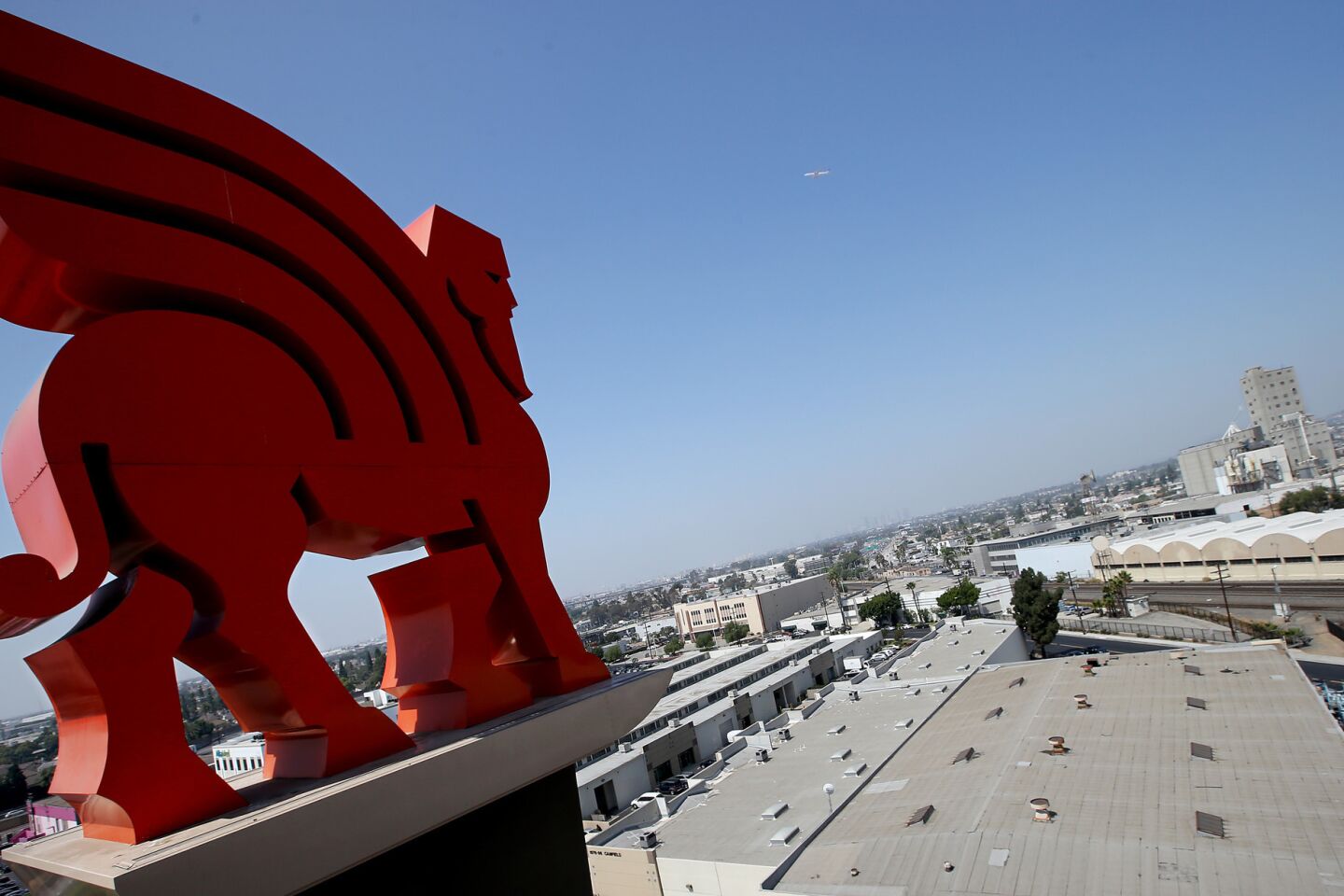 Overview of commercial and industrial properties in the City of Commerce.
(Luis Sinco / Los Angeles Times)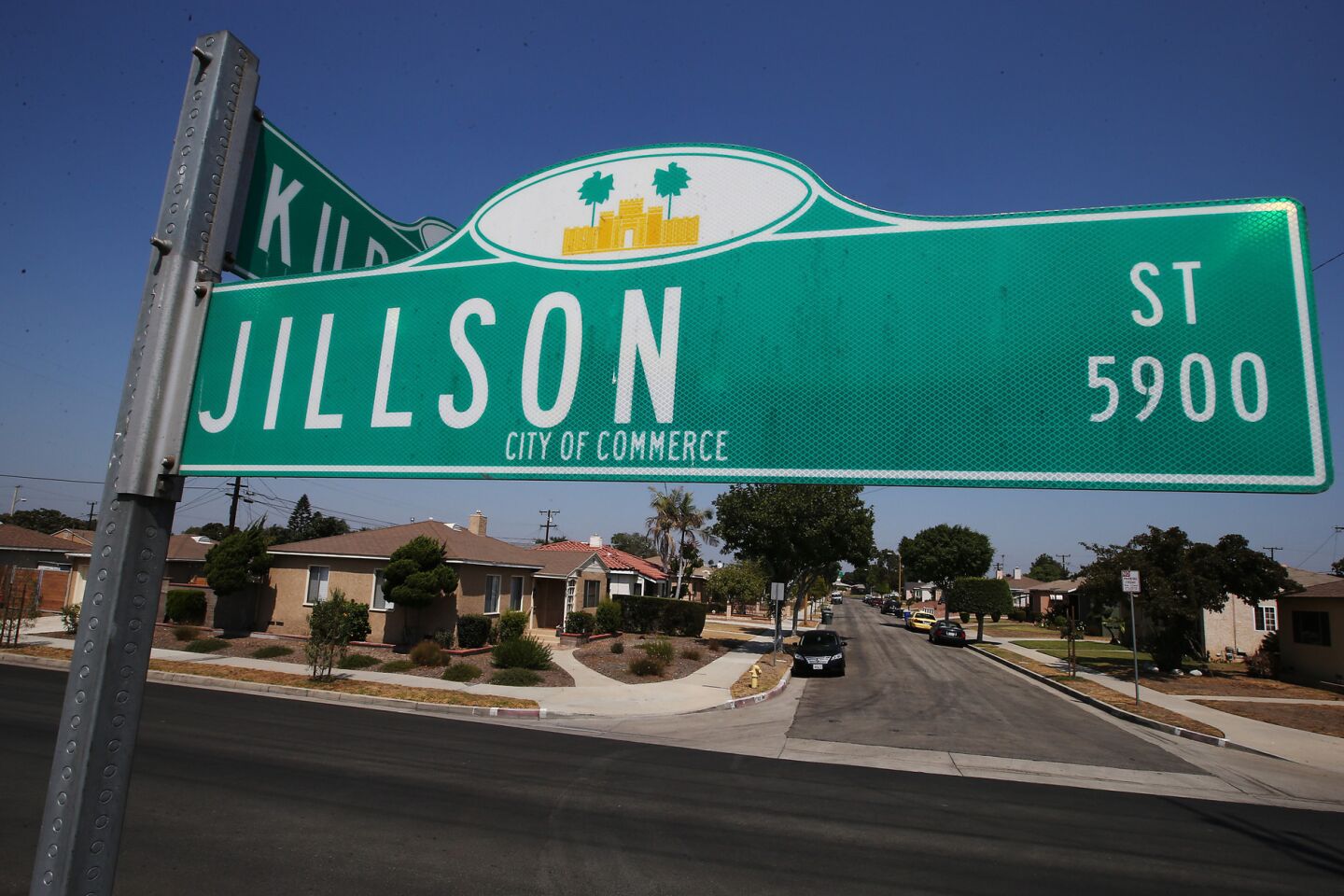 Homes at the intersection of Jillson Street and Kurt Avenue in the City of Commerce.
(Luis Sinco / Los Angeles Times)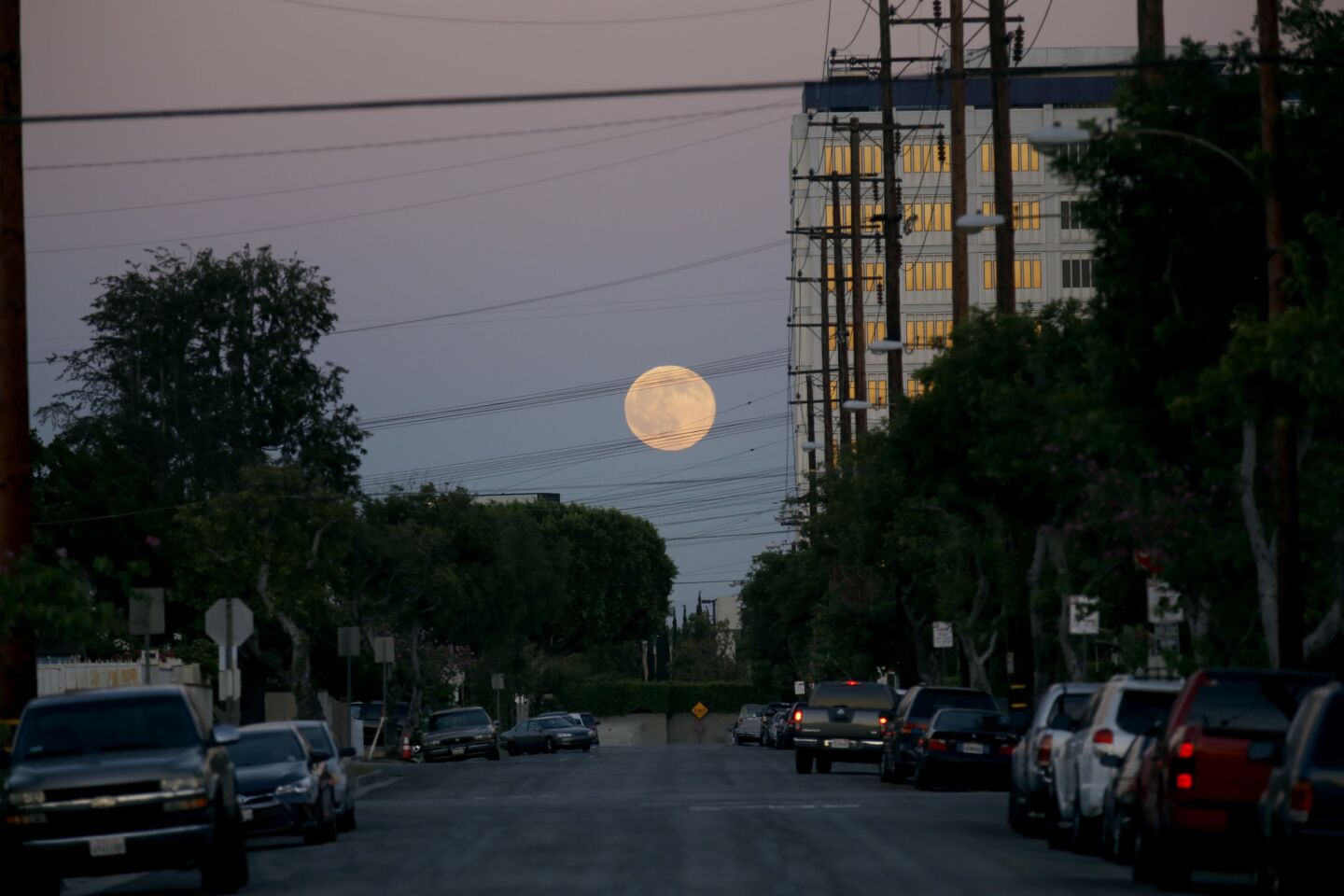 A full moon rises over Commerce.
(Francine Orr / Los Angeles Times)
The city of Commerce has vacation cabins for residents just a quarter-mile from Lake Arrowhead.
(Irfan Khan / Los Angeles Times)
Among the cluster of small struggling cities that line the 710 Freeway in Southeast Los Angeles County, Commerce has always been different.
Fueled by hefty tax revenue from the Commerce Casino, Citadel outlet mall and other businesses, the city has long provided services to residents that surrounding communities cannot match, including extensive recreation facilities, rent subsidies for the elderly and even a mountain retreat.

For the record:
12:13 p.m. Aug. 18, 2019An earlier version of this article incorrectly identified the railroad involved in a derailment in the city. The railroad was Union Pacific, not BNSF.
But the generous largess masks what to many residents is another problem that has plagued the region: Government dysfunction. Neighbors like Bell, Vernon and South Gate have been rocked by highly publicized corruption scandals. And Commerce is now also having its own struggles.
Longtime Councilwoman Tina Baca Del Rio recently agreed to pay a $55,000 penalty from the state's Fair Political Practices Commission for numerous violations of the state's political ethics law, the largest fine ever imposed by the agency against a sitting local elected official, according to figures provided by an FPPC spokesman.
And it isn't just Baca Del Rio. Her council ally, Mayor Ivan Altamirano, has also agreed to a $15,500 fine for campaign finance disclosure problems and conflicts of interest after he voted three times to appoint his sister to the city's Planning Commission and voted to place a stop sign near his house. Councilwoman Lilia Leon is also the subject of an FPPC investigation, the spokesman confirmed.
Baca Del Rio was reelected in 2009 after being recalled the year before. Councilman Hugo Argumedo was reelected last year after being forced to resign in 2010 because of a misdemeanor obstruction of justice conviction stemming from allegations that he signed a false affidavit in support of a former city attorney. And in 2012, former Councilman Robert Fierro pleaded guilty to conspiracy charges when he was accused of urging a campaign contributor to lie to the grand jury.
In many ways, Commerce mirrors the demographics of surrounding communities. Its population is predominantly working-class Latino and, like its neighbors, it has a history of political turmoil and allegations of corruption at City Hall.
But unlike Commerce, other cities in Southeastern L.A. County have long struggled with weak tax bases that have limited the services they could provide residents.
With only 13,000 residents, Commerce's general fund budget is approximately $60 million. That figure dwarfs Bell's $13-million budget, which supports a population of more than 35,000, and Maywood's $5.8-million budget for a population of 27,000.
Residents are offered a generous menu of services. Low-income elderly residents get $200 a month to help pay their rent, though city leaders recently said they're phasing out the subsidies. Parents can keep their kids busy with sports and reading programs year-round at bargain prices. The city also provides vacation cabins in the San Bernardino Mountains, and residents have free access to the Brenda Villa Aquatic Center, which also includes fitness rooms and dry saunas.
City leaders describe the benefits as a social contract of sorts. Residents are affected by industrial activities, including the freight trains, which cut through town and once crashed into a Commerce neighborhood. More recently, contamination from a shuttered battery recycling plant in nearby Vernon is believed to have spread across several cities in Southeast L.A. County, including Commerce.
"These uses are necessary and for the economy of the entire state. But people in Beverly Hills and Santa Monica do not have to live with the impacts -- we do," said Mayor Altamirano. "Our residents may benefit from some of the revenues that we have, but they also have to suffer from all the negative impacts."
On a sunny afternoon at Rosewood Park, resident Danielle Maravilla was quick to rave about the amenities. She said a friend from Corona is trying to move to Commerce for a slice of the good life.
If residents like Maravilla have no idea about the tumult at City Hall, some in town say that's because the wonderful city services keep her and other residents distracted from city politics.
Luis Ramirez, a lifelong Commerce resident, noted that there are no resident groups organized to watch city politics. There's also a general sense among residents that, despite the scandals, they don't belong to that group of Southeast Los Angeles County cities so infamous for corruption, he said.
"Psychologically, it's impacted us in terms of our political awareness," he said.
Commerce was founded in 1960 when frustrated residents opposed a move by Downey to annex the industrial parts of town but exclude the neighborhoods, which Downey officials considered too expensive to serve, said Charles Elliott, who was commissioned in the early 1990s by Commerce to write the town's history.
With a geographic area that is mostly industrial and only a few thousand residents, the city snatched up a tremendous tax base and set about building all those libraries and parks they couldn't get from county officials.
According to Elliott's book, the leader of the city's Industrial Council declared that Commerce would be a "model city" with "no corruption, no gambling and vice, no payoffs, no blackmail."
Those words wouldn't stand the test of time.
First came the gambling. As manufacturing industry eroded, Commerce looked to other revenue sources to maintain its wealth. The solution was the Commerce Casino, which alone provides $22 million a year in licensing fees to the city.
Then came the corruption. Several council members in the early 1980s were convicted of fraud or pleaded guilty in a bribery scheme involving the casino.
The corruption ushered in a quieter era -- but it would not last.
In 2010, Argumedo pleaded guilty to obstruction of justice when he was accused of signing a false affidavit in support of former City Atty. Francisco Leal, who was in a dispute with the city over legal fees. Argumedo resigned and was prohibited from running again for three years. Despite the guilty plea, he was reelected last year with fewer than 600 votes on March 3, and the city has filed a lawsuit alleging that he is lawfully ineligible to serve. That case is still pending.
Argumedo's frequent rival on the council, Baca Del Rio, faces problems of her own. In proposing its penalty, the FPPC accused Baca Del Rio of improperly transferring more than $8,000 from campaign funds into her personal bank account. Baca Del Rio said she was paying back personal loans to her campaign. But FPPC documents state that, while investigators found evidence of a $5,600 cash deposit, Baca Del Rio took at least $2,134.09 more than what she loaned herself. She also spent campaign funds on a kitchen remodel, the FPPC alleged.
Officials with the L.A. County district attorney's office will also be reviewing the FPPC's allegations against Baca Del Rio, a D.A.'s office spokeswoman said.
Baca Del Rio is a controversial figure in the city. She was recalled in 2008 in a campaign partly financed by brothers Tom and Ron Calderon, once powerful Sacramento politicians before they faced corruption charges.
But voters sent her back to the council a year later.
The other council members being investigated by the FPPC downplayed the nature of the probes. In interviews, Leon said the FPPC is only looking into her campaign filings because the three council members shared campaign expenses, and the agency is trying to determine if the numbers match. Altamirano said he made innocent mistakes but that he would own up to them and "pay whatever fine they want me to pay."
This summer, a new controversy has divided the City Council. Argumedo's opponents have suggested his half-brothers Art Chacon and Hector Chacon were involved in the lobbying campaign for a retail center project that was approved on a 3-2 vote. Leon claims Argumedo's family ties amount to a possible conflict of interest and that he should not have voted on the project.
Argumedo's mother's house appeared as the return address in mailers promoting the project, which would include a WalMart. Argumedo's half-brother Art Chacon was seen passing out T-shirts and food to supporters at a Planning Commission hearing, according to resident John Soria, who was present at the meeting. Paul Fickas, the chief lobbyist on the project, said he did not hire either of the Chacon brothers to do work advancing the development. He said Hector Chacon is a family friend who has worked on other lobbying efforts.
Art and Hector Chacon did not return phone calls for comment.
Argumedo said he has no knowledge about whether his half-brothers were involved in the lobbying and promotions. He said the fact that his mother's residence was listed on promotional material as the return address was a mere coincidence involving his aunt, who was at the home when someone came by and asked her if she would sign some papers in support of the WalMart. His aunt wants a WalMart in town because it would include a pharmacy, and she's still dealing with the lingering effects of a stroke, he said.
Some Commerce residents say they are troubled by some of the council's actions but also said they don't lose sight of what the city offers them.
Ramirez, the lifelong Commerce resident, spoke against the retail center project and was disappointed the city approved it.
But Ramirez has also enjoyed what the city has to offer. As a child, he went to Camp Commerce, the city's vacation spot in the mountains near Lake Arrowhead. It was a place to relax, go fishing and get away from the urban and industrial landscape of his hometown. Weekend camping sessions start at $15 a person, according to the city website.
"For a city boy being out in the country, being in the forest, it had a big impression on me," Ramirez said.
ALSO
California's water conservation dips in July — are eased rules to blame?
Yosemite announces biggest expansion in 70 years, adding new meadows and forest land
Death row inmates' surprising views on death penalty vote: 'If you are going to execute me, execute me'
The stories shaping California
Get up to speed with our Essential California newsletter, sent six days a week.
You may occasionally receive promotional content from the Los Angeles Times.