Commerce's Aquatorium has Olympics water polo on its mind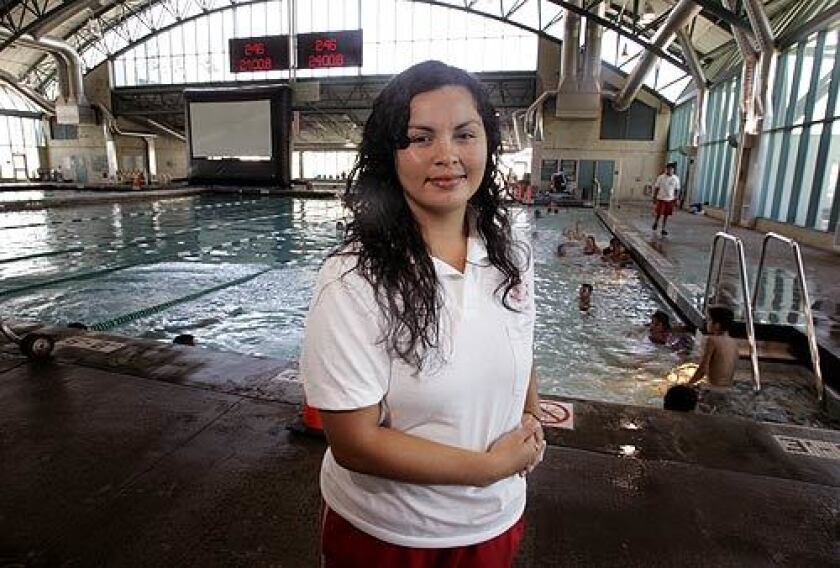 Los Angeles Times Staff Writer
Sergio Jimenez splashed around the edge of Commerce's Aquatorium pool proclaiming the news to anyone willing to listen.
"Brenda and Patty won 9 to 8," the 7-year-old said after the U.S. women's water polo team defeated Australia at the Olympic Games on Tuesday. "I thought the U.S.A. was going to win, and I was right!"
Michael Phelps may still dominate headlines, but inside this Aquatorium, Sergio and his water polo teammates have been more captivated by the triumph of two other Olympians: Brenda Villa and Patty Cardenas. They are part of the women's water polo team that won a silver medal after being defeated by the Netherlands on Thursday morning.
Not too long ago, Villa, a three-time Olympian, and Cardenas were bouncing around in the Aquatorium as members of the Commerce water polo club. Now, more than 6,000 miles away in Beijing, they were giving their hometown a fresh image and the children at their childhood aquatic center the highest of hopes for their sport.
Many of the 150 or so young swimmers who make up the Aquatorium's nationally ranked program have been glued to television and computer screens watching Villa and Cardenas in awe, closely noting their plays, their goals, their facial expressions. Some 250 people in Commerce, including the mayor and Cardenas' parents, gathered at the center at 3:30 Thursday morning in front of a giant television to cheer on the women.
"I see them, and I think, anything can happen to us," said Alfredo Delamora, 13, who recently returned from Hawaii, where he competed for Commerce. "Someone from Commerce went that far. We could do it too, if we set our minds to it."
Like Alfredo, many of the children on the Aquatorium water polo teams are neither well-off nor well connected. Many are the children of landscapers, truck drivers and factory workers. They live in Commerce, a blue-collar city of about 13,000 known not for beach views or recreational offerings, but for its expansive casino and industrial corridors. More than 90% of the population is Latino, and the annual median household income is less than $40,000.
But early on, the city caught on to the children's knack for water sports and nurtured it. In 1961, the city built a top-of-the-line aquatic center. Former coach and water polo pioneer Sandy Nitta used to encourage youngsters to get involved in the sport, using trash cans for goals, said Aquatorium supervisor Barbie Bylsma-Houghton. The new center was built in 2001.
Today, use of the $20-million facility, competition registration fees and player travel expenses are paid by the city. Parents cook and sell tacos, tamales and tostadas to cover additional expenses.
Years ago, Bylsma-Houghton started a campaign to have women's water polo recognized as an Olympic sport, hoping that some of the Commerce players might be picked for a U.S. team. The first women's Olympic competition took place eight years ago in Sydney, Australia. Villa competed there, the youngest on the team, helping the women win silver, and again four years later in Athens, where the U.S. took the bronze medal.
This time around, phones have been ringing more than ever because of media wanting to learn about the Aquatorium's success. NBC filmed Thursday's gathering to air later in the day.
Villa and Cardenas are celebrities at the Aquatorium, but they hardly show it, staff members say. Villa, 28, began playing polo here at age 8. Cardenas, 24, started taking swimming lessons when she was 3. Local businesses partnered with the city to pay for their families and friends to travel to Beijing.
The women keep close ties to Commerce, occasionally dropping by the center to swim or hold scrimmages with younger players. Villa's collection of trophies lines a shelf on the second floor of the two-story facility, and inside the staff office, lifeguards point with pride to a recently posted photo of Villa and Cardenas with President Bush.
The two women often stood out because they were shorter than the rest of their Commerce teammates -- a fact not lost on water polo player and swimmer Laura Jimenez, 11. The petite girl with reddish-brown hair said she considered her small size a detriment until she witnessed Villa and Cardenas' success.
"They showed everyone that size doesn't matter," said Laura, who's been going to the Aquatorium every week since she was 6 months old.
Coach Christian Flores, 21, said the enthusiasm of his players has been sky-high since the Olympics began. Many have elevated their game, dreaming that they, too, could be among the best in the world.
"They work so hard, you know you're going to keep seeing girls from Commerce play in the Olympics," he said.
esmeralda.bermudez @latimes.com
---
The stories shaping California
Get up to speed with our Essential California newsletter, sent six days a week.
You may occasionally receive promotional content from the Los Angeles Times.