Gang sweep targets Bloods clique in Compton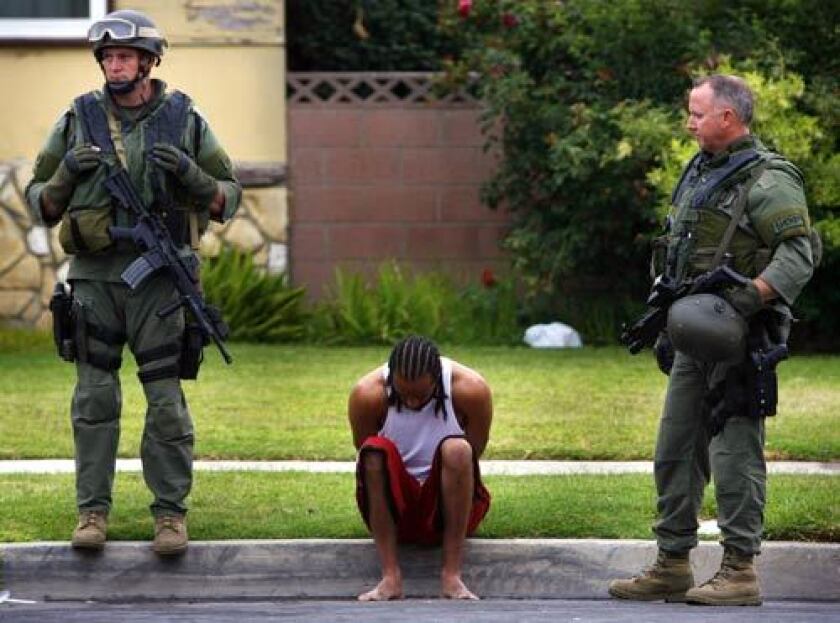 Los Angeles Times Staff Writer
About 450 state and local police officers swept through Compton, Lynwood and other parts of Los Angeles County early Tuesday, arresting 16 people and serving more than a dozen search warrants in an operation aimed at dismantling a violent clique of the Bloods gang.
The raids were the culmination of a seven-month investigation, "Operation Killen Court," that targeted gang members in the Mob Piru clique. Authorities allege that members of the clique are responsible for many violent acts and have perpetuated the area's underground gun trade.
"This gang has terrorized the community for quite some time now," said Chief Cecil Rhambo of the Los Angeles County Sheriff's Department. "This is one of our target gangs."
Since the investigation began in December, 24 Mob Piru gang members have been arrested and more than 18 guns have been seized. Among those arrested were Alex Graves, 23, Maurice Bennett II, 19, and Robert Maxwell, 19, who authorities allege killed Kyutza Joan Herrera almost a year ago in Lynwood. One other person connected with the slaying is still being sought, authorities said.
Last summer, authorities said, Herrera, 20, was sitting in a car with her boyfriend in front of the Ace Liquor store on Long Beach Boulevard when two cars with Mob Piru members drove past, firing at rival Crips gang members inside the store. Herrera, who was not affiliated with either gang, was hit with a bullet from a high-powered assault rifle and died, authorities said.
The operation began when investigators in the Compton sheriff's station asked the state attorney general's office for assistance in prosecuting the gang after the fatal drive-by.
During the investigation, officials from the state attorney general's office and the Sheriff's Department, using wiretaps and other electronic surveillance, allege that they observed gang members buy and sell guns and talk about killings.
Jerry Hunter, assistant chief of the Bureau of Narcotics Enforcement, called the raids "icing on the cake," adding that investigators believed that they already had much of what they needed to prosecute many of the targeted gang members.
In one instance, investigators said that after monitoring the gang, they stopped a likely shootout between Mob Piru and the Insane Crips of Long Beach.
A heavy police presence at the scheduled time of the killings deterred the confrontation, investigators said.
Mob Piru has been around for decades and boasts about 200 members and controls much of the area east of Long Beach Boulevard, said Special Agent Scott Barker of the state Department of Justice. The Piru gangs began in the 1970s, named after Piru Street in Compton, and later called themselves Bloods. Mob Piru began gaining notoriety in the 1990s with alleged connections to rap music impresario Suge Knight and Death Row Records.
While monitoring the gang, authorities said, they were surprised by the amount of time the group spent talking about buying and selling guns.
"These guys, all they seemed to talk about was moving guns around," Barker said.
Also among those arrested during the operation were three U.S. Postal Service employees, including Graves, who was arrested May 7 and is suspected of taking part in Hererra's slaying; Sergio Moran, age not given; and Warren Phillipus, 28.
Investigators said Phillipus robbed the Rancho Park post office in October and planned to rob the Rimpau post office but was thwarted by authorities.
Highly publicized gang raids and arrests are popular with voters and standard grist for politicians, and may help Atty. Gen. Jerry Brown, who has expressed interest in running for governor, though he deflected a reporter's question at a news conference Tuesday about his intentions to enter the race.
Another possible contender for governor, Los Angeles Mayor Antonio Villaraigosa, has also made gangs a priority.
Earlier this year, he announced an overhaul of the city's anti-gang efforts, focusing the city's suppression, intervention and prevention programs in the core gang areas.
Times staff writer Phil Willon contributed to this report.
---
The stories shaping California
Get up to speed with our Essential California newsletter, sent six days a week.
You may occasionally receive promotional content from the Los Angeles Times.