Inside the California facilities holding children separated from their parents at the border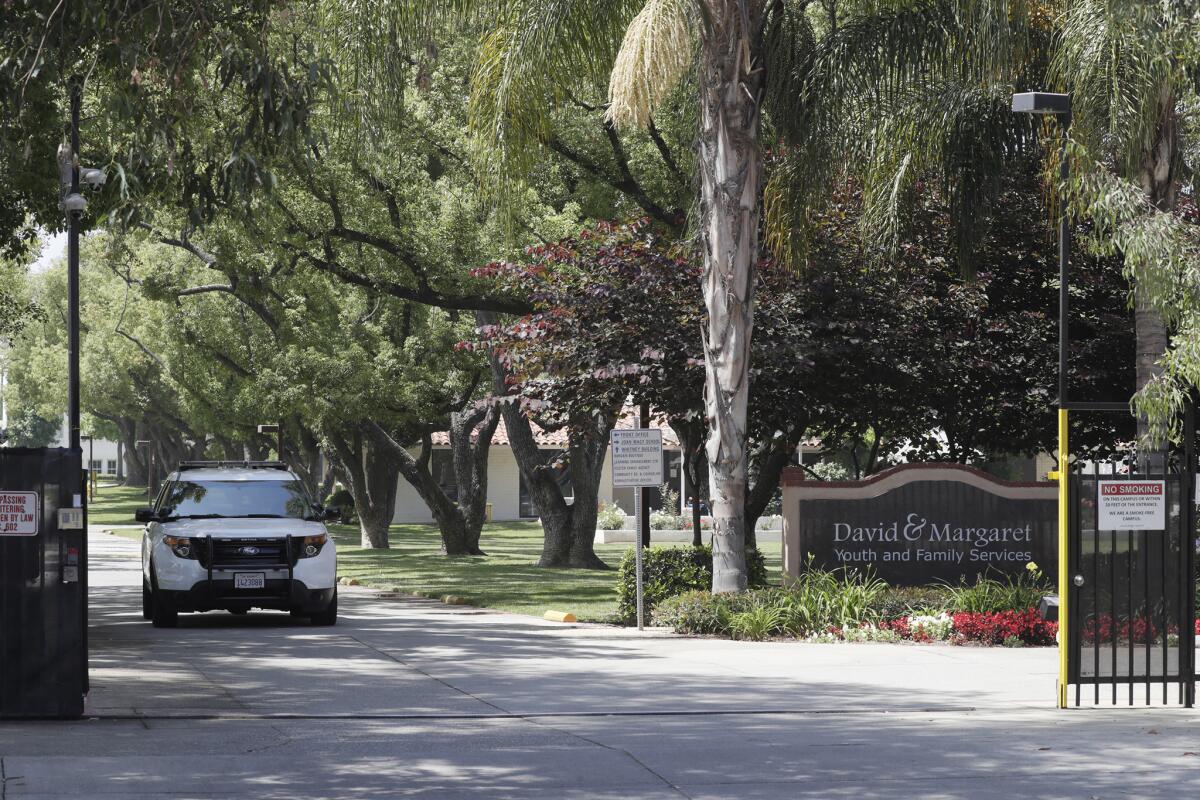 In a quiet nook in the small city of La Verne, small cottages topped with Spanish tile are spread across a sprawling green campus.
Long ago, it was an orphanage; now it's a group home for foster kids. Recently, it also became one of several shelters in the Los Angeles area that quietly began to house kids who have been split from their parents at the border.
David & Margaret Youth and Family Services features a school, a market and a pool — even a cafe offering a $5.50 turkey sandwich called California Dreamin'.
It is now home to some of the children who were forcibly taken from their parents under President Trump's "zero tolerance" immigration policy. It remains unclear how long they will be separated from their families, frustrating leaders across Los Angeles trying to help the estimated 100 kids in facilities throughout the region.
On Saturday, California regulators vowed to immediately begin reinspecting all of the group homes and foster family agencies charged with housing the children. They will focus first on those that serve the youngest kids.
Details began emerging in recent days about the whereabouts of the separated children sent to Los Angeles and other places around the country. But this has done little to ease concerns about the children's welfare.
Some worry that exposing their locations could put the kids at further risk.
"People can have the best intentions to help, but it can be very detrimental for the children," said Camila Alvarez, managing attorney with the Central American Resource Center. "Some of these places are not well-known intentionally."
Immigration advocates said they were hopeful the children would receive good care with the Southern California agencies.
"Believe me, these kids are way better off here being cared for than probably any other place in the U.S.," Lindsay Toczylowski, the executive director of Immigrant Defenders Law Center, said on Facebook. Her organization works directly with children in detention.
She added that her organization's clients "who have been housed in local shelters have never raised any safety concerns."
Most of the kids in the L.A. area are under 9. They are reportedly detained in facilities and foster homes run by at least four nonprofit agencies.
Officials with the Office of Refugee Resettlement, the federal agency charged with managing the kids, did not respond to repeated requests for comment.
According to federal contracting data, three of the agencies have been awarded three-year federal grants that vary from $2.7 million to $22 million to shelter and find foster care for unaccompanied minors.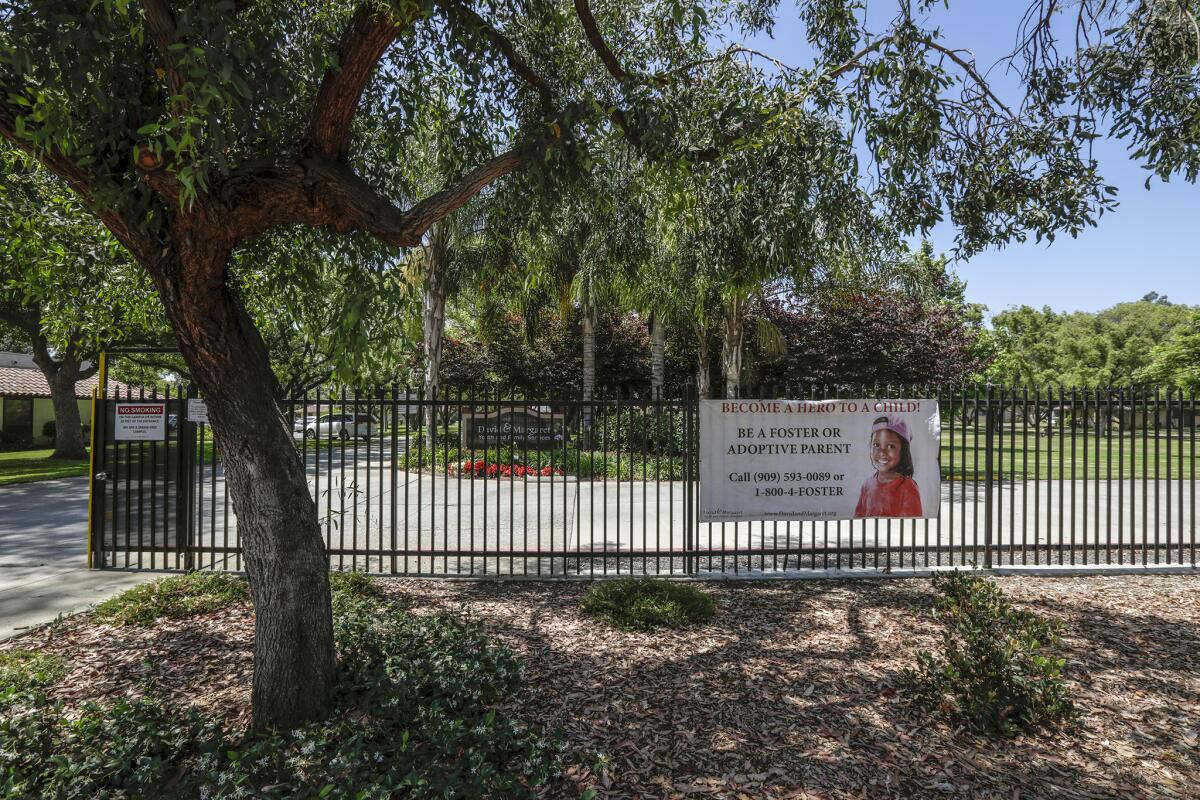 The David & Margaret shelter is contracted to hold about 60 unaccompanied kids for an average of 30 days. Children stay in group homes with names like "La Casa" and "Casa Bonita," each licensed to house up to 10 kids.
According to its website, the organization serves 1,700 people annually. The facility "serves girls ages 11-21 who are in foster care, while they are unable to be with their own families. They live in safe, secure cottages with round-the-clock, trauma-informed, therapeutic care provided by case workers, who help provide the support they need to rebuild the resiliency to rejoin their families and communities."
State records show that in April, a staff member was put on leave and then resigned after a child said the staffer grabbed him with both hands and pushed him to the floor because the child refused to give up a portable speaker.
Officials did not respond when asked about the incident.
"Like the rest of the country we are troubled by what has occurred at our borders," Maggie Bohlman, the facility's director of development, said in an email. "We do not set public policy and cannot be distracted from the work we do…. We are committed to providing a safe, nurturing and comforting environment to all the children we serve."
In Fullerton, Crittenton Services for Children and Families holds the largest federal grant to work with unaccompanied minors. It has two facilities that house kids ages 8 to 17. It employs social workers, clinicians, nurses and educators. In state records, the agency is described as a short-term refugee shelter where children separated from family can recover in a safe environment and "work toward unification or adoption."
In 2012, the agency came under intense scrutiny over one of its case managers. Victor Salazar was convicted of molesting three teenage boys in his care and sentenced to four years in prison. Salazar would molest the boys while they used his phone to call their families, prosecutors said at the time.
Officials did not comment when asked about the case. In a statement, the agency said, "The youth in our care will always be treated in a dignified and respectful manner; they are doing well despite the circumstances they find themselves in; and we take great care to customize services for each of our youth and provide a supportive environment where we can help them process through any distress they are experiencing.
"We have no say in national public policy but can only continue to hope that the perspective of child welfare continues to be taken into consideration."
Two other organizations providing children with foster homes in Southern California are Nuevo Amanecer Latino Children's Services and International Christian Adoptions.
Nuevo Amanecer has five offices across the region. It provides foster care for unaccompanied children and others in Los Angeles County, along with other services.
"Our mission is to provide our children and families with love, education and family-based concurrent planning services," the organization states on its website.
The agency, which has been open since 1994, has been cited with 65 health and safety violations.
Executive Director David Danwing did not respond to questions about the violations. He said in an email that "at this time, we do not want to get distracted as we continue to ensure the well-being, protection and safety of the migrants under our care. Perhaps in another time, we can discuss any questions you may have."
International Christian Adoptions in Temecula got $838,000 in the last year to work with unaccompanied kids. The agency helps connect children with foster families in the area. It has been cited four times for "immediate health safety or personal rights" violations, according to state records.
A woman who answered the phone Friday said officials would be making no comment.
Earlier this week, the agency posted on its website an urgent call for families to host refugee children. "IMMEDIATE NEED!" the flier said, announcing an informational meeting June 21. But by Thursday, the meeting had been canceled, as the agency appeared to switch course and approach families individually.
"We are still in desperate need of families and would love to schedule a time to meet with you," officials wrote on the group's Facebook page.
The Department of Social Services regulates California's group homes and foster agencies, including those that provide housing for immigrant children. It issues licenses and is tasked with making sure the agencies meet the state's health, safety and staffing requirements.
Michael Weston, a spokesman for the Department of Social Services, said Saturday that officials would be reinspecting all facilities contracted by the Office of Refugee Resettlement to house immigrant children.
He also said it is "not uncommon for a large agency to have multiple citations over a period of several years."
Alvarez, attorney with the Central American Resource Center, said it was important to hold agencies caring for immigrant kids accountable. But she and other advocates said it was good to keep the children in local shelters, rather than in Georgia, Michigan or Texas.
On Friday, L.A. Mayor Eric Garcetti said he was trying to get information about the kids.
His office said he knows about the facilities housing them and is monitoring the situation. He has requested details from the U.S. Department of Health and Human Services, but the agency has not yet responded.
Meanwhile, he is working to find ways to support the kids, through donations and community outreach.
"The biggest gap, if the federal government would take us up on this, is matching … kids and parents," Garcetti said. "I don't see any system for that right now."
Times staff writer Emily Alpert Reyes contributed to this report.
Twitter: @palomaesquivel
esmeralda.bermudez@latimes.com
Twitter: @LATBermudez
Twitter: @agrawalnina
---
UPDATES:
June 23, 9:25 a.m.: This article was updated with details about California state inspections of facilities charged with housing children.
This article was originally posted June 22 at 11:10 p.m.
Sign up for Essential California for news, features and recommendations from the L.A. Times and beyond in your inbox six days a week.
You may occasionally receive promotional content from the Los Angeles Times.