Egrets ruffle feathers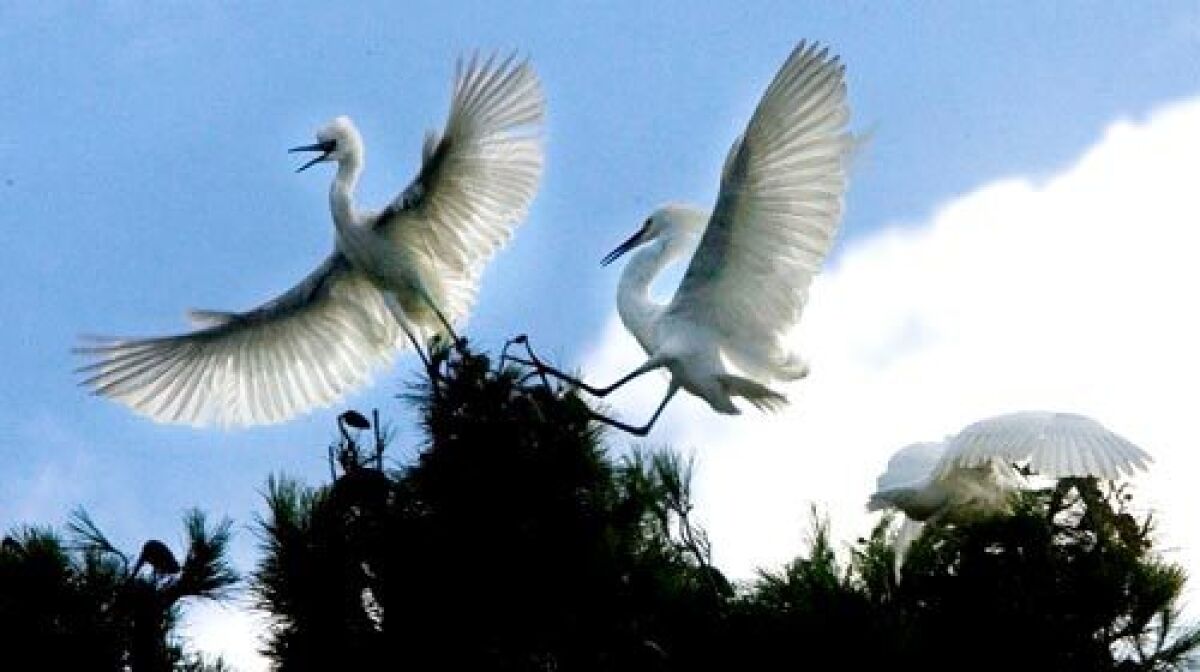 Los Angeles Times Staff Writer
WILLOWS, CALIF. —
Nobody knows why the birds have staked their claim on this farm town 90 miles north of Sacramento.
But it's the third consecutive year and, by all accounts, the worst.
"The community has had enough," said Steve Holsinger, Willows' city manager. "They're just fed up."
Memorial Park, a square-block stretch of green near the center of town, is encircled with yellow police tape and is off limits to normal use. More than 1,000 birds, mainly snowy egrets and some black-crested night herons, are nesting there, turning patches of lawn a lunar gray and showering the grass with broken shells and feathers. Officials say the guano is slowly killing 60-foot-tall redwoods and pines.
In the park and on bordering streets, county crews have picked up more than 1,200 dead chicks that toppled from nests on high. Neighbors complain about stench and flies, and half-digested crayfish raining down on them as they try to dine outdoors.
With the birds protected by the Migratory Bird Treaty Act of 1918, some see the closed park as an example of well-intended government regulation gone awry. The law prevents Glenn County, which owns the land, from chasing the creatures out during breeding and nesting -- a period that started in April and won't end until sometime in September.
"The rights of birds are outweighing the rights of humans," said Jane Foster, a mother of six who lives near the park and is reluctant to let her children play in the yard. "I tried to plant a garden, but I didn't get far because of the smell. I'm just tired of the whole thing."
Earlier this year, a proposal to thwart the birds by cutting down the trees stirred outrage, partly because that might just drive the birds to roost somewhere else nearby. Before nesting began in earnest, county employees tried to scare them off with air horns, but the wailing disrupted court hearings.
"We had some success, but a judge said if we did it one more time he'd have everyone arrested," said Bobbé Lewis, the Glenn County official who oversees the park.
Flanked by City Hall, the local courthouse, Glenn County offices, the Sheriff's Department and Willows High School, the park is at the heart of a city that is more bird-friendly than most. The high school team is called the Honkers. Birders visit Willows en route to the Sacramento National Wildlife Refuge, a massive expanse a few miles away that's a winter destination for hundreds of thousands of geese and other waterfowl.
Just why the egrets of Willows prefer in-town real estate is a mystery to the experts.
"They'd be glad to have them out there," said Paul Hofmann, a wildlife biologist for the California Department of Fish and Game. "I just don't know how to communicate that to the birds."
As more birds flocked to Memorial Park in the spring, the human tide receded. Ordinarily it's a quiet spot for picnics, weddings and evening strolls. Veterans have been welcomed home there. Jurors would amble over from the courthouse during breaks, and county employees would eat their lunch on picnic tables now shrouded in white.
Across the street, Matt Watts wears a protective mask when he mows the feather-strewn lawn in front of his century-old home. People who rented the house next door moved away, sick of the mess, he said. His wife, Heather, was sidelined for weeks this summer with bronchitis stemming, she speculated, either from smoke from nearby wildfires or exposure to the birds.
"At first we thought, 'Wow! This is kind of cool,' " Heather Watts said of the birds' arrival in 2006. "But now we just want them gone."
Some neighbors say they haven't had a good night's sleep for some time.
"I'm half deaf from heavy equipment," said Fred Roberts, 88, "but I have to consciously shut the noise out. It sounds like a raucous high school party."
"No, it's like a bunch of old guys playing poker," offered his son Michael. "It's like a muffled crowd noise -- a loud, muffled crowd noise."
The city and county plan to collaborate next year on the sort of hazing measures used to combat bird invasions elsewhere. The trees in Memorial Park will be pruned and this year's nests dismantled. Deputies will fire blasts at dawn and dusk with the kind of cannon used to steer birds away from vineyards and airports. There's talk of strobe lights.
"It will be a continuous effort for several weeks," said Scott Gruendl, director of the Glenn County Health Services Agency. The plan calls for residents to be instructed on crafting their own noisemakers so the birds can be wrangled out of town to a wooded creek or some out-of-the-way eucalyptus grove.
Gruendl said he had refused requests to declare the park a public health hazard. Research suggests that guano has to accumulate over time, dry out and become airborne for it to pose a danger of spreading certain illnesses, he said.
"The hazard here doesn't rise to that level," he said, contending that the risk of disease is minimal because crews seek out dead birds daily and clean the park and surrounding streets weekly. Areas with concentrated droppings are power-washed.
"We're not going to use public health as an excuse to override legal protections and do something detrimental to this bird population," Gruendl said.
Concerned neighbors, who have more than once Googled "egret guano," are skeptical.
"You really think you can't get sick from breathing this stuff?" Matt Watts asked, surveying the park from his porch.
All that residents can do now is wait until the birds fly off next month and the government rolls into its move-'em-out campaign next year.
Lewis, the county official in charge of the bird effort, is also waiting. From her office she can peer through the blinds at the tall, graceful egrets dotting the trees like so many Christmas ornaments.
"I see them every day as my particular nightmare," she said, "but they're beautiful birds."
The stories shaping California
Get up to speed with our Essential California newsletter, sent six days a week.
You may occasionally receive promotional content from the Los Angeles Times.