The Plot Thickens in Ferrari Crash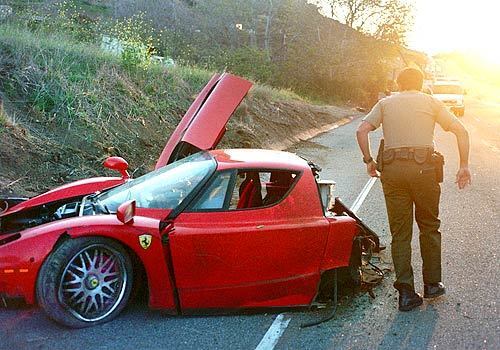 A deputy passes the wrecked Ferrari that crashed on Pacific Coast Highway west of Decker Canyon Road. The car's registered owner, Swedish millionaire Stefan Eriksson, said that he was a passenger. On Monday, he was charged with grand theft, embezzelment and a firearms violation.
(Hans Laetz / Malibu Times)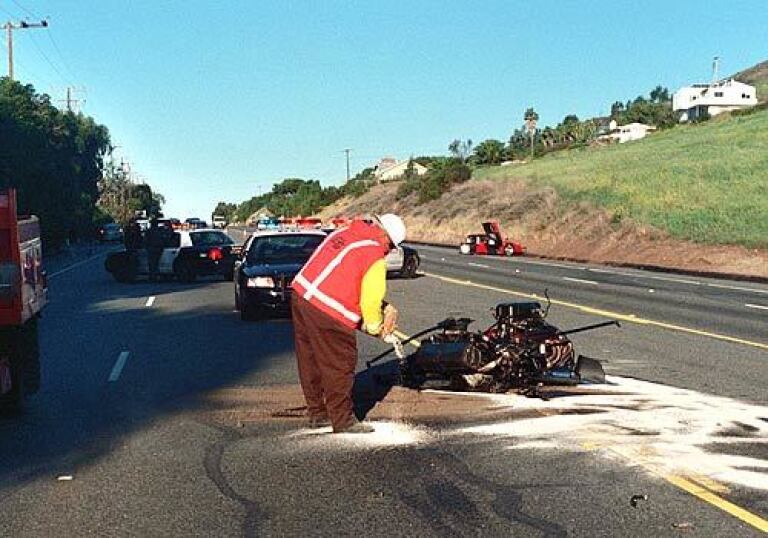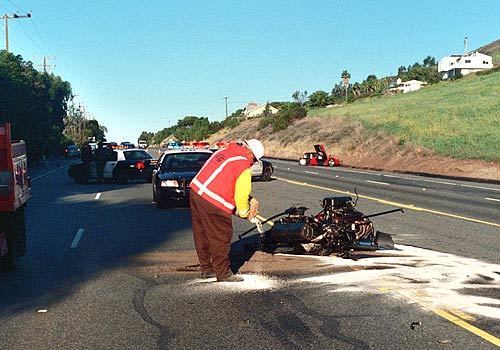 A Cal Trans worker pours sand on oil spilled from the engine the shattered Ferrari. The car is owned by Swedish millionaire Stefan Eriksson.
(Hans Laetz / Malibu Times)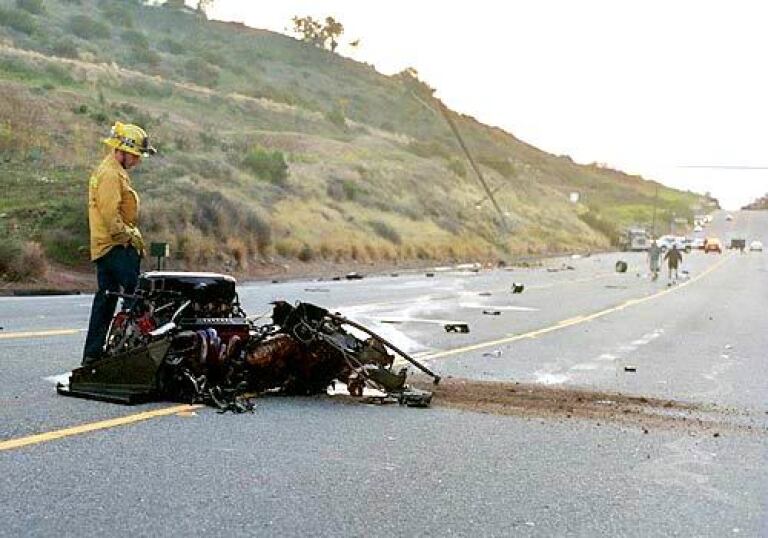 A firefighter looks at the engine to the wrecked, million-dollar Enzo Ferrari that crashed on Pacific Coast Highway on Tuesday.
(Hans Laetz / Malibu Times)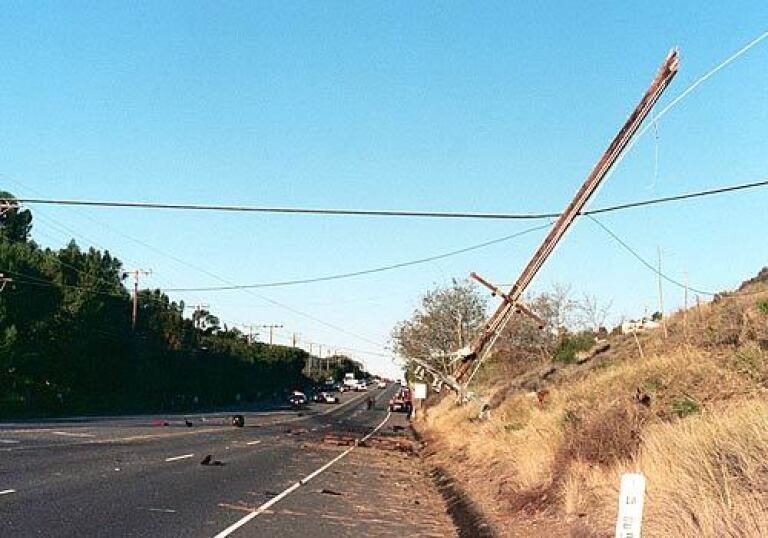 A telephone pole hangs hangs by a cable tv antenna after it was hit by Stefan Eriksson's Ferrari.
(Hans Laetz / Malibu Times)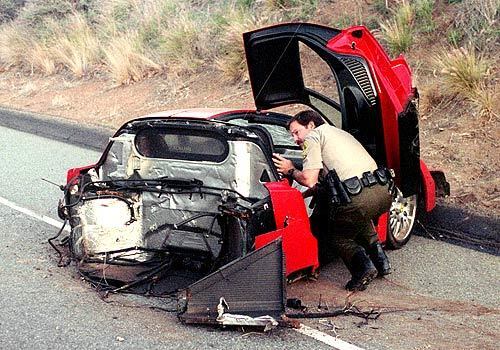 A deputy looks into the passenger compartment of the wrecked Ferrari.
(Hans Laetz / Malibu Times)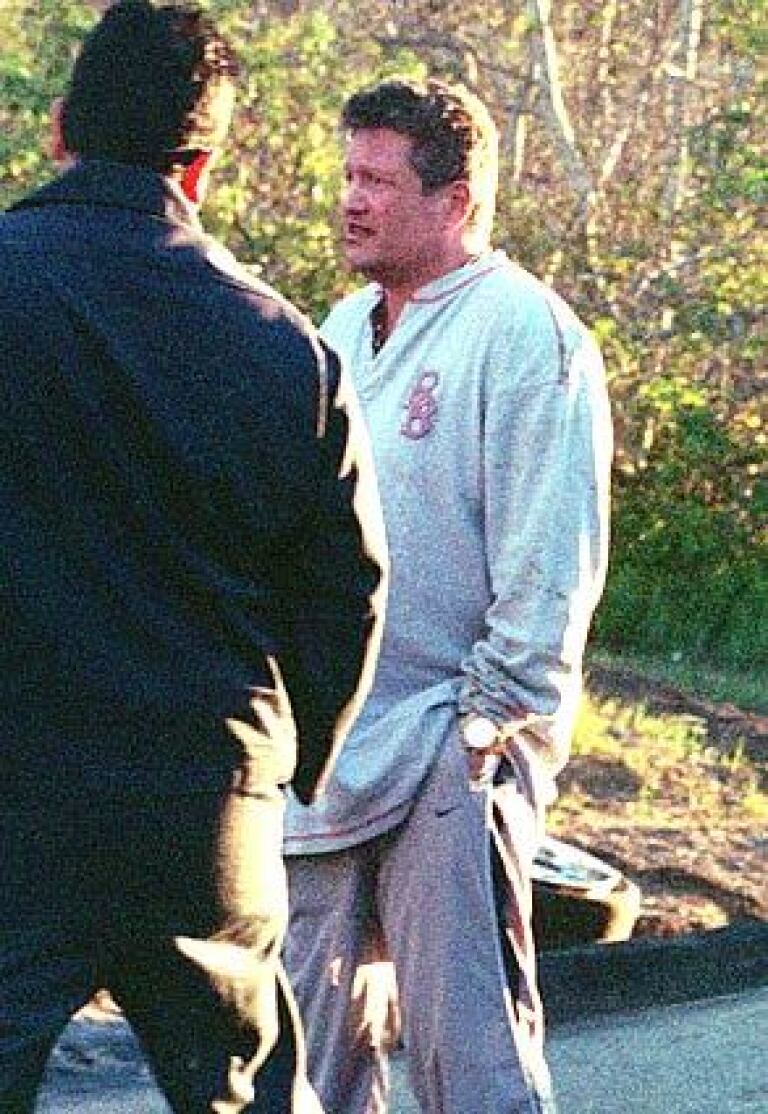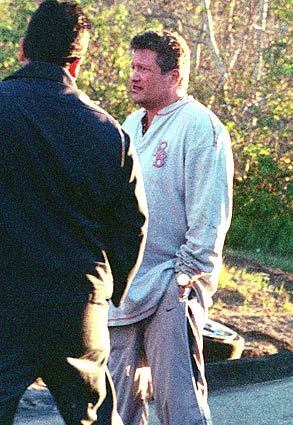 Swedish millionaire Stefan Eriksson, 44, of Bel-Air, talks to a deputy after his Ferrari crashed.
(Hans Laetz / Malibu Times)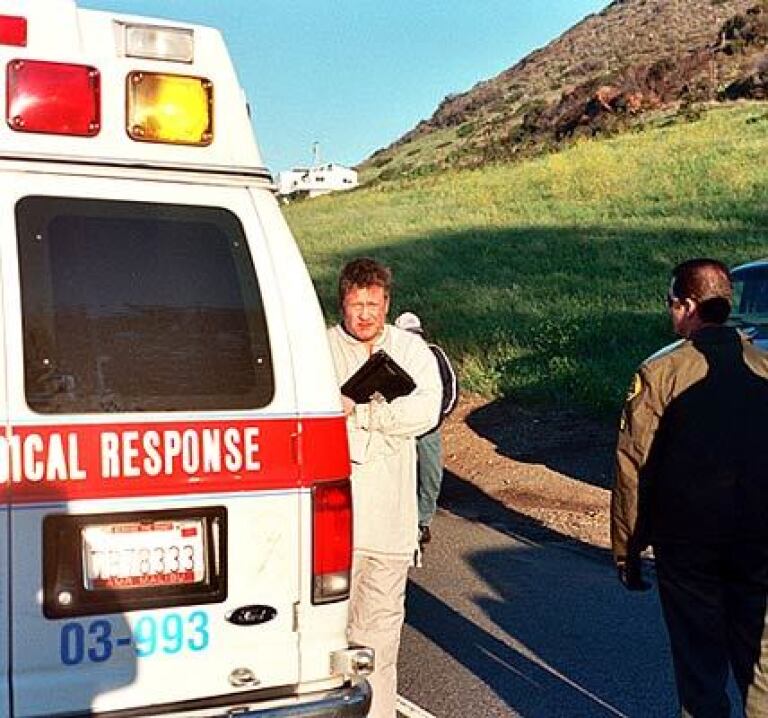 Stefan Eriksson stands next to an ambulance following the wreck of his Ferrari on Tuesday.
(Hans Laetz / Malibu Times)
Investigators analyze the scene of the crash.
()
Times Staff Writers
The mystery deepened Monday in the case of the puzzling crash last week of a $1-million Ferrari Enzo on Pacific Coast Highway in Malibu.
Sheriff's detectives said Monday that they believe a gun's magazine discovered near the wreckage is connected to the crash, and they plan to interview an unnamed person who they believe was in the car with Swedish game machine entrepreneur Stefan Eriksson.
The crash has also garnered the attention of a leading Scottish bank, which has informed sheriff's investigators that it may own the destroyed car. At the same time, detectives are trying to figure out why another exotic car in Eriksson's extensive collection, a Mercedes SLR, was listed as stolen by Scotland Yard in London, said Sheriff's Sgt. Phil Brooks.
The totaled Ferrari was one of two Enzos that Eriksson brought into the United States from England along with the Mercedes SLR, Brooks said. But detectives concluded that the totaled vehicle did not have appropriate papers and was not "street legal" for driving in California, he said.
Detectives have been trying for nearly a week to sort out what exactly happened last Tuesday morning when Eriksson's Enzo — one of only 400 ever made — smashed into a telephone pole, totaling the car. Eriksson told deputies that he was the passenger and that a man he knew only as "Dietrich" was behind the wheel. But detectives have been openly skeptical of the story, noting that Eriksson had a bloody lip and that the only blood they found in the car was on the driver's-side air bag.
Brooks said detectives have called in Eriksson for another interview. Eriksson has declined through the security guard at his gated Bel-Air estate to comment. An attorney who has previously represented Eriksson in civil matters, Ashley Posner, also declined to comment Monday.
But some city leaders in Malibu, where the crash has been the talk of the town, were less circumspect.
"The guy should have had an IQ test," said Malibu Mayor Pro Tem Ken Kearsley, who has been following the coverage of the crash with a half-grin. The driver's IQ "couldn't come up above 60 if he was doing 120 on PCH," Kearsley said.
But in fact, Brooks said Monday, the car was traveling 162 mph when it crashed, far faster than the 120 mph originally believed. The Ferrari, with just a few inches of undercarriage clearance, hit a bump at a crest in the road, sending the vehicle airborne and into the power pole, Brooks said.
Brooks said they are investigating whether someone else may have been present and are trying to determine whether the recovered gun component is connected to the case. He declined to say more about the find or elaborate on the status of the Scottish bank and Scotland Yard in the case.
The question of whether Eriksson was the driver is key to the case, Brooks said. Eriksson's blood-alcohol level was 0.09%, higher than the legal limit for operating a motor vehicle.
Sheriff's officials are still trying to confirm witness reports that the Ferrari might have been drag racing with another car, and officials aren't sure if that's what happened.
Sheriff's officials said Eriksson was an executive with a game company that attempted to take on Sony and Nintendo, but the firm collapsed last year.
In Malibu, officials said they are not sure what to make of the accident.
Kearsley said the stretch of road was not known for drag racing, but for run-of-the-mill speeders. He said the Sheriff's Department has had success for the last year and a half using radar and lasers to catch overzealous drivers. The lasers are not detectable to drivers, he said.
"It's straight as an arrow where the accident was," he said. "You really have to go out of your way to hit a telephone pole."
Carol Moss, a longtime Malibu resident, activist and meditation group leader, said the accident came as no surprise.
"It was horrendous, but Malibu is full of idiots," she said. "There are a lot of wild cars and irresponsible people. The roads are dangerous. You always see people with those sorts of cars. You see some wild behavior."
But, in keeping with her Zen frame of mind, Moss extended an olive branch. "Everyone is welcome to attend the meditation group. Even the drag racer."
---
For reporting and exclusive analysis from bureau chief John Myers, get our California Politics newsletter.
You may occasionally receive promotional content from the Los Angeles Times.