Conditions ripe for explosive wildfire season in Southern California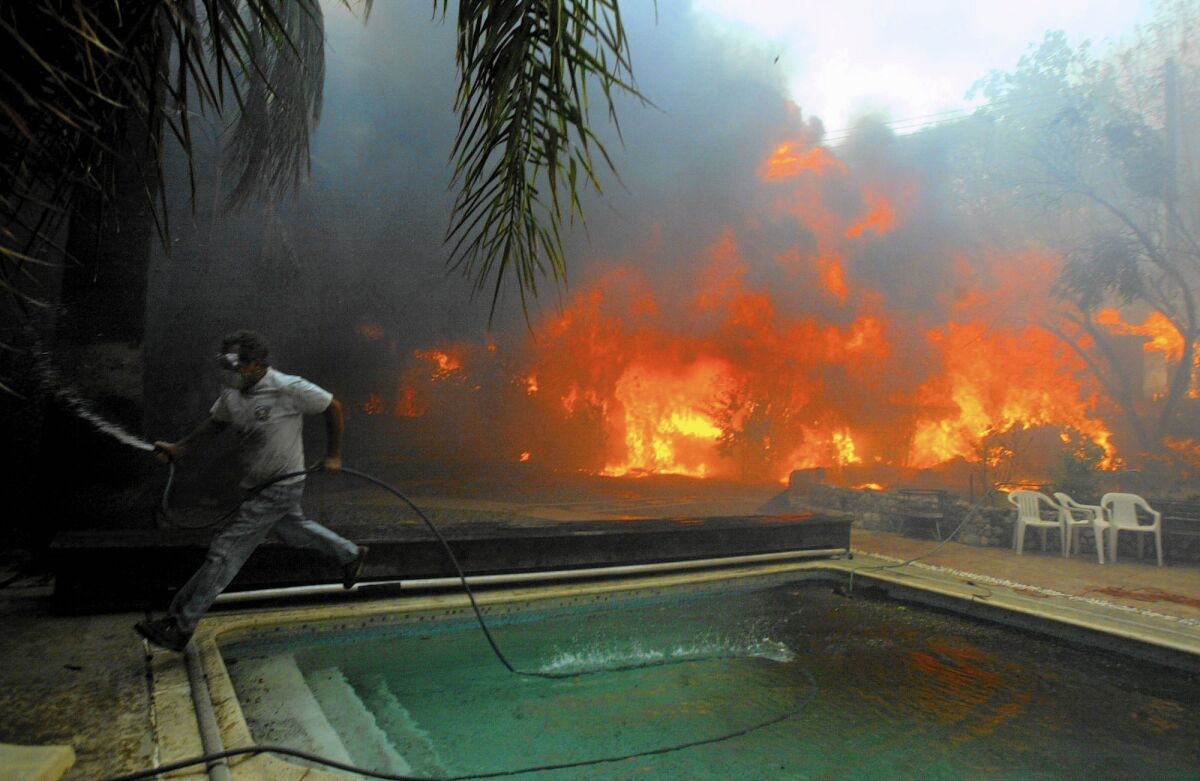 With thousands of homes burned and at least a half-dozen people dead, 2015 is already shaping up to be one of California's most challenging fire seasons.
But so far, much of the action has been in Northern California, where several destructive fires have marched through large swaths of drought-parched lands.
Now, the fire season moves to Southern California, which tends to have its biggest fires in the fall as Santa Ana winds kick up.
See the most-read stories this hour >>
While the drought has gotten much attention as a cause of recent fires, a new study documents how the dry, fierce "devil winds" have been the real destructive factor in the region.
Historically, Santa Ana fires have caused almost 10 times more economic damage than non-Santa Ana fires, according to the study, which was published this month in the journal Environmental Research Letters.
"There are more fatalities of firefighters and civilians in Santa Ana fires; the number of structures that were destroyed or damaged was much higher for Santa Ana fires," said Jim Randerson of UC Irvine, a co-author of the study. "We were able to quantify that using census data and some other information from different geospatial sources."
There is also a certain predictability to them.
Santa Ana fires tend to cluster in coastal areas and the foothills, such as Simi Valley and communities along the Santa Monica Mountains, the data showed. Major mountain passes, including the Tejon, Cajon and San Gorgonio passes, were also Santa Ana hot spots.
Four of the state's top 15 largest fires burned in San Diego County, destroying 5,400 structures and killing 30 people, according to state data.
"That's the scary part of the Santa Anas. They blow from the source into where people live. That wasn't necessarily true 50 years ago. But people more and more are living in what I call 'Santa Ana corridors,' " said William Patzert, climatologist for NASA's Jet Propulsion Laboratory in La Cañada Flintridge.
Strong Santa Anas generally begin developing in October and are caused by high pressure building from the desert, including the Great Basin, and lower pressure off the coast. The gradient, or difference, from the high pressure flowing to lower pressure creates the dry and blistering winds from the northeast.
Interested in the stories shaping California? Sign up for the free Essential California newsletter >>
While non-Santa Ana fires tend to burn in more remote areas, such as national forests and rugged wild lands, Santa Ana fires descend on more populated areas including along the coast, where higher property values and more residents are at stake, said Yufang Jin, assistant professor at UC Davis' Department of Land, Air and Water Resources and lead author of the study.
Fires fueled by Santa Ana winds spread three times faster than non-Santa Ana fires. Between 1990 to 2009, they were responsible for 80% of the $3.1-billion economic loss caused by major fires in Southern California, the study found. The fires affected more than 9,000 people and threatened more than 3,400 structures in an average year.
Climatologists say there is evidence that this Santa Ana season could be serious: They have seen a higher frequency of high pressure systems over Southern California this spring and summer.
"The subtitle on that is Santa Anas," Patzert said.
"It's this time of year again: What comes first, the rains or the Santa Anas? And this year, if it's El Niño rains, it might be too late to damp the Santa Ana season," Patzert said, acknowledging the possibility that the weather phenomenon could bring a subtropical jet stream to California that normally pours rain over the jungles of southern Mexico and Central America.
"El Niño rains tend to come in January, February, March," Patzert said. "And Santa Anas peak in November and December."
Read more about California wildfires >>
For the past few falls, Santa Ana winds did not materialize in its typical intensity. Experts say that the drought, ironically, may have also quieted the weather systems usually responsible for the annual winds that are endemic to the region.
But wind or no wind, fire conditions have been so extreme in recent years that the so-called fire season has become a yearlong battle, officials said.
"With this four consecutive years of drought, we're seeing fires, absent wind, burn at explosive rates…. to add that Santa Ana component is doubly concerning," said Janet Upton, deputy director of the California Department of Forestry and Fire Protection.
"We've had fires up in Butte County and Humboldt County, one of the wettest places in the country," Upton said. "It was in standing timber. Large pine trees in an area that would normally be under several feet of snow, we had a 7,000-acre fire."
The Rocky fire, which broke out earlier this summer near Clear Lake, devoured 20,000 acres in five hours, defying traditional fire knowledge and computer simulations. There was little to no wind and the fire still spread, officials said, which follows an alarming trend.
This month, the chaotic and breakaway speed of the Valley fire stunned veteran firefighters. The wildfire raced through homes and critical infrastructure, prompting Gov. Jerry Brown to declare a state of emergency for Lake and Napa counties.
More and more fires, fed by brush and trees dried by drought and blistering heat, have been behaving "explosively, erratically and very dangerously," Upton said. "I think it's a new normal."
More than half of the 10 largest wildfires in California, in almost a century, occurred since 2002. Earlier this summer, in a move that officials said they had never seen before, the U.S. Forest Service pulled firefighters from all 50 states and Puerto Rico to help fight wildfires across California.
Fires in Southern California will only get more intense with climate change, according to the UC study. The study projects that by mid-century, as the region gets hotter and drier, non-Santa Ana fires will increase 77%, and Santa Ana fires by 64%.
Looking ahead, moisture in Southern California's brush and leaves are at critically low levels, which give wildfires the ammunition to grow and burn for longer, said Dave Sapsis, a Cal Fire scientist.
"Fires driven under Santa Ana winds are going to spread more rapidly…. When a fire spreads more rapidly, it has more energy being released per unit time period, which makes them harder to put out."
Santa Anas also tend to generate more "firebrands," or small burning embers that get cast into the air and spark more blazes ahead of the fire, Sapsis said. They tend to start fires that burn nearby homes.
With conditions ripe for a destructive Santa Ana fire, officials emphasized the need for residents to be more cautious when camping or running outdoor machinery. More than 94% of the fires that Cal Fire responds to are caused by people, Upton said.
"With these extreme conditions, it literally does just take a spark," she said. "If we could take that out of the equation, we're going to be in a much better position."
Hoy: Léa esta historia en español
ALSO
Diplomatic immunity for Arab royals? Not so fast; here's a rundown
2 men arrested in slaying of UCLA student Andrea DelVesco, LAPD says
MacArthur 'genius' grant winner creates artificial leaves that photosynthesize
The stories shaping California
Get up to speed with our Essential California newsletter, sent six days a week.
You may occasionally receive promotional content from the Los Angeles Times.