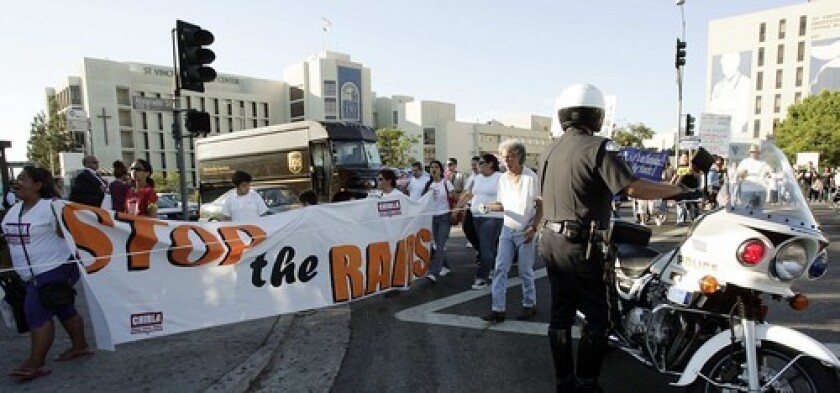 Los Angeles Times Staff Writer
U.S. Immigration and Customs Enforcement has formally adopted federal guidelines aimed at softening treatment of illegal immigrants arrested in work-site raids who are pregnant, nursing infants or serving as sole caregivers to children or seriously ill relatives.
The federal guidelines, publicly released last week, say that agents should develop a comprehensive plan to identify such people in raids targeting more than 150 people and work with social service agencies to assess humanitarian needs when deciding whether to detain them while processing their deportation cases.
The agency developed the guidelines with Sen. Edward Kennedy (D-Mass.) and plans to issue them to all enforcement offices, said agency spokeswoman Virginia Kice.
In addition, Kice said, the agency's Assistant Secretary Julie L. Myers this month issued a memo directing agents to consider releasing nursing mothers on their own recognizance and using alternatives to detention, such as electronic monitoring, as long as they pose no threat to national security or public safety.
The memo said the agency's commitment to ending the "catch and release" practice, in which illegal immigrants are released soon after apprehension, did not diminish its responsibility to recognize "meritorious" humanitarian cases, Kice said.
"ICE is committed to enforcing the law, but we're also committed to addressing humanitarian concerns," Kice said.
She added that the agency has long taken those concerns into account, but said the guidelines promulgated with Kennedy's office formalized the procedures for doing so.
The guidelines come amid a sharp increase in the number of workplace raids and other enforcement actions, leading to growing concerns about the effect on children. In recent years, work-site arrests of illegal immigrants have increased sevenfold, from about 500 in 2002 to about 3,600 in 2006, according to agency statistics.
A recent report by the National Council of La Raza and the Urban Institute found that, on average, one child is affected for every two adults arrested. In three cases studied -- work-site raids in Massachusetts, Colorado and Nebraska -- about 500 children were affected by the arrests of about 900 adults.
No young children were left homeless or abandoned, the study found, but several adolescents were left to fend for themselves under occasional adult supervision and sought aid at local food banks and other social service agencies.
In the case of the New Bedford, Mass., raid in March, a breast-feeding baby whose mother was picked up in the sweep had to be hospitalized for dehydration. In Conneaut, Ohio, last month, a nursing mother also was separated from her baby in a case that drew worldwide media coverage and the ire of activists who complained that such treatment was traumatic to children.
Immigrant advocates said the formal guidelines should help prevent such cases.
"It's a positive step in recognition of the need to humanize immigration policy," said Angela Sanbrano, president of the Los Angeles-based National Alliance of Latin American and Caribbean Communities.
Anike Tourse, spokeswoman for the Coalition for Humane Immigrant Rights of Los Angeles, said one problem is that some illegal immigrants do not divulge their family information when arrested, fearing their children might be harmed.
Tourse said immigration raids should be stopped altogether in favor of pursuing a comprehensive solution to illegal immigration.
She said the raids have made just a minor dent in the overall problem but have caused widespread chaos and hardship for families.
"All they're doing is creating havoc and destroying families," Tourse said.
But Michelle Dallacroce, president of the Phoenix-based Mothers Against Illegal Aliens, decried the guidelines and called for a harder line against illegal immigrant mothers.
"These women are using their children as pawns to come and stay here illegally," Dallacroce said. "They should all be detained, sent back and charged with child abuse for putting their children in this situation."
Immigrant advocates said they would monitor agency practices to make sure the guidelines are followed.
Kice said agents have long taken humanitarian considerations into account in their operations.
In a September raid at 11 McDonald's restaurants in Reno, the agency identified 56 illegal immigrants, Kice said. Agents released 31 of them on their own recognizance for humanitarian reasons -- two immediately and the rest later at a local processing center. Kice would not specify the nature of the humanitarian concerns.
"Humanitarian considerations have always been part of our operational planning," Kice said.
---