Money to L.A.'s 'Promise Zone' could displace poor, experts say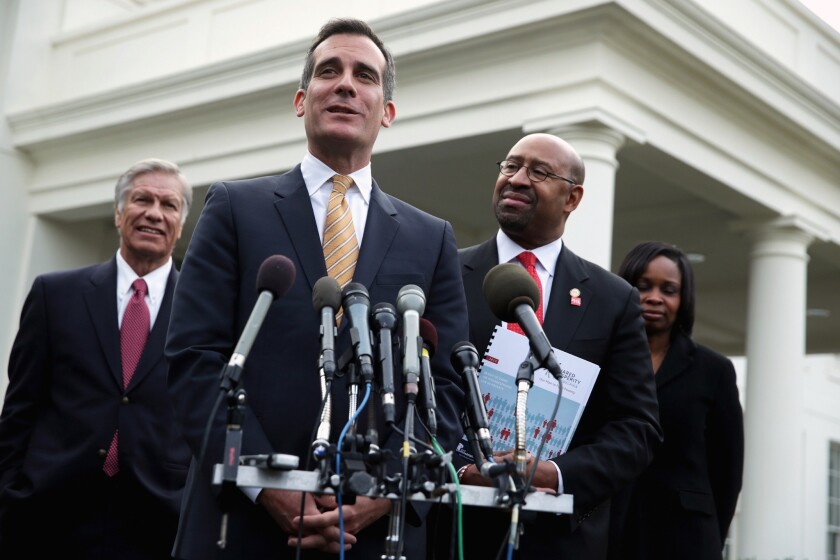 A new flow of money to a handful of low-income Los Angeles neighborhoods could cause the areas to gentrify and squeeze out the poor who live there, according to experts reacting to news that the city has been included in a special federal anti-poverty program.
The White House announced this week -- marking the 50th anniversary of the launch of President Johnson's War on Poverty -- that five areas in the country would be designated "Promise Zones," pushing them to the top of the list for federal grants and making them test sites for President Obama's new poverty reduction initiative. The 10-year designation went to sections San Antonio, Philadelphia, southeastern Kentucky, the Choctaw Nation of Oklahoma and Los Angeles.
In Los Angeles, the area designated a "Promise Zone" covers a portion of the city, stretching through Pico-Union, Westlake, Koreatown, East Hollywood and Hollywood.
That distinction has raised questions about what will happen to the areas where money would be concentrated and to the rest of Los Angeles that won't be a beneficiary. (There is no new funding coming from the federal government. Instead, the program is intended to help cities cut through red tape to win existing grants from a variety of federal departments and then focus them in needy areas. At most, L.A. could get $500 million over 10 years.)
Chris Tilly, professor of urban planning at UCLA, said the extra money in the L.A. neighborhoods could definitely help people in poverty. However, he said that the growth of commercial centers could attract tourists and make prices rise, thereby displacing the people who live there now.
"It may end up hurting the poor," he said.
Manuel Pastor, director of the Program for Environment and Regional Equity at USC, said that the Los Angeles "Promise Zone" is much more likely to gentrify than the other two urban locations chosen, east San Antonio and west Philadelphia. Already, prices are rising in Los Angeles as more and more young people want to live within the city.
For that reason, Pastor said that though some city leaders thought the exclusion of South L.A. was misguided, the White House made a smart choice by designating the L.A. neighborhoods that they did. The risk of gentrification and the high immigrant population in the city's "Promise Zone" will allow the federal government to discover how this experiment in poverty-reduction works in various settings.
"It's an investment that's not being made in the four other areas and by those grounds, it's a pretty solid investment," Pastor said.
Like Tilly, Pastor said that the most important piece will be looking at whether these funds really help low-income people who live in these areas. A "Promise Zone" had to have an average poverty rate of at least 20%. If this plan succeeds in L.A., it could be a model for what to do in places like the Mission District in San Francisco, he said.
According to the city's application, Los Angeles' funding would go toward increasing affordable housing, investing in public transit and bike lanes, and giving people more access to career training through a partnership with the Los Angeles Community College District.
Money also would go to the L.A. Unified School District and the nonprofit Youth Policy Institute to increase support services at schools.
The initiative relies on an interconnected approach, through which cities can work to improve public housing, safety and education all at once. It was inspired by the Harlem Children's Zone project in New York, which inundated an area with resources to improve every aspect of children's lives.
"There's no silver bullet, and government can't lift people out of poverty by themselves, but what this finally recognizes is that you have two or three things that you need to do together," said Los Angeles Mayor Eric Garcetti.
Tilly pointed out that the suggested improvements in Los Angeles make city residents more competitive when looking for jobs, but don't increase the number of available jobs -- which only tackles one side of the unemployment problem.
Obama has proposed a $500-billion tax cut for businesses that hire and invest in "Promise Zones," which should increase demand for workers in those areas, according to the White House. That, however, still needs the approval of Congress.
Twitter: @skarlamangla
---
The stories shaping California
Get up to speed with our Essential California newsletter, sent six days a week.
You may occasionally receive promotional content from the Los Angeles Times.