In an underdog campaign for governor, Donnelly expresses high hopes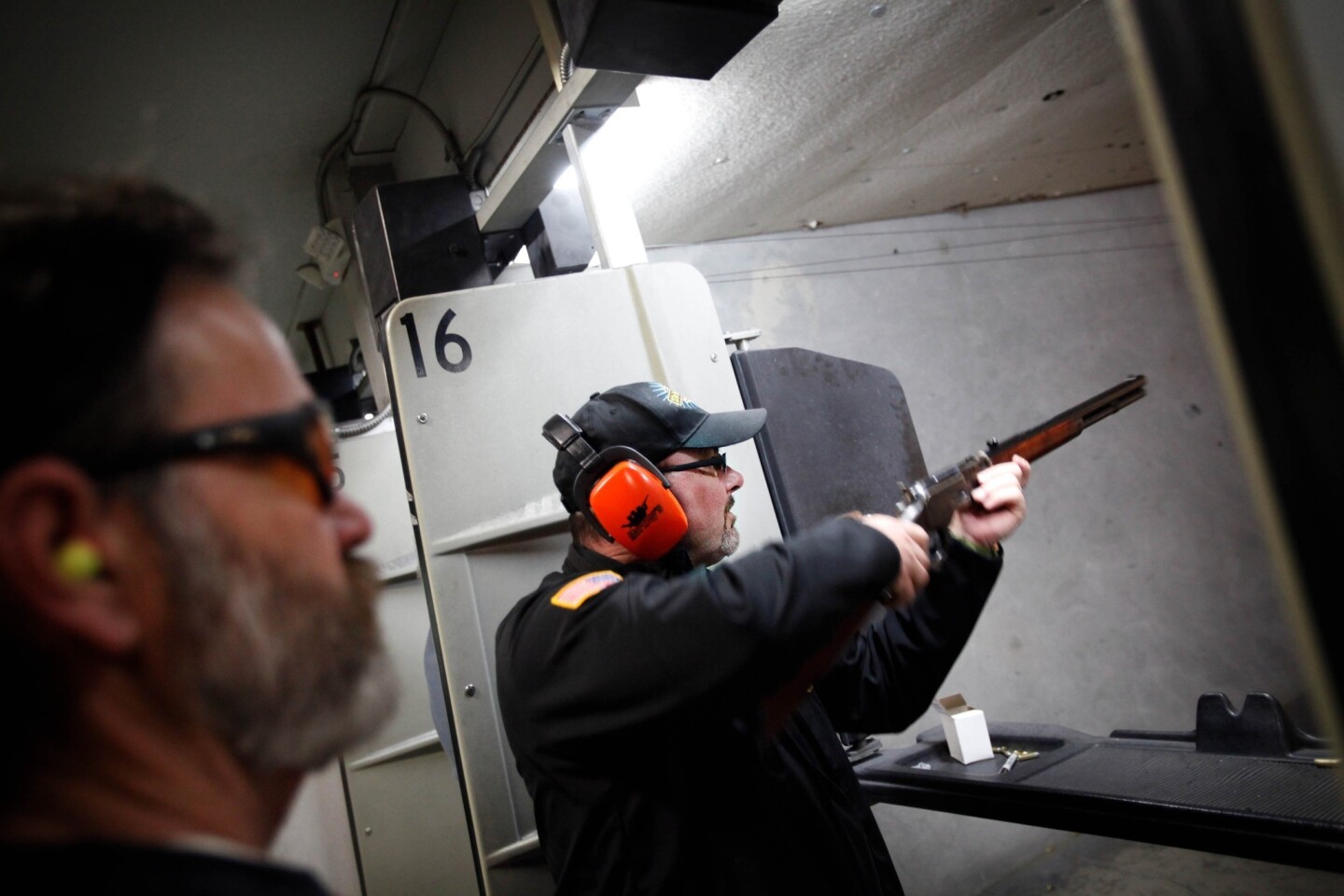 Tim Donnelly aims a Glock 19 at a paper target at a gun range in Watsonville.
(Barbara Davidson / Los Angeles Times)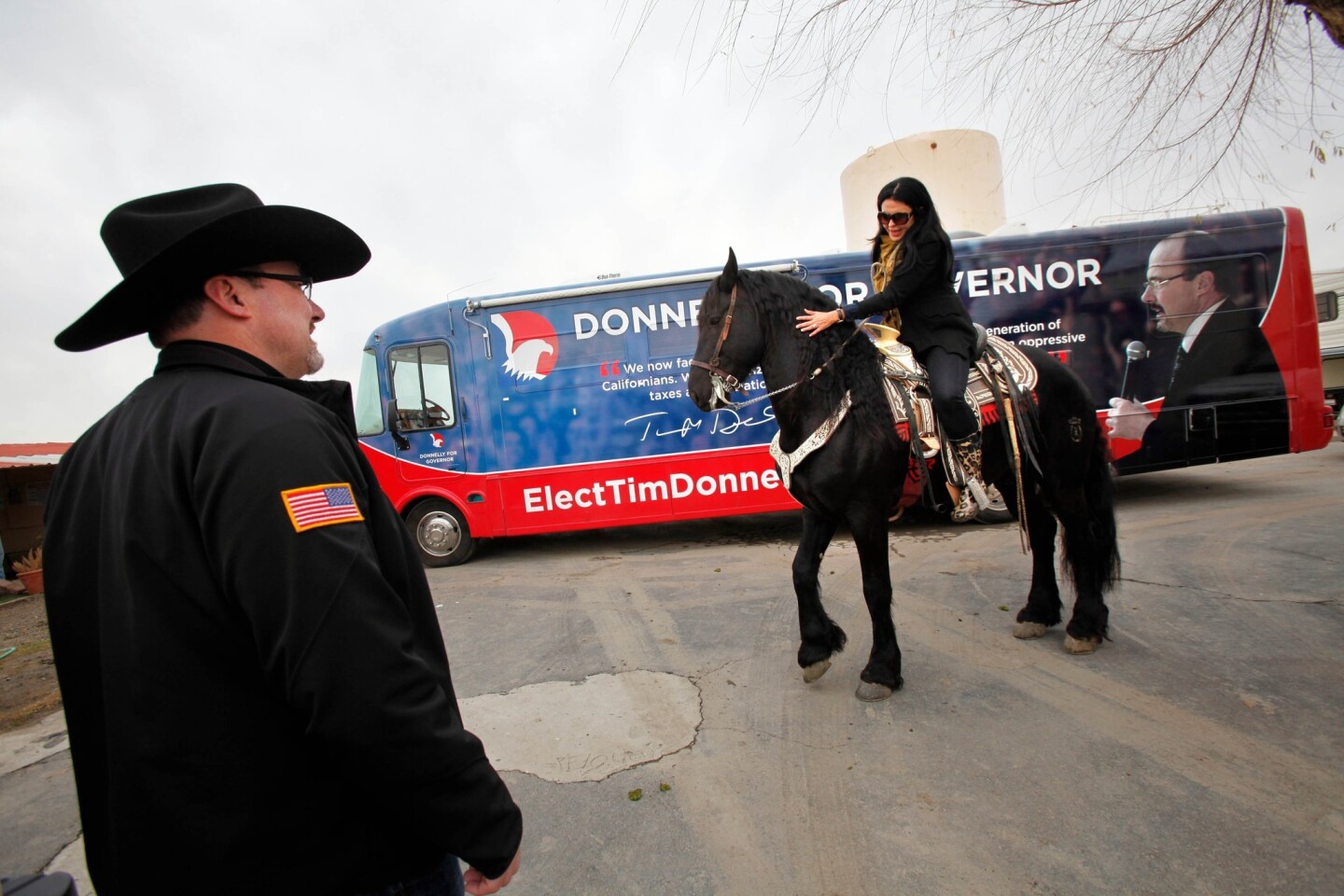 Actress Maria Conchita Alonso rides a horse at Ayala Farms in Riverdale, Calif., as Tim Donnelly watches. Alonson is supporting Donnelly's effort.
(Barbara Davidson / Los Angeles Times)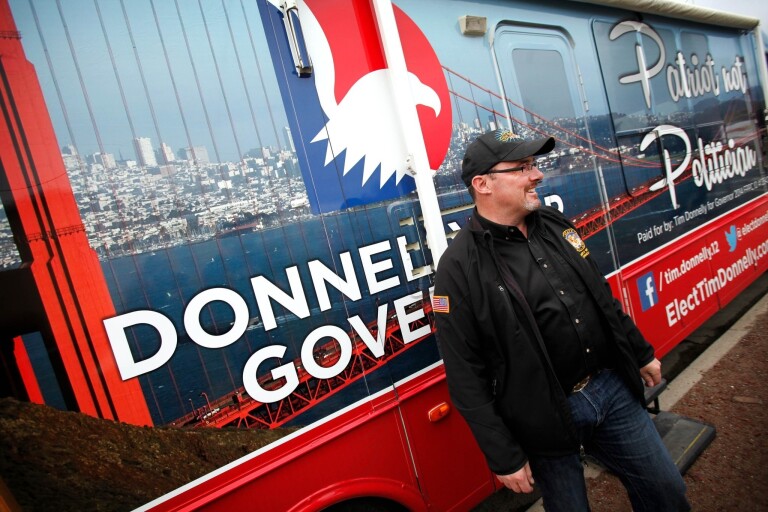 Tim Donnelly people outside Markley's Gun store in Watsonville.
(Barbara Davidson / Los Angeles Times)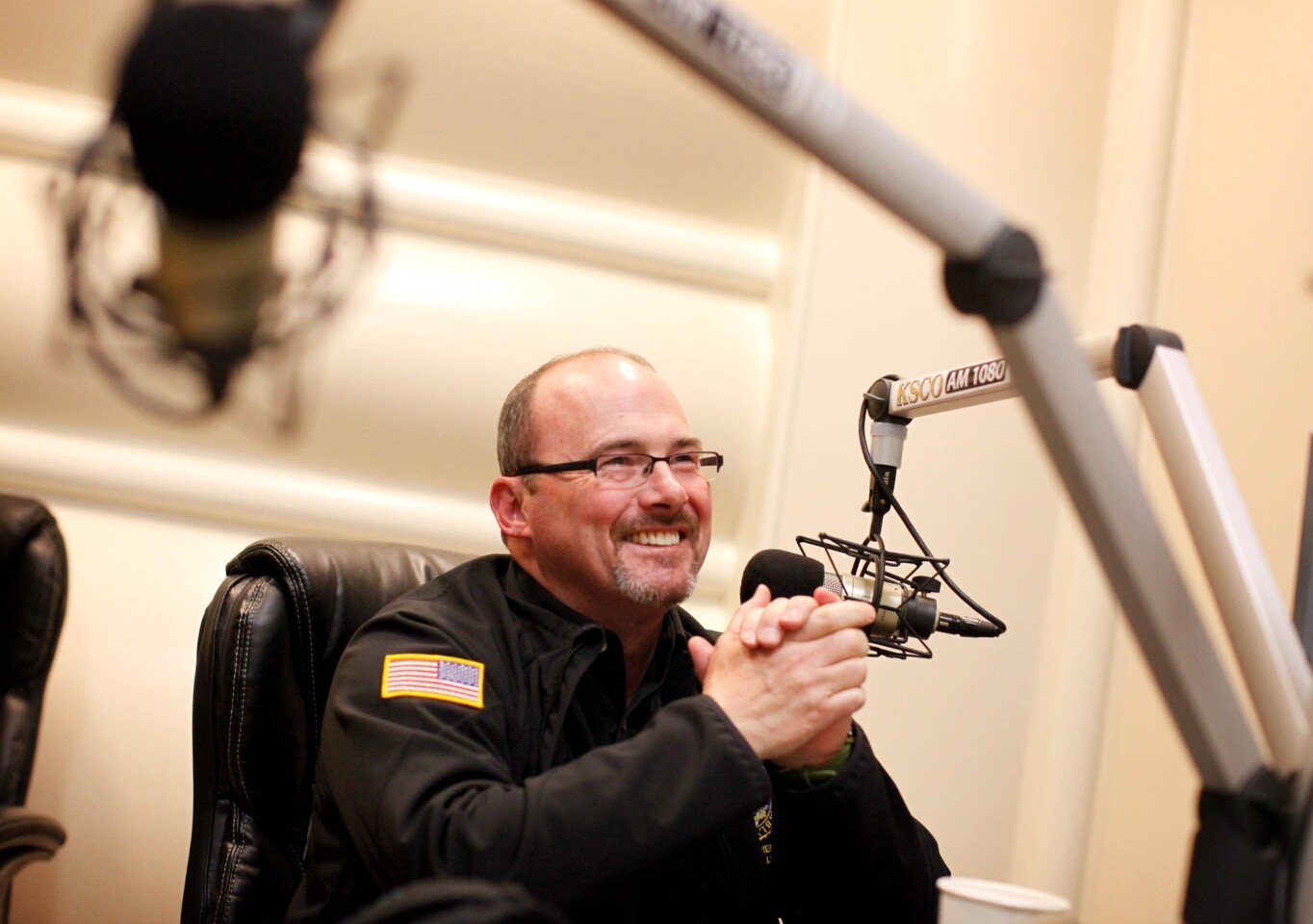 Donnelly hopes his scrappy campaign can defeat more well-funded establishment candidates.
(Barbara Davidson / Los Angeles Times)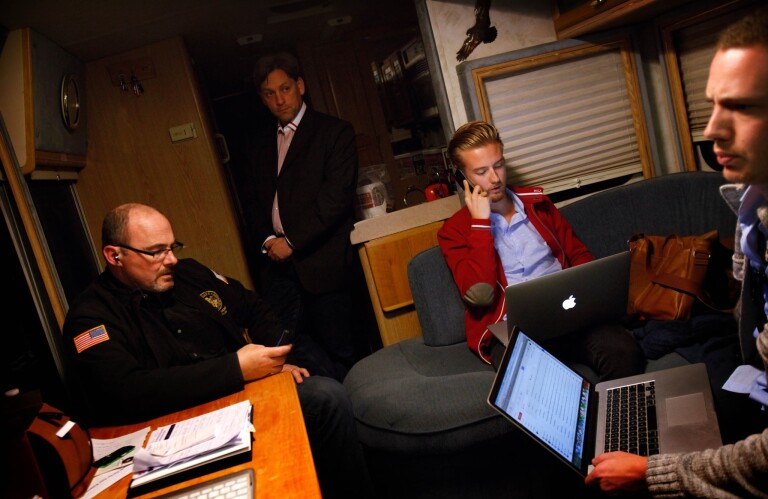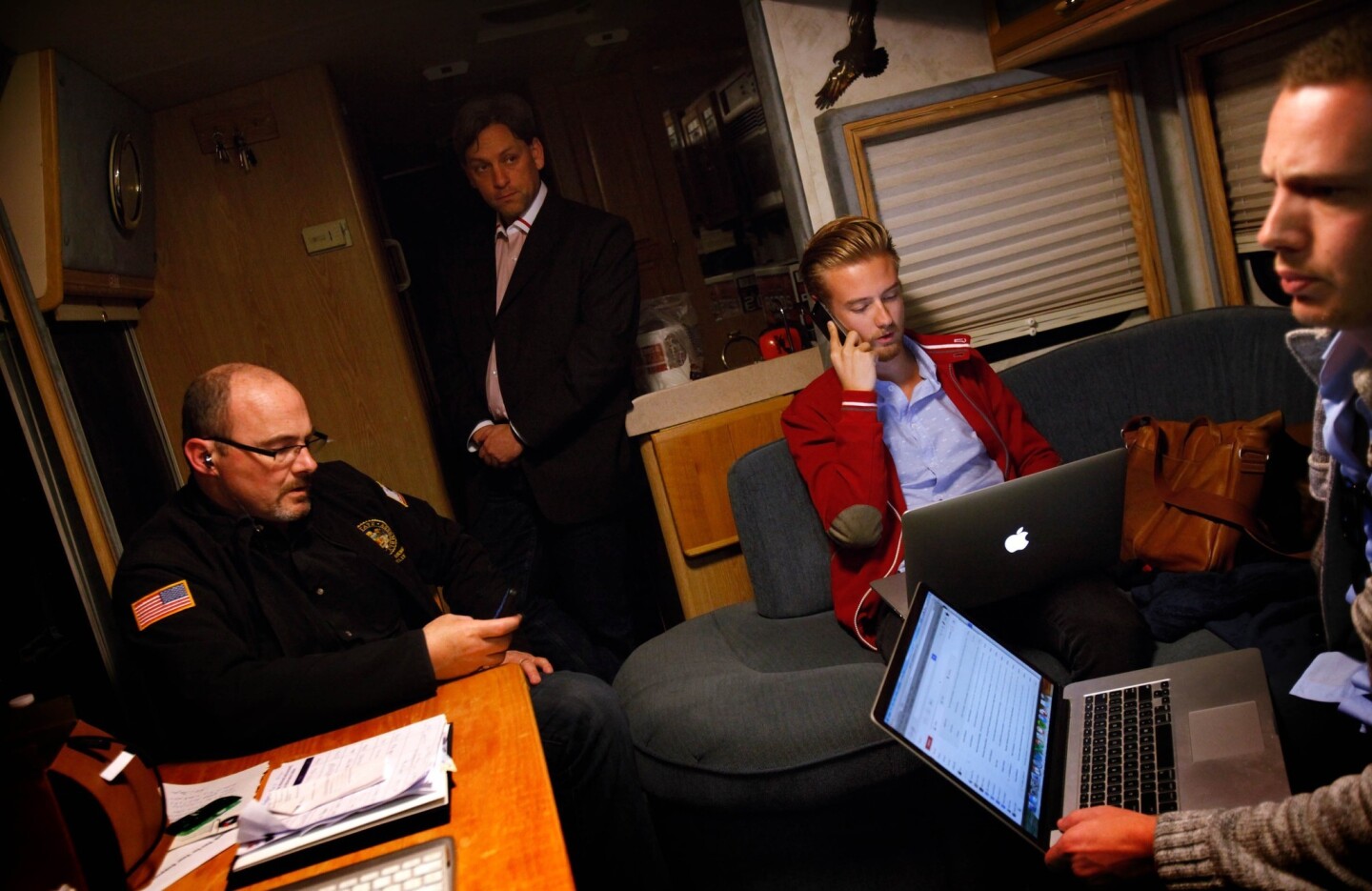 Tim Donnelly meets with advisor Asher Burke, fundraiser Kyle Gantzer and staffer Mark Meuser before a town hall meeting at Scotts Valley, Calif.
(Barbara Davidson / Los Angeles Times)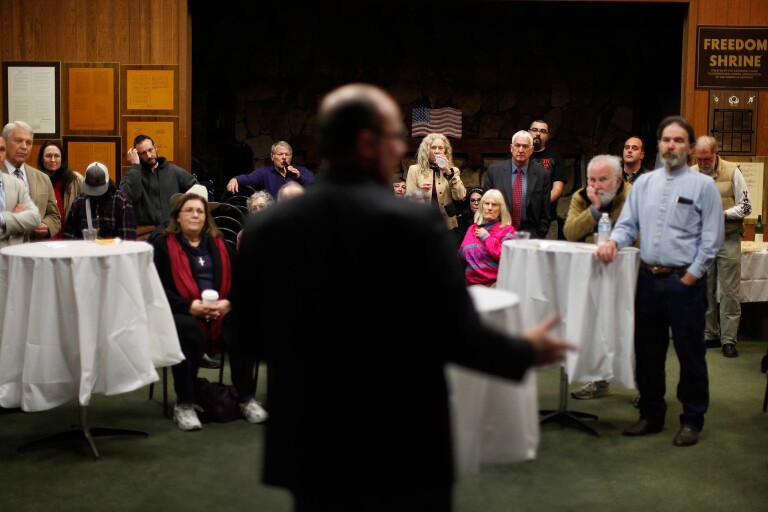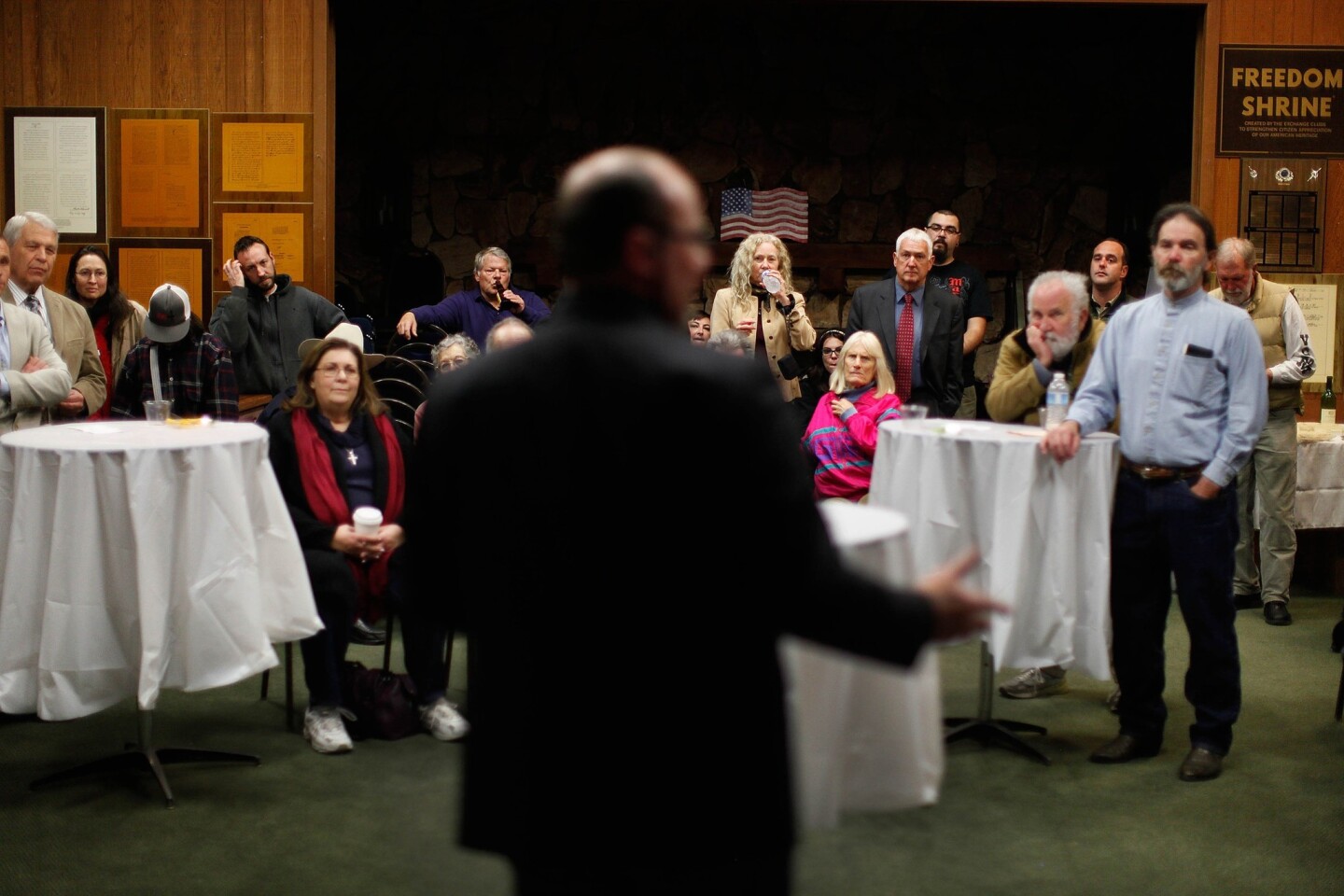 The crowds have been small but enthusiastic. In the most recent filing period, Donnelly reported having only $54,000 on hand.
(Barbara Davidson / Los Angeles Times)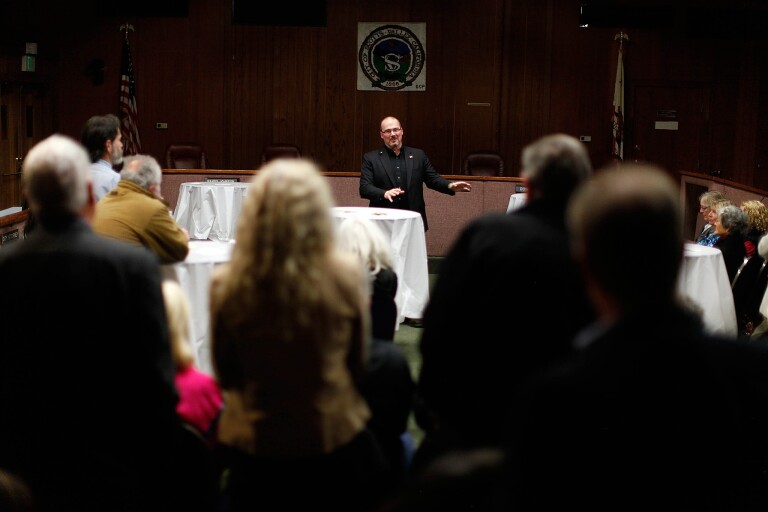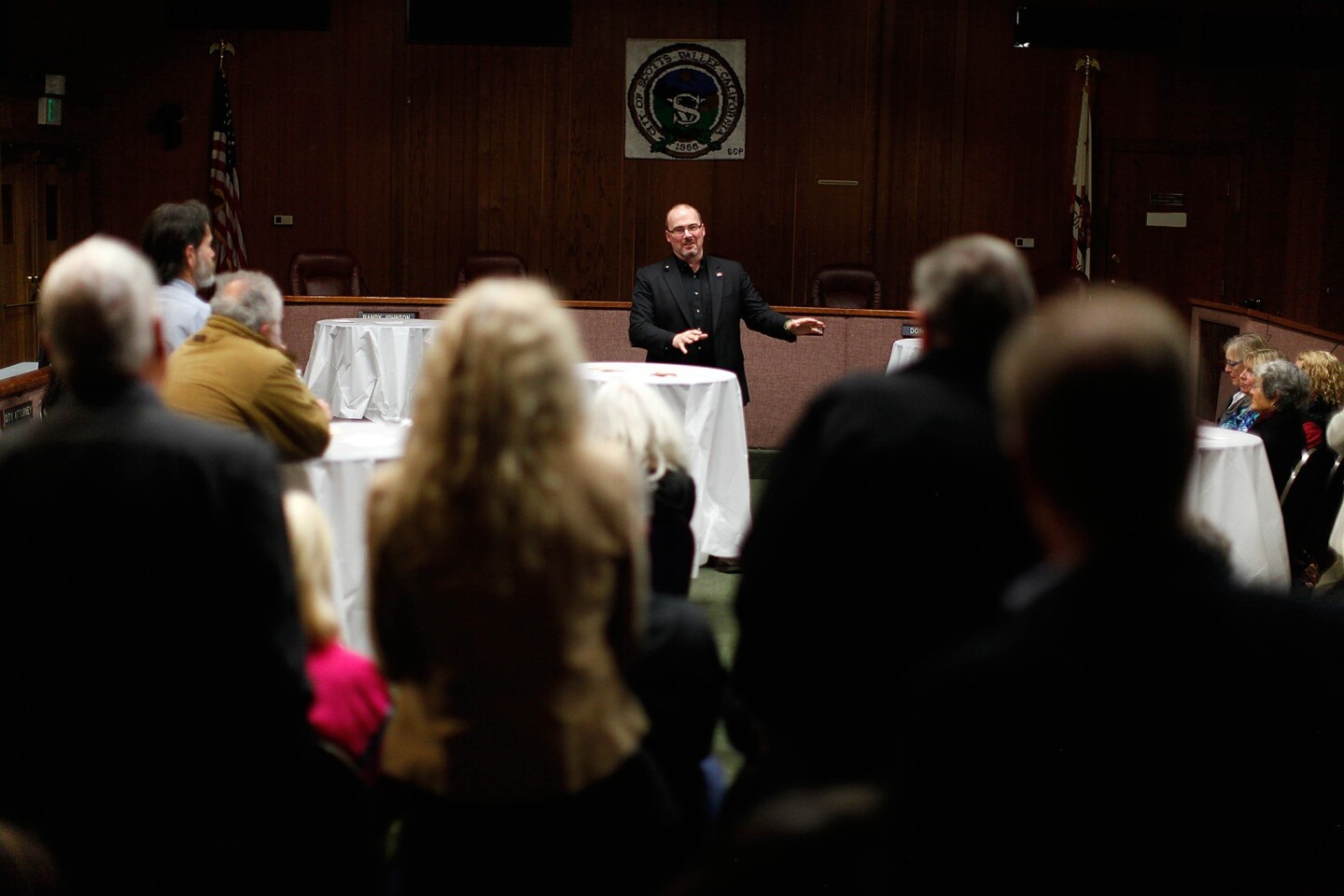 Donnelly is among the most conservative politicians in California. He opposes abortion rights and same-sex marriage.
(Barbara Davidson / Los Angeles Times)
WATSONVILLE, Calif. — Tim Donnelly aimed a Glock 19 at a paper target, the image of a zombie dressed as a British Redcoat, and fired.
All but one of 15 rounds hit their mark. The Republican gubernatorial candidate, taking practice with a handful of gun aficionados as he campaigned in Northern California, was pleased.
"That was fun," said Donnelly, an assemblyman from the Inland Empire. "He is one dead Redcoat."
The pierced target was a fitting symbol for the gun rights advocate and tea party favorite, who says his first run for office was inspired by the same fears of tyranny that stirred the colonists to rise up against the British.
Like the colonists, Donnelly is hoping his scrappy, underfunded campaign — one that is, at best, quixotic — can defeat far better armed and more sophisticated establishment forces.
His kitted-out campaign bus sports the slogan "Patriot Not Politician." His audiences are tiny, and he's mostly preaching to the choir. But on the second day of a 40-city bus tour that kicked off last week, Donnelly, in his omnipresent cowboy hat and black Assembly jacket, said he was thrilled at the turnout.
"I was really blown away by the support," he said, greeting about a dozen voters at an oceanside park in Monterey. "I'm not Arnold Schwarzenegger. I'm not going to get 3,000 people."
He also lacks money, reporting only about $54,000 in campaign cash in his most recent disclosures. Donnelly collected $374,000 in 2013; rival Republican Neel Kashkari raised $900,000 in two weeks in January.
Donnelly, 47, has been trying to compensate by taking his case directly to voters, meeting supporters in "Got Liberty?" T-shirts at GOP dinners and mixers, at gun ranges and gas stations, since he announced his run last fall. The person-to-person effort, a strategy that has helped propel candidates to victory in smaller venues such as the Iowa caucuses, is a steep uphill battle in a state of 38 million.
Add to that the state's cobalt blue tilt and incumbent Democratic Gov. Jerry Brown's $17-million war chest, and many Republicans have abandoned hope of taking back the governor's seat.
Donnelly, who is perhaps best known for being caught with a handgun at airport security, denies the naysayers.
"There's something in the air," he said after leaving Pebble Beach golf course, where he met with a nonprofit that helps disabled veterans. Californians are frustrated, he said: Many are still hurting, and people want government out of their lives.
"In order to capitalize on this opportunity, to seize the moment, you really have to have a message that resonates," he said.
Donnelly is among the most conservative politicians in California. He opposes abortion rights and same-sex marriage and points with pride to his frequent "no" votes in the Legislature. On occasion, though, a few people who don't share his social views come to his events to say they, too, are unnerved by what he says are excessive tax rates, onerous regulations and a belief that the state balanced its budget by stealing from cities.
"That is so outrageous," said Nancy Amadeo, a self-described centrist Democrat who sits on the City Council of Marina, just north of Monterey.
She said she was undecided about whom to support in the gubernatorial contest but was impressed by Donnelly's message.
"He has an uphill battle, but if he can present his positions and forget the [GOP] platform," he has a greater chance of success, Amadeo said.
On the stump, Donnelly concentrates on his message that the Golden State is no longer golden, that the quality of life is declining. He worries about a 31-year-old son, one of his five children, who can't find work.
The California dream that lured Donnelly west at 19, listening to the Beach Boys as he drove a VW Bug from his childhood home in Michigan, is at risk of being irrevocably destroyed, he says.
"I was going to a place where the only limit on your dreams was what you could imagine, and how hard you were willing to work," he told Republican activists over steaming plates of fettuccine Alfredo at the Old Spaghetti Factory in Roseville.
"My kids, they will never have that same opportunity to … start with nothing and build a business, because the government has become the greatest threat, the greatest impediment to their future," he said.
Donnelly, who started a plastics company before running for the Assembly, said that as governor he would impose a moratorium on new business regulations and veto legislation that infringed on liberties.
His first foray into political activism was to protect those liberties, Donnelly said: forming a Minuteman border patrol chapter in 2005, scanning the landscape with a .45-caliber handgun at his hip.
On the stump, when he brings up immigration, it's to promise a better business climate — one that he says will lead to U-Hauls on the freeways as people flock to California from Texas and other states for well-paying jobs, fostered by a reduced government and lowered taxes.
He mixes alarmist cries about the state's future with self-deprecating jokes about his thinning hair and paunch. And he eschews the traditional partisan potshot, pitching himself as a happy warrior who can respect supporters of the other major political party.
"Democrats are not the enemy, tyranny is the enemy," Donnelly told supporters nibbling on pigs-in-a-blanket at a strip-mall fundraiser in Roseville. "Democrats are our neighbors, they're our friends, they're people we work with, people we go to church with."
"You know, I think we can unite the divided majority that is California, on American values — hard work, personal responsibility, freedom," he concluded.
It's an appeal born of necessity. With GOP registration historically low at 29%, toppling a popular Democrat would require substantial votes from elsewhere on the spectrum — from disaffected Democrats and independents who Donnelly says will agree with him.
But many of his views are at odds with those of most Californians.
He opposes a path to citizenship and driver's licenses for immigrants who are in the country illegally. He calls for more oil drilling and supports the controversial practice of fracking.
He is for school vouchers and opposes the high-speed rail network that Brown champions. He calls Brown and other Democratic officials Socialists.
He veers toward conspiracy theories — for example, promoting a belief that California's leaders want to impose a United Nations sustainable-development pact to strip Americans of their property. He expresses skepticism that humans cause climate change.
"Al Gore did not invent the Internet," Donnelly said to laughs in Marina. "He invented global warming, and he got rich off it."
Though Donnelly says the gubernatorial race will not be decided by money, the need for it is clearly never far from his mind.
"It will take money to win," he told supporters in Roseville, who paid $99 per person or $150 per couple to attend. "Without a victory, we can't affect policy."
He asks for whatever people can give, and hand-writes thank you notes to those who contribute more than $100.
"Every one of you can do something," Donnelly told a GOP meeting in Scotts Valley, near Santa Cruz. "If all you can give me is $3 in quarters, I want your name and email."
On Wednesday, he sought funds to fly actress Maria Conchita Alonso and other supporters by private plane to a planned Fresno rally. The "pitchfork protest," focused on farmers and California's drought, could prove pivotal to his campaign, Donnelly said.
"This is going to be one of those things that will gain us a tremendous amount of support and votes, actual votes all through the Central Valley and the entire agricultural community across the state," he told a supporter on the phone.
After securing $5,000 for fuel from the supporter, whom the campaign declined to identify, Donnelly told a staffer to order the plane. Then he gazed at the greenery on the curving roads between Carmel and Salinas.
"I can't even think of how many T-shirts that would buy," he muttered.
---
The stories shaping California
Get up to speed with our Essential California newsletter, sent six days a week.
You may occasionally receive promotional content from the Los Angeles Times.