Federal officials struggle to maintain order at toll road hearing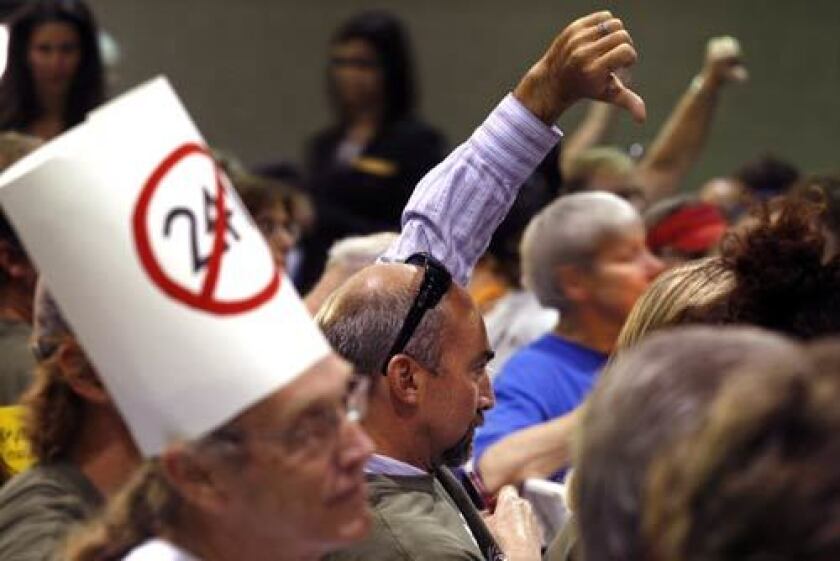 Los Angeles Times Staff Writers
DEL MAR, CALIF. —
Federal officials hoping for decorum laid down the rules at the outset of Monday's public hearing on whether to build a toll road through a state park: no booing, no cheering.
The public's response: Boos and cheers reminiscent of February's raucous marathon public meeting here in which the California Coastal Commission turned down the proposed road through San Onofre State Beach.
A crowd estimated at more than 6,000 over the course of the day packed a hot, stuffy hall at the Del Mar Fairgrounds for Monday's hearing before three representatives of the U.S. Department of Commerce, to which the Irvine-based Transportation Corridor Agencies appealed the California Coastal Commission's ruling.
Acoustics were bad in the cavernous, corrugated-roof hall. Speakers at times couldn't be heard clearly, and the noisy crowd exasperated the federal attorney presiding over the hearing.
"Please keep the yelling down so we can hear the speakers," said Jane Luxton, general counsel for the National Oceanic and Atmospheric Administration, which is part of the Commerce Department. The department has jurisdiction because the project falls under the Coastal Zone Management Act, a federal-state partnership that regulates development.
Advocates say the proposed $1.3-billion extension of California 241, which would slice through San Onofre State Beach and connect Rancho Santa Margarita with Interstate 5 in San Diego County, is needed to ease traffic congestion in growing south Orange County.
They also argue that it would create jobs and provide an alternative transportation link in the event of wildfire or other disaster.
"This project is essential to Southern California. It's key to the economic well-being of Southern California," said Art Leahy, chief executive of the Orange County Transportation Authority.
Opponents say the six-lane road would spoil one of California's most popular parks, endanger animal species and ruin the world-famous Trestles surf break.
"The immense harm from this road would far outweigh any alleged benefit," said Jim Moriarty, chief executive of the Surfrider Foundation.
In the muggy hall, opponents fanned themselves with "Save Trestles" signs and waved dollar bills when politicians spoke in favor of the project.
When a demonstrator in colorful board shorts toting a handmade sign that read "If you want more freeways, move to the East Coast" wandered to the front of the hall, security officers turned him back.
"They're building so they can get the developer money. They're not building it so they can improve traffic," said San Clemente resident Glen Frohlich, 50, who wore a T-shirt reading "Save the park / stop the toll road."
Outside the hall, where vendors sold kielbasa and falafel, members of local unions wore T-shirts with a different message: "Less traffic, more jobs."
"People that have families down here need to eat," said Rick Baptist, 49, a heavy-equipment operator. And "instead of being caught in congestion and traffic, you [will] have easy access to where you want to go."
Federal officials say they have received more than 35,000 written comments on the issue. More than 650 people registered to speak Monday; federal officials estimated that only 150 would have a chance.
Members of the public were allowed three minutes each to make their case, while elected officials were allowed four minutes.
The rules allowed for the "greatest voice for the greatest number," said Jeff Dillen, a federal lawyer.
"What we're facing here is a large amount of interested folks and a limited amount of time."
The hearing, which began shortly after 10:30 a.m., quickly ran behind schedule and stretched late into the evening. Luxton ejected a couple of people from the podium for breaking a rule that prohibited elected officials from sending representatives to speak on their behalf.
Among the other rules: Spectators' signs could not be larger than 2 feet wide and could not be waved during comments. This, too, was ignored at times.
There was a brief hiccup midafternoon when the sound system temporarily blew out during one speaker's comments.
Luxton struggled to get the milling, chatting crowd to quiet down and sit down before the hearing could continue.
The battle over the toll road extension has dragged on for decades.
Commerce Secretary Carlos M. Gutierrez has until Jan. 7 to decide if its benefits to the nation -- including national security -- outweigh its adverse effects and whether there are viable alternatives to the proposed route.
His ruling will not decide the issue, however. The losing side is expected to appeal whatever decision Gutierrez makes in federal court.
susannah.rosenblatt
@latimes.com
Rosenblatt reported from Del Mar, Anton from Orange County.
---
The stories shaping California
Get up to speed with our Essential California newsletter, sent six days a week.
You may occasionally receive promotional content from the Los Angeles Times.