How to get to Southland airports without a car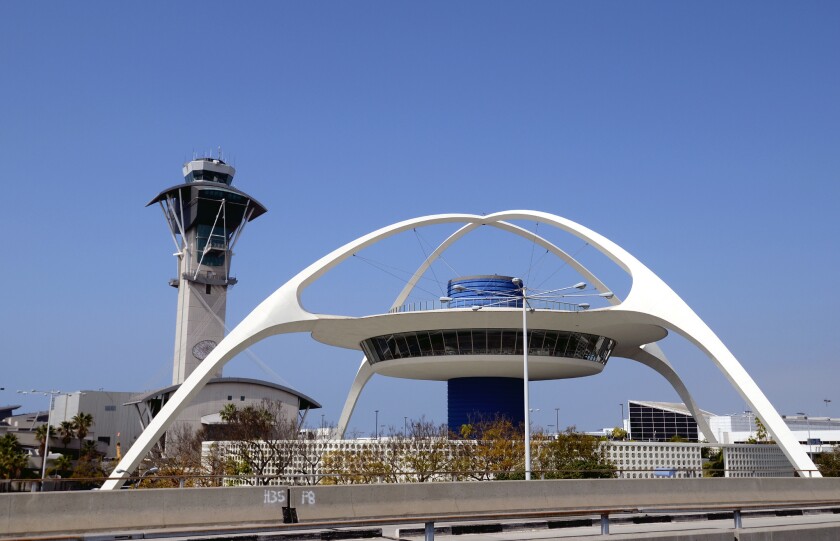 Times Staff Writer
Frugal travelers who agonize over a $20 difference in airfares often think nothing of spending twice that to get to and from the airport.

Taxis, shuttles and friends are often more convenient, but rail and buses can take you to Los Angeles International Airport (as well as to smaller airports) for less than $3 — sometimes for just 35 cents. Try it on a trip with light luggage at nonpeak hours, when you can allow plenty of time.

About a dozen local bus lines converge on the LAX Transit Center; another option is Metro Rail's Green Line Aviation station, only about a mile from the airport. Free shuttles run to the terminals from each. Getting to those lines is easier now, with new red-painted Metro Rapid bus lines making connections faster.

Among the most useful of those is Metro Rapid line 754, which travels along Vermont Avenue and connects the Vermont/Wilshire Red Line station to the Vermont I-105 Green Line station. Just last month, a new Metro Rapid line 740 started, serving the Green Line from downtown along Martin Luther King, Crenshaw and Hawthorne boulevards. That line could also be used to make a faster connection to lines 42 or 117 to the LAX Transit Center. Last year, improvements were made to Metro Rapid line 751 that make it more convenient between the Gold Line Lincoln Heights station, through Boyle Heights, Vernon and South Gate to the Green Line.

Keeping track of all the transit options isn't easy, so get help from the Metro trip planner: https://www.mta.net/riding_metro or (800) COMMUTE (266-6883).

Because the Green Line connects to the Blue Line from downtown, there are reasonably priced rail-only connections from a broad swath of California using Red Line, Gold Line, Metrolink and Amtrak trains. The drawback: You must carry your luggage at each connection to make a rail trip like that practical. A sensible option for many travelers with a lot of luggage is to take one train to Union Station and then avoid all those further connections by taking a shuttle (about $15; Metropolitan Express meets many trains, call (800) 338-3898), or taxi ($38) to LAX.

Another choice for travelers coming from more distant points is an airport coach, such as the frequent service from the Van Nuys Airport "Flyaway" Bus ($6) and Disneyland in Anaheim ($16). There also is less frequent service from the Antelope Valley, Santa Barbara, Ventura and Bakersfield, as well as shuttle companies with routine, albeit more expensive, service from other outlying areas such as Palm Springs.

Strategies to cut costs between home and LAX depend on where you live, and it can make sense to combine different means of transport. There may be services in your area that can make the trip easier or cheaper, such as DASH buses in L.A. and door-to-door shuttles in some cities. For example, Redondo Beach's WAVE service takes residents to the Green Line station.

Using schedules and maps, you can come up with creative, low-cost and efficient solutions for specific situations. For example, travelers to LAX from the northwest could take Amtrak or Metrolink to the Van Nuys rail station rather than to Union Station. At the Van Nuys station they could then take Metro bus 169 to the Van Nuys Airport Flyaway. But because 169 runs only about once an hour, if their timing was poor travelers could instead take the 761 Metro Rapid bus south to its terminus in Westwood and switch to the Culver City Bus 6 to the LAX Transit Center.

Local taxi, shuttle and limousine companies often have special rates to airports and can be reasonably priced when more than one person is traveling.

Here's a review of options and considerations for LAX:

City buses

City buses come to the LAX City Bus Center from every direction. The center is on 96th Street east of Sepulveda Boulevard, by Parking Lot C. Once there, walk 150 feet to the Lot C shuttle bus pickup spot. The C shuttle is free and leaves every few minutes to the terminals.

Metro lines

Metro bus lines offer frequent service to the center on several routes, most often from Union Station or Redondo Beach (Line 439), Union Station (42), Long Beach (232), West Hollywood (220), and Norwalk and Downey (315, 117), although note that the latter lines vaguely parallel the Green Line. More information is available on the website, https://www.mta.net , or by calling (800) COMMUTE (266-6883). Also, three smaller city bus lines go directly to the center: Santa Monica's Big Blue Bus No. 3, (310) 451-5444, https://www.bigbluebus.com ; Culver City Bus No. 6, (310) 253-6500, https://www.culvercity.org ; and Torrance Transit Route No. 8, (310) 618-6266, https://www.ci.torrance.ca.us . These buses are always the cheapest way to go: $1.25 is the standard daytime Metro fare; other lines may charge less. Senior and student fares cost as little as 35 cents.

Rail

By rail, the Metro's Green Line stops at Aviation Station, about a mile from the airport, where the free "G" shuttle stops to take riders to the terminals.

Airport buses

Airport bus: This line serves Orange County, with buses departing Anaheim from 5 a.m. to 7 p.m. daily and leaving LAX from 6 a.m. to midnight; (800) 772-5299, https://www.airportbus.com . Rates are $16 one way for adults, $9 for children ages 3 to 11.

Airport Bus of Bakersfield: Buses depart downtown Bakersfield seven times a day, from 3:30 a.m. to 8 p.m. daily; (800) 858-5000. Fares are $30 one way for adults, $15 for kids 6 to 12.

Antelope Valley Airport Express departs from Lancaster, Palmdale and Santa Clarita seven times a day; (800) 251-2529 https://www.avairportexpress.com . Basic adult rate ranges from $35 to $42, and children younger than 12 are $20, but certain discounts can apply.

Van Nuys FlyAway Bus: Buses offer 24-hour service from the Van Nuys Airport Bus Terminal, 7610 Woodley Ave.; (818) 994-5554. Rates are $3.50 one way for adults, $1.75 for children ages 2 to 12. Parking is $4 per day with a 15-day limit.

Ventura County Airporter: Buses leave the Ventura Sheraton Hotel eight times daily; (805) 650-6600, https://www.venturashuttle.com . Rate is $30 for adults, $15 for children younger than 12.

Santa Barbara Airbus: Buses leave seven times daily, making pickups at three area locations; (800) 423-1618, https://www.sbairbus.com . The basic one-way rate is $38, but there are discounts for round trips and groups.

Shuttles

Dozens of van, car and limousine companies serve area airports, and comparing prices is usually worthwhile. At LAX, only SuperShuttle and Prime Time are allowed to pick up "walk-up" passengers, although you can schedule a pickup by other carriers. Shuttle fares usually are 30% to 70% cheaper than a taxi for solo travelers, but couples or groups will find taxis competitively priced and usually faster. Some shuttle companies offer reduced fares for couples or groups.

Prime Time Shuttle: (800) RED-VANS (733-8267) or (310) 342-7200, https://www.primetimeshuttle.com .

SuperShuttle: (800) BLUE VAN (258-3826), (310) 782-6600, (323) 775-6600, (213) 688-0444, (714) 517-6600, (909) 428-6600 or (562) 498-6670, https://www.supershuttle.com .

Taxis

Taxis tend to be more economical for people traveling shorter distances or riding with others. Avoid "bandit" (unlicensed) taxis; use licensed cab companies, which often offer flat rates to LAX and can be found at official taxi stands at each terminal, monitored by airport employees.

Cabs at those LAX stands must display the official seal of the L.A. Department of Transportation. A $2.50 surcharge is added to all taxi fares leaving LAX. Rates quickly exceed $20 a few miles from the airport, but there is a flat rate of $38 plus a $2.50 airport surcharge between LAX and downtown L.A., and as many as eight passengers can share a large cab or van for that charge.

Other airports

Long Beach Airport bus service is provided by Long Beach Transit's Line 111, which connects to the Blue Line in Long Beach. But you can save time when leaving the airport by taking a cab to the Blue Line Wardlow stop, which is about a $7 taxi ride.

Bob Hope (Burbank) Airport is unique in the region because it has a direct rail line that stops a short walk from the airport. Amtrak stops several times a day, but there's more service by Metrolink, which stops frequently on weekdays during commuter hours. Several bus lines stop there as well, but when leaving the airport also consider a taxi ride to the North Hollywood Red Line station, which should cost about $7.

Ontario International Airport is served by bus service to the Montclair Transit Center, where there are other bus connections and a Metrolink rail station.

John Wayne Airport (Orange County) has two types of service. Besides regular Orange County Transportation Authority buses that serve John Wayne Airport, the Anaheim-based Airport Bus serves that airport from the Disneyland Hotel.

San Diego's Lindbergh Field is only a short bus or taxi ride from the San Diego Amtrak station.

Other resources

• Airport information desks have copies of transit schedules.

• Amtrak: (800) 872-7245, https://www.amtrak.com .

• Experience LA: map, hints and links to major transit lines and agencies: https://www.experiencela.com

• LAX ground transportation roundup: https://www.lawa.org/lax .

• Metrolink: For schedules and information, call (800) 371-5465, https://www.metrolinktrains.com .

• Metro and Metro Rail: For schedules, fares, trip planners and other information, (800) COMMUTE (266-6883), https://www.metro.net .
---
The perils of parenting through a pandemic
What's going on with school? What do kids need? Get 8 to 3, a newsletter dedicated to the questions that keep California families up at night.
You may occasionally receive promotional content from the Los Angeles Times.