Inglewood Oil Field fracking study finds no harm from the method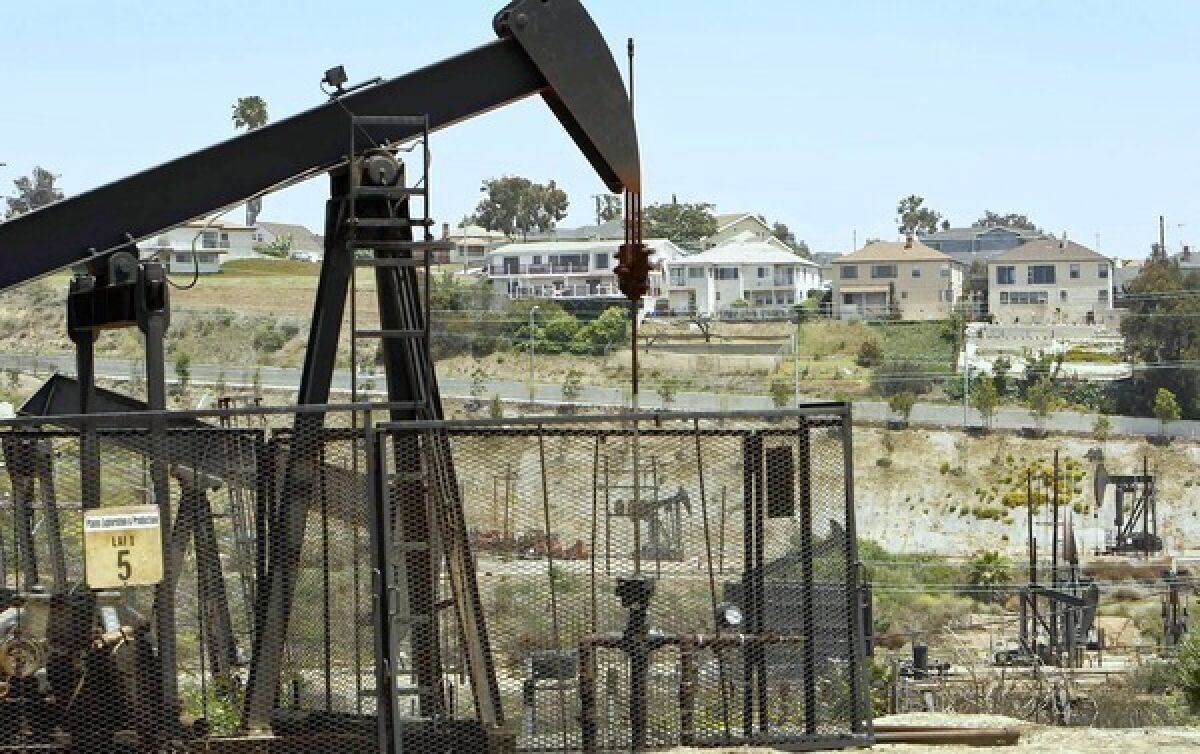 A long-awaited study released Wednesday says the controversial oil extraction method known as hydraulic fracturing, or fracking, would not harm the environment if used at the Inglewood Oil Field in the Baldwin Hills area.
The yearlong study included several issues raised by residents living around the field, such as the potential risks for groundwater contamination, air pollution and increased seismic activity.
For months, water wells on the 1,200-acre field were monitored. Data from ground and air monitors were collected and analyzed, but no effects were recorded before or after the technique was used, the study says.
"There were eight contributing studies addressing such things as vibrations at the surface, microseismic activity at depth, noise, ground movement measurements, subsidence, groundwater quality, methane in both soil and groundwater," said Dan Tormey, technical director and principal at Cardno Entrix, the environmental consulting firm that conducted the study. "Each was a study that contributed to the [overall] hydraulic fracturing study."
Plains Exploration and Production Co., the owner and operator of the oil field, paid for the review as part of a settlement agreement with Culver City and environmental and community groups. The report was reviewed by two independent firms selected by the company and Los Angeles County.
The 206-page study is the first of its kind in the state. It comes at a time when environmental and community groups are urging lawmakers to ban fracking, a technique that fractures rock formations to release trapped oil and natural gas. The process involves a high-pressure injection of water, sand and chemical additives into the drill site's wellbore.
Fracking has come under scrutiny in other parts of the country amid allegations that it increases seismic activity and contaminates water supplies.
Situated two miles south of the 10 Freeway, the field is surrounded by Culver City, Baldwin Hills and Inglewood — making it the largest urban oil field in the country. Plains Exploration is hoping to tap into the oil reserves in the field's shale formations that were identified in 2003.
But people living around the field oppose the idea. Residents say their properties have been damaged by mysterious land shifts, which has increased their fears about fracking.
Some homeowners suspect the movements may be related to Plains Exploration's drilling operations. But the actual cause is unclear; the area sits atop the Newport-Inglewood Fault.
Gary Gless, resident and co-founder of Citizens Coalition for a Safe Community, said he wasn't surprised that the study's findings favored the company.
"We have to look at who the peer reviewers are and have other experts critique it," he said.
---
Life is stressful. Our weekly mental wellness newsletter can help.
You may occasionally receive promotional content from the Los Angeles Times.