L.A. Fire Department overhaul measures delayed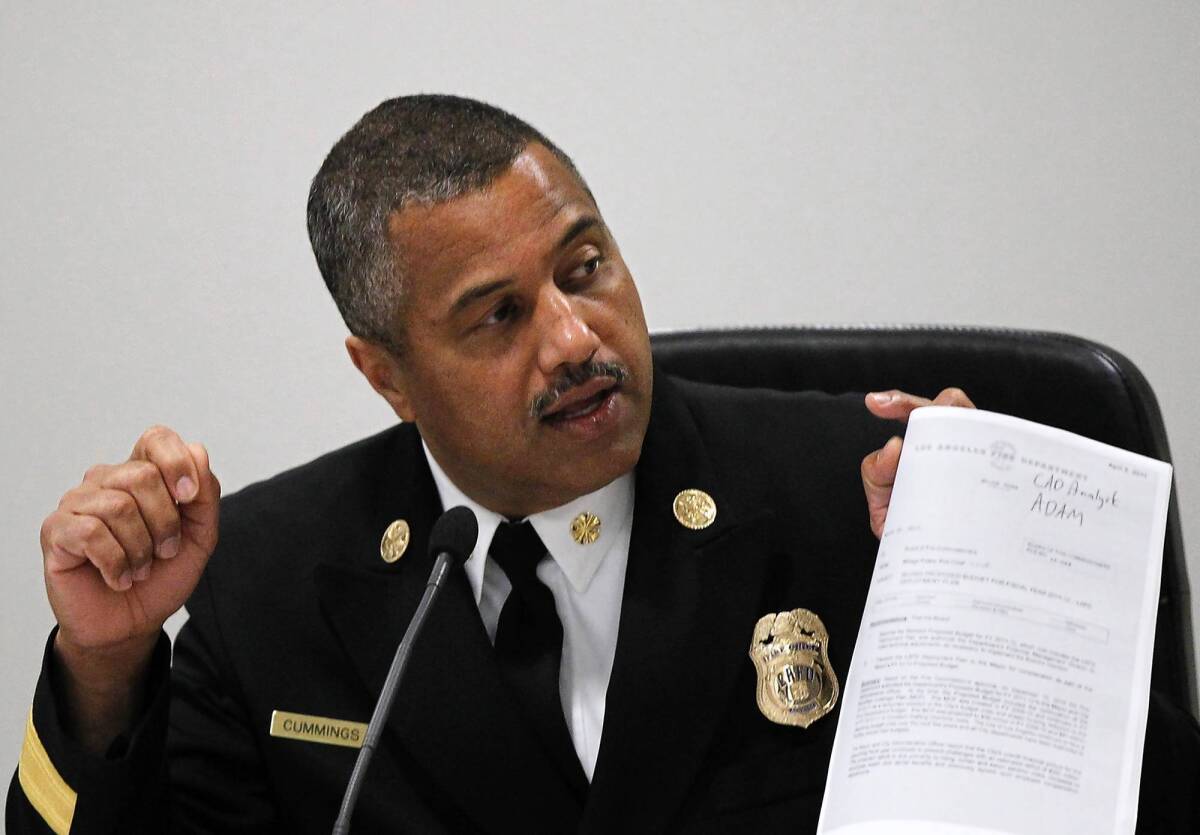 Two key reform efforts intended to address the Los Angeles Fire Department's diminished resources and faulty performance tracking are being delayed, agency officials said Tuesday.
Chief Brian Cummings told the city Fire Commission that he is pulling back an ambitious plan requested by the City Council that would boost the department's ranks and speed up lagging 911 response times. In addition, one influential member of the panel announced that a push to overhaul the department's much-criticized data analysis has fallen behind schedule and will miss an April deadline for completion of reforms.
The department has been under increased scrutiny since last March, when fire officials admitted they had published response times that made it appear rescuers arrived at emergencies faster than they actually did.
A series of subsequent Times investigations found delays in processing 911 calls and summoning the nearest medical rescuers from other jurisdictions, as well as wide gaps in response times in different parts of the city.
City Council members, a city audit and an outside expert brought in by Mayor Antonio Villaraigosa have voiced various criticisms of the department's management.
In December, council members Eric Garcetti and Mitch Englander demanded that fire officials appear before lawmakers after Cummings failed to produce a multiyear budget plan they requested to improve service and response times.
The first version of that plan was circulated publicly last week. It called for the restoration of 336 firefighter positions trimmed during the economic downturn.
But on Tuesday, Cummings abruptly withdrew the plan, saying that a new draft may not be ready until May.
"I'd like to meet with labor organizations," Cummings said. "There is a lot of work I'd like to do on this yet."
After LAFD commanders acknowledged problems with their response time reports, a task force of experts overseen by Fire Commissioner Alan Skobin found that fire officials responsible for crunching the numbers were poorly qualified and that previous department data analysis "should not be relied upon."
The task force hopes to roll out a Fire Department version of a much-praised LAPD data analysis system — to be called FIRESTATLA — that would allow managers, elected officials and the public access to detailed, regularly updated reports on how the Fire Department performs in neighborhoods across the city.
Skobin told the Fire Commission on Tuesday that the department had yet to provide the task force with a full list of department databases. He also said task force members need greater access to department brass to develop the new system.
A website reporting response times is in "beta testing" and should be publicly available in the near future, Skobin told The Times. He could not give a date.
"We're moving ahead as far as possible without sacrificing quality," he said. "This will stay on the radar."
Sign up for Essential California for news, features and recommendations from the L.A. Times and beyond in your inbox six days a week.
You may occasionally receive promotional content from the Los Angeles Times.