Community art project to offer ideas on how to improve MacArthur Park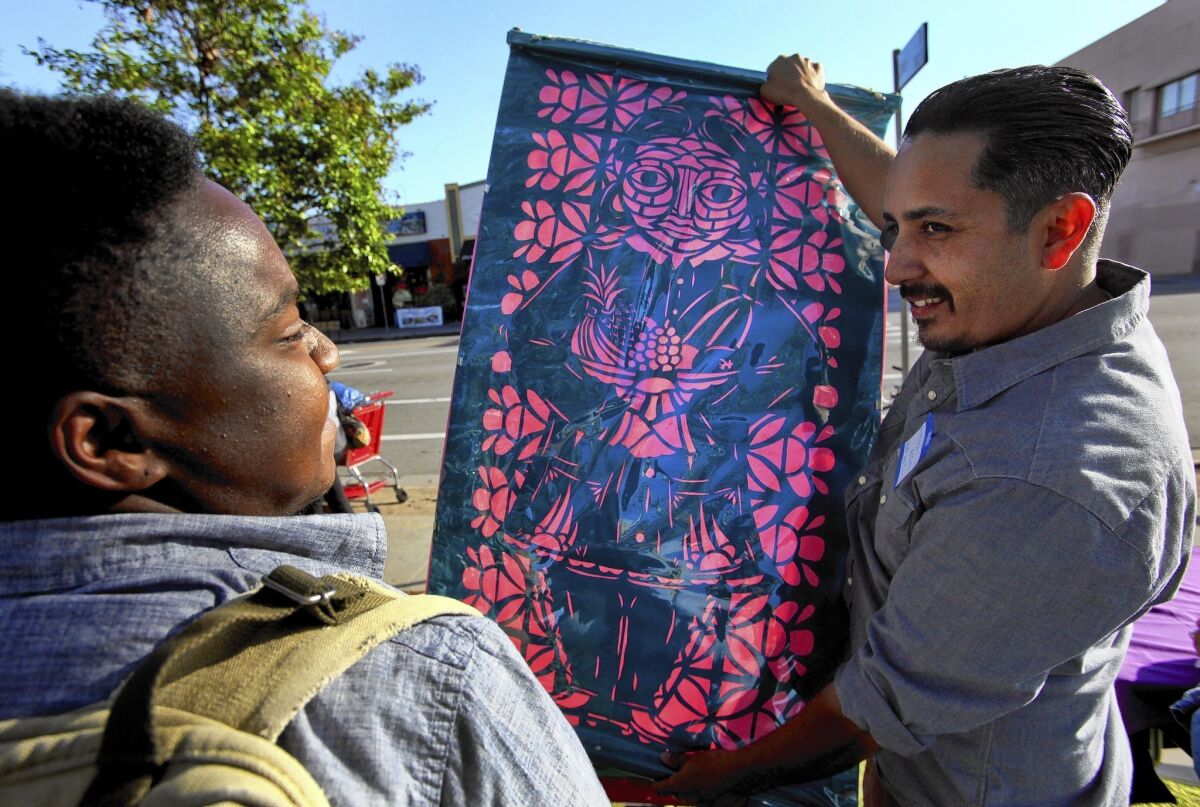 Getting the strangers to open up wasn't easy.
But Jesus Rodriguez, a high school senior, pressed on, clipboard and questionnaire in hand.
He and about 15 other students spent Thursday evening at MacArthur Park, interviewing people about their lives, their well-being and the health of their neighborhood.
Their responses will be the basis for an intricate art installation to be displayed at the park in the fall.
For Rodriguez, 18, the exercise was eye-opening. He spent two hours approaching random men and women, some of them homeless.
"It's made me realize how much people are affected," Rodriguez said. "You can't just drive by a neighborhood and think you know everything. You have to stop and talk to those who live there."
The event, called Story Summit, has taken place every year since 2003 in neighborhoods across the city. It was organized by L.A. Commons, a community program that uses art to give a voice to underrepresented areas.
This particular gathering featured Aztec dancers, arts and crafts workshops and free tamales.
"This is a way to support the youth and the neighborhood and to show that art is really valuable to a community," said Beth Peterson, director of L.A. Commons' community arts program.
Last year's MacArthur Park art installation — puzzle pieces depicting black and white scenes from the park — hangs prominently from light posts. The pieces will be on display for several more months.
This year, students will create papel picado bunting, with flags as long as 8 feet. The traditional Mexican cutouts will be made from plastic tablecloths and feature images inspired by the students' findings. They will hang from five giant trees facing the south side of the park on West 7th Street.
On Thursday, the young people tried their best to get folks talking. They asked, among other things:
What are challenges to you and your family's good health? How does your job affect your health? What is your vision for a healthy neighborhood?
Some of the interviewers were taken aback by how personal some of the answers were.
"This man started crying to me," said Armando Larios, 17. "I asked him about his family. He said he regretted everything he's put them through. He said he was an alcoholic and now he's alone."
Many opinions seemed universal.
People said they loved the park; it's one of the few open spaces in a dense area filled with overcrowded apartments. But they were tired of the litter, the gangs, the drugs and the fast food outlets. They wanted more fresh fruits and vegetables and better schools.
"I want to see the grass green, not full of brown spots all the time," said Fatima Lujano, 12.
When they spoke about how work affects their health, many said they work so much, they hardly sleep. Others worry because they work around chemicals and never have time to see a doctor.
Adrian Guerrero, a junior at Robert F. Kennedy Community Schools in Koreatown, listened closely and took notes as people spoke to him.
He began visualizing the images he could create for the installation.
"I'm picturing doing an angel with no face, with his chest being opened up by chains," he said. "Something powerful that captures people's struggle in this place."
esmeralda.bermudez@latimes.com
Twitter: @LATbermudez
---
The stories shaping California
Get up to speed with our Essential California newsletter, sent six days a week.
You may occasionally receive promotional content from the Los Angeles Times.