Towns burn as destructive California wildfire overruns residents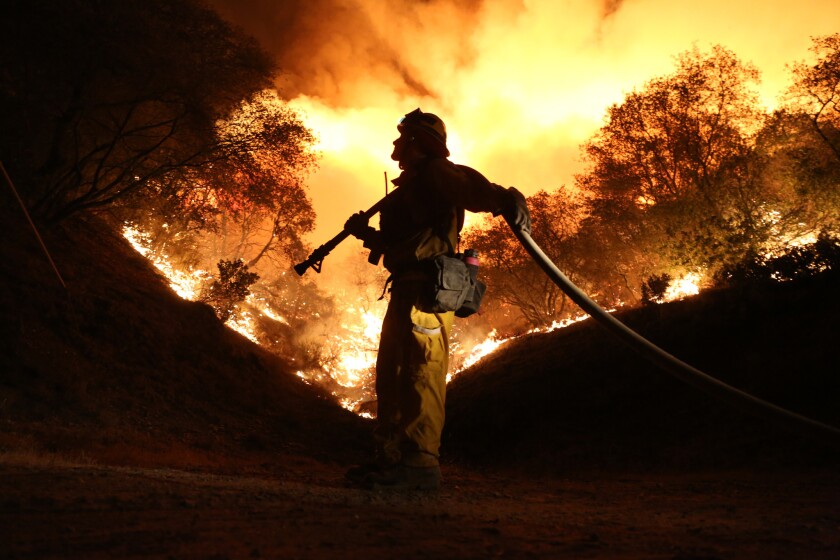 reporting from San Francisco —
Homes and businesses burned as a fast-moving wildfire fueled by heat and winds exploded in Lake County, forcing thousands to flee and leaving four firefighters with burns.
The small town of Middletown was particularly hard-hit, with blocks of homes and other structures lost. Photos showed Middleton's main street on fire, with cars burning. Part of a school caught fire.
UPDATE: California wildfires bring destruction; residents run for their lives
Middletown has a population of 1,300 and is located south of Clearlake and north of Calistoga. Several smaller communities reportedly saw significant loss of property.
"We absolutely know that there has been severe damage from this fire, but don't have an estimate on just how many homes and buildings have been destroyed," California Department of Forestry and Fire Protection spokesman Daniel Berlant said.
Many homes were also reportedly lost in the Cobb area and Hoberg's resort.
A total of 40,000 acres have burned, officials said Sunday.
The fire started around 1:30 p.m. near Cobb and spread at an astonishing speed, fueled by hot conditions and landscape left bone dry by years of drought.
The Valley fire spread so quickly that residents had little time to evacuate.
Evacuees crowded roads in the area, with firefighters warning that more than 1,000 structures were threatened. "It was a mad scramble," Jerome Strach told the Press-Democrat as he helped get his 72-year-old mother out of the area.
Other residents said they had to run for their lives.
"The sound of this fire was that of a jet plane in flight. You could see fire advancing. It was incredible," Bob Rider told KGO-TV. We weren't evacuating carefully and cautiously, we were fleeing."
The state was calling in hundreds of firefighters from around California to battle the blaze, which was hopscotching across oak woodlands and grasslands, driven by 20- to 30-mph winds.
"This fire has burned much quicker than we're able to get resources into the area," Berlant said.
The four firefighters were injured while battling the blaze and were taken to a burn center. CalFire said they suffered second-degree burns and were in stable condition.
Mike Lopez, president of CalFire Local 2881, said via Twitter on Saturday night that he visited the injured firefighters and that all were expected to make a full recovery.
As of Sunday morning, firefighters were dealing with cooler temperatures and some sprinkles. But fire officials warns the fire was still spreading and that more evacuations were possible.
Across Amador and Calaveras counties, nearly 4,000 fire personnel battled the Butte fire that began southeast of Sacramento and has plowed through 65,000 acres. Swift and stubborn, it started Wednesday, doubled in size the following night, then doubled again the next day — prompting Gov. Jerry Brown to declare a state of emergency.
Residents of more than 6,000 homes in California's Gold Country have evacuated the threatened lands, defined by craggy terrain, desiccated timber and limited road access. The elements, along with high temperatures and low humidity, have created an intense environment where trees catch fire, sending embers flying that ignite spot fires.
"If a tree torches, the fire from the tree will send embers up the hill or across a ravine or across a ridge top. That starts another fire and then often the main head of the fire catches up with that," said Lynne Tolmachoff, a CalFire spokeswoman.
Tolmachoff said the Butte fire has the same tendencies as the Rocky fire, a perplexing blaze that began in July in a rugged region north of Napa and rapidly swept across three counties before it was knocked down.
Officials hoped an expected drop in temperature, even if slight, would aid the firefighters' faceoff with the Butte fire, which has destroyed 86 homes and threatens 6,400 structures. By Saturday night, the wildfire was 15% contained. No injuries have been reported and the cause of the blaze remains under investigation.
To the south, in the Sierra Nevada, another fire has burned for six weeks and chewed through more than 128,000 acres in an area that includes Kings Canyon and Sequoia national parks.
Firefighters combating the Rough fire have been forced to deal with long and cavernous canyons that are difficult to scale and that tend to funnel and accelerate the wind, spreading the fire rapidly, said Paul Garnier, a spokesman for the fire's incident management team. A bark beetle infestation that has killed pine trees in the area has added fuel to an already dehydrated landscape.
Garnier said nearly 2,600 firefighters have successfully pushed the fire — sparked by lightning — toward McKenzie Ridge, east of Highway 180, where they hope it will be stopped by containment lines. By Saturday afternoon it was 29% contained.
At one point it appeared that the Rough fire might reach the Chicago Stump, the fabled trunk left behind from the General Noble Tree, which was cut into sections before being hauled to the 1893 Chicago World's Fair to be put on display. According to lore, the reassembled tree was deemed a hoax by some who didn't believe in the existence of giant sequoias.
The Chicago Stump and the Boole Tree — the largest tree by volume in the world — have been kept safe, Garnier said, after crews cut hand lines around them, ran in designated hose lines and blanketed the areas with an above-ground sprinkler system.
He added that giant sequoias actually rely on fire as part of a healthy ecosystem, because blazes clear out debris and help the trees germinate. "It really is more that man has come into this wild space so we have to be involved and make sure people and property are protected," Garnier said.
Knoll and Boxall reported from Los Angeles; Romney from San Francisco.
corina.knoll@latimes.com
Twitter: @corinaknoll
bettina.boxall@latimes.com
Twitter: @boxall
Times staff writer Shelby Grad contributed to this report.
ALSO:
Dickie Moore dies at 89; leading child actor of movies' golden age
Special-needs student found dead on empty bus is identified
Bills sent to Gov. Brown would create new felonies, putting more in prison
---
The stories shaping California
Get up to speed with our Essential California newsletter, sent six days a week.
You may occasionally receive promotional content from the Los Angeles Times.