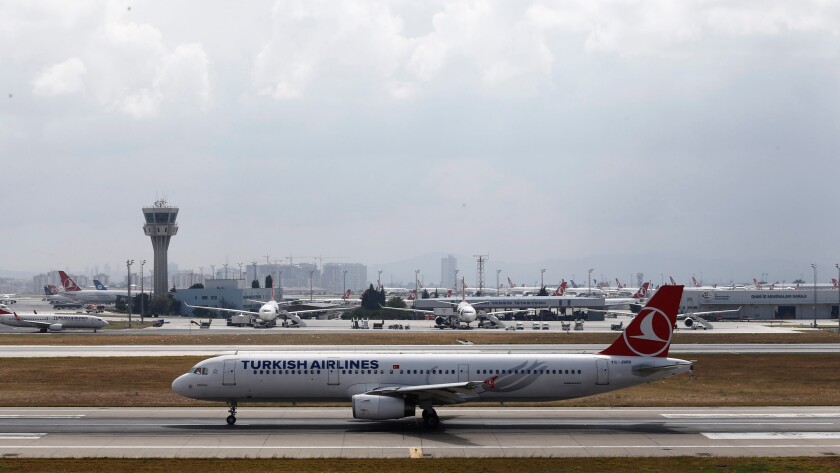 Flights between Los Angeles International Airport and Istanbul have been suspended as a coup attempt plays out in Turkey, an airport spokeswoman said Saturday.
The move, which shut down two daily Turkish Airlines flights between LAX and Kemal Ataturk Airport, comes in response to a Federal Aviation Administration ban on commercial and private air travel into and out of Turkey.
Airport spokeswoman Katherine Alvarado said that Saturday's flights had been canceled and that it was unclear when the commercial flight route between L.A. and Turkey would reopen.
The FAA ban was issued amid rapidly unfolding events in Turkey, where a coup launched Friday by factions of the military unhappy with President Recep Tayyip Erdogan appeared to be unraveling. A night of clashes between supporters and opponents of the coup left hundreds dead.
Turkey, a NATO member and important host to American military forces operating in the Middle East, is also a popular vacation destination among Westerners — especially the ancient, seaside city of Istanbul. It has also been home to violent unrest this summer: Just last month suicide bombers attacked Ataturk Airport, killing more than three dozen people.
Follow @petejamison on Twitter
ALSO
Reclusive Muslim cleric Fethullah Gulen, in exile in Pennsylvania, blamed for failed coup in Turkey
California congressman on Turkey coup tweet: 'I'm not pro-coup, but I'm not pro-Erdogan either'
Failed coup in Turkey could allow Erdogan to tighten his grip on the troubled country
---