Newport group enters fray over cross-shaped war memorial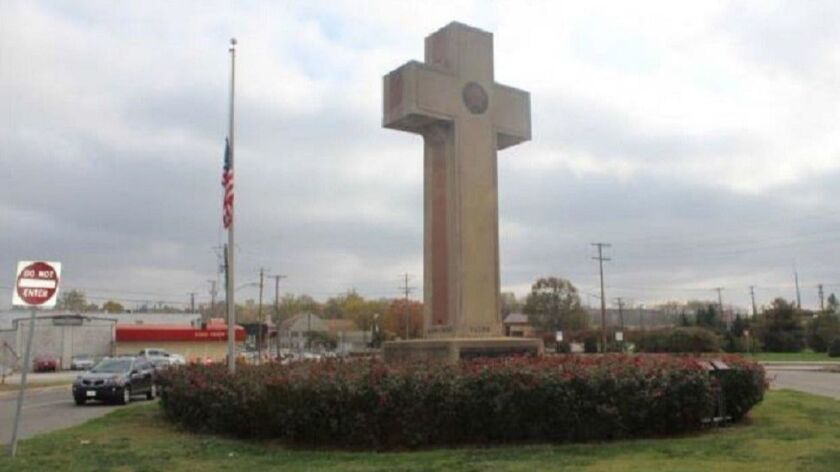 Newport Beach's American Legion post is supporting the national American Legion in a U.S. Supreme Court fight over the constitutionality of a publicly maintained cross-shaped World War I memorial in Maryland.
At issue is the Bladensburg World War I Memorial, which a local American Legion post erected in 1925 to honor 49 men from Prince George's County, Md., who died in the Great War. The Maryland-National Capital Park and Planning Commission maintains the 40-foot monument.
The American Humanist Assn. says the towering cross is a symbol of Christianity that violates the Constitution's Establishment Clause, which is generally held to provide for separation of church and state. The group and three local residents sued the commission in 2014, asking that the court order the cross removed or altered so it is no longer shaped like a cross.
The American Legion's Newport Harbor Post 291 signed onto a friend-of-the-court brief July 27 with several other veterans organizations and retired Army Maj. Gen. Patrick Brady, a Medal of Honor recipient, to support leaving the cross as it is.
The Newport post operates a Defense of Memorials Project and previously supported preservation of the cross-shaped Mojave Desert and Mount Soledad veterans memorials.
According to the brief, the Newport post got involved in the Maryland case to address its fears that potential memorials on city land and the planned Orange County veterans cemetery could lead to lawsuits if crosses or other imagery with both religious and military connotations are included.
"Post 291 seeks clarity in the law to avoid the need to expend precious time and resources defending memorials that should not be considered controversial," the brief states.
The Maryland commission appealed the case to the Supreme Court after a 4th Circuit Court of Appeals panel ruled in October that the memorial "excessively entangles" government and religion. The 4th Circuit declined to rehear the case in March.
Davis writes for Times Community News.
---
The stories shaping California
Get up to speed with our Essential California newsletter, sent six days a week.
You may occasionally receive promotional content from the Los Angeles Times.