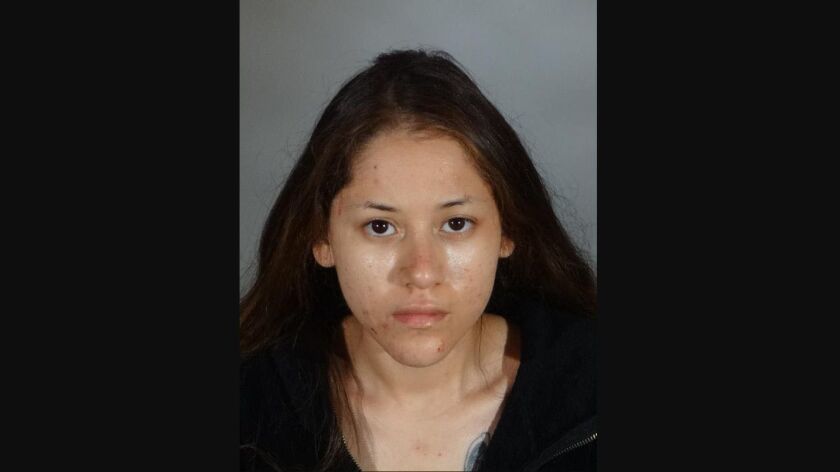 A woman suspected of stealing two $10,000 vintage guitars from an Orange store has been charged with four felonies, the Orange County district attorney's office said Wednesday.
Los Angeles County sheriff's deputies arrested Anna Gabriela Reyes, 22, in San Pedro last week after the Orange Police Department identified her as a suspect in the theft. She has been charged with two counts of grand theft, one count of second-degree burglary and one count of receiving stolen property.
The two guitars she is accused of stealing — a red 1955 Gretsch Firebird and a 1968 Gibson Johnny Smith — have been returned to the store, Imperial Vintage Guitars, police said.
Reyes was identified with the help of surveillance video, the store's social media followers and witnesses, the Orange Police Department said. Last month, Reyes faced two misdemeanor charges of possessing methamphetamine and drug paraphernalia, according to court records.
Earlier this month, surveillance video from Imperial Vintage Guitars showed a woman bolting out of the music store with two high-end guitars.
Orange police said that before the theft, another woman entered the store, at 864 N. Main St., and asked for help finding a guitar for her boyfriend. While the woman and a store employee went upstairs to look at merchandise, a second woman later identified as Reyes browsed the store before selecting two guitars and running out the front door with them, Sgt. Phil McMullin said.
A store employee can be seen in surveillance video running down the stairs and chasing after the thief, who jumped into a waiting car that was driven away.
"She took him to another side of the store, away from the first girl that came in, and the first girl took the advantage and grabbed two of my most expensive guitars … and bolted out," Shai Ashkenazi, the store's owner, said in an interview with KCBS-TV Channel 2.
Ashkenazi said his employee jumped on the getaway car, driven by another person, but was not able to stop them.
Orange police have not identified the other woman who may have been distracting the store employee or the person driving the car.
alejandra.reyesvelarde@latimes.com
Twitter: @r_valejandra
---