Appeals panel hears arguments that former L.A. County Sheriff Lee Baca was unfairly convicted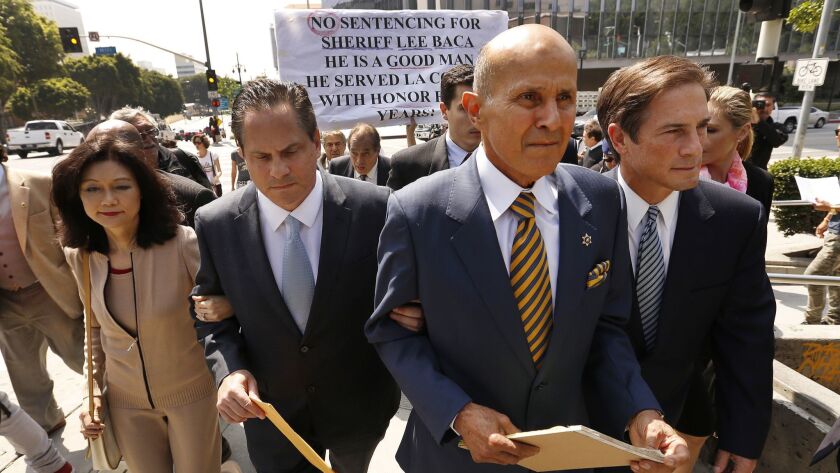 An attorney for Lee Baca tried to convince a federal appeals court Tuesday that the former Los Angeles County sheriff was unfairly convicted last year of obstructing an FBI investigation and lying to investigators because of errors made by the judge at his trial.
A three-judge panel from the Ninth Circuit Court of Appeals peppered the attorney, Benjamin Coleman, with questions and challenged his claim that the jury should not have been barred from hearing testimony about Baca's Alzheimer's disease or about an exchange between Baca and an aide.
Assistant U.S. Atty. Bram Alden rebutted the claims, telling the panel that the decisions of U.S. District Judge Percy Anderson, who handled Baca's trial, had been correct.
Anderson sentenced Baca to three years in prison and denied the ex-sheriff's request to remain free pending his lengthy appeal. An appeals judge later overruled that decision, allowing Baca to stay out of prison.
Baca, a leading law enforcement figure, stepped down as sheriff in 2014 amid growing controversy. He was the last in a group of Sheriff's Department deputies and commanders to either confess or be convicted of playing a role in a 2011 scheme to interfere with an FBI probe into corruption and abuse in the county's jails.
Jurors found that Baca oversaw and condoned the obstruction plot carried out by subordinates, which included hiding an inmate who was an FBI informant and threatening to arrest an FBI agent.
In written filings, Coleman argued that several rulings Anderson made during the trial and instructions he gave the jury had denied Baca a fair trial. But with only a short time allotted for the appeal hearing Tuesday, Coleman focused on two main claims.
Baca was diagnosed with Alzheimer's in 2016. His trial attorney had wanted Dr. James Spar, a respected geriatrician, to testify the disease could have affected Baca's memory in 2013, when Baca made false statements about the obstruction scheme to prosecutors. The decision by Anderson to bar the testimony ran afoul of precedent set by previous court decisions, Coleman said.
Appeals Judge Andrew D. Hurwitz pressed Coleman on the idea, asking why Baca's attorney at trial hadn't tried a different tack that would have informed the jury of Baca's diagnosis without relying on the doctor's testimony.
Alden, the prosecutor, said Spar's testimony would have been so speculative and vague that it would have risked "a verdict based on sympathy instead of evidence."
Coleman's second line of attack focused on a conversation Baca had with a senior aide after sheriff's officials uncovered the FBI's secret investigation into the jails. The aide testified at trial that he had warned Baca against interfering with a federal probe. Anderson, however, did not allow jurors to hear Baca's response to the warning, in which he said he believed FBI agents were violating state laws and, so, needed to be stopped.
The response, Coleman argued, was evidence that the former sheriff did not have "corrupt intent" to obstruct the investigation and therefore should not have been convicted of the crime.
The appeals panel did not say when it would issue a decision.
For more news on federal courts in Southern California, follow me on Twitter: @joelrubin
---
The perils of parenting through a pandemic
What's going on with school? What do kids need? Get 8 to 3, a newsletter dedicated to the questions that keep California families up at night.
You may occasionally receive promotional content from the Los Angeles Times.