Long before Black Friday, downtown L.A. created shopping frenzy and hype with Dollar Days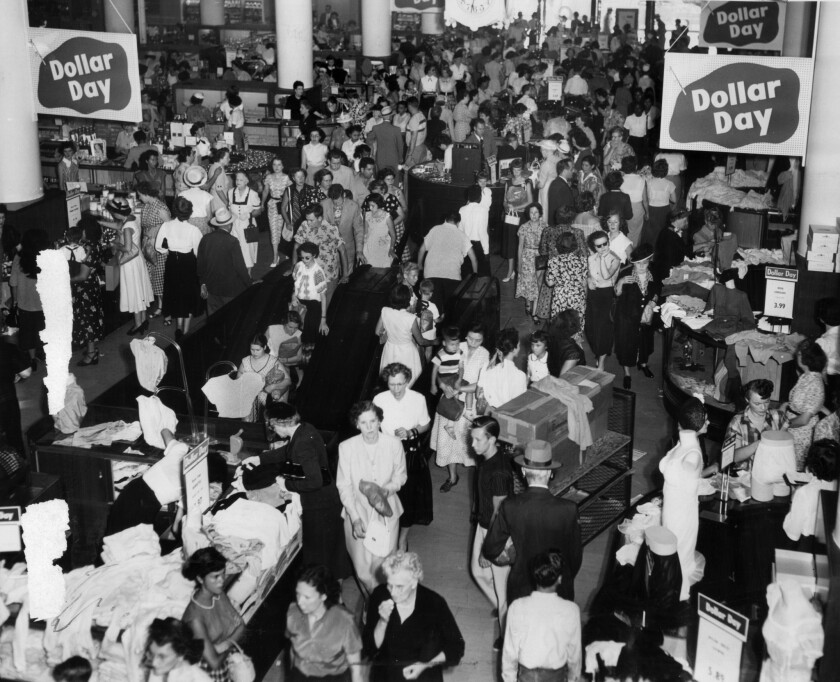 This photo of a downtown department store appeared in the Sept. 6, 1952, Los Angeles Times.
(Jack Carrick / Los Angeles Times)
Hordes of shoppers descend on 7th Street and Broadway in downtown Los Angeles on a Dollar Day in 1956. This photo was published in the Sept. 8 Los Angeles Times that year.
(John Malmin / Los Angeles Times)
Shoppers view Dollar Day specials in a photo published on Feb. 7, 1953.
(Paul Calvert / Los Angeles Times)
A Dollar Day sale in a downtown department store. This photo was published on Sept. 10, 1939.
(Marshall Benedict / Los Angeles Times)
This photo was published on Sept. 11, 1938.
(Los Angeles Times)
This photo in the Sept. 12, 1953, Los Angeles Times shows midday crowds at 7th Street and Broadway.
(Art Rogers / Los Angeles Times)
A photo from the Feb. 18, 1941, Los Angeles Times.
(Los Angeles Times)
Dollar Day crowds on Broadway. This photo appeared on Sept. 12, 1937.
(Jack Herod / Los Angeles Times)
Long before Black Friday, merchants in downtown Los Angeles created their own shopping frenzy with Dollar Day.
The concept was somewhat novel when Dollar Day started: Various department stores and other shops joined together for big sales on the same day. The concept quickly caught on, in part because back then, in an era before shopping malls, downtown was Los Angeles' main shopping destination. In fact, boosters called downtown "The West's Biggest Shopping Center."
The merchants set Dollar Day periodically — typically in the spring and fall -- and the throngs came by car, bus and streetcar. The Times reported in 1940 that one such event drew 200,000 people into the city center.
The craze continued strong until after World War II, when suburbanization began the long decline of downtown as L.A.'s shopping center.
A story in the Sept. 6, 1952, Los Angeles Times reported:
Everything possible to assure shopping efficiency and ease had been done. There were additional traffic police to speed up the movement of people and vehicles, additional personnel in stores and restaurants and added transit facilities.
Many of those driving to the area found the time spent in transit greatly reduced, in some instances as much as halved, by the opening of new freeways, and they pronounced the newly opened Pershing Square garage a boon, providing as it does some 4,000 to 5,000 additional parking spaces downtown.
Shoppers also found they were able to combine profitable purchasing with civic privileges. Thousands availed themselves of the opportunity of registering for national elections, with registers available in downtown stores.
It was no real surprise the newspapers were big boosters of Dollar Day: Many stores took out big ads for the events.
Over time, the events began to fade. In 1950, 75 stores participated. By 1960, it was down to 60. Dollar Day continued into the 1970s. But by then, suburban shopping malls had sapped downtown merchants of many of their customers. By the 1980s, many of the area's grand department stores were closing. The old Broadway business corridor was thriving, but with a new set of merchants who catered to L.A.'s growing Latin American immigrant community.
Downtown Dollar Day was reborn in the 1980s as a fundraising event to benefit the area's homeless. The idea was for downtown office workers to donate $1.
The term Black Friday came into vogue in the 1990s, although retailers long had said that the day after Thanksgiving was one of the busiest of the year.
In 1992, President-elect Bill Clinton joined the throngs of post-turkey day shoppers at the Glendale Galleria, creating a Black Friday like no other in Los Angeles. As The Times reported:
Less than two months before his inauguration, Clinton performed like the schmoozer-in-chief, tossing a football in the Champs sporting goods store, then pressing the flesh with hundreds of people who crowded close for a quick touch and, in some cases, a brief conversation.
Mall operators said they believe all-day attendance surpassed 150,000 — the usual turnout for the Friday after Thanksgiving, traditionally the busiest shopping day of the year. Five people fainted, one person was taken to Glendale Memorial Hospital with heart pains and another person was injured in an assault that occurred inside the mall but away from Clinton, a fire department spokesman said.
By the 2000s, Black Friday had become a true retail phenomenon. And what started as a way for the masses to get bargains had gone upscale. As The Times reported in 2003:
In Beverly Hills, scores of women jammed into the Enzo Angiolini store, where leather boots were marked down as much as 50%. Brooks Bros. sold out its inventory of camel-colored cashmere scarves priced at $98 each.
"We cannot keep them in stock," said Brooks Bros. general manager James W. Jahant. "Customers are buying our non-iron shirts, men's and women's, in quantities — four to eight apiece."
ALSO
Finding the best holiday shopping deals online can vary by the day
See which stores will be open Thanksgiving Day — and why others are waiting until Black Friday
Grab a free Black Friday pass (before they're gone) to one of 116 California parks
---
The stories shaping California
Get up to speed with our Essential California newsletter, sent six days a week.
You may occasionally receive promotional content from the Los Angeles Times.