Blaze Bernstein's Snapchat account used to help identify suspect, but no motive in slaying released
Orange County authorities said they used Blaze Bernstein's Snapchat account to help identify the suspect arrested in connection with the slaying of the Ivy League college student, but authorities have not revealed details about a possible motive in the case.
Authorities on Friday arrested Bernstein's former high school classmate Samuel Lincoln Woodward.
How the case unfolded
Bernstein, 19, was reported missing Jan. 3 by his family, who became concerned after he didn't show up for a dental appointment and they found his wallet and glasses in his room. He was on winter break from the University of Pennsylvania and visiting his parents in Lake Forest when he disappeared.
Detectives used Bernstein's Snapchat account to identify a friend who had picked him up the night before, said Orange County Undersheriff Don Barnes. That friend told investigators that he had left Bernstein after he walked off by himself in Borrego Park, Barnes said.
Bernstein's body was found on Jan. 10 near the park, after rain runoff exposed parts of the remains. Investigators declined to discuss the condition of his body or how he might have died.
Barnes said investigators found inconsistencies in what Woodward told authorities.
A search warrant affidavit, obtained by the Orange County Register, said Woodward had scratches and abrasions on his hands and dirty fingernails, and that he said he could not recall the last name or address of a girlfriend he said he visited after dropping off Bernstein.
When asked about the abrasions by detectives, Woodward said that they were from a "fight club" he participated in and that his fingernails were dirty because he fell into a "dirt puddle" during sparring.
Barnes said DNA results led to the arrest of Woodward, 20, on suspicion of homicide. He was under surveillance and was taken into custody after leaving his house about 1:15 p.m. Friday.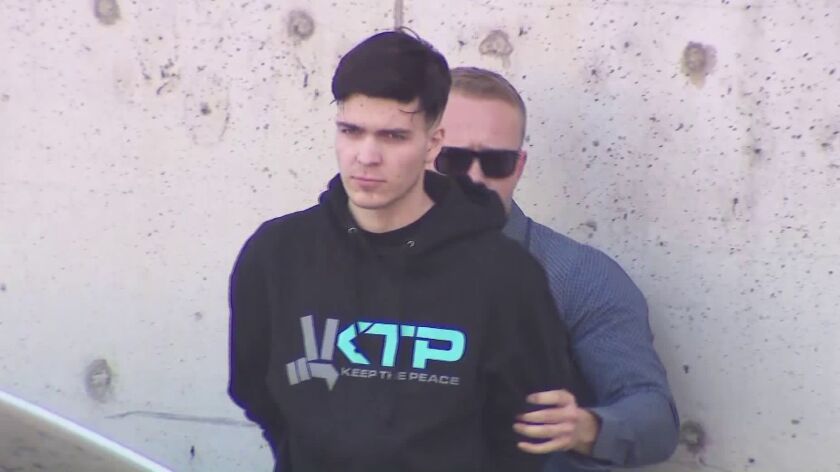 Unanswered questions
Barnes said Bernstein and Woodward had attended the same high school, identified in the warrant as the Orange County School of the Arts.
Orange County Dist. Atty. Tony Rackauckas called the killing a "very tragic case," adding that "by all accounts, both of these families are good people whose lives have been turned upside down in a terrible way."
"They are both in grieving situations," Rackauckas said.
Woodward is scheduled to appear in court on Tuesday, the district attorney said, adding that he was not at this point ready to say what charges will be filed against him.
Family mourns
After hearing of the arrest, Blaze Bernstein's mother, Jeanne Pepper Bernstein, tweeted, "Finally." She told The Times, "I would just say that we are grateful for the fine men and women in the [Sheriff's Department] who have worked tirelessly to get answers for our family, our community and the world.
"Nothing will bring back my son, so we ask the world to please honor Blaze's memory by doing an act of kindness today. Don't wait; do it now. Celebrate the goodness that still exists in this world in spite of these acts of senseless evil. People are good, and Blaze knew that," she said. "Honor yourselves and him."
---
The stories shaping California
Get up to speed with our Essential California newsletter, sent six days a week.
You may occasionally receive promotional content from the Los Angeles Times.