Encampments take root in South L.A. Here's why clearing them out is so difficult
When the tent caught fire, flames blew through an iron fence into an employee parking lot and quickly enveloped two cars.
Rumors swirled that one homeless person had torched another's tent, but Los Angeles firefighters found no leads to investigate.
New tents quickly appeared along the fence at 38th and Hill streets, where Amy Willens' Infiniti Q50 was destroyed that March day.
"I called LAPD," said Willens, the controller of an apparel manufacturing firm. "They came out. I said, 'Get them moved.' They said they can't."
The homelessness crisis has affected virtually every neighborhood in Los Angeles. But the close interaction between encampment residents and businesses and homeowners is especially intimate and confrontational in the industrial zone east of USC, where the car fire occurred, and in a residential area along Grand Avenue not far away.
When it's too hot to shut her bedroom window, Cindy Ramirez said, she will yell out to the people on the street to turn down the music booming on electricity pirated from disconnected street lights. But she said she can't shut out the camp smells.
Over the last year, the business people and residents in these two sections of South L.A. have pursued an increasingly testy — but so far futile — campaign of emails, phone calls and meetings beseeching the city for relief.
Police, sanitation workers, council deputies, even a neighborhood prosecutor have attended meetings, listened, expressed sympathy and done whatever was in their power to help.
But, restrained by law, city policy and lack of resources, they have fallen short, unable to do the only thing that is asked of them — to get rid of the homeless camps.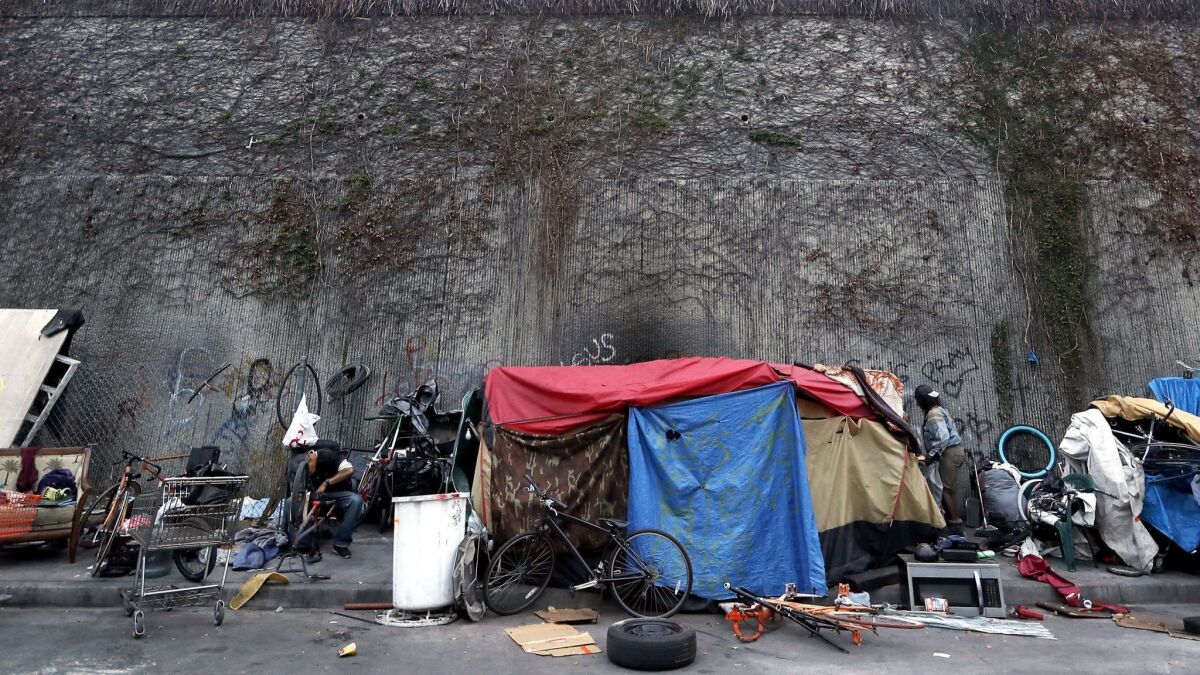 On a Saturday morning in March, a convoy of trash trucks, California Highway Patrol escorts and a front-loading tractor arrived to clean up Grand Avenue near 55th Street, removing mounds of trash and sanitizing the sidewalk on the access road paralleling the 110 Freeway.
As they worked, residents of several streets that dead-end into Grand gathered at a nearby dance studio.
About 20 people listened as a young woman explained that their best hope of getting action from the city was to form a neighborhood association and flood the city with emails.
Many speakers bristled with anger and frustration.
"It's something that's tearing down our community, the drug dealers, the criminals, the ones beating up our females, our mothers," said a young man who asked that his name not be used because he feared reprisals.
Others told of their cars being stoned, their yards defiled with feces and hypodermic needles, their children frightened.
"They are drug dealers," an elderly man said. "We can't walk over there because they intimidate us."
When the meeting leader, who also asked to remain anonymous, walked back to her home on 53rd Street around noon, the homeless people who had carted away their possessions for the cleanup were bringing them back.
It all would be repeated in a week, the woman said. Warning signs would be posted. The shelters would disappear. The sidewalk would be sanitized. By the afternoon, the tents and tarps would all be back.
It happens every Saturday.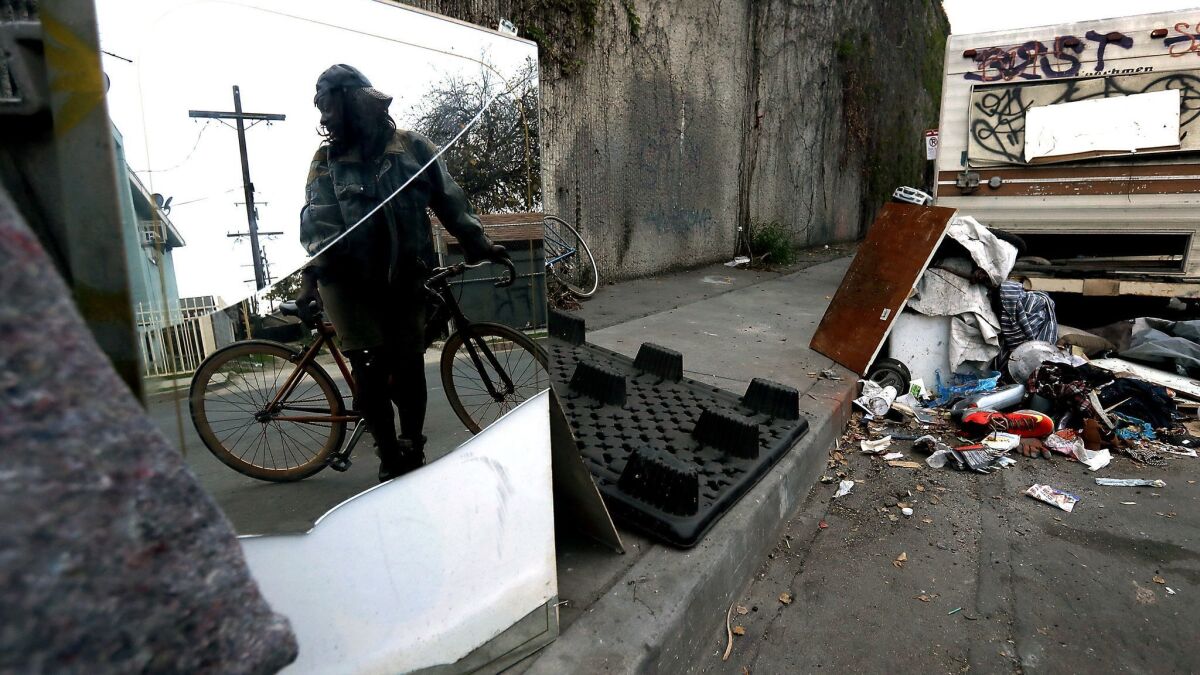 Los Angeles Police Officer John Boverie, assigned to the Newton Division homeless detail, keeps a handout summarizing Ordinance 56.11. The city law, adopted in 2016, seeks to "balance the needs of residents and the public at large" with the needs of "the city's large and vulnerable homeless population."
Among the rules: tents down from 6 a.m. to 9 p.m.; space clear for wheelchair access at all times; personal property not to exceed what will fit in a 60-gallon bin; nothing tied or attached to private property.
The law is violated daily by tents and structures of cardboard, wood and plastic.
Given his limited resources, Boverie said, there is no practical way to enforce 56.11.
"It's kind of hard to go around the whole division and say, 'Put your tent down, put your tent down, put your tent down,'" Boverie said.
After three warnings, police can make a misdemeanor arrest for tent violations, he said, but it wouldn't accomplish much: "If I take that person to jail, I have to go through the whole encampment and book whatever is salvageable and book it in a storage facility."
Because of the hazards in camps, he can't even do that without the assistance of sanitation crews.
And if he did book someone into jail, "by the time I get back to the station to write a police report and write a probable cause declaration for a judge to sign, they're getting cited out at jail because there's no room," Boverie said.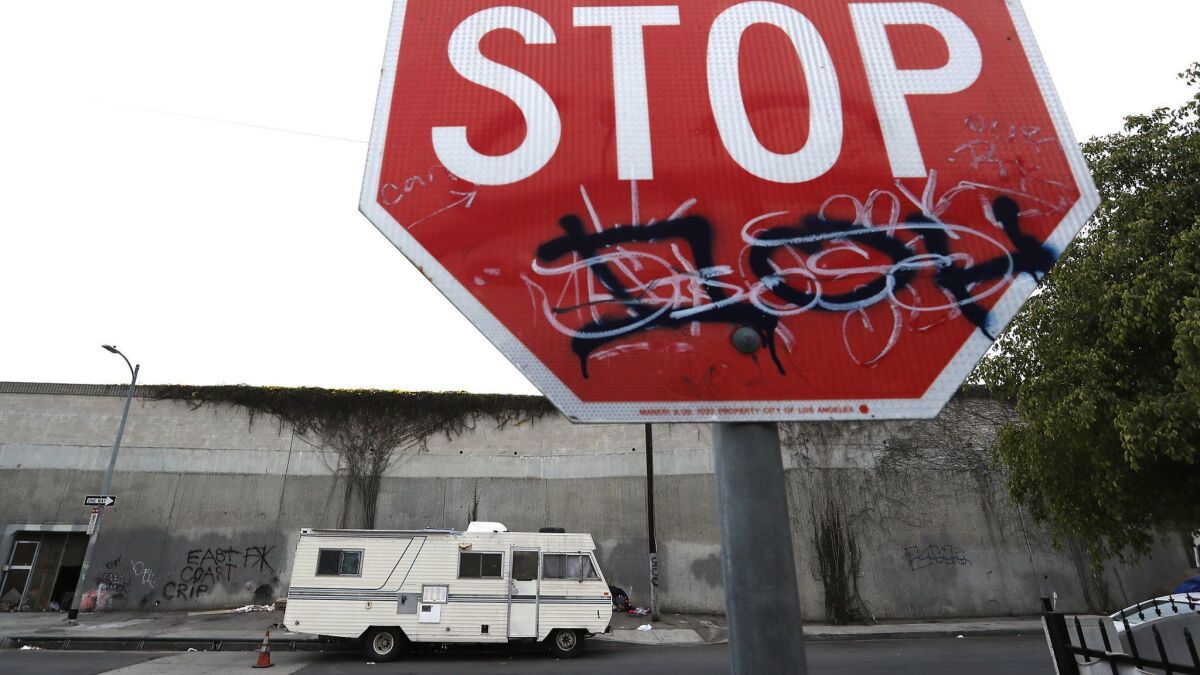 In the enforcement vacuum, people devise their own strategies. Daniel Tenenblatt erected a fence in the middle of the sidewalk around his fabric factory, where 500 people work in shifts around the clock.
He said the camps were chasing away his customers.
"We sell fabrics," he said. "We have people coming here and we want to tell them, 'Buy it here and not in Bangladesh.' They come in here and it looks like Bangladesh. People piled up. There's filth. They have to hold their nose to walk in the building."
Like the camps it is designed to repel, the fence is an illegal structure.
"Within a week the city came to cite us and tear [it] down," Tenenblatt said.
But Councilman Curren Price's district director, James Westbrooks, talked to the building department. The inspectors backed off. The fence still stands.
Another ordinance bans people from living in vehicles parked on residential streets. But recreational vehicles — including a cabin cruiser with no propeller — are permanently parked along Grand Avenue and the streets of the industrial zone.
At a meeting with city officials, Tenenblatt called attention to a map showing streets where he said RVs were parked illegally.
"These areas you can't have an RV at night," he told Gita O'Neill, assistant city attorney for homeless issues.
O'Neill politely corrected his interpretation of the law. The ordinance prohibits dwelling in those areas, not parking, O'Neill said.
"LAPD has to write a ticket to the person living in the vehicle," she said. "They have to prove the person is living there day to day."
In theory, residents in homes along Grand Avenue have more leverage. At Price's request, all overnight parking is banned there. Nonetheless, people continue to park dilapidated RVs next to new signs prohibiting them between 2 a.m. and 7 a.m.
A resident who spoke at the community meeting said he set his alarm for 2 a.m. every night for weeks to complain to the Department of Transportation, which has round-the-clock enforcement.
At first officers ticketed the vehicles, he said. But when word got around that they wouldn't ticket a vehicle without a license plate, plates disappeared and the vehicles remain.
Now, the man said, he started calling the police, again to no avail.
Boverie, of the Los Angeles Police Department's Newton Division transient detail, said vehicles are seldom towed.
"When we impound the RVs, they have auctions at the impound yard," Boverie said. "They get the RVs back at you wouldn't believe what price."
"Just to get them off the lot," added his partner, Officer Ismael Tamayo. "The yards are losing money to store those RVs."
"We have to call in advance," Boverie said. "'Do you have room?' They say no. There's nothing we can do about it. The RV stays."
After a few weeks of complaints, the man said, the Department of Transportation started ticketing the vehicles again. They have since scattered to other streets in the neighborhood.
The proliferation of camps in the two areas goes back two to three years, when homeless people apparently began moving from elsewhere. It's not clear why, but there are various theories.
Residents along Grand Avenue think a major cleanup of South Park, a few blocks to the east, and concerted pressure on camps west of the 110 Freeway on Flower Street caused a migration to Grand.
Some business owners attribute the camps between Broadway and Hill to a change in the hours of a nearby Volunteers of America shelter when it expanded from overnight-only to 24-hour operations. They think clients who previously bused back and forth to skid row every day began to hang out around the shelter.
Mitch Blumenfeld, who moved his business, Acme Display, into a building on Broadway in 2015, said several people living on adjacent sidewalks agreed to leave at his request. Others replaced them, however, and he has since been unable to dislodge them.
Now he struggles to keep tents away from his emergency exit. From time to time he steps outside to take photographs. His latest shows a man keeping two dogs in small cages stacked against his wall.
In December, Blumenfeld installed a surveillance camera in his parking lot.
The next Sunday, watching a live feed on his phone, he saw a man from the nearby tent camp hot-wire the gate open. Then a woman stood by waving a cardboard sign offering $20 parking to football fans headed to the nearby Coliseum.
Police couldn't positively identify a suspect, said Newton Det. Michael Hernandez. No charges were filed.
Still, Blumenfeld finds the parking lot incident a minor nuisance next to his real concern: fires that break out regularly in the camps. One in March left a scorch mark on the side of his building. There was another fire outside his building in May.
"What very well could have been is those embers get on my roof and I have $5 million in inventory that could go up in smoke because our city is not enforcing the laws," Blumenfeld told the city officials. "It's not right."
Maria Morales, whose shelter was attached to the fence where Willens' car burned, said an eviction left her homeless. She said she'd like to work, but is caught in a dilemma.
"There's times you can't have a job because you've always got to be watching out for your tent because somebody could either come and steal things," she said. "If they don't steal your things, the city comes and takes it."
Morales said outreach workers are trying to help her, but with no results so far.
"Right now, we're just trying to work on getting identification, you know like an ID, you know what I mean, something to say, 'This is me,'" Morales said.
That day she was gathering things to move before a cleanup scheduled the next day. At the last cleanup, she said, workers took her possessions.
"I said, 'You guys are supposed to be here to clean, but you're keeping our good stuff and just leaving the trash.' Like, we're not trash. We're human beings like everybody else. We're just trying to survive."
She has since moved to a different sidewalk, but not because of the cleanup. In May, the landlord for the building erected a fence down the middle of the sidewalk like the one across the street.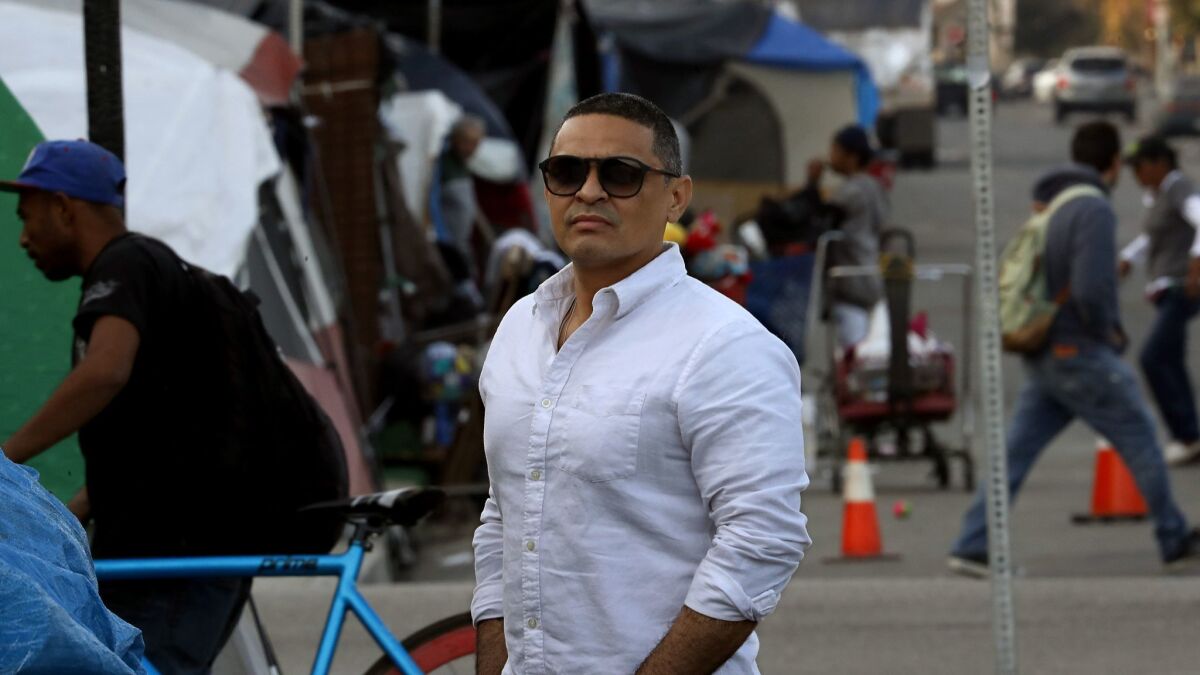 Elmer Roldan manages a Boyle Heights nonprofit that advocates for students. At night, he returns to the house he bought three years ago on 55th Street, three doors from Grand Avenue.
Roldan says the nightly scene is a test for him and his principles — "a condition where my values and my reality come in clash."
"People hanging out every single night … cars pulling up and people drinking or smoking in the cars … people sleeping on the sidewalk, glass everywhere," he said. "Then a lot of people hanging out, people that appeared annoyed that you were walking through their party."
Roldan said he doesn't view the camps as mostly made up of criminals. There are young couples, even families with children who show up and soon move on. But he reluctantly installed window bars after a homeless woman broke into his house.
And he rerouted his nightly walk with his dogs.
Unlike some neighbors, he doesn't call the police.
"I am not of that mentality," he said. "I am a believer in social services. I am a believer in helping people, especially when they are struggling."
Roldan said he believes any solution has to be permanent. At the same time, he pines for a short-term fix.
"Is it possible to say, 'Hey look, if you're camped out in front of a residence, or in front of a business, let's move you to a more secluded space until we figure out a permanent solution'?"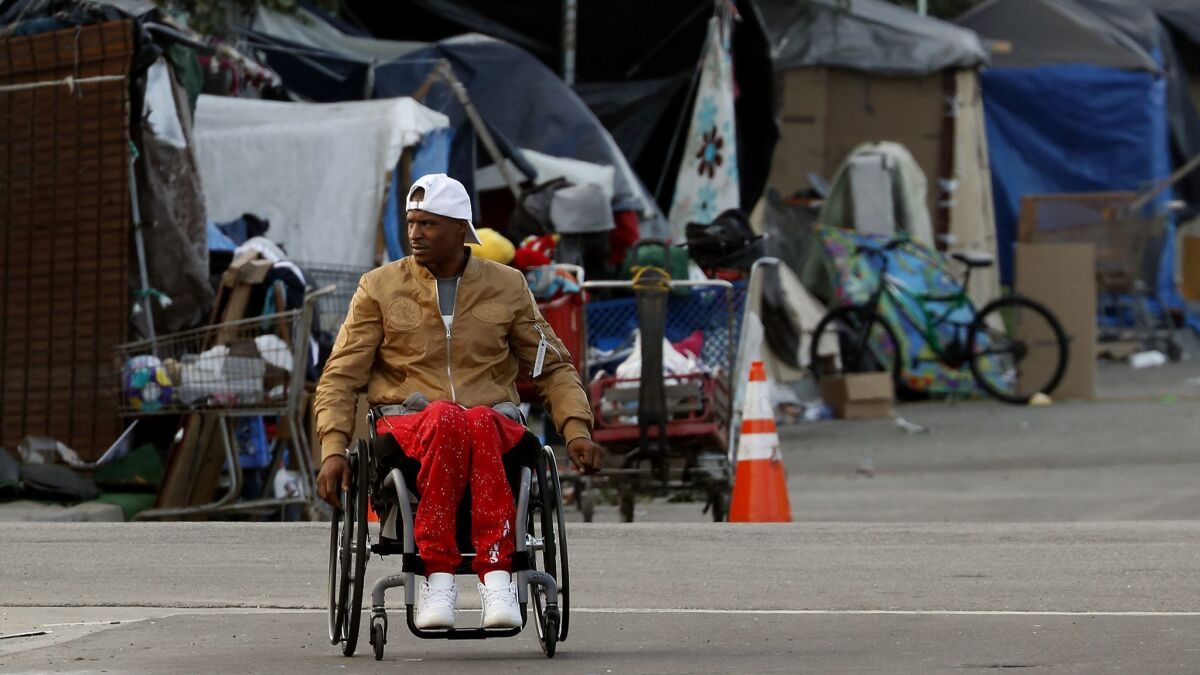 A flurry of angry emails was touched off in April, when the city put a portable toilet on 38th Street, a block from where Willens' car was burned. That precipitated a meeting with city officials at Acme Display, a reprise of a meeting almost a year earlier in which business owners pleaded for help.
Westbrooks, Price's district director, asked them to be patient.
"It's not going to be tomorrow," he said. "It's not going to be next week."
But there will be results, he promised, because "the city is now all in."
He said the business owners would begin to see results soon from an intensive outreach program by a local social services agency called HOPICS, which is sending teams to their neighborhood every day.
"It takes some time for folks to open up and let outreach workers know what their need is," he said. "The hope is once they develop that relationship, either get them into a shelter or into some potential permanent supportive housing or get them into a hospital, so hopefully we can get them off the street."
"I think that makes perfect sense," said Tenenblatt, the fabric manufacturer.
But he remained skeptical. It would work, he said, only if coordinated with intensive daily cleanups.
"After the third time, I think you can convince a lot of people," he said.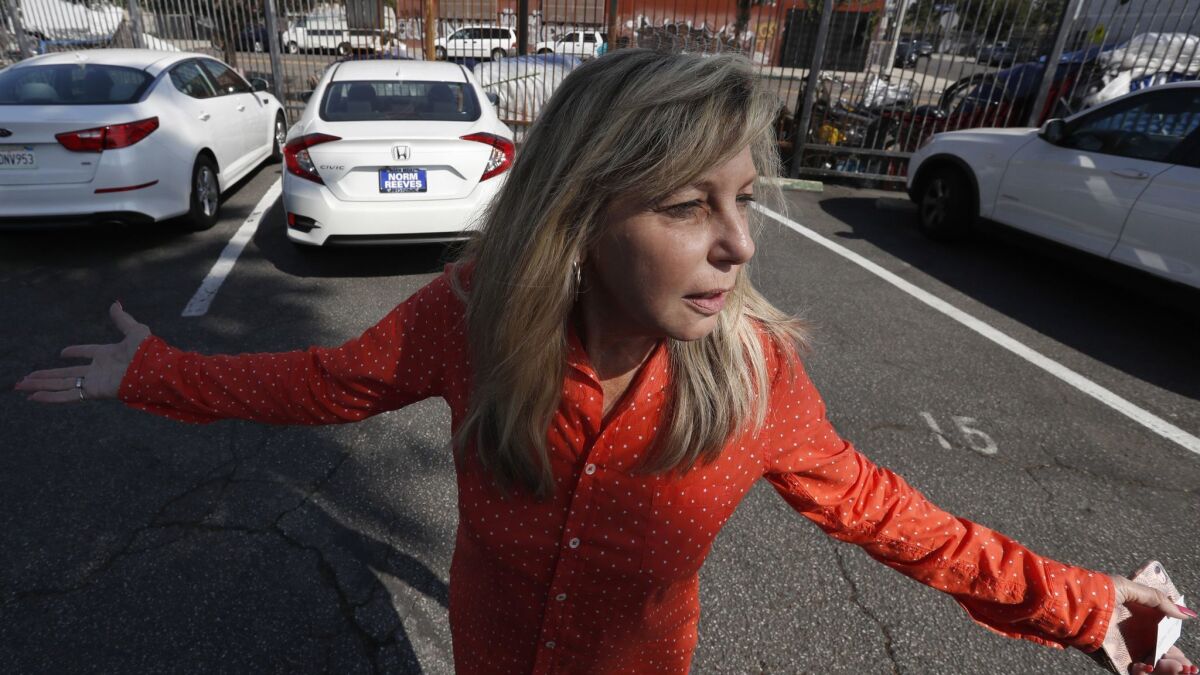 Twitter: @LATDoug
The stories shaping California
Get up to speed with our Essential California newsletter, sent six days a week.
You may occasionally receive promotional content from the Los Angeles Times.