Gov. Brown declares California drought emergency is over
After years of history drought levels and a steady recovery in 2017, Gov. Jerry Brown officially stated Friday that California's drought is over. For now at least.
Startlingly green hills, surging rivers and the snow-wrapped Sierra Nevada had already signaled what Gov. Jerry Brown made official Friday: The long California drought is over.
Brown issued an executive order that lifts the drought emergency in all but a handful of San Joaquin Valley counties where some communities are still coping with dried-up wells.
He also made it clear that the need for conservation is not going away.
"This drought emergency is over, but the next drought could be around the corner," Brown said in a statement. "Conservation must remain a way of life."
Five years of relentlessly sunny winter weather took a toll on California. In a move that showed the seriousness of the threat, Brown ordered a statewide 25% cut in urban water use, and Californians came close to meeting it by taking shorter showers, flushing less and accepting it when restaurants did away with the once obligatory glass of water. Cactus took root in frontyards and backyards where lawns once flourished.
The Sierra Nevada, now buried in snow, will be streaked for decades with miles-long brown swaths of pine trees that the drought weakened for beetles to kill. Years of low river flows pushed imperiled native fish closer to extinction.
Hundreds of thousands of acres of farmland went unplanted. Central Valley water tables plunged and farmland sank as growers pumped ever more groundwater to make up for lost irrigation deliveries.
Faucets spit air in small farm towns with waterless wells.
But on the whole, this intricately plumbed state proved to be surprisingly resilient in the face of what, by some measures, was the worst drought on record.
"We did remarkably well," said Jay Lund, director of the UC Davis Center for Watershed Sciences.
Despite water shortages, agriculture — the state's biggest water user — enjoyed record revenues in 2012, 2013 and 2014 thanks to soaring nut and dairy prices.
Though drinking supplies had to be trucked to some rural communities, the effect in most metropolitan areas was mainly limited to people boasting about every drop they saved, tsk-tsking at wasteful neighbors.
The water shortages barely put a dent in the state economy.
"How much reduction in the gross domestic product of California occurred because of a 25% reduction in urban water use? Almost nothing!" Lund exclaimed. "Nobody has even bothered to calculate it, it's so small."
Every major drought teaches California water lessons.
In the wake of the last prolonged drought, from 1987 to 1992, the Metropolitan Water District of Southern California constructed a big reservoir in Riverside County to boost regional reserves. Those supplies helped carry the Southland through this drought.
In recent decades, water districts expanded recycled water programs and promoted indoor conservation with rebates for water-thrifty appliances. That kept a lid on demand even as the population grew.
"In the late '80s drought, we learned how much we can save indoors. In this drought we learned how much we can save outdoors," said Felicia Marcus, chairwoman of the State Water Resources Control Board, which had the prickly task of enforcing the urban cuts.
Nudged by generous turf rebates from water districts, homeowners up and down California ripped out their shriveled lawns and replaced them with succulents and drought-tolerant native plants.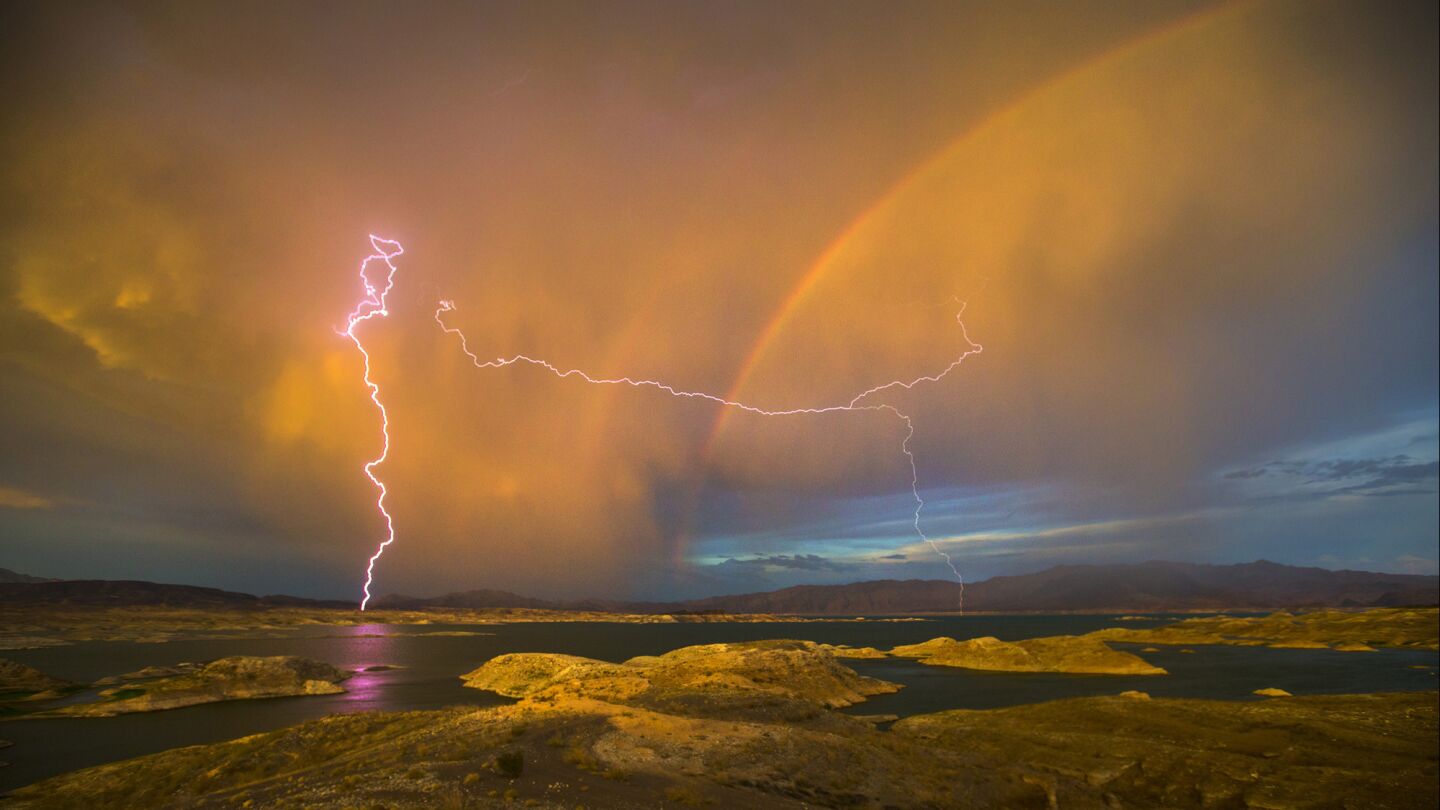 Lightning strikes as a rainbow arches over Lake Mead, which straddles Nevada and Arizona. The lake's water level has dropped almost 1,000 feet in just 17 years as the area is plagued by drought.
(Allen J. Schaben / Los Angeles Times)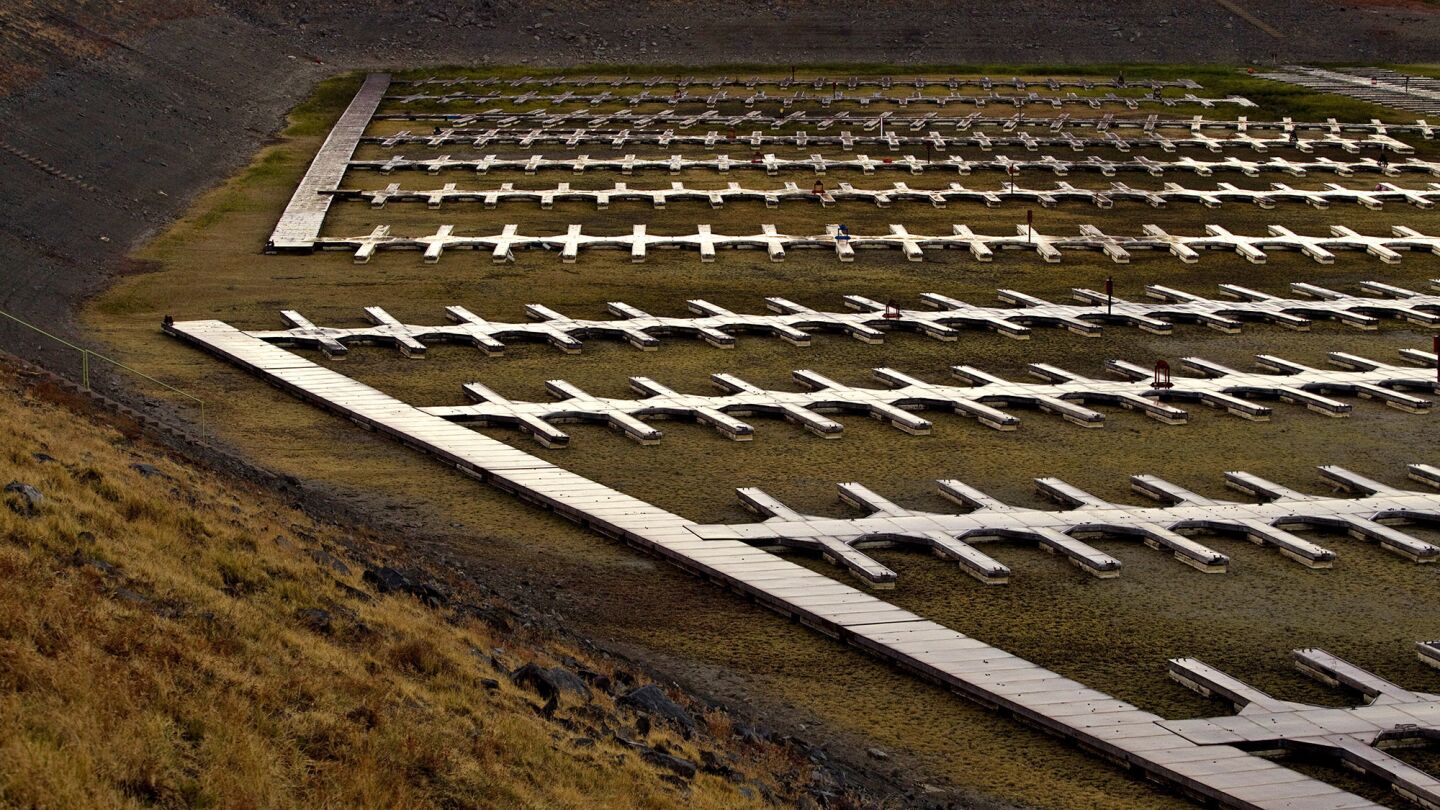 Severe drought conditions reveal more than 600 empty docks sitting on dry, cracked dirt at Folsom Lake Marina, which is one of the largest inland marinas in California.
(Allen J. Schaben / Los Angeles Times)
Water rings mark receding levels of the Pine Flat Reservoir.
(Allen J. Schaben / Los Angeles Times)
The water level in Lead Mead at the Hoover Dam shows the "bath tub ring" on October 15, 2015.
(Irfan Khan / Los Angeles Times)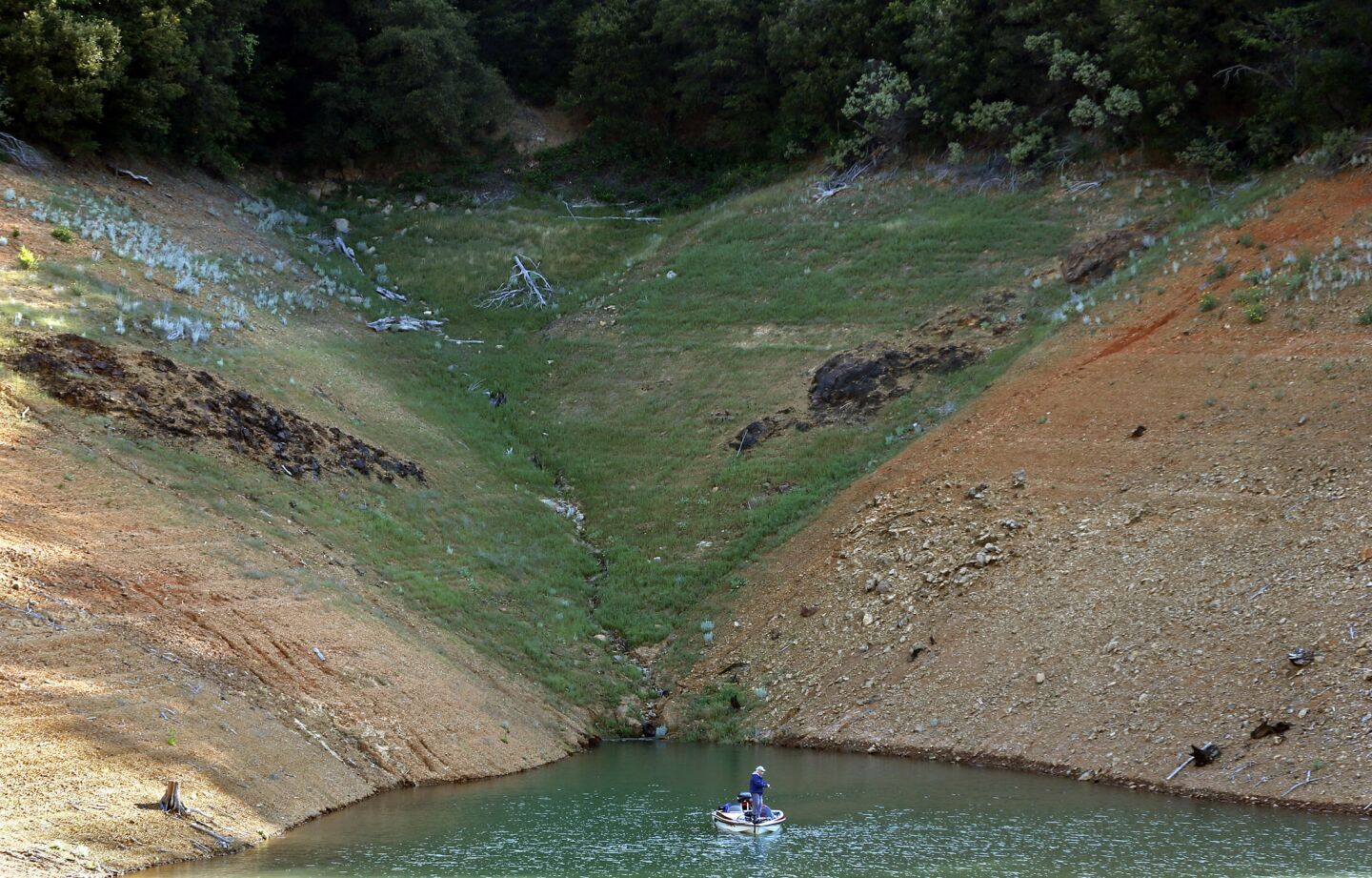 As the California drought grinds into it's fourth year, the exposed shoreline of Shasta Lake shows the steady drop in water level.
(Don Bartletti / Los Angeles Times)
The sunrise illuminates the receding waters of Pine Flat Reservoir, one of California's most severely depleted dams.
(Allen J. Schaben / Los Angeles Times)
Exposed shoreline shows low water levels at Castaic Lake.
(Robert Gauthier / Los Angeles Times)
A translucent freshwater bryozoa is illuminated by the rising sun on the receding banks of Folsom Lake, which was 35% of capacity as of Sept. 30. One of the lake's five boat ramps remains in operation and boaters are restricted to 5 mph.
(Allen J. Schaben / Los Angeles Times)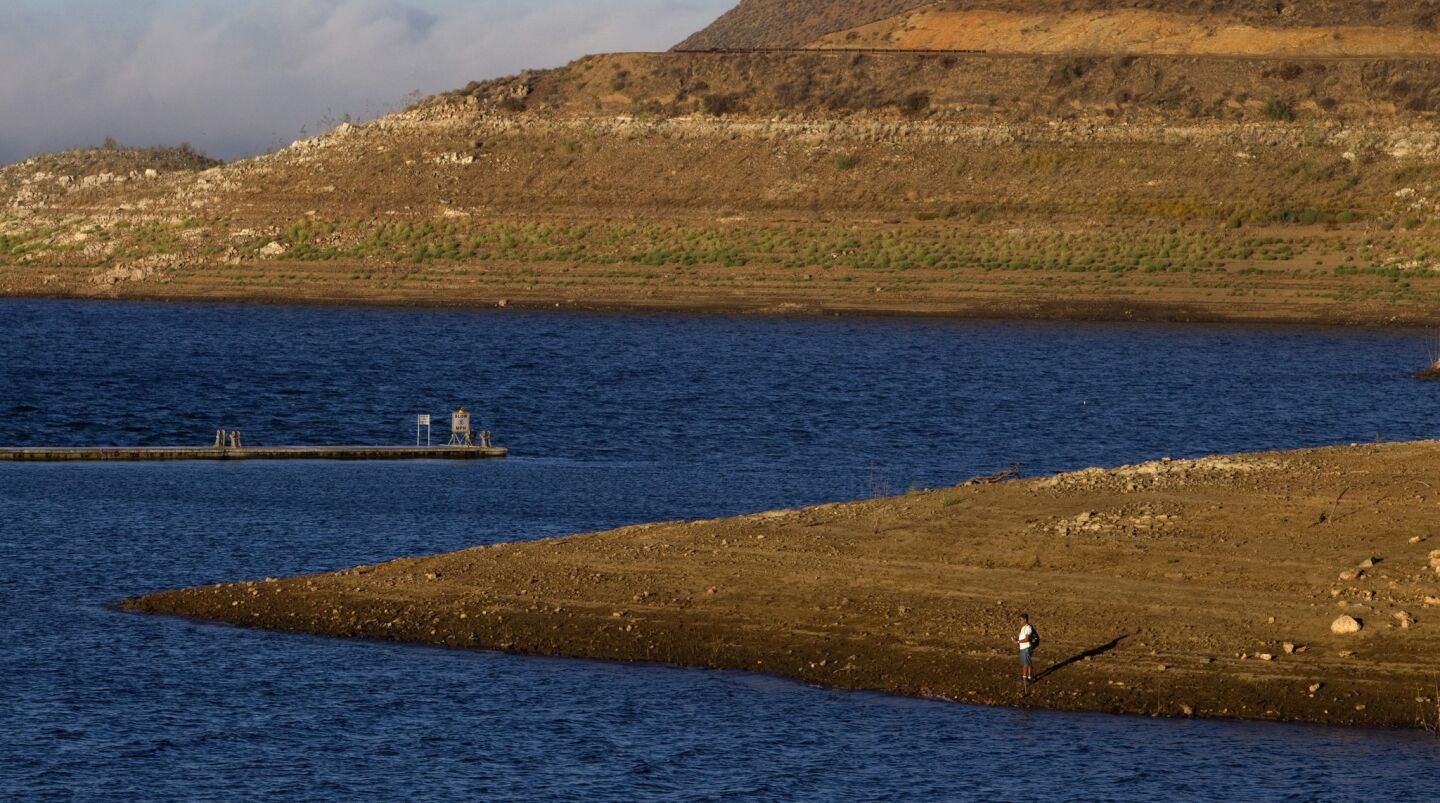 At sunrise, the effects of California's ongoing drought are evident at Diamond Valley Lake, a Riverside County reservoir. In a mega-drought scenario, most of the state's reservoirs would never fill up.
(Allen J. Schaben / Los Angeles Times)
Rings on the dam at Diamond Valley Lake show the dropping water levels. In a mega-drought, scientists say Californians would stop dumping most of their treated sewage and urban runoff from rain storms into the Pacific Ocean and instead add it to their water supply.
(Allen J. Schaben / Los Angeles Times)
Patterns are created and reflected from water receding on the bed of Folsom Lake. As the state ends the fourth-driest water year on record with no guarantee of significant rain and snow this winter, Californians face the prospect of stricter rationing and meager irrigation deliveries.
(Allen J. Schaben / Los Angeles Times)
Extremely low levels of water flowing through meandering streams of the east fork of the San Gabriel River in the Angeles National Forest show the effects of the prolonged drought. The water flows into the San Gabriel Dam and the Morris Dam, further downstream.
(Allen J. Schaben / Los Angeles Times)
Sunrise highlights patterns in the sand that remain after the water receded at the drought-stricken Pine Flat Reservoir.
(Allen J. Schaben / Los Angeles Times)
In January 2014, cattle rancher Rob Frost surveys the remains of an animal that died due to drought conditions on grazing land near Santa Paula, where the grass is normally 6 to 10 inches high this time of year. Frost says in an ordinary year he will lose 1% of his cattle to natural causes but he is now losing nearly 10%.
(Al Seib / Los Angeles Times)
A girl loses control of her umbrella after being rescued by a Huntington Beach police officer and a tow truck operator. Her family became trapped in their disabled car in the middle of flooded Heil Ave. amid a heavy downpour in Huntington Beach.
(Allen J. Schaben / Los Angeles Times)
A car is stuck in standing water on the southbound 110 Freeway on Jan. 22.
(Christina House / For The Times)
A fast moving discharge of water spews from the San Gabriel Dam, as a storm front moves through the area.
(Robert Gauthier / Los Angeles Times)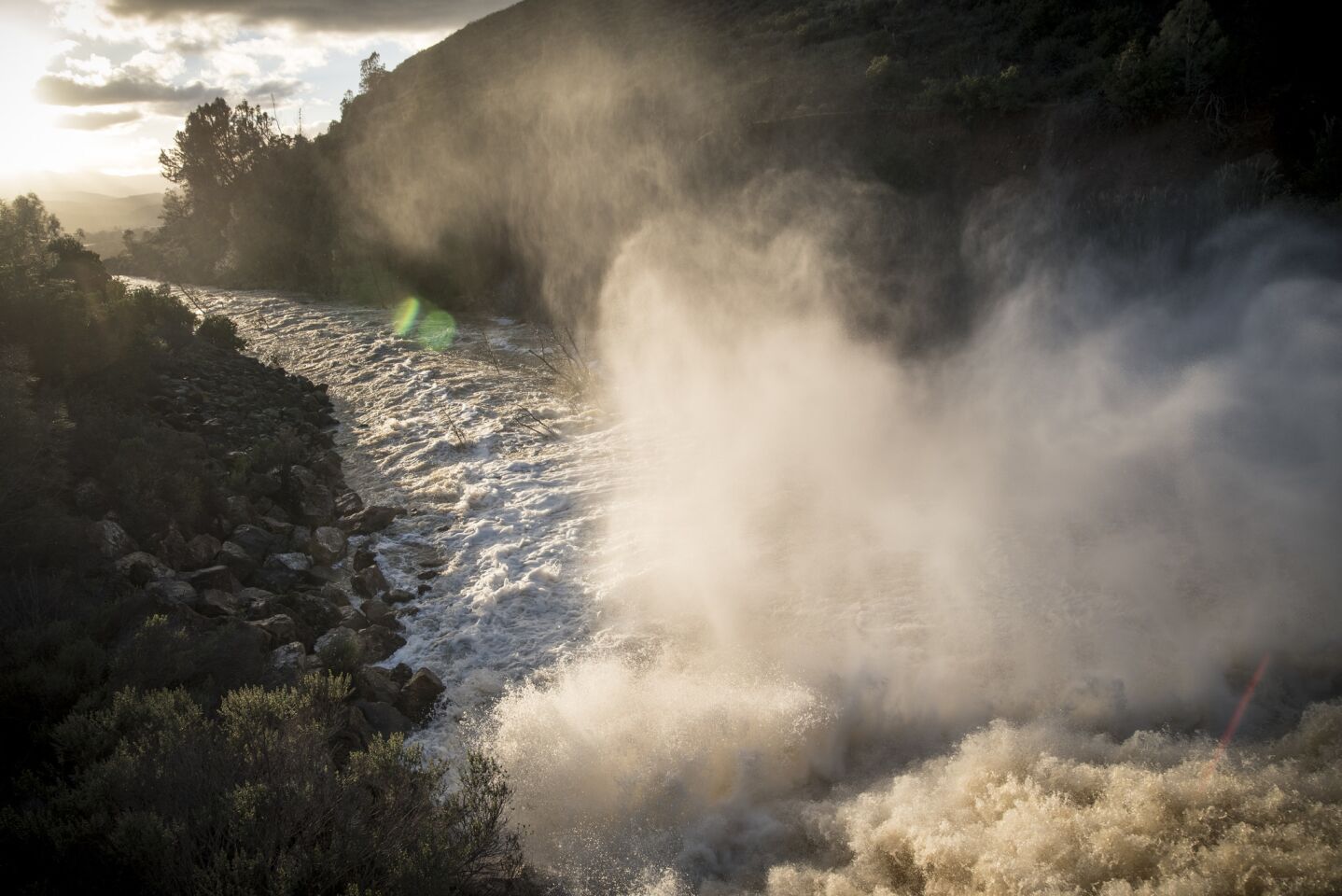 FEBRUARY 23, 2017 MORGAN HILL, CA -- A view of the Anderson Dam spillway which releases water from the Anderson Dam, causing water to spill down towards San Jose and flood parts of the city this week. (David Butow/For the Times)
(David Butow / For the Times)
A Toyota automobile is submerged along Green Valley Road near Folsom Dam in Folsom, Calif., on Jan. 11, 2017.
(Gary Coronado / Los Angeles Times)
Snow covers boat slips and a lone picnic at Lake Arrowhead on Monday as the latest strom moves through.
(Gina Ferazzi / Los Angeles Times)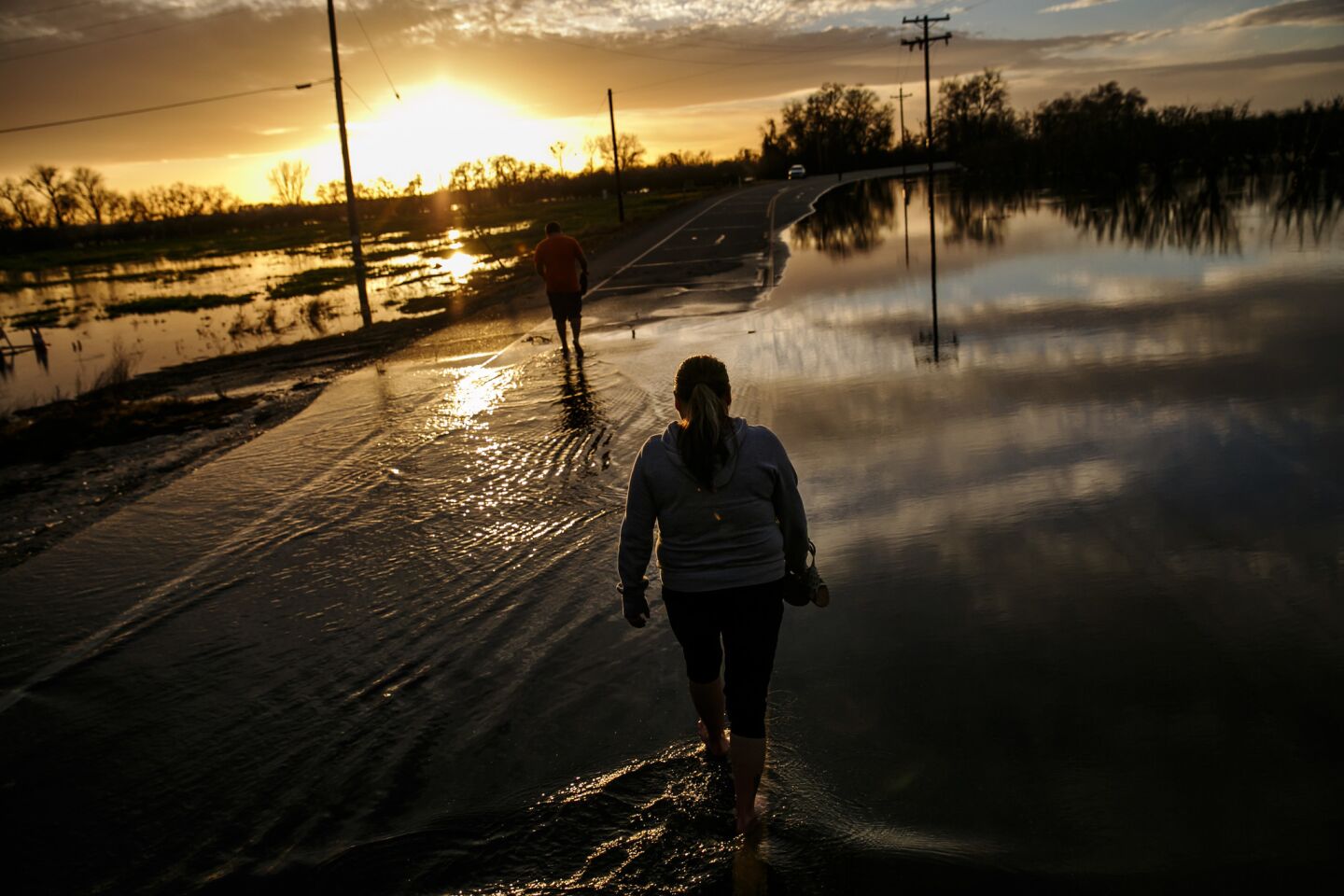 Melissa Martinez and her son, Fernando Martinez wade away from the flooded area of Gridley Road, near the Feather River as it continues to swell in Gridley, Calif.
(Marcus Yam / Los Angeles Times)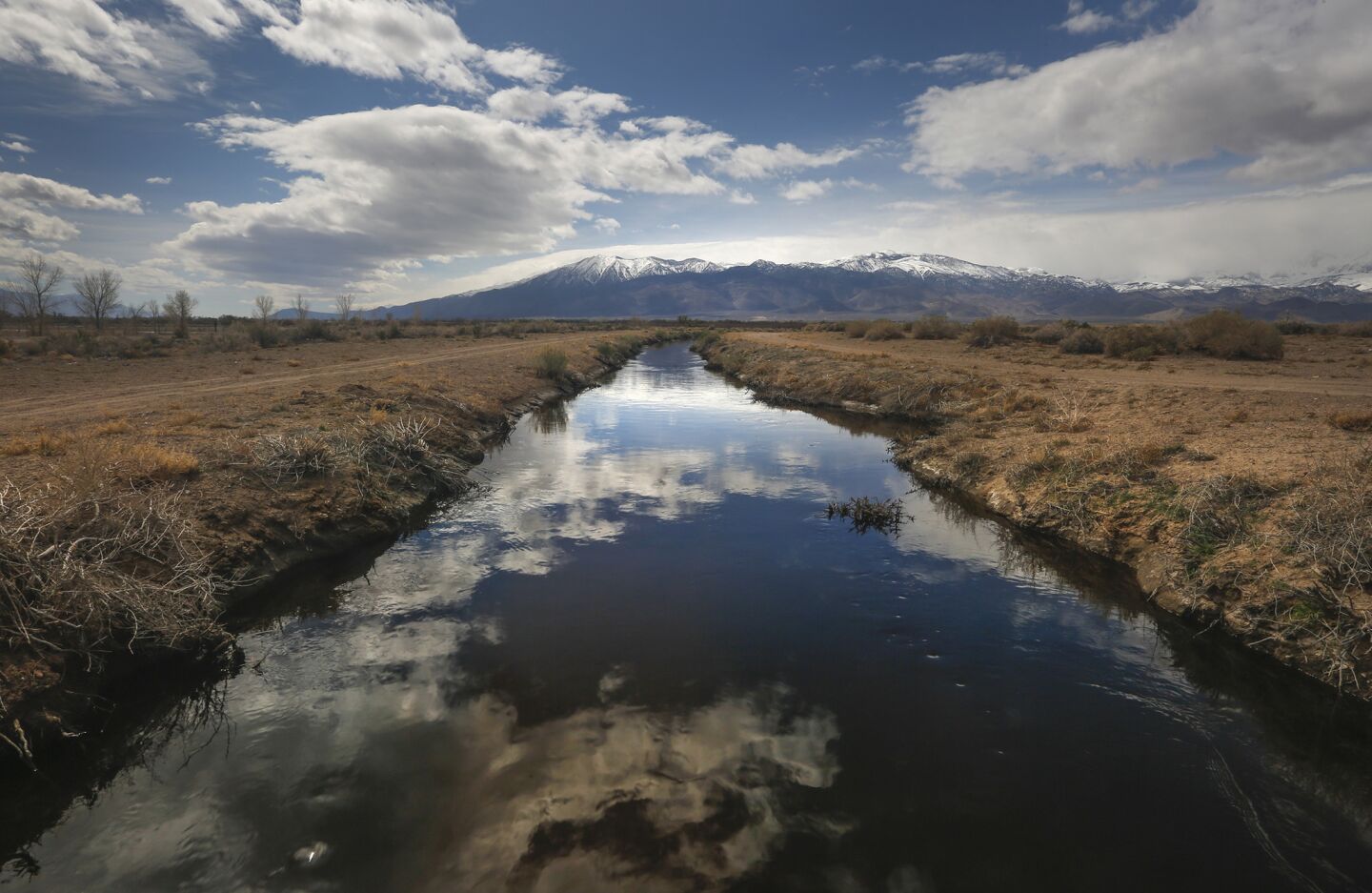 The clouds are reflected in the still waters of a water channel off Fish Slough Road in Bishop, California March 25, 2017. With a season of record snowfall in the Sierras, the the Owens Valley is preparing for possible floods.
(Mark Boster / Los Angeles Times)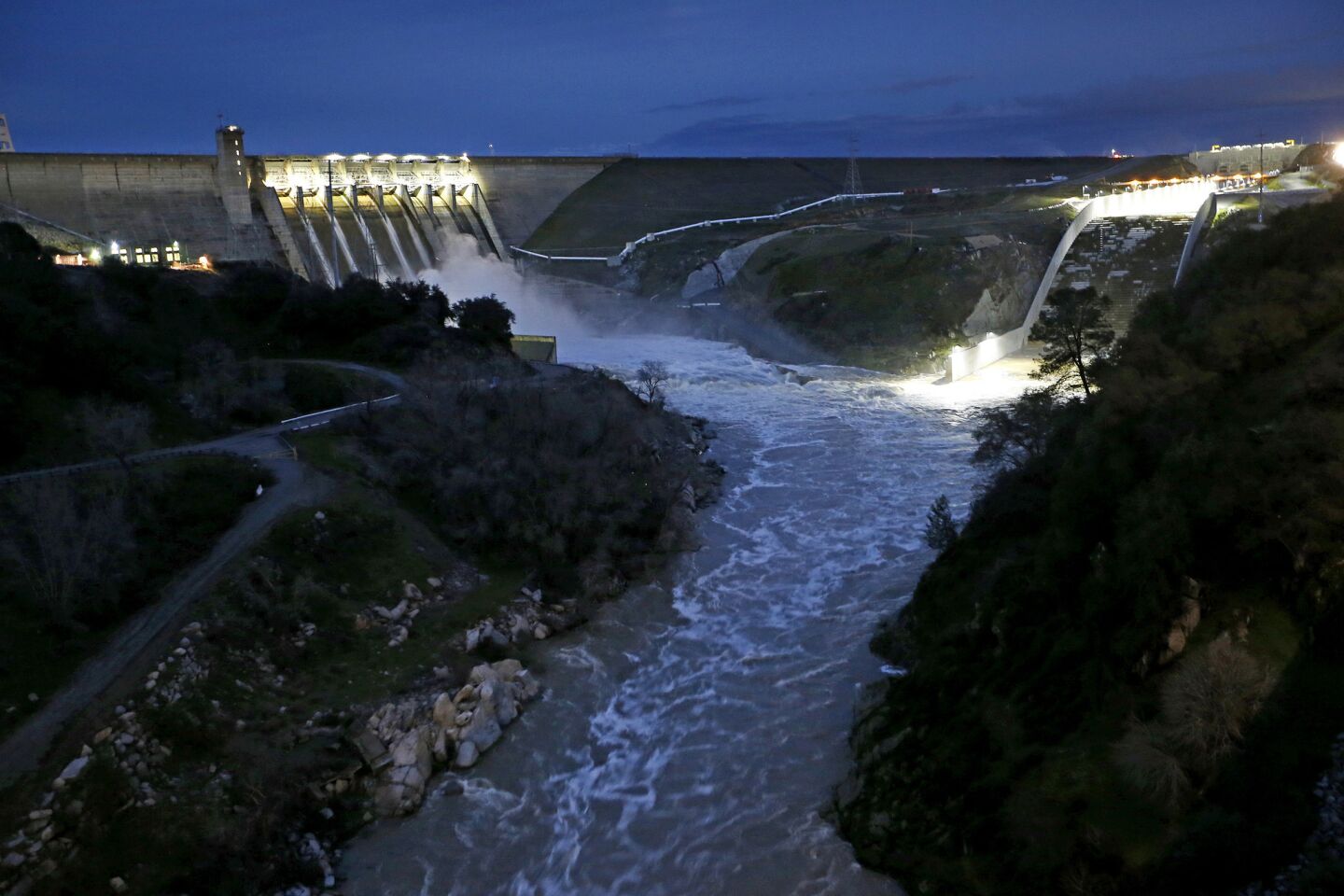 Folsom Dam releases water into the American River, in Folsom, Calif., on Jan. 11, 2017.
(Gary Coronado / Los Angeles Times)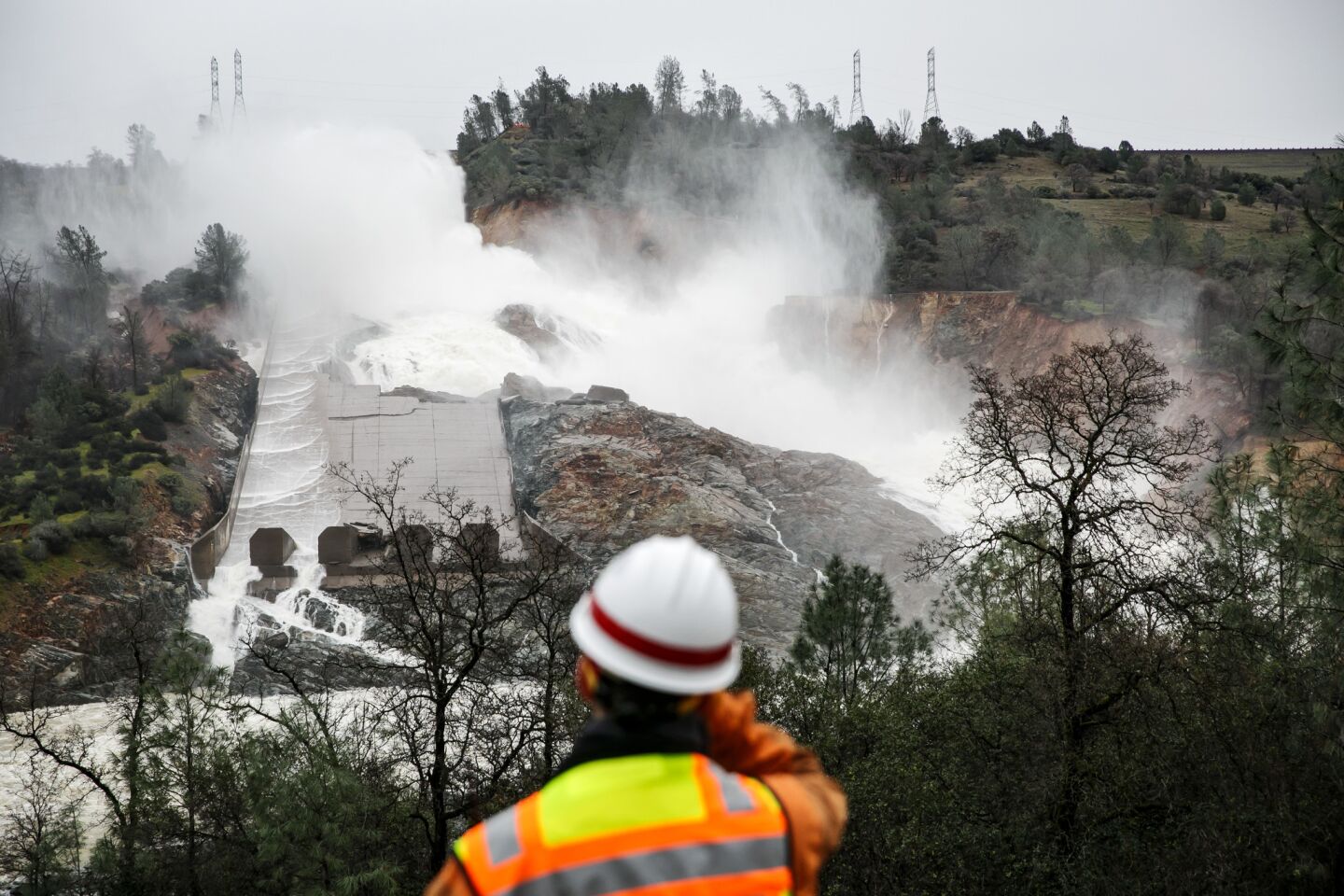 Water output on the Oroville Dam has been reduced making the erosion and damage to the main spillway more visible, in Oroville, Calif., on February 19, 2017.
(Marcus Yam / Los Angeles Times)
A house boat is on Shasta Lake, which is now more than 90% full thanks to El Nino.
(Allen J. Schaben / Los Angeles Times)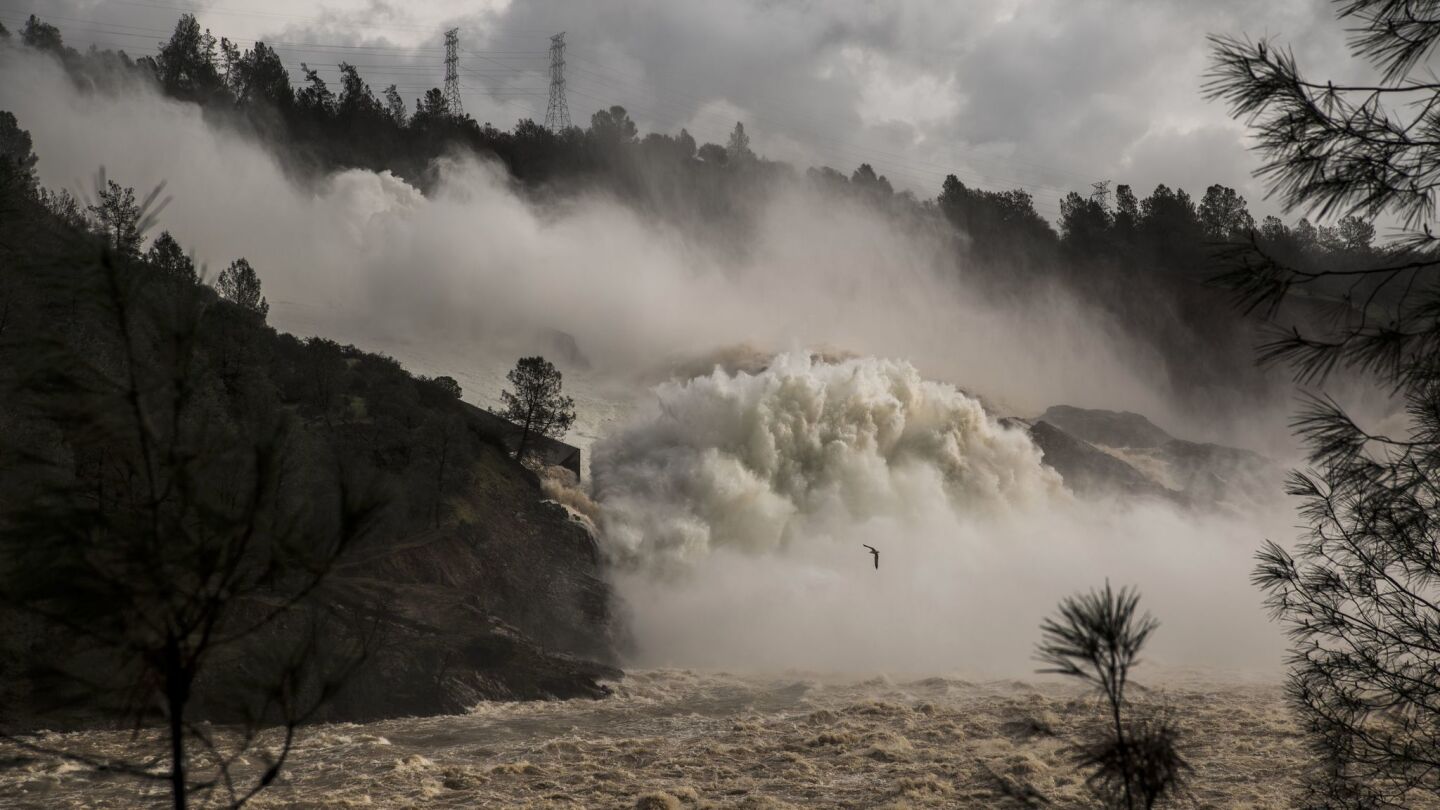 OROVILLE, CA FEBRUARY 10, 2017 -- Water cascades down the spillway below the Oroville dam. The water is being released by authorities to ease flooding in Lake Oroville because of recent heavy rain. (David Butow / For the Times)
(David Butow / For the Times)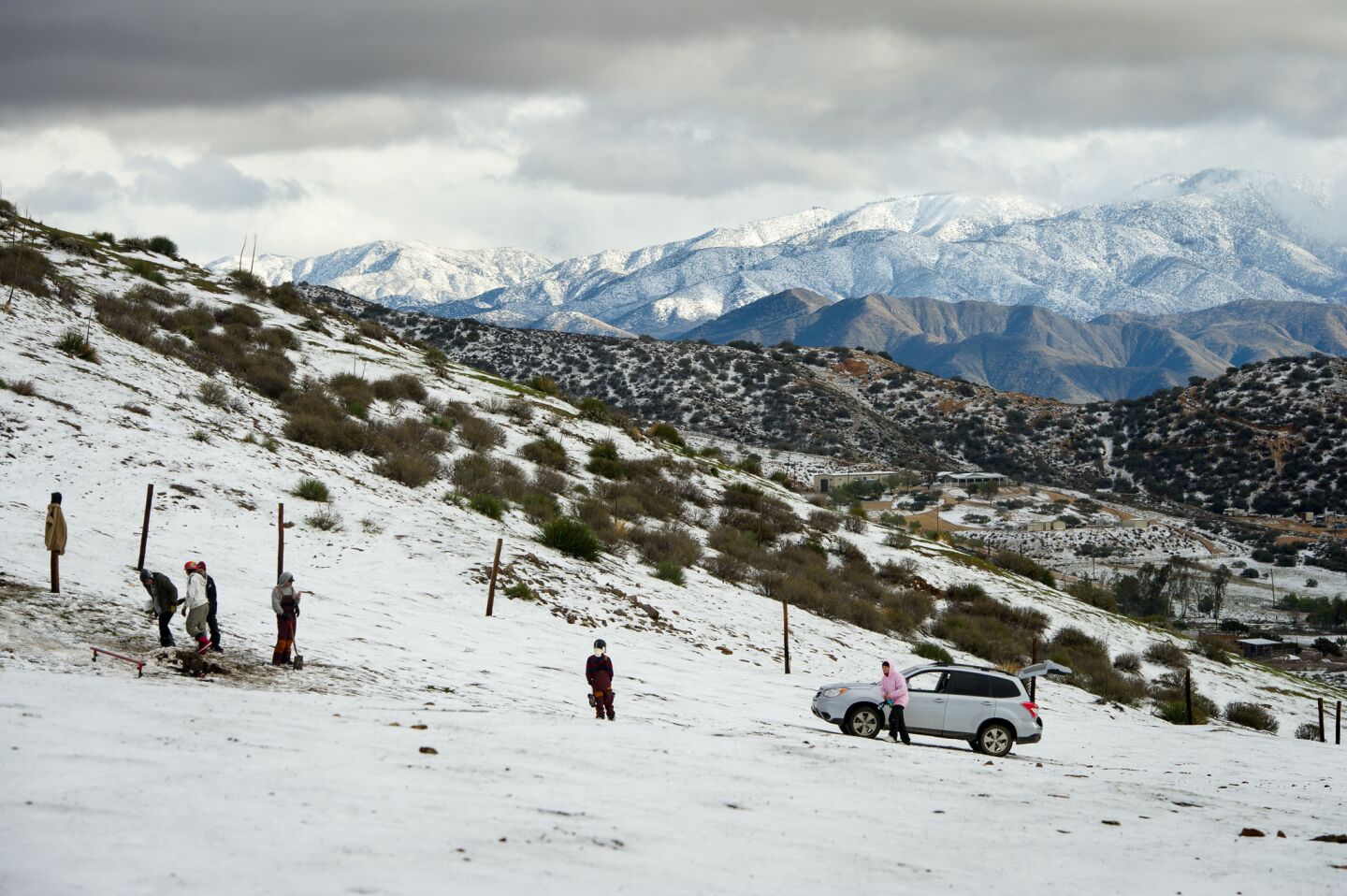 People enjoy the snow in Acton.
(Michael Owen Baker / For The Times)
Employees shovel snow as snow falls at Mammoth Mountain in Mammoth Lakes, Calif., on Jan. 7, 2017.
(Brian van der Brug / Los Angeles Times)
Snow blankets the Sierra Nevada crest north of Bishop along U.S. Highway 395 in Round Valley, Calif., on Jan. 6, 2017.
(Brian van der Brug / Los Angeles Times)
"There's a societal change in our attitudes — not just about watering use but what makes for a beautiful outdoor ornamental landscape that's part and parcel of a major mind-set shift for many Californians," Marcus said.
Even more profound was the state's willingness to finally join the rest of the West in regulating groundwater use.
A 2014 law requires regional agencies, over the course of the next two decades, to develop and implement plans to stop the chronic over-pumping that has depleted what amounts to California's biggest reservoir: the vast Central Valley aquifer.
"Lo and behold, [the state] noticed this and said 'Oh, we can't keep doing this forever,' " Lund said. "It was only the third year of the drought and we got a groundwater law."
The formal end to the drought emergency in most of the state won't have much of a practical effect because the urban cuts were significantly relaxed last year, when El Niño storms in Northern California loosened the drought's grip and big reservoirs began to refill.
This year, a procession of atmospheric rivers — bands of atmospheric vapor that blow in from the Pacific Ocean — finished off the drought. Statewide reservoir storage is above average. The statewide snowpack on April 1 was the seventh-heaviest on record, going back to 1950.
Statewide precipitation from October through March was not far behind the record wet year of 1983.
But with climate change expected to accentuate the typically dramatic swings in California weather, the Brown administration is adopting plans to embed conservation in the state's water ways.
A ban will continue on wasteful water practices such as hosing down driveways or watering a yard when it's raining.
The state water board is developing water budgets for urban agencies that will go into effect in 2021. They will be more flexible than the drought cuts and will take into account local factors such as summer temperatures, evaporation rates and population.
But the state water board will give each urban water district a number for how much water it can use in total every year. How the agencies meet that target will be up to them. But if they fall short, in 2025 the board can start demanding conservation steps.
Stubborn as this drought was, "it won't be our last or longest in the years to come," Marcus said.
Twitter: @boxall
ALSO
Recent storm makes Northern California's rain season the second wettest ever recorded
The Antelope Valley poppies have exploded into a spectacular burst of neon, signaling an end to drought
Yes, California's drought is all but over, and the dramatically revived Cachuma Lake proves it
Native flowers aren't the only plants in 'super-bloom' this spring — nasty weeds have also flourished
---
UPDATES:
3:42 p.m.: This article was updated to add details about dought damage.
11:05 a.m.: This article was updated with additional details from Brown's statement.
This article was originally published at 10:40 a.m.
---
The stories shaping California
Get up to speed with our Essential California newsletter, sent six days a week.
You may occasionally receive promotional content from the Los Angeles Times.