Carrie Fisher died of sleep apnea and 'drug use' was also a factor, L.A. County coroner says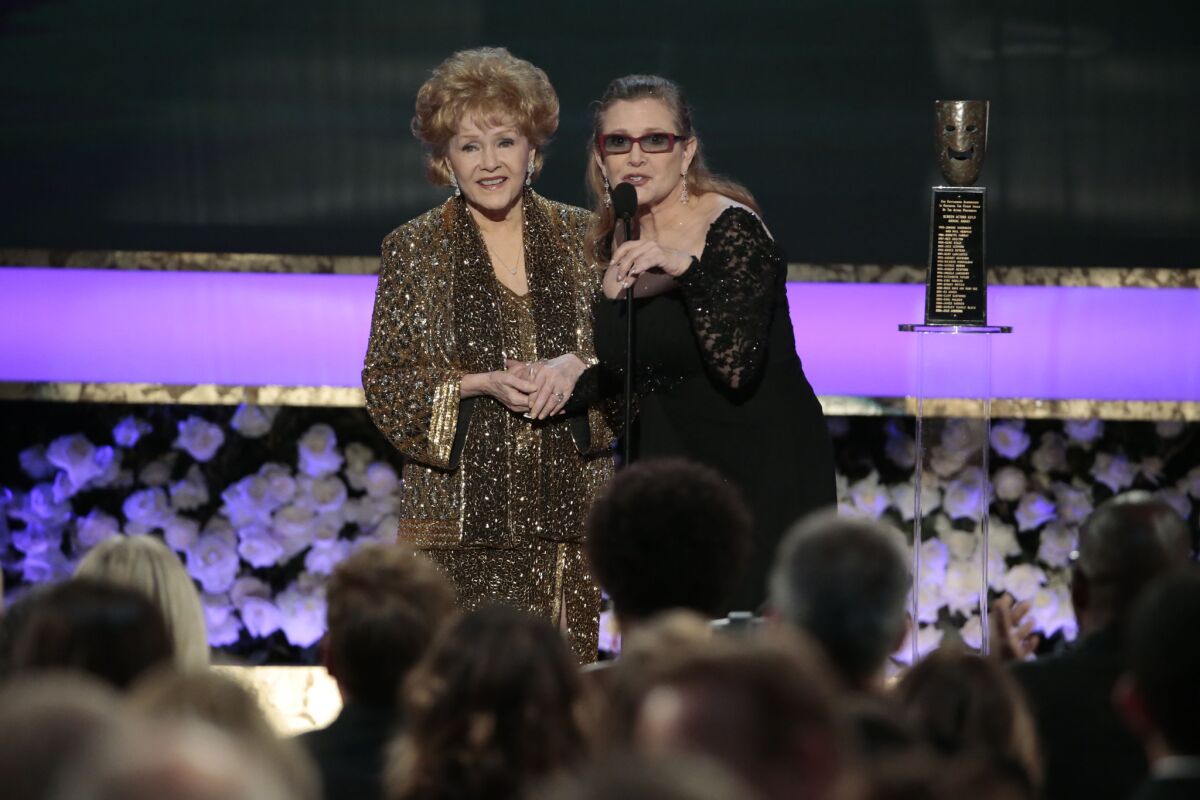 The Los Angeles County coroner's office on Friday listed the cause of death for "Star Wars" star Carrie Fisher as sleep apnea and other factors, including drug use.
The coroner's office released a short summary of its findings, but officials declined to make any additional comments. The statement said "the manner of death has been ruled undetermined."
In addition to the listed cause of death, the coroner's statement cited "other conditions: atherosclerotic heart disease, drug use."
It also said: "How Injury Occurred: Multiple drug intake, significance not ascertained."
The report is vague about the role drugs played in Fisher's death. But her daughter, Billie Lourd, issued a statement to People magazine Friday night linking her mother's death to drug use.
"My mom battled drug addiction and mental illness her entire life. She ultimately died of it. She was purposefully open in all of her work about the social stigmas surrounding these diseases," Lourd told People.
Fisher's brother, Todd Fisher, said he didn't think there was anything new in the coroner's brief statement.
His sister's battle with drugs and bipolar disorder "slowly but surely put her health in jeopardy over many, many years," he said. "I honestly hoped we would grow old together, but after her death, nobody was shocked."
Drug use can exacerbate sleep apnea with potentially fatal results, but the report does not make clear whether Fisher took any drugs on the day in December when she suffered a cardiac incident on a international flight.
A longer, more detailed report will probably become available Monday, the coroner's office said.
Fisher, 60, was taken to the hospital by Los Angeles Fire Department paramedics on Dec. 23 after collapsing during her 11-hour flight from London to Los Angeles International Airport.
Before arrival, a pilot told the control tower that nurses onboard were attending to an "unresponsive" passenger.
"They're working on her right now," the pilot said in a public recording of the conversation on liveatc.net.
She died days later on Dec. 27.
In January, the L.A. coroner listed the cause of death as cardiac arrest.
As the daughter of Hollywood couple Debbie Reynolds and Eddie Fisher, Carrie Fisher was essentially born into show business.
She made her film debut in 1975, starring in the comedy "Shampoo" with Warren Beatty and Goldie Hawn. But she etched herself permanently into the consciousness of the movie-going public as Princess Leia in the 1977 sci-fi classic "Star Wars."
While she never quite escaped that role, which made her a sex symbol to a generation of geeky adolescents, she gained a degree of literary respect a decade later with the publication of "Postcards from the Edge," a novel about an actress battling drug addiction.
A series of nonfiction books, including "Wishful Drinking" and "The Princess Diarist," cemented her reputation as a serious author.
In her books and at public speaking events, Fisher was open about her struggles in the movie business and her prickly relationship with her mother. She was also outspoken about her mental health issues and the drastic solution she found: electric shock therapy.
Reynolds had a stroke after her daughter's death and died Dec. 28.
Twitter: @LAcrimes
Twitter: @jackdolanLAT
ALSO
Go inside Carrie Fisher's home to see what will soon be up for auction
Remembering Carrie Fisher: actress, writer, icon
After Carrie Fisher's death, her books are flying off shelves
---
UPDATES:
8:30: Updated with further comments from Todd Fisher.
6:50 p.m.: Updated with comments from Fisher's brother Todd Fisher.
6:35 p.m.: Updated with statement from Fisher's daughter, Billie Lourd.
This article was originally published at 6:10 p.m.
---
The stories shaping California
Get up to speed with our Essential California newsletter, sent six days a week.
You may occasionally receive promotional content from the Los Angeles Times.