Must Reads: College admissions scammers found 'the hole in the Death Star'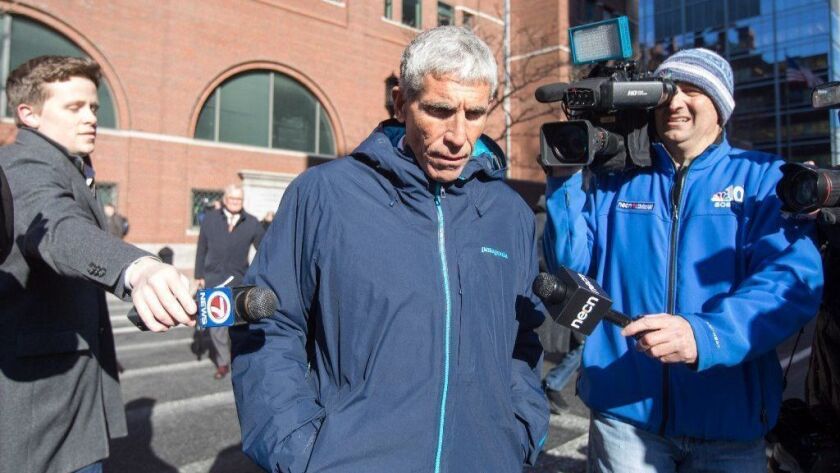 There have long been serious concerns about the fairness and equity of the admissions process to elite universities.
But the sprawling college admissions scandal has exposed serious weaknesses that experts say will result in far-reaching changes.
"This is like Luke Skywalker finding the hole in the Death Star. In this case, they did it, they found a way to beat the system," said Peter Lake, a professor of higher education law at Stetson University. The charges show "really determined criminal behavior can penetrate the systems we have in place."
The scheme, which began in 2011, centered on a Newport Beach college placement firm run by William "Rick" Singer. Wealthy parents paid Singer to help their children cheat on college entrance exams and to falsify athletic records of students to enable them to secure admission to elite schools, including UCLA, USC, Stanford, Yale and Georgetown, according to court records.
Prosecutors allege that Singer instructed parents to donate funds to a fake charity he had established as part of the scheme. Most of the parents paid at least $200,000, but some spent up to $6.5 million to guarantee their children admission to top universities, authorities said. The parents were then able to deduct the donation from their income taxes, according to the Internal Revenue Service.
RELATED: Mediocre grades? Weak SATs? Rick Singer got you into an elite college — for a price »
The scheme itself was fairly simple, prosecutors said: Singer instructed parents to seek extended time for their children on ACT and SAT exams. In at least one instance, a student claimed to have a learning disability to obtain medical documentation required by the College Board and ACT Inc. to grant additional time on the tests, according to court documents.
Exploiting weaknesses
Experts said the allegations are notable because the masterminds seem to get past safeguards.
Testing systems generally have a lot of built-in safeguards, Lake said. For example, he said people taking the bar exam have to get their fingerprint taken. It's a way to trace if the person taking the test is actually the person whose name is attached to the score.
And athletic directors usually make tremendous effort to make sure there aren't improper moves made in terms of athletic selection and recruitment, Lake said. The NCAA has compliance standards, he said, and it's not like schools don't follow these rules.
"We assume there's the occasional person who scams their way into higher education, but this is very organized and systematic. It has the feeling of white-collar crime and insider trading — people working inside systems to gain advantage," Lake said. "The fact that it was so widespread, with so many people involved at one time and the deliberateness of it, is disturbing."
There are always loopholes though, Lake noted, such as the phenomenon of students who have accumulated a negative record in college applying to other colleges with their middle name instead of their first name, so that they don't carry their transfer credits or records from their previous school.
It's an issue most admission systems aren't built to detect, he said.
"If you have a valuable commodity, more people will get creative on how to cheat the system," Lake said.
The next step colleges might look at is figuring out how to implement ways to monitor those people applying the safeguards, such as coaches and test proctors.
Spotting suspicious admissions
Stefanie Niles, president of the National Association for College Admission Counseling, has worked in admission for 22 years and read thousands of applications. But she can only think of a handful of times where she became aware that something in the application seemed off and took extra measures to determine if there was information that was falsified.
It's not always easy to spot anomalies, she said. For example, a student who has very high test scores and a low GPA wouldn't usually raise alarms. There are many students who have the aptitude for test-taking but haven't honed their work ethic in class for schoolwork, she said. "There's not necessarily something nefarious going on," Niles said.
RELATED: College admissions scandal spreads to UC Berkeley; fake SAT score allegedly submitted »
From the admissions offices' perspective, ensuring integrity in the athletic recruitment department is a difficult question, Niles said. Building relationships with those in athletic departments and implementing training might be a way to make sure the right questions are being asked of applications.
Niles, who is also vice president for enrollment and communications at Ohio Wesleyan University, said the scandal will probably prompt her and others in admissions to scrutinize the holes in their programs, Niles said.
"We'll pick apart the hows, the whys and the could-haves over the coming weeks," Niles said.
Higher education is supposed to be a meritocracy, but we've seen in recent years how some are willing to go to extremes to get their children accepted into highly coveted schools, Niles said. Even without resorting to illegal means, the wealthy have access to test-prep classes and paid college consultants, for example, and paying for their children to participate in the interesting activities that make their resume stand out is something not every student can take advantage of.
FULL COVERAGE: Dozens charged in connection with college admissions scheme »
The wealth factor
But engaging in illegal activity to do so is extreme, and indicative of the high-stakes college admissions culture some students from wealthier families find themselves in, Niles said. She said counselors can do more to shift the culture and educate students and their families about the wide range of colleges where their children would be happy.
"There are some parents that have high expectations of gaining admittance to a small number of selective institutions. But there are multiple institutions that would fit the needs of those students. We've seen that it's part of our responsibility to help alleviate some of the pressures in that rat race."
The way the system is set up, there's little incentive for institutions to break the cycle of wealthy families being able to game college admissions, said Rachel Fishman, the deputy director for research with the Education Policy program at New America, a nonpartisan think tank in Washington.
"There are a lot of legal ways in which really rich parents can game the system that other students just do not have access to," Fishman said.
She said there's a whole cottage industry of legal ways for wealthy families to get a leg up in admissions, such as high-priced counselors, more one-on-one help with college applications, donations to the school, legacy preference and resources to play certain sports that give students a side door into coveted universities. A large portion of students who are athletic recruits are white and wealthy, Fishman said.
"It's really hard for institutions to guard against this unless they do away with these preferences, such as legacy admissions and athletic preference," she said.
RELATED: College admissions scammers found 'the hole in the Death Star' »
---
The stories shaping California
Get up to speed with our Essential California newsletter, sent six days a week.
You may occasionally receive promotional content from the Los Angeles Times.